An Unbiased Review of ScreenFlow (Features & Price & Pros & Cons)
Telestream ScreenFlow on Mac, a screen recorder and video editor, is getting more and more popular since it updated to the latest version. Before the update, Screenflow was already famous as a powerful screen recorder program. After the update, honestly, it is more like a video editor with not-bad screen recording features. Now its editing features are too outstanding so that its recording features are somewhat overshadowed. How good is the version of ScreenFlow indeed? Go through this unbiased review and you will know.
Part 1: Key Features of ScreenFlow
1. Record screen in highest image quality
ScreenFlow offers different ways for you to record screen. Whether you are recording just your screen, plugged-in microphones or cameras, or even an iOS device, it can produce perfect quality.
2. Professional video editing tools
ScreenFlow integrated tons of video editing tools like adding annotations, adding text, adding video actions, audio tab, font panel, freehand annotations, styles, and more. The most impressive one is the color-choosing box which provides you with five visual and accurate methods to pick a color.
3. Prepared styles and templates for making tutorials
ScreenFlow can be very handy if you use it to make software tutorials and training courses. It has collected beautiful styles and templates that make it easier for you.
4. Intuitive user interface friendly to both beginners and pros
The user interface of ScreenFlow is much more intuitive compared to Adobe Premiere Pro and Final Cut Pro. Although they are powerful, you actually don't need the complex functions of them in 90% cases. ScreenFlow is just enough and get things easier for you.
5. Record iOS device's screen
Just simply connect your iOS device to your Mac, and then you can record your iOS screen from your Mac without any limitation. It is especially useful when you record games on your iPhone because it doesn't make your mobile device hot and work slow.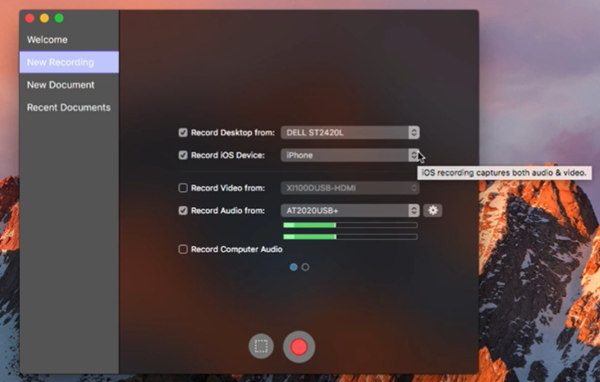 6. Price of ScreenFlow
ScreenFlow provides you three different purchase plans.
The $129 basic pack enables you to freely capture, edit, and create using ScreenFlow for life. If you are glad to pay an extra $60 $46/yr, you can access their Stock Media Library in the program. Their Premium Support service, which includes phone support, priority response, remote access services, and discounted upgrade, is for another $39/yr.
Part 2: Pros and Cons of ScreenFlow
Pros

Powerful video editing features
Has a Built-in stock media library
Excellent hardware optimization
Free trial without expiration date
You can get your money back in 30 days
Complete tutoring videos available on official website
Cons

Only available to Mac users
The price is quite high
Overall Score of ScreenFlow
Easy to use 9.3
Editing features9.8
Gameplay capture9.1
Video quality9.7
Annotation features9.5
Part 3: Best Alternatives to ScreenFlow
1. Screenflick
Screenflick is an expert in screen recording. Without many video editing features, Screenflick can focus on recording. Even 1080P and 60 FPS game is just a piece of cake for it, let alone other apps like Skype and Discord. It can also show keystrokes and mouse clicks during the recording, which can be very helpful for producing trainings and tutorials. However, just like ScreenFlow, it does not provide a Windows version.
2. Screenium 3
Screenium is a Mac and iOS screen recorder. It produces the smoothest video quality for ultra-high-definition 4K and 5K displays. In this program, you can access four different recording modes: Full-screen recording, individual window recording, selected area, or the screen of an external iOS or tvOS device. After recording, Screenium prepared powerful video cutting and editing features for you to turn your footage into a perfect outcome.
3. AnyMP4 Screen Recorder
Finally, we got on our list a program that supports both Windows and Mac. AnyMP4 Screen Recorder can record all activities happening on your screen, including games, live streaming videos and more. You can freely customize the recording area and other settings like webcam, system sounds and microphone. Before exporting a record, it allows you to preview the result.
Part 4: FAQs about ScreenFlow
Will ScreenFlow leave a watermark in my video?
No, ScreenFlow will not leave any watermark in your video. However, if you are enjoying the free trial, it does. More than that, you can also customize some watermarks and annotations for your video without any limitation after purchasing the program.
Is there any freeware that can work as an alternative to ScreenFlow?
Yes, and there are many. AnyMP4 Free Online Screen Recorder is a good one of them. You don't need to download and set up a program. Just simply load and use the recorder from a webpage. It allows you to record your screen at 1080P with audio without any limitation.
Where are ScreenFlow recordings saved?
Usually, when you finish a recording, you can decide where to save the record. However, if you directly upload the recorded video to platforms like YouTube, the program will not ask you where to save the file, but directly save them to Finder-Library-Application support-Telestream-ScreenFlow-Auto Saving.
Conclusion
ScreenFlow is an all-in-one program for you to create, edit, and share videos. Started as a screen recording program, ScreenFlow has already changed into a professional video editor with powerful screen capture features. The most impressive thing about it is the ever-growing Stock Media Library which provides you royalty-free video materials. Even if you are a beginner, you can use ScreenFlow easily by following the tutorials on their official website. 100+ tutoring videos will teach you step by step how to use every single feature of the program. Do you have any questions about it? Leave a comment to let us know.
Did you find this helpful?
144 Votes
YES

Thanks for letting us know!
No

Thanks for letting us know!
AnyMP4 Screen Recorder
Capture every moment in desktop, browsers, programs and webcam.