How to Connect WiFi with no Password: Instant Solutions for iPhone, Mac, Android, and Windows
A wireless network possesses a very secure password. This passcode is the one that protects the network from unwelcome connectors. The WiFi password is necessary to have access to the WiFI network. That is why it is a must to ask the owner what the WiFi is before connecting. However, what if you need to connect immediately with your network? Many of us do not know that connecting to a network without using a password is possible. We can make it through the use of our Android, iPhone, Mac, and Windows devices. For that reason, we will show you different ways of connecting to WiFi without a password. Learn the simple methods in doing it through this article. We hope our instructions below will help you alleviate your problem. For that, we shall start the connection now.

Part 1. How to Connect WiFi Without Password on Android
Android smartphones are also continuously upgrading and improving. It consistently develops different features that we can enjoy. All of these features are very helpful and useful for all the users of an Android. For that, in this topic, let us discover how to connect to WiFi without a Password on Android. Please take a look at a few methods in making it possible. Some plans do not require the installation of an application. Only the built-in tools. Another way requires an application if a device does not possess a built-in requirement. We shall now see the guides below.
1.
Turn on the WiFI settings of a device already connected to the network. Then get the QR Code of a specific WiFi network you want to connect to your device.
2.
Open the built-in Scanner on your Android devices and scan the QR code from the other instruments.
3.
After that, a little information will appear on your screen. Click the Connect to the Network button and wait for a few seconds. Your device will be automatically connected.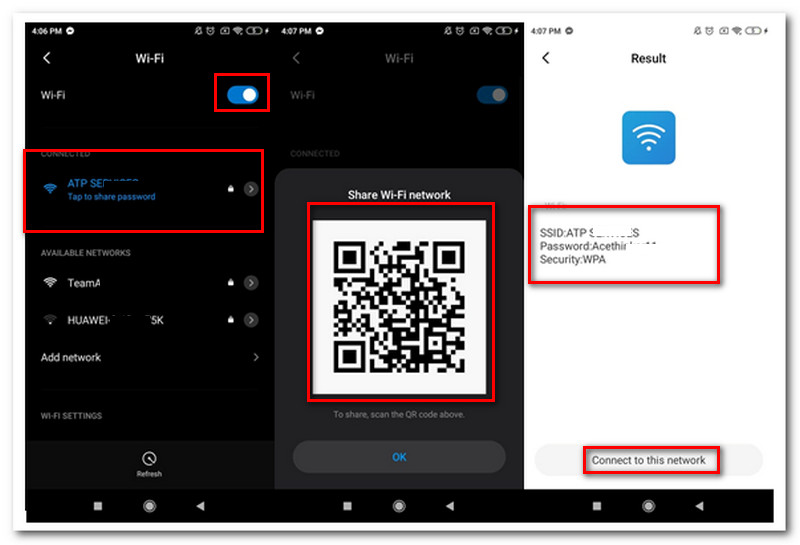 Part 2. How to Connect WiFi Without Password on iPhone
Many iPhone users are also asking how to connect to any WiFi without a Password iPhone? Fortunately, there are easy ways that we can use to make that possible. Just like in Android, Apple products also possess unique features. It is also one reason why many people trust Apple products, most commonly the iPhone. In line with that, let us connect with a WiFi network using the Camera. See the guides below on how we can do it.
1.
Open the WiFi Settings of a device that has access to the WiFI network. Click the particular network and get the QR Code. This QR code will serve as a doorway to connect with the internet.
2.
After that, open the camera of your iPhone.
3.
Scan the QR Code using the Camera. A notification tab will appear at the top corner of the screen. It says, Join (the name of the network), click it and wait for a few seconds to connect.
Part 3. How to Connect WiFi Without Password on Mac
Here is one of the easiest ways to connect with a WiFi network without a Password. It is by clicking it by using the Ethernet cable or LAN wire with an RJ45.
1.
Set your RJ45 and the Lan capable.
2.
Connect the Ethernet cable within both routers and in your MacBook. Note that some Macs require an Ethernet adapter. You may use adapters such as Belkin-USB-C to Gigabit Ethernet Adapter and more.
3.
Check the Internet Settings of your Mac and see if it is connected successfully.
Part 4. How to Connect WiFi Without Password on Windows
This method is applicable for different instances. You may use this method for your computer. It can also answer how to connect your laptop to WiFi without a Password? In short, this method can work as long as your device has a Windows operating system.
Connect to WiFi Network using WPS with Windows
1.
Find the Wireless WiFi icon in the system tray in the Taskbar look for the available networks nearby.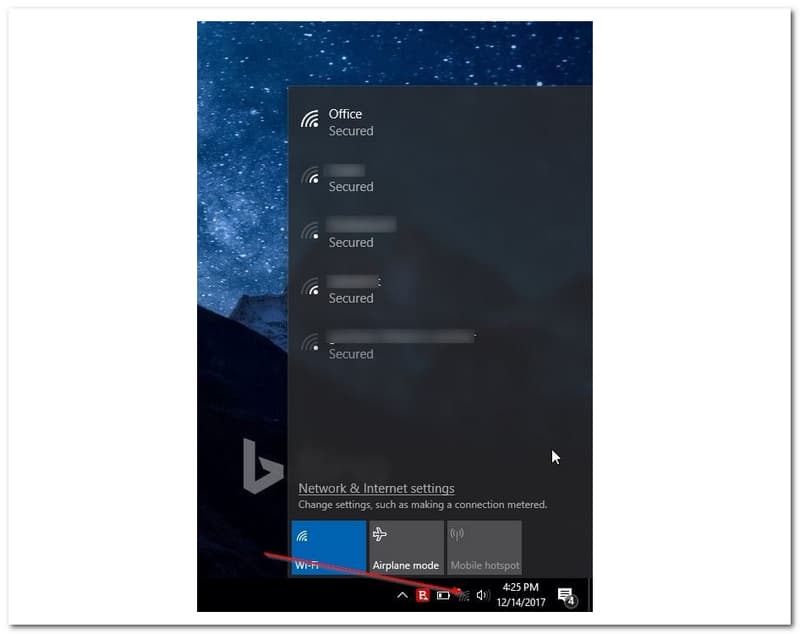 2.
Choose the network you want to connect.
3.
After that, click the Connect button under the Network portion you plan to connect. You may also check the Connect Automatically or not.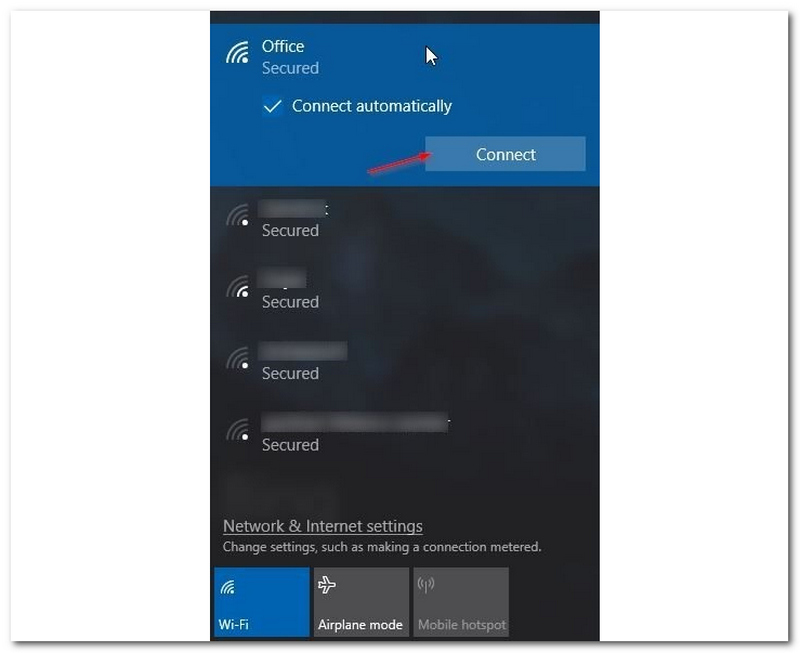 4.
Now, the dialogue will appear asking to enter the Network Security Key. You do not need to enter it if the router supports WPS.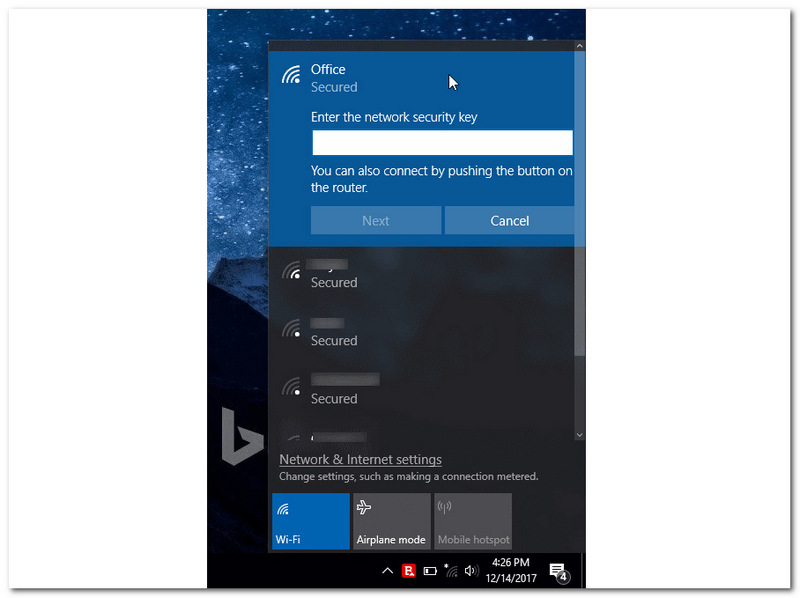 Tips
To enable the WPS, go to your router and locate the WPS button standard in the front of the modem. After that, press it for a few seconds; you may now see a message that says, 'Getting settings from the router Wait for a few seconds to connect your computer successfully to the Network.
Part 5. FAQs about How to Connect WiFi without Password
What to do to connect if I do not know a WiFi password?
You can do the following if you want to connect to WiFi, yet you do not know the Password. First, you can use a WiFi password finder to help you find the Password of a WiFi. There is also a scanner that you can use to scan the QR code.
What is the best application to connect with a network without a password?
We can use numerous applications to connect to a network without a password. These applications come without a Root. That is why many users consider this as the best. These are the WiFi WPS WPA Tester, AndroDumper, WPS CONNECT, and more. You can get all of these to the Google Play Store or App Store.
How can I know the password of my WiFi network?
It would be best if you did some things to know your WiFi password: go to the back of the router and see the sticker on it. You will find it WIFi key passcode. You can use the username and Password to log in with your administrations to see all of your details, including the Password.
Conclusion
All of the methods above are effective solutions for connecting to WiFi without a password. Those methods are suitable for different platforms such as Android, iPhone, Mac, and Windows. Follow every detail, step, and instruction so that the process will be successful. In addition, this website can also bring you great solutions for different problems. Check out our other articles so that we can help you more. Also, do not forget to share this article to reach out to more users you might need help with.
Did you find this helpful?
372 Votes
YES

Thanks for letting us know!
No

Thanks for letting us know!