Review of Intune Mobile Device Management for Managing Data
Are you an aspiring business owner or already a company owner? Then, this post is suitable for you. Let us now review one of the incredible tools we can use to manage our data for your agenda. Unsurprisingly, Microsoft Intune provides an integrated, full-featured Mobile Device Management experience across existing Microsoft server environments. Despite appearing more expensive than rival offerings, Microsoft Intune may be utilized with Windows 10, Android, macOS, iPhones, and iPads. Despite the need for a budget, its flexibility deserves serious attention.
Well, that is only an overview of the MDM tool. With this post, let us explore more about it. Kindly read this post and learn about it. Without further ado, here is an Intune MDM review: a comprehensive guide.

Part 1. What is Microsoft Intune MD
The company has steadily improved since the last months of Microsoft's Intune mobile device management or MDM offering. The Enterprise Mobility Plus Security or EMS Suite, a package SKU that combines Intune with different Microsoft Azure security and identity management products, is the target of their marketing and technical efforts to push clients in that direction.
Furthermore, the historical administration feature is still available, while the redesigned Azure portal experience has been the sole focus of management console development. Although the two experiences do not have identical features, the Azure experience will eventually catch up to and surpass the more traditional tool. You must continue reading this article to discover more about it.
Price: $6.00
Release Date: 2011
Pros

All three management categories are covered.
It has a vast collection of policies addressing various security settings.
EMS offers a robust management bundle if you're ready to pay.
Cons

No ability to locate the gadget.
It has dashboard customization that is not possible.
The tool has an aggressive push for additional Microsoft goods.
Part 2. Intune MDM Review
Intune Feature Overview
The extremely effective device management technology Microsoft Intune smoothly connects with the existing services used by your company. It has many capabilities that may control every element of how a device is used, including users, apps, and security settings. One of Intune's unique features is its configuration profiles, which can manage updates, limit printer settings, apply configuration profiles to specific devices or groups, and even operate a device as a dedicated kiosk. Here are some key takeaways from its features: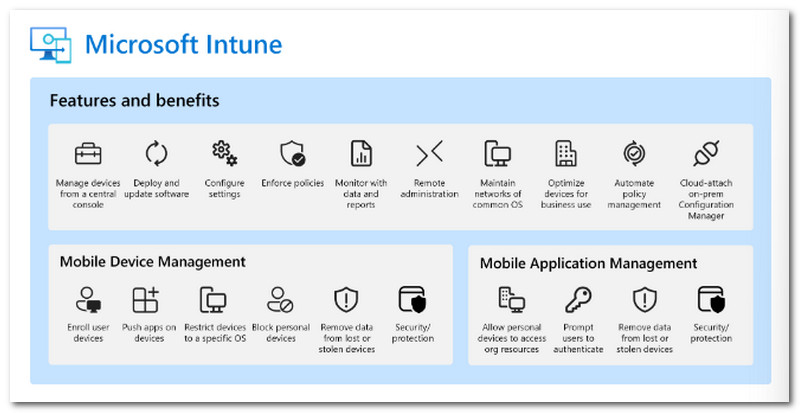 ◆ It provides a selection of administrative templates
◆ A cloud-based setting.
◆ It has authentication certificates for Wi-Fi, VPN, and email profiles,
◆ The tool offers customized settings for managing devices.
◆ Has an integrity of the hardware and data.
◆ It manages security and hardware.
◆ It restricts or prohibits data exchange.
Intune MDM Compatibility
Regarding MDM Compatibility, the MDM software can manage various devices, including those running Windows, macOS, iOS, iPadOS, and Android. It uses the MDM frameworks already in independent operating systems like Android Enterprise and the Apple Company Portal app.
This enables the implementation and management of different device ownership and usage dynamics. For instance, the BYOD or Bring Your Device, CYOD or Choose Your Device, COBO Corporately Owned, Business Only, and COPE or Corporately Owned, Personally Enabled systems can all be used to handle Android devices.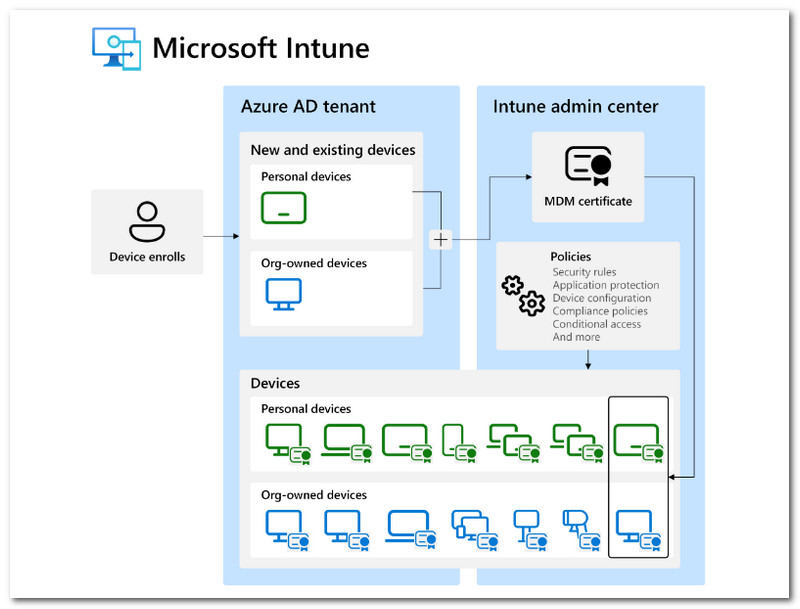 Intune MDM Pricing
Intune is priced differently based on the type of business and the number of devices used. It is vital to remember that the use of Intune may be contingent on current Microsoft Endpoint Manager and Microsoft 365 subscriptions. If you already have these licenses, Intune costs $2.00 per device monthly for $1.50 for non-profits. However, if the other licenses are not included, the total cost per user per month is around $32.00.
For those looking for a single Intune license, it costs roughly $8.00 per user per month. As a result, Intune is one of the more expensive MDM options available.
| | | |
| --- | --- | --- |
| Intune MDM Plans | Price | Additional Information |
| Contingent with Microsoft Endpoint | $2.00 per device monthly. | $1.50 for non-profits. |
| Single License | $8.00 per user per month. | Non-applicable. |
Part 3. How to Use Microsoft Intune MDM
Method 1: Set Up Itune MDM
1.
To access the Mobile Device Management Authority setting, click the Orange banner in the Microsoft Intune admin center. Only when the MDM authority has not yet been set is the orange banner visible.
2.
Please choose from the following choices under Mobile Device Management Authority to specify your MDM authority: Intune MDM Authority or None.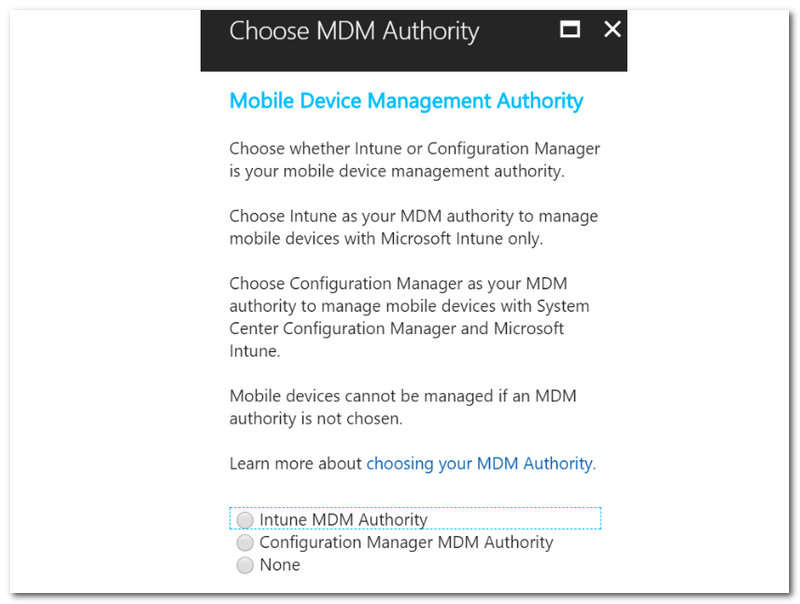 3.
You must designate Intune as your environment's MDM authority to enable coexistence. Log in to the Microsoft Intune admin area with Intune service administrator rights. Then, please go to the Devices page.
4.
We can now see the blade for Add MDM Authority appears. That means we can now select Intune MDM Authority and hit Add to transfer the MDM authority from Office 365 to Intune and enable coexistence.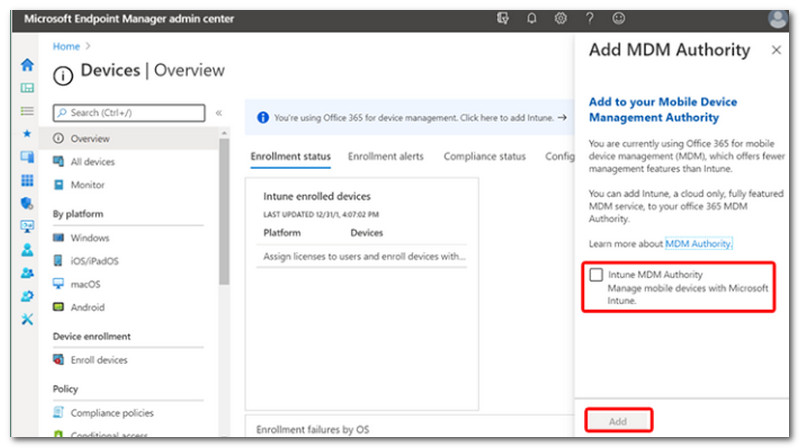 Follow that guideline so that we can easily use the Itune MDM tool. We can see above the effective steps we need to take to set up and add authority to the tool.
Method 2: Remove Intune MDM.
The Aiseesoft iPhone Unlocker is the ideal solution when your iOS is locked in Intune MDM. The software is the best solution to remove any restrictions-creating modes now active on your iPhone. You can operate the iPhone as you like when the mode is removed, using previously unavailable software and apps. To master utilizing it, no special knowledge is required. For this reason, we've included a download option below so you can get it with just a single click and see how we can easily use it.
1.
The first step is to install the Aiseesoft iPhone Unlocker on your computer. You can accomplish this by choosing the download option and installing the program. Once the installation is finished, run the program to begin using it.
2.
As we move further, we must first ensure that your iOS device is connected to your computer using a USB cable, then find and select the Remove MDM option from the application's menu to bypass Intune MDM.
3.
We have completed those processes and are about to begin the process. We only need to disable Find My iPhone on your iOS smartphone before clicking Start.
We need to follow those few steps to maximize the tool. We can see that it is very effective yet simple to use.
Part 4. FAQs about Intune MDM Review:
Is Intune a full MDM?
Microsoft Intune provides a complete Mobile Device Management or MDM solution. With traditional endpoints like PCs and Macs, businesses can manage and secure mobile devices like smartphones and tablets.
What does Microsoft MDM do?
Organizations may manage and safeguard the mobile devices used by their employees thanks to a collection of tools and policies offered by Microsoft MDM. This covers registration, setting up device settings, enforcing security rules, and remotely erasing or locking devices in the event of loss or theft.
What is the difference between Intune and MDM for Office 365?
The functionalities of Intune are broken down into MDM for Office 365. Intune is a more comprehensive, standalone MDM solution that handles various devices and management scenarios, including Windows PCs, even though both products manage mobile devices.
Is Intune a good MDM solution?
Microsoft Intune is a reputable MDM product that provides a full range of functions for managing different device kinds within an enterprise. Nevertheless, whether it's an effective solution for your business will rely on your particular requirements, infrastructure, and tastes. It's a good idea to evaluate your needs and contrast them with Intune's capabilities to see whether it's a good fit for your company.
What can my company see with MDM?
Using MDM, a business can monitor and manage various features of enrolled devices, depending on the policies and settings set up. This could incorporate Information on the hardware and software components of the device, and Installation, updating, and removal of apps are all part of application administration.
Conclusion
As we conclude, there is much to consider if you want to learn about Microsoft Intune. For example, it has extensive mobile platform compatibility, a cloud-based management panel, and device enrollment that can be simple or thorough, depending on your organization's needs. However, remember that the per-device licensing prices of Microsoft Intune may prompt you to examine other MDM solutions. Hopefully, this article helps you explore all the features.
Did you find this helpful?
408 Votes
YES

Thanks for letting us know!
No

Thanks for letting us know!
Aiseesoft iPhone Unlocker
Get into locked iPhone iPad iPod without password or Apple ID.