Google Mobile Device Management for Hazard-free Workspace
Google's Year in Review report discloses millions of Google Workspace users worldwide. The digit is undoubtedly not the only one individuals use when using Google for work. Most individuals are familiar with tools like Gmail, Calendar, Docs Editors, etc. These are not the only uses of Google for work, though.
Nowadays, with remote work becoming increasingly popular, business owners are enthusiastic about mobile device management for security reasons. In response to their enthusiasm, Google includes their MDM solution in Workspace. Let's talk more about this in this article and learn how to use Google MDM for security purposes,

Part 1. What is Google MDM
What is Google MDM
Google's Workspace provides a Google Mobile Device management solution. So, what precisely is it? Google MDM is a word used to describe a service that manages and monitors endpoints using an administrator panel. It gives businesses the ability to manage sensitive data internally and centrally. In terms of the inquiry, does that mean Google Mobile Device Management in particular? The solution you want is Google Workspace. It should be noted that Workspace has some tools, many of which are teamwork-friendly rather than commanding apparatuses.

What Can You Do with Google MDM?
In regards to the things it can do, here are some points we need to know:
◆ Add or remove the user accounts of your employees.
◆ Group workers into various teams.
◆ Assign another user account with admin rights.
◆ Track and Report.
◆ View user activities such as login, content creation, content sharing, etc.
◆ Observe how tools and apps are applied.
◆ View notifications set up for user accounts and devices
◆ Regulations and Safety.
◆ Set up 2-step verification for users' account sign-ins.
◆ Limit the time or permission users can access when using tools and apps.
◆ When suspicious behaviors take place, set an alarm notification.
Part 2. How to Use Google MDM
Here is the important process we need to follow to use Google MDM:
Set Google MDM
1.
Launching a web browser and typing in admin.google.com, visit the Google Admin Console. Now, please use the administrator account for your Google Workspace to log in.
2.
From there, please select Devices. After that, we proceed to hit Mobile & Endpoints Management under Setup. Then, do not forget to Set Up Basic Mobile Management.
3.
Finally, to establish particular policies, such as requiring device encryption, enabling app management, and defining which devices are permitted access to company resources, click on Mobile Policies as you Enroll Deice for finalization of the process.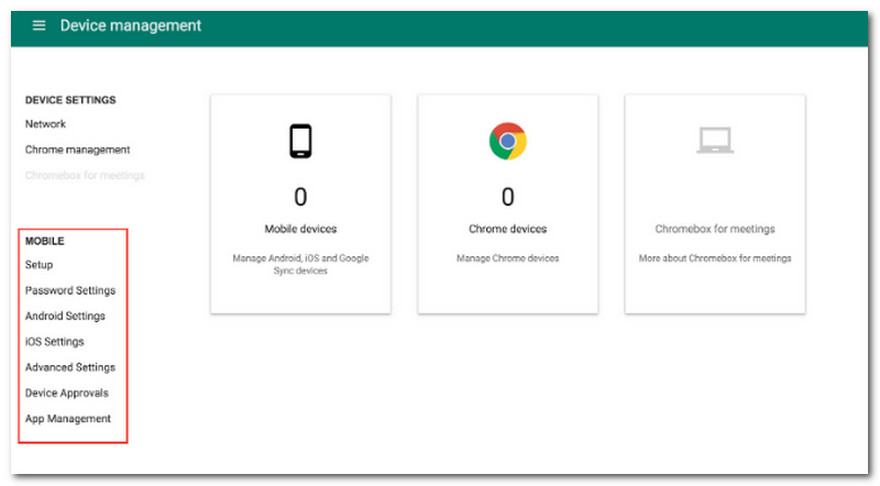 Accept Google MDM
At this moment, let us now proceed on the thing we need to do to accept Google MDM.
1.
Open the Enrollment Email and either click the offered link or adhere to the email's instructions.
2.
After that, we are now good to go for downloading and installing the Google Device Policy app from the App Store for iOS or Google Play Store for Android if necessary. Then, please launch the app and enter your Google Workspace login information.
3.
We need to read through and consent to any Rules or Guidelines established by your company or the MDM administrator.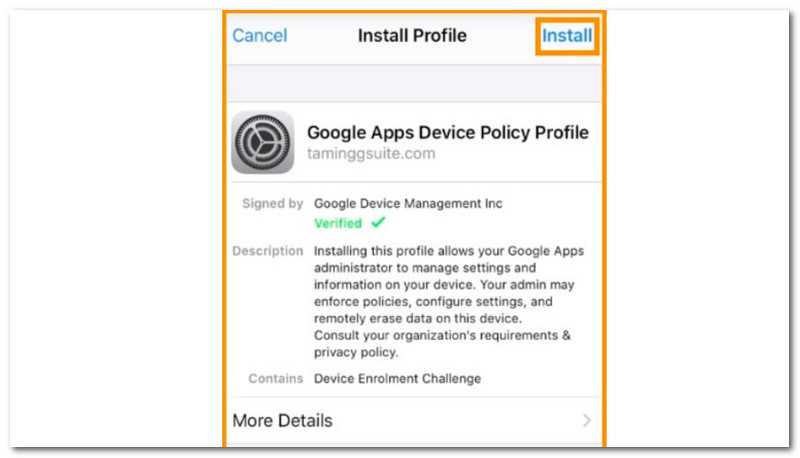 4.
Finally, the IT department at your company can now control your device per their policies because it has been enrolled in Google MDM.
Those are the simple steps we need to follow setting and accepting the Google MDM tool. We need to make these important elements to use the Google MDM tool properly and maximize its functions.
Part 3. Google MDM VS. Intune
Intune is another rising software that is similar to Google MDM. In connection with that, here is the comparison chart we can use to compare and contrast them.
| | | |
| --- | --- | --- |
| Google MDM | V.S. | Intune |
| 2022 | Release Date | 2011 |
| Unified Endpoint Management or EUM | Software | Unified Endpoint Management or EUM |
| Corporate and Personal Devices | Usage | Corporate and Personal Devices |
| Android, iOS, and Windows | Platforms | iOS, Android, and Windows |
| Monitoring and reports making. | Special Features | No additional features are included. |
Part 4. How to Bypass Google MDM on iPhone
When you require an MDM bypass tool for an iPhone or iPad, use Aiseesoft iPhone Unlocker. The software guarantees that your saved data will remain on your iOS device. This tool offers incredible features that will help you solve the situation with ease and efficiency.
1.
You can rapidly download the program to your computer and swiftly install it. Please get the Aiseesoft iPhone Unlocker on its official website.
2.
Then, please connect your iOS device to the computer with a USB cord after clicking Remove MDM on the welcoming interface.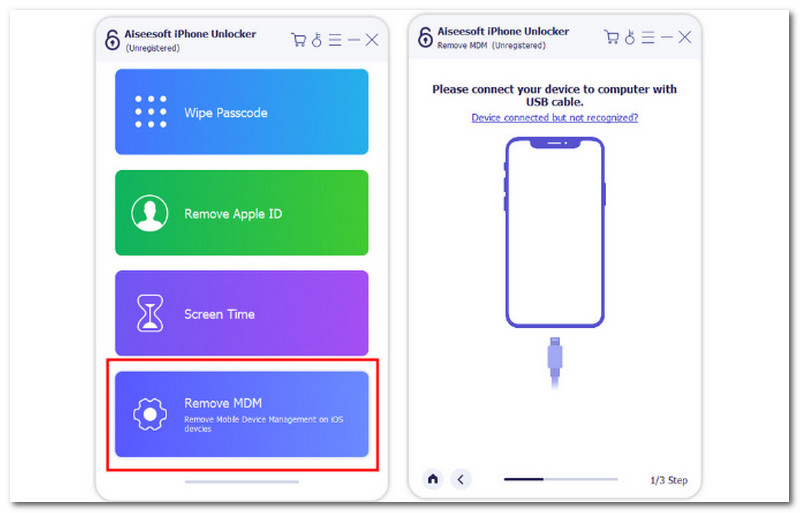 3.
Once it has connected properly, we need to click Start. When you take the instruction to disable Find My iPhone, it restarts. You can now use your iOS smartphone without any limitations, so use it.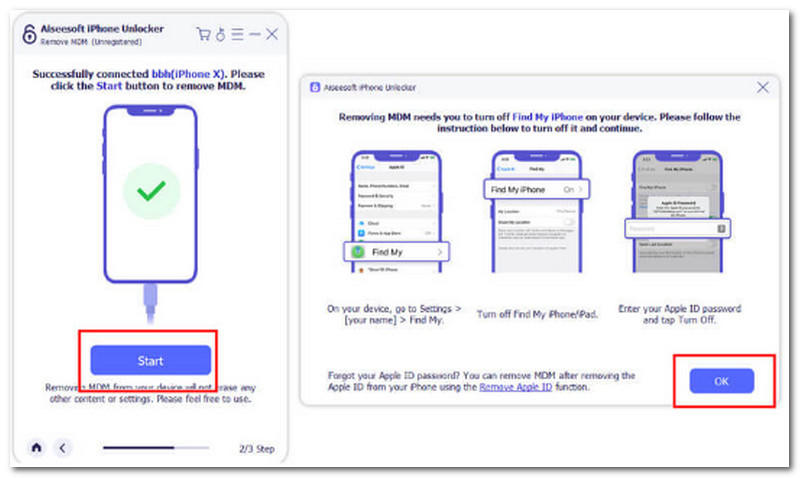 That is the easiest and most efficient method for removing Google MDM from your iOS. We can observe that Aiseesoft IPhone Unlocker does a fantastic job of the process. You can certainly utilize it easily now.
Part 5. FAQs about How to Use Google MDM
How much does Google MDM cost?
The cost of Google Workspace varies depending on the version you select and your company's total number of users. The Google Workspace Business and Enterprise editions often include MDM features; however, the precise price is subject to vary over time. See the Google Workspace pricing page or contact Google's sales team for the most up-to-date pricing information.
How do I access Google MDM?
You would normally need to subscribe to a Google Workspace subscription that contains MDM functionality to access Google MDM. Once you have a Google Workspace account, you can use the Google Admin Console to access and modify MDM settings. The Google Workspace administrator for your company will have access to MDM settings and functionality.
Can Google MDM track location?
Yes, MDM tools can often track the whereabouts of mobile devices that have been added to the management system, including Google MDM. However, user permission and privacy policies govern this. Organizations frequently employ location tracking for device management and security concerns.
Can MDM track browsing history?
MDM solutions can monitor and manage various aspects of a device's usage, including restricting access to certain websites and monitoring web usage to some extent. However, it's important to note that tracking browsing history in detail may raise privacy concerns and legal considerations. MDM implementations should comply with applicable laws and regulations, and employers should have clear policies regarding monitoring web usage on company-owned devices.
Can MDM track my phone?
Devices that are registered in the system can be tracked and managed by MDM solutions. The IT department of the company may be able to track and manage your personal phone if it is registered in an MDM system This will help to guarantee that you are following all company policies. However, enterprises should have clear policies in place to preserve employee privacy on personal devices, and personal devices should only be added to MDM systems with the user's informed agreement.
Conclusion
As we end this post, we can now use the amazing Google MDM to secure our workspace. We hope this article gave you the things you need to know. However, if there comes a time that the tool fails, then remember that Aiseesoft iPhone Unlocker can help you bypass the tool with ease.
Did you find this helpful?
399 Votes
YES

Thanks for letting us know!
No

Thanks for letting us know!
Aiseesoft iPhone Unlocker
Get into locked iPhone iPad iPod without password or Apple ID.