How to Remove Meraki MDM on iPhone or iPad: Complete Guide
Mobile device management and security are highly relevant because they are crucial to company operations. In this situation, Meraki MDM is useful. Cisco Meraki develops this cloud-based platform for mobile device management, which empowers businesses throughout their network. For the complete experience of monitoring and safeguarding the devices, enrolling them in it is necessary, but it may do more than that. Unlock the potential of your mobile device by learning how to use the Meraki MDM tool in this article.
Stay tuned because we will give you the best procedure to remove Meraki MDM From your iPad and iPhone without complication. That process is possible, so you can continue reading and learning more about it.

Part 1. What is Meraki MDM
With Meraki MDM Systems Manager, you can control mobile devices through the cloud in a secure setting. In essence, managing and controlling mobile devices is similar to managing and controlling Meraki hardware. Understanding that you can control all Meraki products from the cloud now is crucial. As a result, you can manage and monitor every Meraki device you own from a single screen. And it's incredibly easy to use, straightforward, and clean. This is undoubtedly one of Meraki's strongest points. They are the best at what they do.
Furthermore, there are numerous ways to onboard with Meraki MDM. Once you're finished, running your cloud kingdom is easy. For each platform, see Meraki's directions here. Sort of a consolidated cloud-control platform for personal devices, Meraki MDM Systems Manager.
In other words, it enables you to manage and monitor your mobile devices from the cloud. Similar to how switches and firewalls work. It is described as follows by Meraki: Meraki Systems Manager mobile device management solution delivers cloud-based centralized management, diagnosis, monitoring, and security of the mobile devices in your organization. Without an appliance installed on-site, you may now control the deployment of all devices.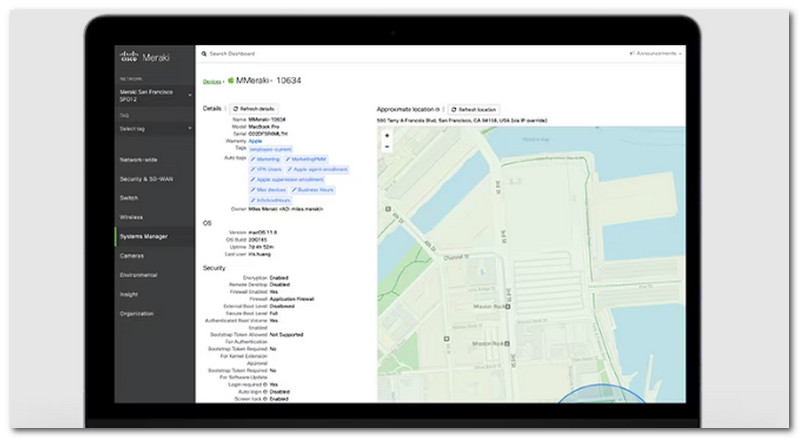 Part 2. How to Remove Meraki MDM from iPad and iPhone
We all know that Meraki MDM is one of the great tools we can use to monitor our business's details. However, sometimes it offers negative things to the point that we must remove them. With the credential, the admin can only delete mobile device profiles on the Meraki MDM app. However, there are several methods you can employ, including using Aiseesoft iPhone Unlocker, to delete an account.
All device restrictions, including the MDM on your iOS device, are effectively resolved by this substantially updated solution. The app offers extra methods for unlocking iOS devices, wiping out lost Apple IDs and recovering and wiping out screen time passcodes and passwords for iTunes backups. better learn how by following the steps provided below!
Aiseesoft iPhone Unlocker is the professional MDM removal tool for iPhone and iPad. It works on iOS 17/16/15 and before, so that you can remove the Meraki MDM limitation and use your iPhone and iPad freely.
1.
Installing the Aiseesoft iPhone Unlocker on your PC is the first step. You can do this by selecting the download option and installing the program. Launch the application after installation is complete to use it.
2.
The next thing we need to do is to make sure your iOS device is linked to your computer via a USB cable, then locate and click the Remove MDM option in the application interface as we proceed with the process.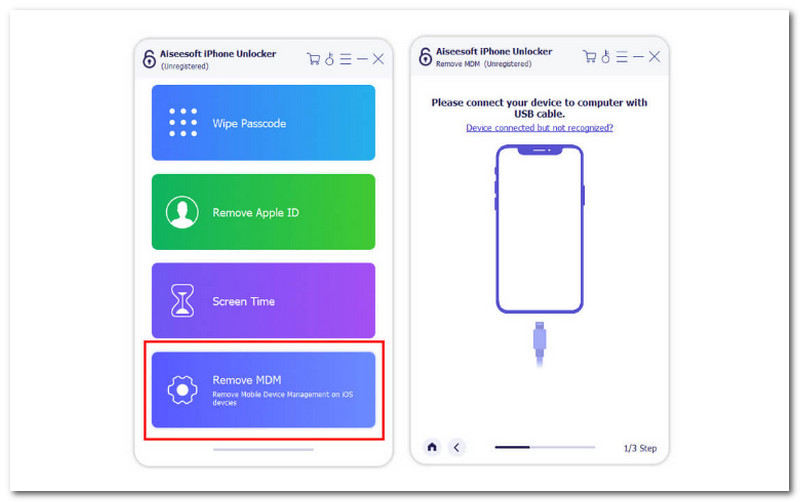 3.
After doing those processes, we are now about to Start the process. We only need to turn off Find My iPhone on your iOS device so that we can proceed to click Start.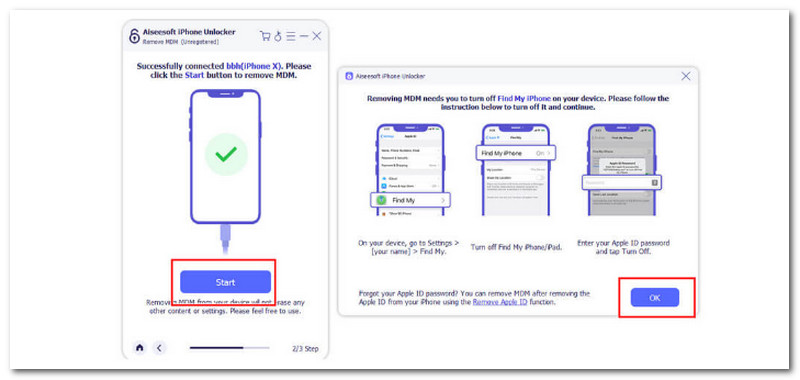 4.
The iOS device will restart after the procedure, and the MDM profile will be deleted.
On those simple steps, we can see that Aiseesoft iPhone Unlocker offers incredible features and functions in line with removing the Meraki MDM on our devices. As long as we have this tool, we can also expect to enjoy the full potential of our devices.
Reminder: The process above is applicable for iPhones and iPad. Use Aiseesoft iPhone Unlocker now and solve the issue with ease.
Part 3. FAQs about How to Remove Meraki MDM From iPad iPhone
Is Meraki MDM free?
You can try Meraki MDM for free, but only for a certain period; as a result, you must buy a license option and tiers based on your organization. You must use your preferred web browser to go to Meraki MDM's official website to find out the precise cost of the account server.
Intune or Meraki MDM? Which is superior?
Which one is preferable depends on several variables, including each tool's needs, infrastructure, and preferences. Intune is what you need to use if integration with Microsoft's apps and technologies is what you want. But if you're looking for a straightforward cloud-based platform to manage several devices, Meraki MDM will meet your needs.
Can Meraki track me?
Yes. Based on probe requests from WiFi devices, Meraki's cloud-managed wireless access points, or APs, can determine the presence of users. That is why removing it is one of the best things we can do to protect our security and privacy whenever necessary.
Why do people use MDM?
MDM guarantees that your firm maintains control over sensitive data while protecting your business data. The data on a mobile device can be remotely locked and erased if lost or stolen. Remotely locking and wiping devices allows businesses to protect their data and equipment. That is also the main reason why people are continually using MDM.
When should I use MDM?
We can use MDM when we need protected data from our company. As we all know, MDM ensures that your company maintains control over sensitive data and preserves the security of your corporate data. MDM can remotely lock and erase all of its data if a mobile device is lost or stolen. Businesses can use remote locking and wiping functions to secure devices and data.
Conclusion
Since Meraki MDM's interface and usability are average, even beginners can learn how to use it. The management and security of enrolled devices may be challenging initially, but once you get the hang of it, you won't need a lesson. We wish you luck and additional expertise in effectively deleting Meraki's profile. As long as we have Aiseesoft iPhone Unlocker, we can never go wrong in the process.
Did you find this helpful?
405 Votes
YES

Thanks for letting us know!
No

Thanks for letting us know!
Aiseesoft iPhone Unlocker
Get into locked iPhone iPad iPod without password or Apple ID.