Great 7 PDF Editor Software to Trust and Utilize for Windows and Mac
Being able to edit your PDF documents can really ease our feelings. PDF documents are really hard to access and edit because they come in the form of images. That is why we need software that can help us when it comes to editing PDF files. In line with that, here are 7 of the best free PDF editors that you can utilize and trust when it comes to editing PDF documents.

Part 1. Best 7 Free PDF Editor (Online&Desktop)
Foxit PhantomPDF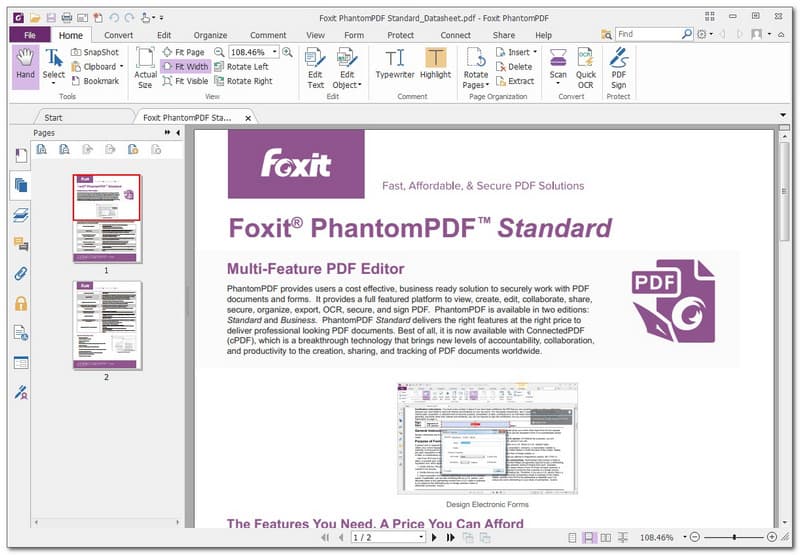 Foxit PhantomPDF is the software that you can use when editing and it offers a lot of toolkits that you can use to edit your PDF files. This software also allows you to view and share the files that you chose. You can also extract, remove, crop, and rotate your document's content. Moreover, you can also add pages or scanned documents, insert images, and other multimedia files. You can also modify the background, header, and footer of your file. More than that, this software also has a bookmark that allows you to locate the part easily and it also has a design tool for signing documents digitally.
In addition, it also gives you the chance to put passwords in your files to avoid someone stealing your work. Foxit PhantomPDF also engages certificate encryption and validation for signature to avoid others reading intimate pieces of information that might get leaked.
Lastly, this software is available to almost every version because it supports Windows, macOS, Online, iOS, and Android.
Pros

It is easy to install.
It has an intuitive user interface.
It has strong security.
It creates unique PDFs.
Good for encrypting and signing documents.
Cons

It fails when it comes to files that have large sizes.
It has few resources.
Texts sometimes get misaligned.
The measurement abilities need to be enhanced.
It sometimes freezes while searching.
Easepdf Online PDF Editor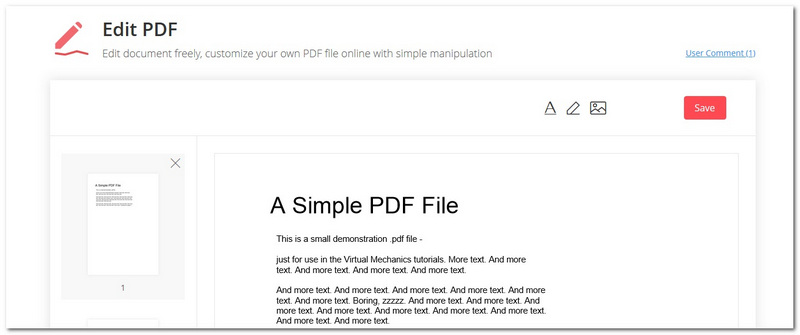 This online software has solutions for you when it comes to PDF editing. It also offers 24 tools for you to choose from. These tools allow you to compress, merge, split, unlock, protect, and rotate your PDF files easily. You can also add a watermark, page numbering, or even block a PDF. This software is very accessible and it is working with any device that you have.
Pros

All tools are easy to use.
You can access all the features even in the free version.
You can put passwords to protect your files.
It is free to use.
It is powerful online software.
It can be accessed easily.
Cons

The mobile site needs improvements
Some tools also need improvement.
Preview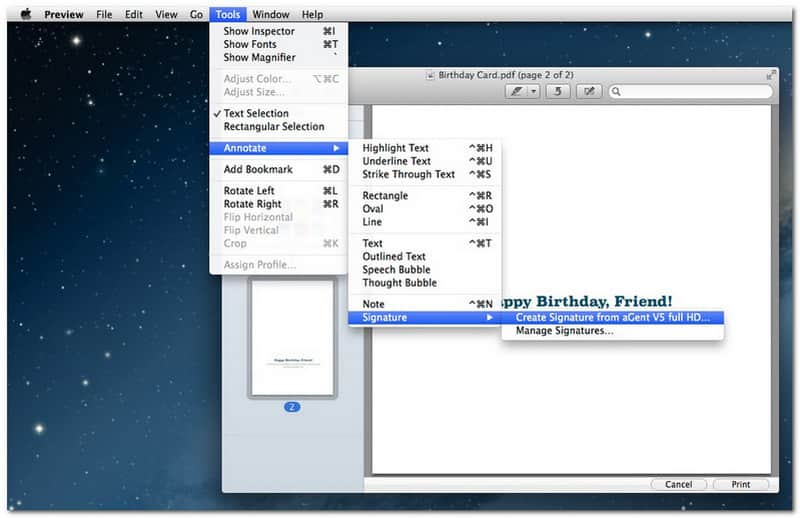 Preview is built-in software that you can find in macOS where you can view and edit your PDF files. This software also has editing tools that you can use when you want to rotate, crop, add annotations, remove or add a background, combine images into one, and add text. After editing, you can save your files in many different formats. Lastly, this software is only available for macOS users and Apple users.
Pros

It is always updating.
There's a new tool called the 'edit button'.
Cons

It does not support ISO-standardized PDF.
It deletes PDF files without warning.
Skim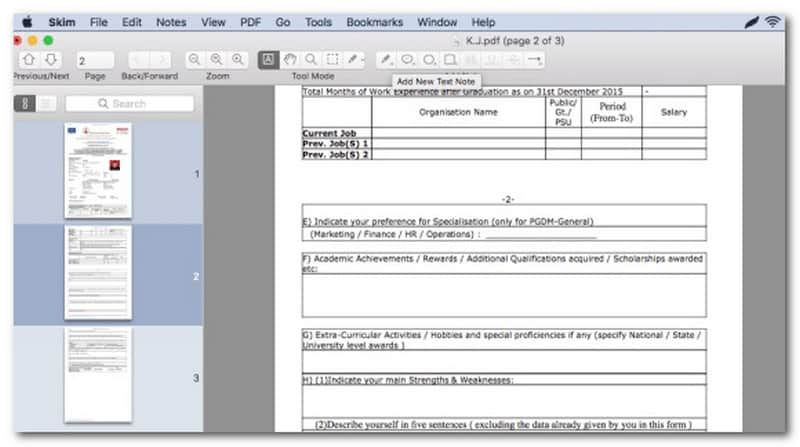 This software has a lot of features and editing PDF files is one of them. It also lets you highlight important texts, makes snapshots, navigates using thumbnails, crop, and magnify using the magnification tool. You can also put passwords to protect your files. It's really convenient when you're reading on full screen. It also gives users powerful presentations with built-in transitions. Moreover, it also has a bookmark for you to use. Lastly, this software is only compatible with Mac OS X.
Pros

It has note-taking features.
It has a bookmark.
It has a lot of features.
It has perfect support.
Cons

It sometimes freezes out of nowhere.
Files are missing sometimes.
The interface needs some work.
Limited note format.
Foxit Reader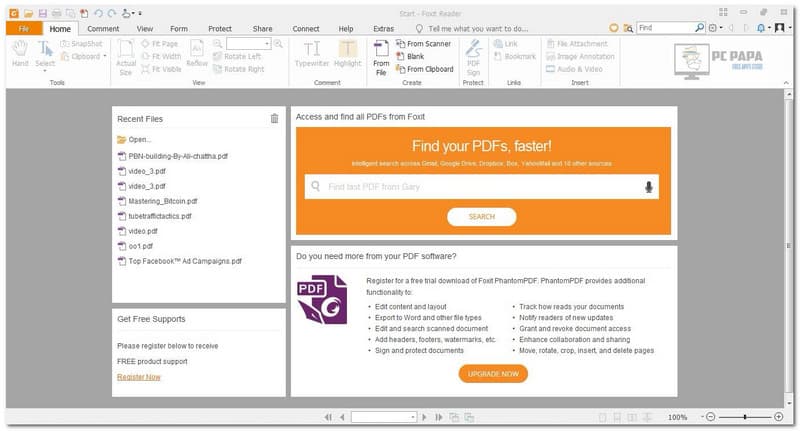 Foxit Reader is a free program that lets you edit, create, and collaborate PDF files. This also allows you to add images, videos, and file attachments to customize your PDF files. Other than that, you are also free to protect your files by making a password for all of your files. You also have the freedom to sign documents using your handwriting by utilizing eSignature. Lastly, this software is available to Windows, Mac, Linux, iOS, and of course, Android.
Pros

It allows you to comment and pin files.
It can be an all-in-one solution for editing PDFs.
It has better RAM management.
It is easy to operate.
It is great when you need to take notes.
It does not take up a lot of space.
Cons

There are updates that can't be installed.
Some plug-ins are missing.
Updates are sometimes causing issues.
Some tools are hard to navigate.
The software sometimes crashes.
There are ads.
PDF-XChange Editor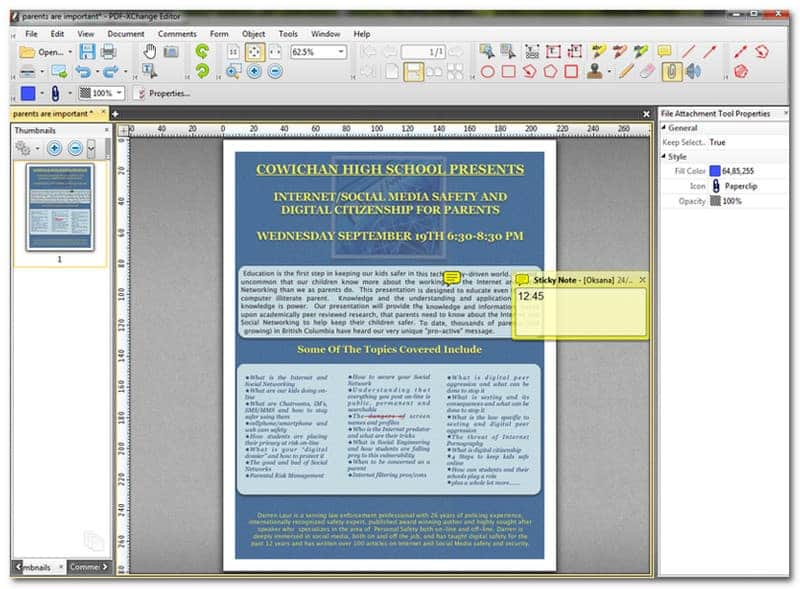 This free software can help you when it comes to editing PDF files. It can also create, view, annotate, OCR, and sign PDF files digitally. It will also help you when it comes to correcting, adding, or removing texts easily. More than that, you are also able to move, resize, or remove the Graphics. Enhancing features, navigation panes and page editing options are also available. You can also add comments and annotations in the form of geometric shapes, text boxes, hyperlinks, and audio files. In addition, this software also lets you redact content, update existing PDF documents, take snapshots, dictate documents, check the spelling, and a lot more. Lastly, you can use this software on devices that have an operating system of Windows XP or later.
Pros

Smooth performance.
There are no lags.
It has a good value for the price.
Cons

The interface needs a little improvement.
There's no direction for first use.
FileStar PDF
FileStar PDF is software that works with PDF files. More than that, it also lets you resize, compress, rotate, add filters, change colors, and more. It can also handle PDF documents by splitting, merging, and removing pages. In addition, this software can also help you to save time because the tools are so easy to use and you'll get used to it quickly. Lastly, you can use and experience this software on any version of Windows.
Pros

It can split up multiple pages from a PDF.
Multiple documents are easy to combine.
Cons

The software sometimes becomes unresponsive.
You need to pay to use the edit feature.
Part 2. Comparison of the top 7 free PDF editing software
Use a chart to make the comparison.
| | | | | |
| --- | --- | --- | --- | --- |
| Windows and Mac | Batch Conversion | Password Protection | Phone Support | Easy to Use |
| | | | | |
| | | | | |
| | | | | |
| | | | | |
| | | | | |
| | | | | |
| | | | | |
Part 3. FAQs of Free PDF editor
Is Easepdf Online PDF Editor safe?
Yes! Even though Easepdf Online PDF Editor is software, it assures you that it will protect your files from everybody.
Is there another way to use Preview in Windows?
Sadly, there is no other way to download this software in Windows but there is other software like FileStar PDF or Foxit reader that is compatible with any versions including Windows.
Can I edit my bank statement PDF file?
Yes! You are able to edit your bank statement PDF file by using a PDF editor. Some of the tools that we can recommend to you are FileStar PDF and Foxit Phantom PDF.
Conclusion
To sum it all up, having a trusted and great software for editing PDF documents is really essential because it can lessen our worries when it comes to editing PDF files. All of this software is really worth a try and we assure you that you would not be disappointed when it comes to their performance.
Did you find this helpful?
159 Votes
YES

Thanks for letting us know!
No

Thanks for letting us know!