Easy to Use PDF Converters to Edit Like a Pro (Online, Windows, and Mac)
PDFs are really in use in today's generation. It's hassle-free because you will be able to access everything on your phone. It can be a book that you badly want to read or a document that you need to check. With the help of PDF, you can easily view the files that you need to see. However, it doesn't allow you to edit your files and it's really difficult to put text in PDF files because they are usually viewed as a picture. That is why there are PDF converters that can convert your files to any format. It can be PDF to JPG or PDF to Excel. Today we are going to introduce you to the best PDF converter that you need to try.

Part 1. Best PDF Converter Online
1. freepdfconvert.com

This software is an online PDF converter where you can convert different types of files. This is safe software because it makes sure to take off your files and secure them.
The PDF converter has a free trial that you can enjoy but to access everything including some of the tools, you can sign-up and get a membership.
Membership allows you to upload and convert files to PDF all at once. Since it is online, the software will automatically delete your files after 3 hours of not using them or accessing them for the safety of your files.
This software can also compress, rotate, and merge two different PDFs. You can use this converter in your Windows, Mac, and Linux. Overall, this is a great choice when you are looking for trusted software.
Pros

Everyone can use it since it is open source.
It is safe to use because it secures your information written in the files.
Affordable PDF converter for the public because it is totally free.
Cons

You need to be a member to enjoy all of the tools.
You can't access your files after 3 hours so if you forgot to save them you need to redo them.
Batch conversion is not available if you're not a member.
2. SmallPDF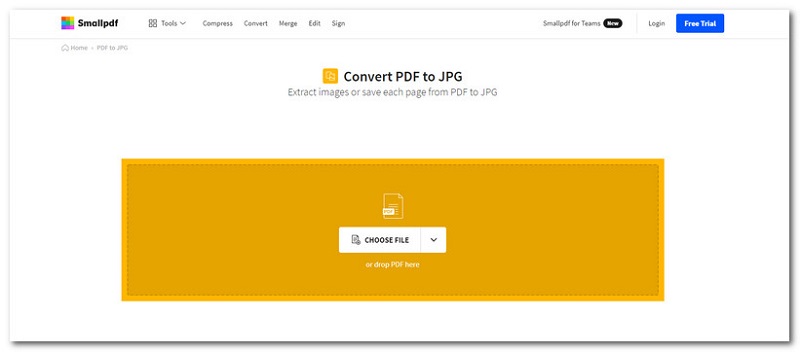 SmallPDF is online software that you are free to use when you're looking for a converter that you can trust. This PDF offers 21 features that you can enjoy. The first one is the PDF converter where you can convert Word, PowerPoint, and Excel files to PDF and vice versa.
You can also convert PPT to PDF, PDF to PPT, JPG to PDF, PDF to JPG, Excel to PDF, and PDF to Excel. Other tools will let you rotate, merge, split PDFs, and the eSign feature where you can create your signature, sign, and let other people sign to your file. For the safety of your files, you can also put a password.
There's a free trial for you to enjoy but to enjoy more of the features, and you can make an account to become a member. You can download the app on your iOS and Android. You can also use this on your Windows and Mac.
Pros

Compatible with almost every device.
There's a free trial so you can try it even without paying.
Conversion options.
Cons

Text editing is not available.
Unrefined interface.
The free version is not available.
3. Soda PDF

Soda PDF is an easy-to-use software that you can use to edit, merge, convert, compress, sign, and secure your files. You can convert PDF to Word, PDF to Excel, PDF to JPG, and PDF to PPT. On the other hand, you can convert Word to PDF, Excel to PDF, and JPG to PDF. There are also other tools such as PDF reader, PDF converter, PDF creator, and OCR PDF. It will also ask you if you want to sync any of your accounts in Dropbox, OneDrive, Google Drive, Box, and Evernote to get the files that you want.
Soda PDF has a 14-day free trial which you can use before deciding if you will avail of it or not. Availing the app comes with the privilege of getting a chance to try all of the tools mentioned above, Soda PDF also has many different versions such as Soda PDF 5, Soda PDF 6, Soda PDF 7, Soda PDF 8, and more. You can use this software on any Windows and Mac. Overall, this software is really accessible to everyone because it is online and it does not demand you to download anything.
Pros

You can merge your cloud storage services.
14-day free trial.
Smooth interface.
Cons

You need to purchase features separately.
The performance of the software is not that good.
Patchy OCR.
Part 2. PDF Converter Software for PC and Mac
1. Aiseesoft PDF Converter Ultimate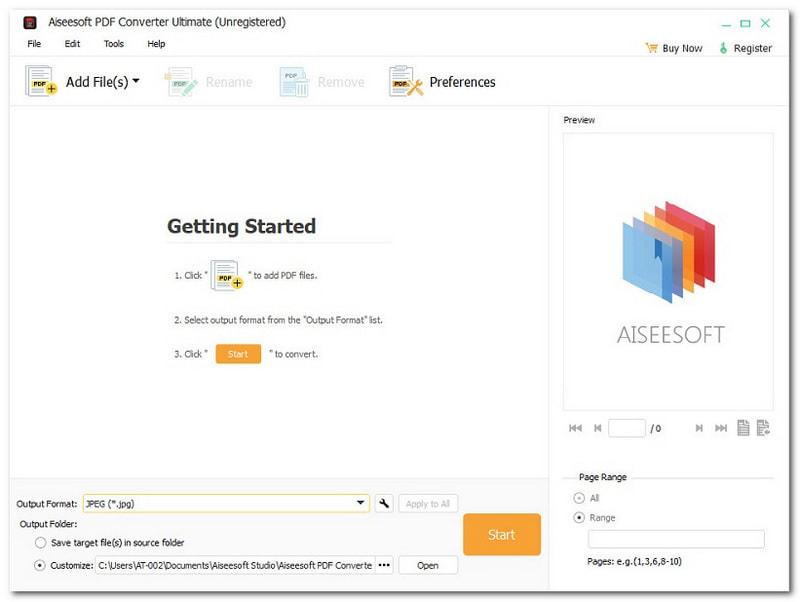 This software can convert PDF to Word, PDF to Text, PDF to Excel, PDF to PowerPoint, PDF to ePub, PDF to HTML, PDF to JPG, PDF to TIFF, PDF to PNG, PDF to GIF, and many more. Aiseesoft PDF Converter Ultimate supports 190 languages such as French, Korean, Japanese, German, Turkish, Chinese, and many more. You can customize and edit your files by setting your layout, encoding text, choosing the image format or resolution. You also are able to do image formatting where you can set the output image, size, and color.
Converting your PDF files to images with output formats such as TIFF, JPEG, PNG, GIF, BMP, TGA, PPM, and JPEG2000 is also available. This software is available in Windows 10, Windows 8, Windows 8.1, Windows 7, Windows Vista, Windows XP (SP2 or later), and Mac.
Pros

Reliable software.
Free software.
Easy to use.
Cons

Slow installation.
The interface is sometimes blurry on Mac.
2. Adobe Acrobat Pro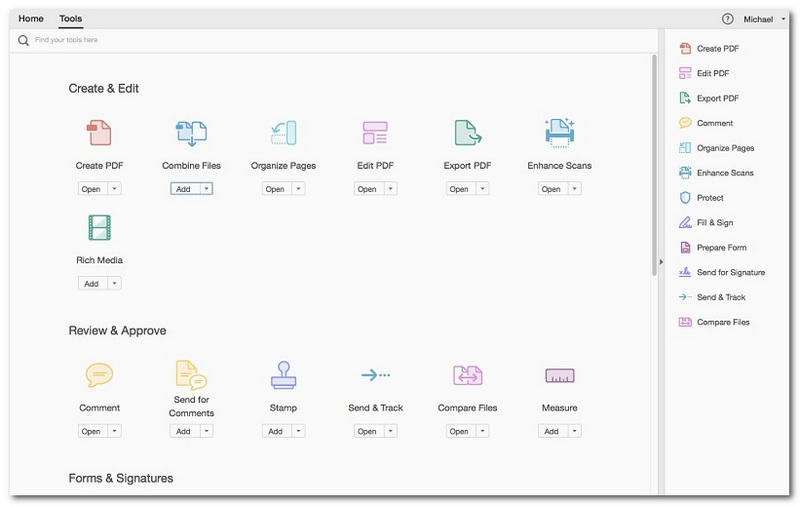 Adobe Acrobat Pro is software that can create and edit your PDFs and most importantly, convert PDFs. This software allows you to convert Word to PDF, PPT to PDF, Excel to PDF, JPG to PDF, PDF to Word, PDF to PPT, PDF to Excel, PDF to JPG, and HTML to PDF. You can also edit PDFs, add a comment, recognize text, combine files, reorder pages, delete pages, rotate, crop, insert pages, and split PDF. It also allows you to share your file with someone or anybody for them to comment or view your file.
You also can protect your PDF from avoiding others from stealing your PDF content. Unlocking protected PDFs is also allowed. It also permits you to compare two files for you to quickly spot the mistakes. In addition, you can also send your file to someone for them to sign it or vice versa, you can put your signature on someone's file. You can access this software for free for 30 days but after that, you need to avail the premium version for you to continue using it. Adobe Acrobat Pro is available to Windows and Mac OS X. It is also available on mobile phones like Windows, iOS, and Android devices.
Pros

It is easy to navigate the files.
It is easy to understand PDF editing features.
Sharing is available so it's easy to fill documents or get signatures.
Cons

Features of the software can become a little overwhelming.
It is not totally free.
The software sometimes crashes.
Part 3. PDF Converter App
1. Office Suite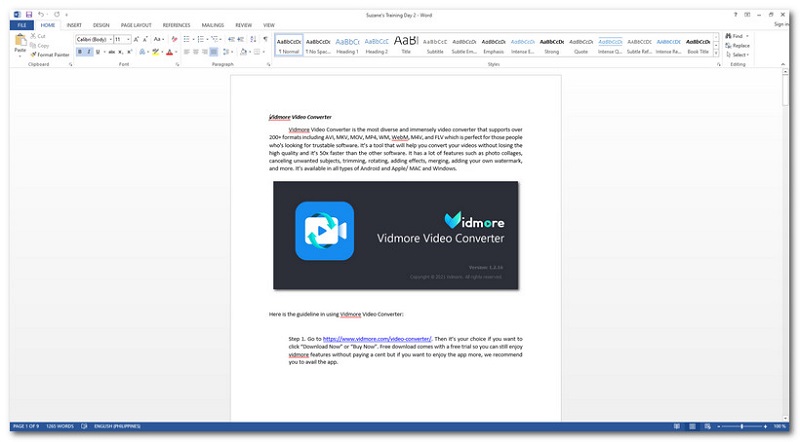 This app can help you when it comes to reading, editing, and creating Word documents, Excel, PowerPoint, and PDFs. It has a lot of tools such as PDF docs reader, PDF files editor, PDF documents filler, security and permissions management, and more. One of its features is the PDF converter that will let you convert PDF to Word, Excel, ePub, Doc, TXT, PPT, JPG, PNG, and XLS. It can also convert JPG to PNG, BMP, GIF, EPS, PSD, XLS, ODT, RTF, and PNG. It also has a music and video converter.
You can also add your signature which helps you to sign documents quickly. It is an easy-to-use app. In addition, you can link your mobile office to your accounts in Google Drive, OneDrive, Box, and Dropbox to save your files. You can start using this app for 7 days for free including documents editor and other advanced tools and features. This app works in Windows, Android, and iOS.
Pros

Friendly-user.
Ad-free.
Spell checking is available.
Cons

It is easier to use if you have a keyboard.
It only offers a 7-day free trial.
The software performance is not consistent.
2. Able2Extract PDF Converter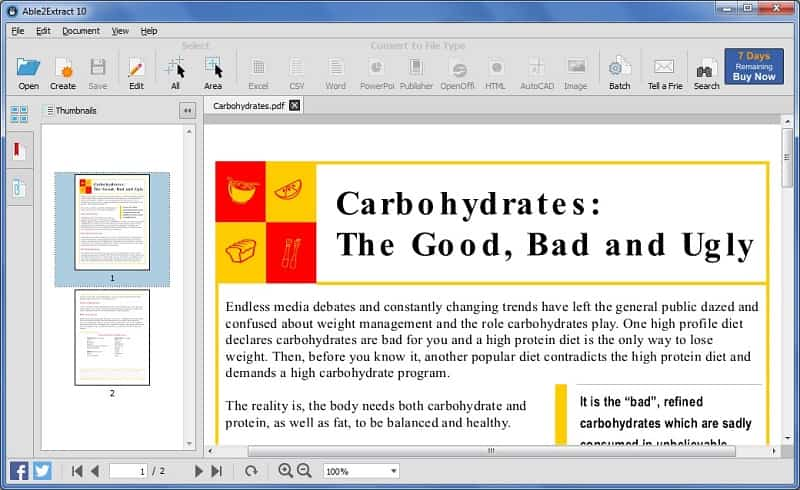 Able2Extract is good in converting, analyzing, and PDFs revision. This app offers a lot of tools like selecting the text color, adding your own watermark and stamp, deleting the parts you want to delete, highlighting, and more. It allows you to convert PDF files to Excel, Word, PowerPoint, Publisher, AutoCAD, OpenOffice, and more. It also lets you do a batch conversion where you can convert multiple files all at once. It converts to over 300+ formats such as PDF to Word, PDF to Excel, PDF to PowerPoint, PDF to AutoCAD, PDF to Images, PDF to HTML, PDF to Publisher, and lastly, PDF to Open Source Formats. You can download this software to Windows, Mac, and Linux.
Pros

Hassle-free.
Fast conversion.
Beginner-friendly.
Cons

It sometimes crashes.
It struggles with scanned documents.
You sometimes need to reword the converted files.
3. PDF Converter - PDF to Word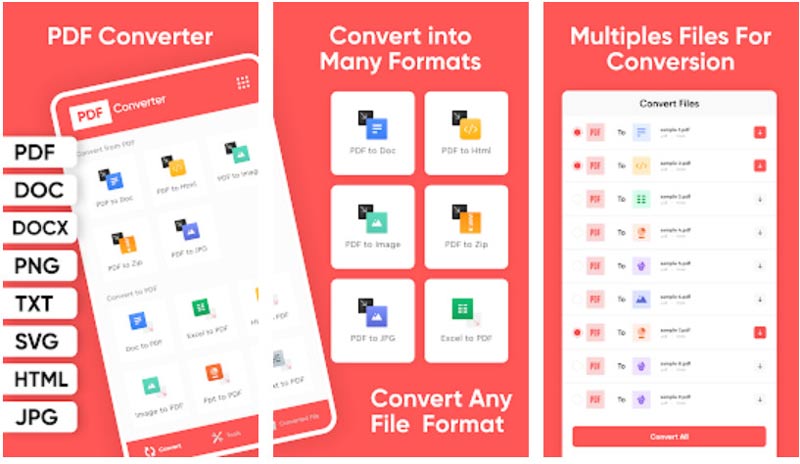 This app allows you to convert PDF files to Word documents, JPGs, excel sheets, and PowerPoint presentations within a few instances. You can also take assistance from this app to lock, unlock and merge PDFs. The easy-to-use interface and appealing layout of the PDF converter make it the best app on the Play Store to convert PDFs into other docs, or vice versa. The advanced algorithms working at the backend will process your files and convert them into your desired format Without damaging their quality within a flash of instance.
Pros

User-friendly interface.
24/7 Customer Support.
Support All Android Devices.
Cons

Paid Version is Needed for enjoying Ad-free version.
Part 4. FAQs of PDF Converter
Is there a way to convert an image to a PDF file?
There is a lot of software that can help you convert images to a PDF file such as Adobe Acrobat Pro, Office Suite, Aiseesoft PDF Converter Ultimate, and more. This software offers to convert your images to any format like PDF, PNG, GIF, and more.
Does Windows 10 have a PDF converter?
Yes! Windows 10 new features include a PDF converter. Some of the users are not satisfied with its performance but if you're looking for an easy way to convert your files in a short time, you can use this.
Is it safe to convert PDF online?
Some of the software online is safe. That is why you carefully need to choose an online software that offers security for the files that you're going to convert.
Conclusion
To sum it up, PDF converters are helpful when it comes to accessing your files or even editing them and making them more presentable. It's also helpful when you need to change the formats of your files. It is useful and it makes your life easy when it comes to converting PDFs. That is why you should try this software and we will assure you that you will not regret it!
Did you find this helpful?
245 Votes
YES

Thanks for letting us know!
No

Thanks for letting us know!
Aiseesoft PDF Converter Ultimate
An ultimate PDF converter to Word, Excel, Image, and more.