3 Awesome Tools to Add Text to GIFs Easily
GIFs are currently popular with large number of people who are inclined to communicate with others and share their thoughts via some social media applications, and they are often used to inject levity and joy into otherwise serious exchanges. If you want to add a new layer of fun and originality to your GIFs, try typing some text into them. With compelling copy, GIFs take on a whole new level of drama.
Number of text-to-GIF applications have recently emerged, making it difficult for users to choose the best one for their needs. Therefore, for you not to be stressed out about searching tools and help save time, we listed some of the easiest and working tools that can add text to GIFs in just a few clicks.
Part 1. How to Add Text to a GIF Directly
If you wish to add text to GIFs directly on the desktop, we will introduce the programs that will help you do that. Also, you will learn how to use each tool in this part. They bring fresh features you may find helpful and valuable for you. Check them out to learn more.
1. GIMP
To easily add text to GIFs, you can use GIMP, a desktop program. A powerful alternative to Photoshop, GIMP can add beautiful text to your photographs like a pro without sacrificing ease of use. Finding the text icon after uploading the photo is all that's required. After that, you can use simple controls to change the font's size, style, color, and more. On top of that, GIMP is a cross-platform program, allowing you to use it on your Linux, Mac, and Windows computers. It also enables you to make and modify GIFs besides adding text to animated GIFs. On the other hand, rely on the steps to learn how to use GIMP to add animated text to GIFs.
1.
First of all, download and install GIMP on your desktop computer. When you load a GIF with animation, each frame will appear in the Layers panel.
2.
Animated GIFs can now have text added to them using the program's Text tool, found in the program's toolbox on the left. When typing in text, you have a wide range of options for how it appears.
3.
When you're done customizing the GIF with text, you can watch a preview of it in action via the Filters menu's Animation > Playback option. From this page, you can also modify the length of any animations.
4.
The Export As function is the final step in storing an animated GIF. If you want your GIF to loop indefinitely, have a delay between frames, etc., you can select the As Animation option when you export it.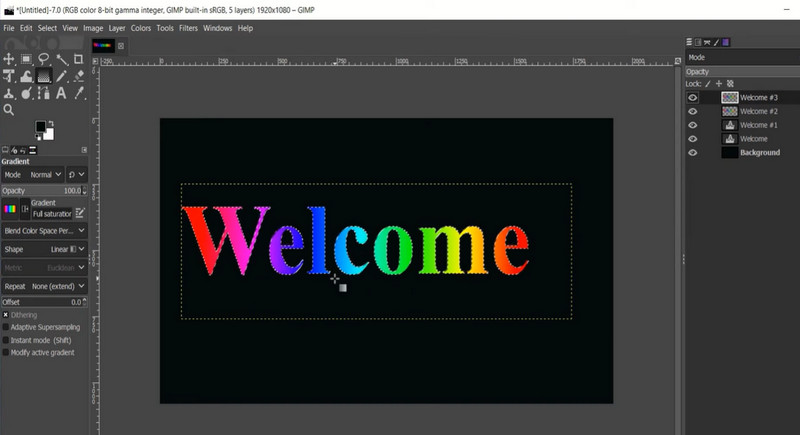 2. Chasys Draw IES
It is also possible to use Chasys Draw IES, another free piece of software, to add meme text to a GIF animation. It's a free graphics editing suite for Windows. Chasys Draw IES Artist (for making and modifying graphics), Chasys Draw IES Converter, and Chasys Draw IES Viewer are just some of the useful tools that come with it. Furthermore, you can apply effects, change GIF speed, drag over GIFs manually, insert elements and shapes, and transform GIFs. On top of that, numerous image file types, such as PNG, PCX, TGA, TIFF, ICO, JPEG, ANI, WEBP, etc., are available for use in the design process. Use this add text to GIF app by following the below guidelines.
1.
Begin by launching its Artist software and loading an already-created animated GIF. All frames from GIF animations can be viewed in their entirety on its user interface.
2.
You can choose a specific frame and then edit it in the current window or a new one. The next step is to add a caption to the GIF frame by using the TextArt tool, which can be found in the Toolbox.
3.
A TextArt Editor is included for entering text and adjusting typographical properties like font, size, fill, light, render, etc. The picture frame containing the text can now be saved. Additionally, you can add multiple texts to different frames of the animated GIF.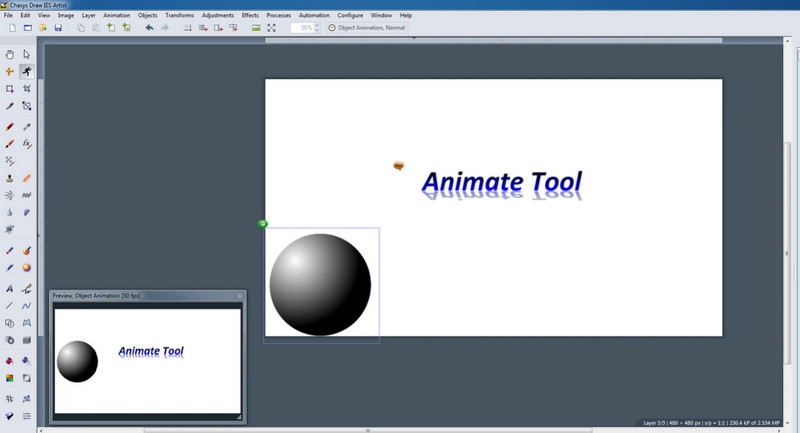 3. Picfont
Picfont is an online tool designed to edit videos and GIF files online. That said, it does not need the download or installation of software as it is a web-based program. In other words, you can add text to GIFs directly from the webpage. The program supports JPEG, PNG, and GIF. What sets it apart from other online tools is that it is straightforward to use and gives you many options for editing multimedia files. What is more, you can upload from your computer and adjust the width and height based on your requirements. However, users may only upload up to 6 MB maximum. It is quite decent for a GIF file. To cut to the chase, here is how to add text to GIFs online.
1.
Before anything else, go to the main interface of the program. From the main page, hit the UPLOAD button and select your desired photo from your local drive.
2.
By default, there will be text added to the GIF. Now, on the Toolbox on the left side, edit the text using its field. Then, set the font style or select from Multilingual and Meme Text.
3.
At last, tick the Download icon from the top menu to get a copy of the file. Alternatively, save the modified GIF to your Google Drive.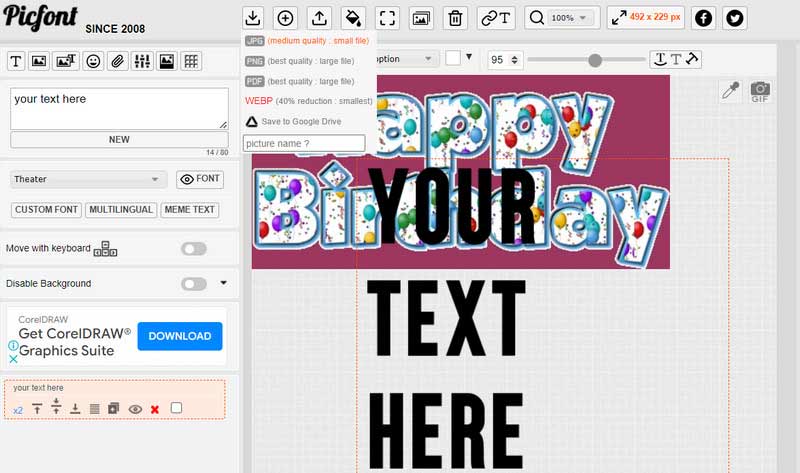 Part 2. How to Make a GIF with Text and Add to GIF
Vidmore Video Converter provides a superior experience and more animation filters. If you want to animate text in a GIF, it's your best bet. Beautiful text animation, theme, and other editing tools are available. It doesn't matter if you want to make a slideshow out of photos, videos, or music. You'll always be happy with the results you obtain here.
So, it is of no consequence that you know nothing about text animations. In reality, this cartoon film producer sets up a hierarchy of filters. With just a few mouse clicks, you can add moving text to your animated GIFs. Let's read it together to learn how to operate this add text to the GIF app.
1.
Import a video file
The text animation maker is available for free download and installation. Get started with the application as soon as the installation is complete. To upload a new file, select the Add Files button.
2.
Launch the video editor
From the main interface of the program, you will see the thumbnail of the GIF file you uploaded. Besides the video preview, you will see three icons corresponding to respective options. Tick the Edit button to launch the video editor of the program.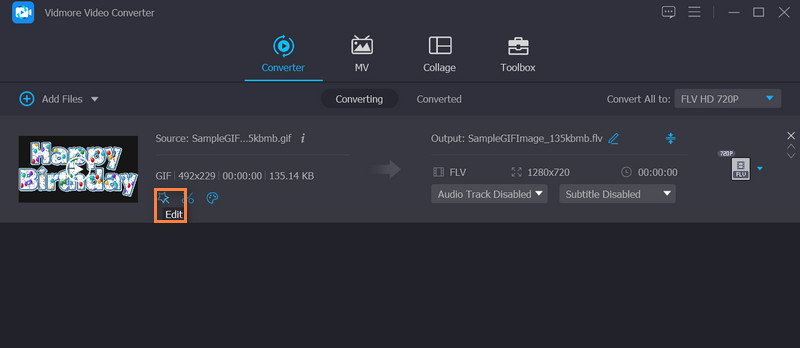 3.
Add text to the GIF
Next, access the Watermark tab and tick the Text option to enable the ability to add text to the GIF. Right after, enter your desired text into the field and adjust the color, placement, font, and opacity accordingly. Hit OK to finish the process of adding text to the GIF.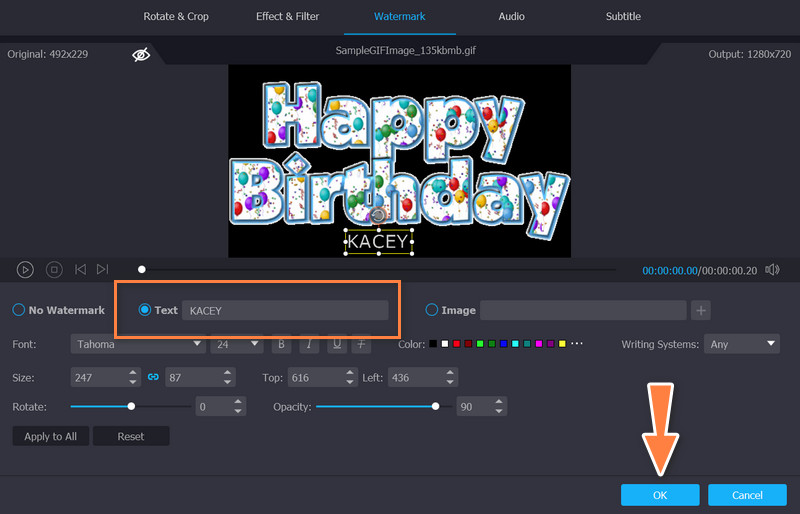 4.
Get a copy of the modified GIF
This time, select a file format for the GIF. If you wish to retain this format, you should simply choose the GIF file format. Finally, tick the Convert All button to get a copy of the file.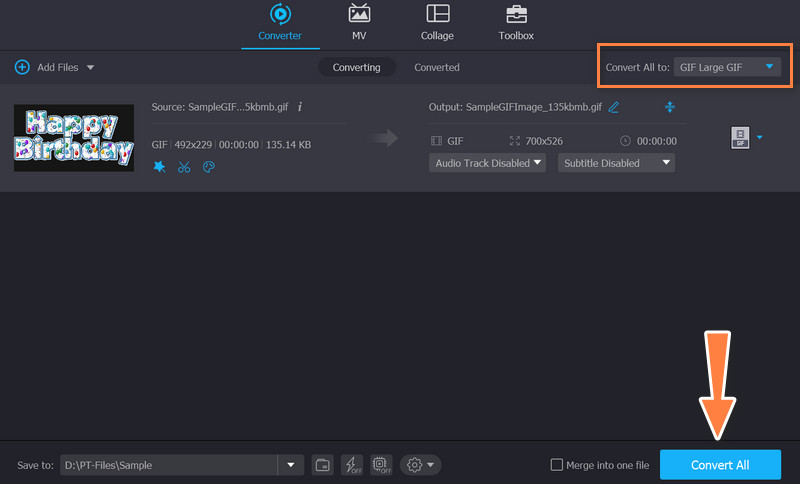 Finally, if you want to record the GIFs you have made, you can use a GIF Recorder to help you. Have a try now.
Part 3. FAQs about Adding Text to a GIF
How can I add text to GIF on iPhone?
If you wish to add text to GIFs on your iPhone, you can consider using GIPHY. It is a mobile program available on Android and iOS devices. It possesses the ability to add text to a GIF with great ease.
Can I use iMovie to add text to a GIF?
iMovie doesn't work with animated GIFs, so you'll need to change them. In other words, you cannot add text to a GIF unless you convert it.
How to create a GIF?
It is another feature of GIPHY to create animated and interesting GIFs. You can use this program to make GIFs on desktop or mobile devices.
Conclusion:
All the mentioned above are programs that can help you add text to GIFs. You can choose whether for desktop tools or online. Additionally, you can create a Text to GIF and it with a GIF player. with the latter solution.
Did you find this helpful?
414 Votes
YES

Thanks for letting us know!
No

Thanks for letting us know!
Vidmore Converter
Your complete video toolbox to convert, edit and enhance video.