7 Amazing Free GIF Player for Windows and Mac: The Ultimate Review
People enjoy making funny animated GIFs or Graphical Interchange Format from other websites to express various emotions. GIFs are bitmap image formats that can be compressed without losing quality. To put it another way, you can save short looping videos with no sound as GIF files. Later, you can share animated images in small file sizes without losing quality via Snapchat, Whatsapp, Messenger, Facebook, Twitter and other services.
To play GIFs on your phone, computer, or any devices, you'll need a GIF player which is different from other image formats. Because some image viewers can only display a static image rather than the entire GIF animation. To view GIFs smoothly, you should use an animated GIF player with advanced features and functions. In regards to that, we prepared the seven of the most incredible players for your GIF. These are Windows Media Player, PotPlayer, AnyMP4 Blu-ray Player, Divx Player, Zoom Player, MediaPortal, and iTunes Player. Without further ado, let us review them one by one.

Part 1. Best 7 GIF Player
Windows Media Player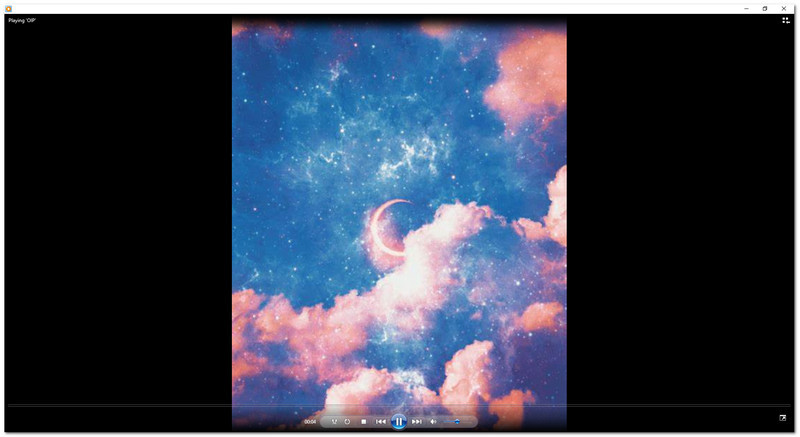 Platforms: Windows
Price: Free
Windows Media Player is a freeware that has the ability to play your GIF on your Windows computer. As we know, this media player is one of the most infamous player software in the market nowadays. This is commonly installed with Windows computers and used by millions of users around the world. Furthermore, it also supports almost every file format existing (old or new). Therefore, for that being said, we can really say that this media player can be trusted in viewing your GIF files. You may now continue to entertain with Windows Media Player. That is why it is also called one of the best GIF viewer software in the market that you can get for free. You may try it now, and enjoy its fascinating features.
Pros

Trusted and proven for a long time now.
Millions of users utilize it.
Smooth playback that supports all file extensions.
Available for everyone.
Cons

Lag occurs sometimes.
PotPlayer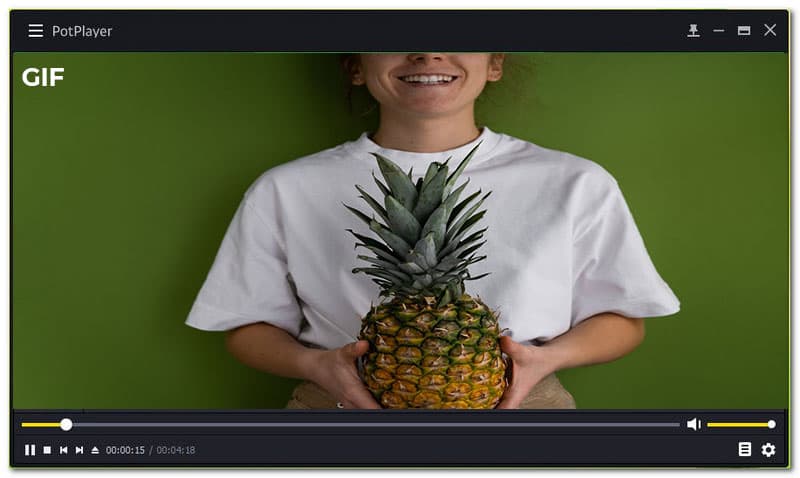 Platforms: Windows
Price: Free
Another free media player in the market nowadays that we can use in playing our GIF files is the PotPlayer. This is one of the most powerful player software that supports a lot of formats and provides a lot of amazing features and functions. In fact, this player software offers many features compared to the other media player. You may download the software for free to discover what those functions are. In this time, we will see what PotPlayer can offer when you use it in playing your GIF files. Well, playing your GIF smooth and well quality playback resolution is possible here. Other than that, it also possesses built-in editing tools that you can utilize in modifying your file such as GIF.
Pros

Numerous features offered.
Effective media player for free.
2 in 1 player with editing tools.
Cons

Requires some time to master it.
AnyMP4 Blu-ray Player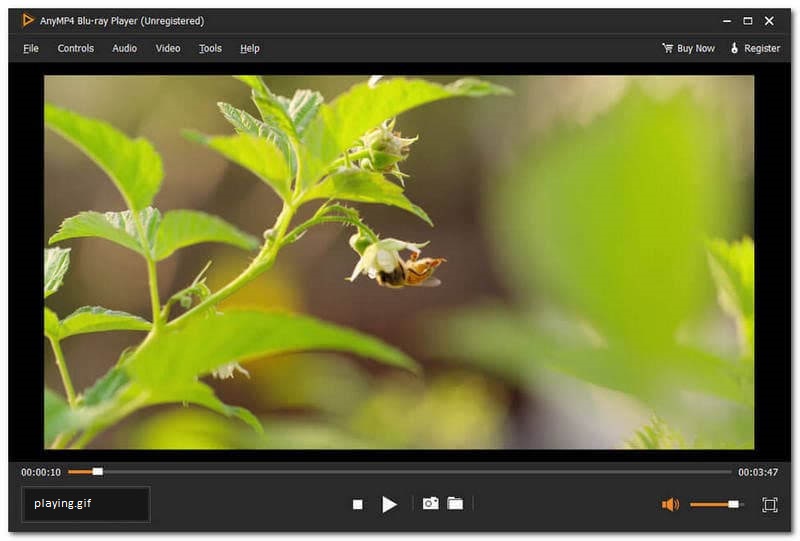 Platforms: Windows and Mac
Price: $18.75
Next in line in the software that can be utilized in playing your GIF media file is the AnyMP4 Blu-ray Player. This media player is making sure that it performs excellently in playing any type of mead file extensions. Originally, it was created and made to allow the user to play their Blu-ray disc and DVD disc with ease and hassle-free using their Windows computer.
But then, the developer wants us to offer more by allowing it to support almost every file format. Therefore, we can really say that AnyMP4 Blu-ray Player is really a great choice that suits your needs as a GIF player. It offers both free and full versions. Wherein you can enjoy the complete package if you purchase the full version.
Pros

Cost efficient media player.
Effective player for any file format.
Advanced technology guarantees a smooth playback.
Smooth playback.
All-in-one software.
Cons

Focuses on DVD and Blu-ray disc.
Confusing function tools sometimes.
DivX Player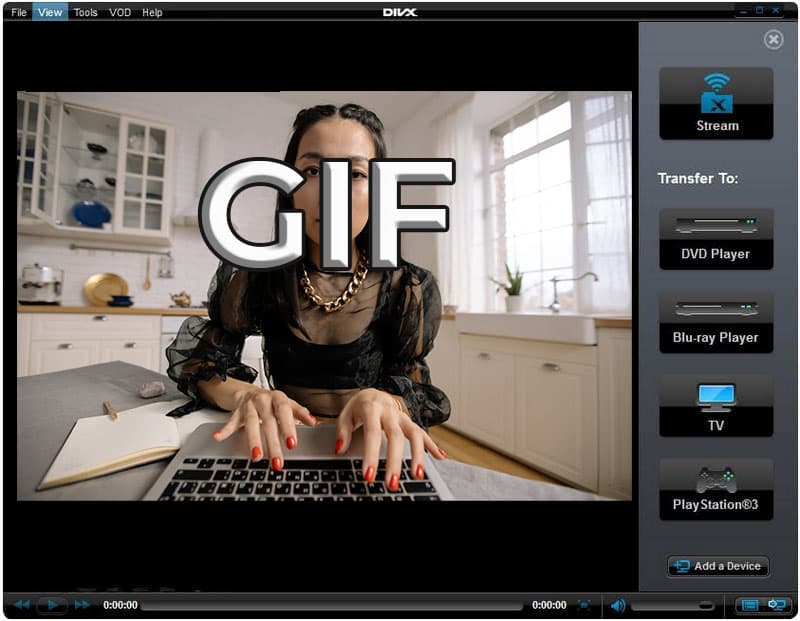 Platforms: Windows, Mac, iOS, and Android
Price: $19.99
For a long time now, DivX Player has been one of the most trusted and most used players by the people. Just so you know, it already has 1 billion software downloads and even tons of active and licensed accounts and devices now. Therefore we can surely say that DivX Player is a great choice if you are looking for a player that supports various types of file. In line with the GIF file, you use this player if you wish to view funny GIFs with ease and with lossless quality. Overall, DivX Player is an amazing choice for you. Try it and you will not regret it.
Pros

Profession tools for a media player.
Amazingly intuitive interface.
Offers mobile device version.
Cons

Sometimes, crashes occur unexpectedly.
Zoom Player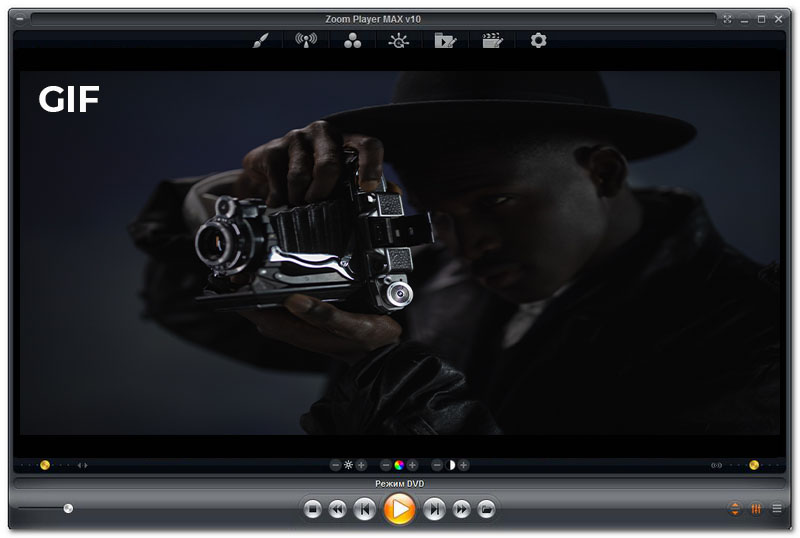 Platforms: Windows and Mac
Price: $14.99
As an addition to the friendly user media player in the market is the Zoom Player. It is also defined as the sophisticated, flexible, and powerful media player software in the market especially for Windows PCs and Tablets. It possesses an advanced and smart technology that allows media file formats to play instantly, with ease, and with reliability in super smooth motion of any file including GIF. In fact, this software supports almost all popular formats. It also has a very easy customizable user interface for easy usage. Therefore, for that being told, Zoom player has really a lot to offer and a software that should be on your list. Overall, you will not surely regret it if you choose it.
Pros

Effective media player.
Over 300 functions assigned to boards.
Full screen navigation is supported for instant upgrade.
Cons

Limited compared to other software.
MediaPortal
Platforms: Windows 7 / 8 / 10
Price: Free
MediaPortal is an open source and free GIF player and media place software for Windows. This software is commonly used by the user when they want to watch their videos in a Theatre experience of watching. Even though they are just in their house. If this software can offer a bigger experience of playback with excellency that means it can also perform great in playing small files. Just like the simple viewing of your GIF files. This is just basic with MediaPortal. Furthermore, for additional information. This media player offers two kinds of versions – the MediaPortal 1 and the MediaPortal 2. As an overview, MP1 is a lot more limited than MP2. In simplest explanation, MP2 is like the full version of MediaPortal.
Pros

Easy to use media player.
Upgrading frequently.
Cons

Other versions are limited.
Crashes sometimes.
iTunes Player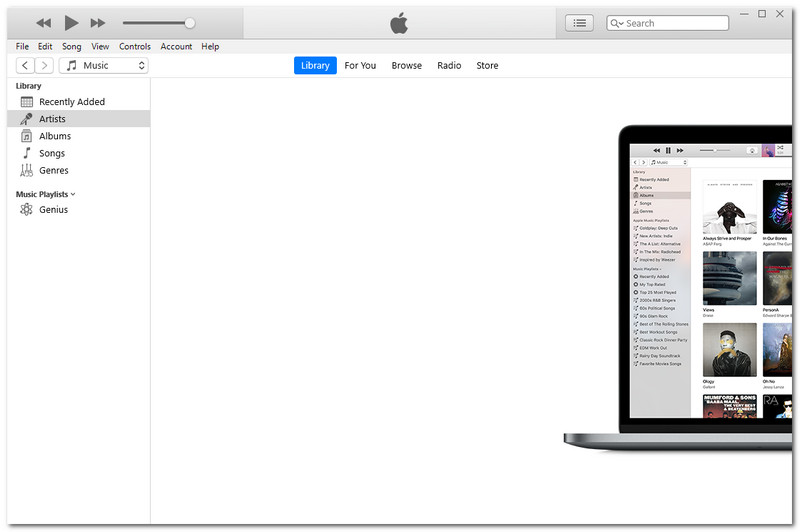 Operating System: Windows 10, 8, 7, Mac OS, and iPhone
Price: Free
The last on the list but one of the greatest among the rest, is the iTunes Player. This media player can offer almost everything you will need. It is also a great choice in viewing your GIF files. Aside from that it can also be used in playing your audio, videos, films, and more files. It is the most used player among iPhone, therefore we can trust its reliability for that being said. Try iTunes player now and get it to a different virtual store.
Pros

Cost efficient media player.
Effective software.
Super smooth playback.
Trusted and proven especially for Mac and iOS.
Offers version for Mobile phones.
Cons

Updating seldom.
Some features are overwhelming.
Part 2. Differences of GIF Player
GIF Players
Windows Media Player
PotPlayer
AnyMP4 Blu-ray Player
DivX Player
Zoom Player
MediaPortal
iTunes player
| | | | | | | | | |
| --- | --- | --- | --- | --- | --- | --- | --- | --- |
| Platform | Price | Customer support | Easy-to-use | Interface | Features | Safety | Smooth Playback | User Interface Rating |
| Windows | Free | 9.0 | 9.3 | 9.0 | 9.0 | | | 9.2 |
| Windows | Free | 9.1 | 9.3 | 9.3 | 9.3 | | | 9.3 |
| Windows and Mac | $18.75 | 9.5 | 9.4 | 9.3 | 9.5 | | | 9.5 |
| Windows, Mac, iOS, and Android | $19.99 | 9.3 | 9.3 | 9.3 | 9.4 | | | 9.3 |
| Windows and Mac | $14.99 | 9.3 | 9.2 | 9.2 | 9.1 | | Moderate | 9.1 |
| Windows 7 / 8 / 10 | Free | 9.1 | 9.2 | 9.3 | 9.4 | | Moderate | 9.2 |
| Windows 10, 8, 7, Mac OS, and iPhone | Free | 9.2 | 9.2 | 9.2 | 9.2 | | | 9.5 |
Part 3. FAQs of Best GIF Player
What kind of file format does GIF belong to?
We all know that GIFs can be seen as moving images that we can associate to videos. However, GIF still belongs to the image format. It is a highly compressed image that is created by Unisys. Nowadays, it is known to be under image file formats.
Does GIF have a big file size?
The GIF file is smaller than the video. The file size of a GIF seems to be a maximum of 264kb. Any file size that exceeds it will display the GIF as a static image.
What are the GIF viewers I can utilize in my mobile devices?
There are tons of GIF viewers you can use with your mobile phones. However, if you are asking for a recommendation. We suggest using the GIF Camera, GIF Me Camera, GIF Pro, and GIF Maker.
Is Ezvid free?
Yes. Ezvid for Windows is a full functional video editor and screen recorder. You can use it to create videso for YouTube, Facebook, and other popular video sharing websites.
Is Ezvid safe?
Yes. Ezvid is a software company established in 2009, and creates its Wiki. Ezvid Wiki are also popular in the video wiki. But the ads in this website may direct you to unsafe places. So you should take care of its ads.
Conclusion
Therefore, as a final word for this article. We found out that there are various media players in the market that have the ability to play your GIF files wonderfully. These funny GIFs will surely entertain us. In addition, these seven GIF players presented above can really give us fantastic features and functions. Now, it is your time to choose what is best for you. Make sure you will go for the best so that you will not regret it after. You also share this article to a friend who is looking for a GIF player tool.
Did you find this helpful?
274 Votes
YESThanks for letting us know!
NoThanks for letting us know!
Best Picks of Video Player
AnyMP4 Blu-ray Player
Make Blu-ray, DVD, and video playback easier on computer.