How to Make a Video a Live Photo: Share Moments on Instagram, TikTok, & More
Live Photos; these are photos that move a little when you activate them — they are either an amazing feature or a waste of time, depending on who you ask. They take up less space than videos but aren't as useful as GIFs. So, what are they good for? One advantage is that you can use Live Photos as a lock and home screen backgrounds on iPhones and Androids. This means you can have a moving image as your background, which is great for changing the appearance of your favorite devices.
Furthermore, these properties cannot be obtained with video files. That is why if you want to turn a video into a live photo for a different purpose, here's how to convert a video into a Live Photo.

1. How to Save a Video as a Live Photo on iPhone
What is Live Photo on iPhone
Apple's Live Photos technology allows a single photo to be a still image and, when activated, a short video with motion and sound. Imagine an animated GIF with audio generated automatically from your photos, and you'll have a good idea of Live Photos. But iPhone Live Photos are much more than that. Along with the iPhone 6 series, the feature of Live Photos was introduced in September 2015. Because they use the 3D Touchscreen, which was also introduced on those devices, Live Photos were one of the flagship features of the 6S. Since then, the list of devices supporting Live Photos has grown significantly and is no longer limited to 3D Touch-enabled devices.
The Steps to Save Videos as Live Photos on iPhone
1.
Get the intoLive app from the App Store. Although it is free, it gives more features and editing tools. Allow intoLive access to your photo library by launching it.
2.
All files in your camera roll will be displayed and organized by type (video, burst, etc.). Choose the video that you want to convert to a Live Photo.
3.
The video editing page will be displayed. If your video exceeds the maximum time limit, utilize the Slider at the bottom of the screen to select which portion you want to convert to a Live Photo.
4.
When you've finished editing the video, tap Make in the top-right corner and choose how many times you want the Live Photo to repeat — no-repeat is the default and usually works fine.
5.
Our Live Photo will be created by intoLive. When it's finished, select Save Live Photo.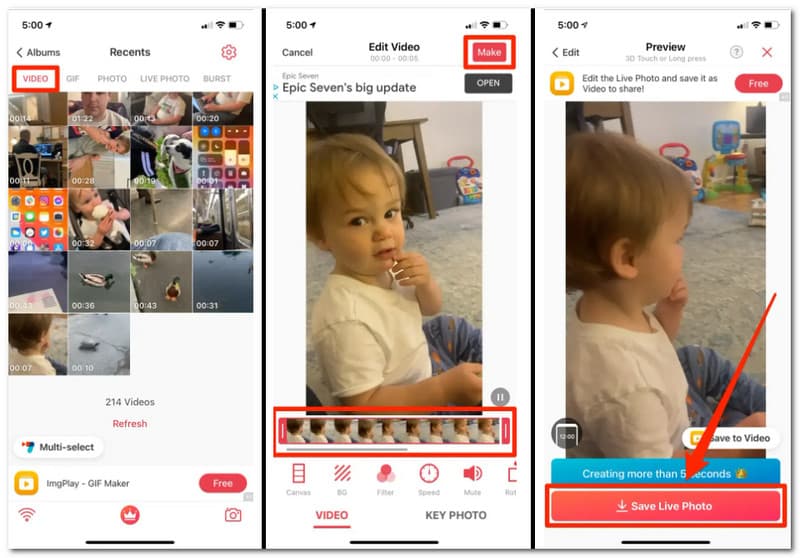 2. How to Post a Video into a Live Photo by TikTok
You may want to share a live photo with your friends and family after taking it, like on TikTok. However, because live photos do not always share as well as high-quality videos, you should often save a live photo as a video file before sharing it. Previously, this feature required third-party applications to perform this action. With the release of the IOS 13 in 2019, Apple made this transition even easier. There is no longer any requirement for an external app to accomplish this. Here's a quick four-step guide to turning your live photos into videos!
1.
Select your live Photo in the TikTok App. On your live Photo, select the Share option.
2.
When you select the share option, you will be presented with several options. Scroll to the bottom and select Save as Video! Your live Photo has now been turned into a video.
3.
In this final step, return to your phone's Photos App and scroll down to the most recent image. Your live Photo has now been saved as a video file. You can now share it wherever you want from there. You can now also share it as a GIF.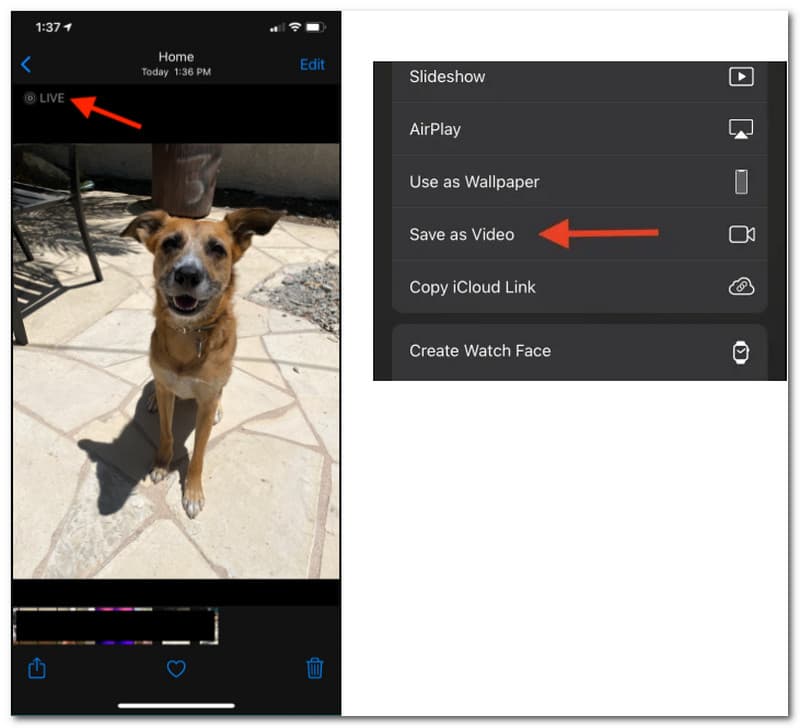 3. How to Convert a Video to a Live Photo
Editing a video into a Live Photo can be a hassle sometimes. That is why converting your video file into a Live Photo is a great idea. AnyMP4 Video Converter Ultimate enables you to convert videos to various video, audio, and other formats. This tool offers very easy steps. To complete your conversions, follow the steps below.
Recommendation
◆ It converts media files with a speedy process that comes with high-quality output.
◆ The tool supports different formats, including video, photo, audio, and more.
◆ Converting more than one file is possible through batch conversion features.
1.
Install and run AnyMP4 Video Converter Ultimate software on your computer.
2.
After getting the converting software, please select Add File or Add Folders from the Add File menu. Then we need to select the video we want to convert.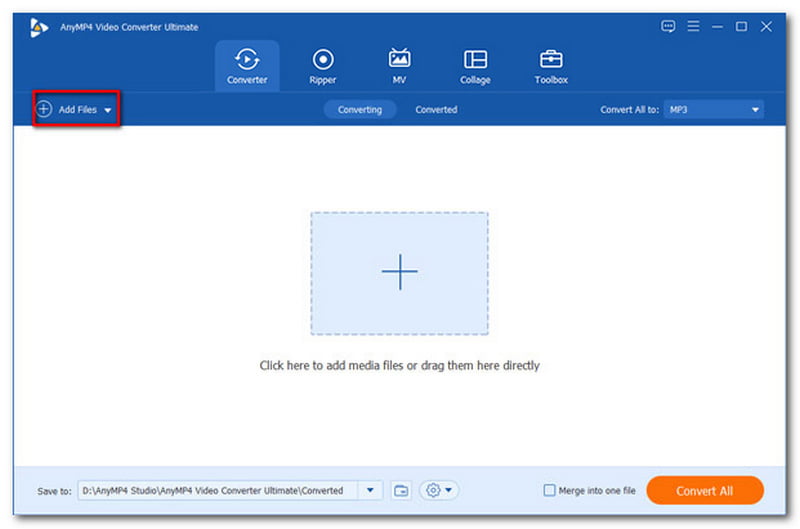 3.
On the right side of the video file, click the format icon you want. Then a list of presets appears. Select a preset and customize the profile settings to meet your needs.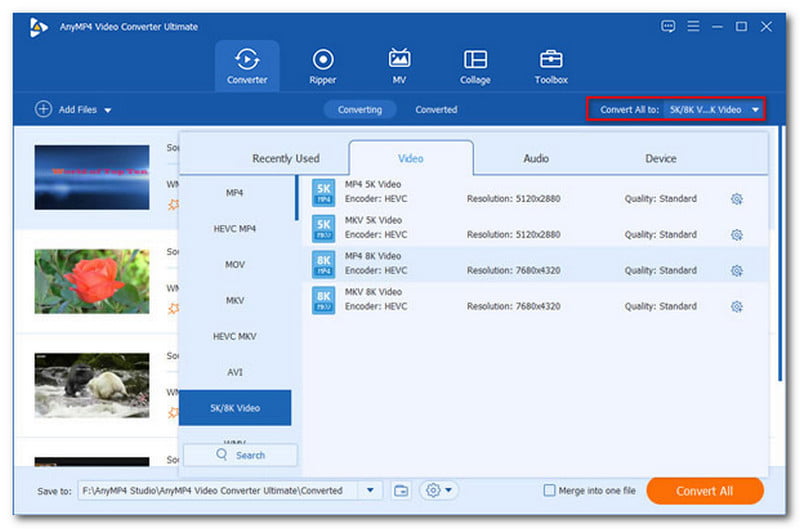 4.
Choose a location for the converted files. Then, on the main interface, click the Convert All button to convert video files into Live Photos on your computer.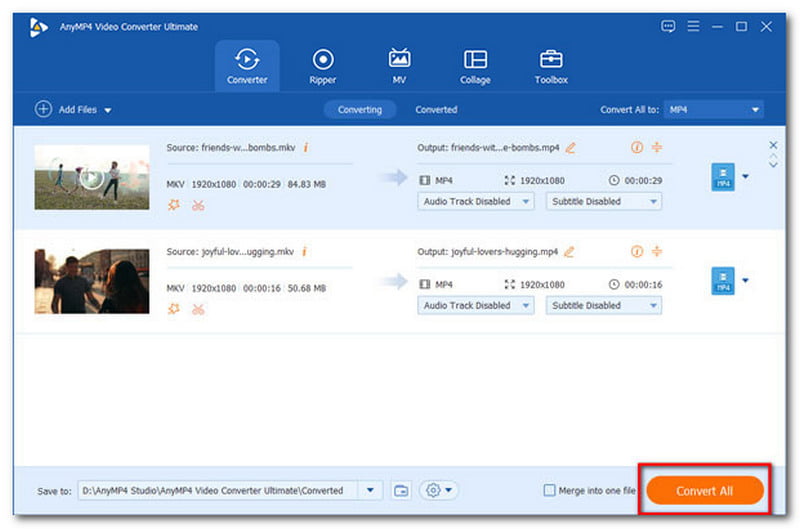 4. FAQs about How to Make a Video a Live Photo
How can a live photo be uploaded to Instagram?
To start a New Story on Instagram, open the app and click the camera symbol in the top left corner. Choose a Live Photo from your device next. Live Photos from your camera roll After choosing Live Photo, firmly tap the screen to instantly convert your picture into a Boomerang. Your initial Live Photo Story is now complete.
Does a Live photo have sound?
Yes. When you capture a Live Photo using your iPhone, it also records the sounds around you. Because when you convert a Live Photo to a video, the video has sound, which implies that your Live Photo does as well.
How much storage do Live photos require?
We know that video files consume more storage space than still photographs. Does this mean you have to be concerned about running out of storage space due to Live Photos? Most likely not. According to reports, Live Photos use up about more than as much space as a standard photo, which is significantly less than a video.
Conclusion
Smartphone technology has advanced to the point where it can capture life's special moments in various formats, including video, still photos, and Live Photos. Whatever you choose to do to commemorate the occasion, third-party apps allow you to convert image and video files into your preferred media type with the click of a button. Now that you know how to turn a video into a Live Photo, visit our website for even more insider tips and tricks for your iPhone or Android device.
Did you find this helpful?
291 Votes
YES

Thanks for letting us know!
No

Thanks for letting us know!
AnyMP4 Video Converter Ultimate
All-in-one video converter, editor, enhancer upscaled with AI.