Full Solutions on How To Use, Find, and Unlock BitLocker Recovery Key
Perhaps you are trying to log in to your system, and it asks you for a recovery key. There are many reasons that, at some point, you do not know what to do. It could be that you lost your key, forgot your keys, etc. Well, do not worry, we have so many solutions for that! In this how-to article, we will help you find your BitLocker recovery key and how to use, unlock, and bypass BitLocker. Come and read with us!

1. What is Bitlocker Recovery Key
Bitlocker Recovery Key is a 48-digit unique numerical password. People are using this to unlock the system if they lose their key. In addition, BitLocker has an encryption feature from the Microsoft Windows system. Therefore, it is easy now to encrypt and decrypt using BitLocker.
Moreover, it can also protect your drive and avoid unauthorized access to your computer system or firmware. Plus, you can use BitLocker to encrypt files, data, music, images, movies, etc. It can protect all of them from any harm.
2. How to use Bitlocker
There are so many ways to use BitLocker. That is why in this part, we will show you some methods to use BitLocker.
How to Turn Off BitLocker Windows 10
When turning off BitLocker, it is also like decryption of the drive. In this method, as long as you know how to use a computer, you can follow these steps quickly. Let us start now.
1.
Open the Windows Start button and type the Local Group Policy Editor. You will see the Edit Group Policy and click that, and a new panel will appear.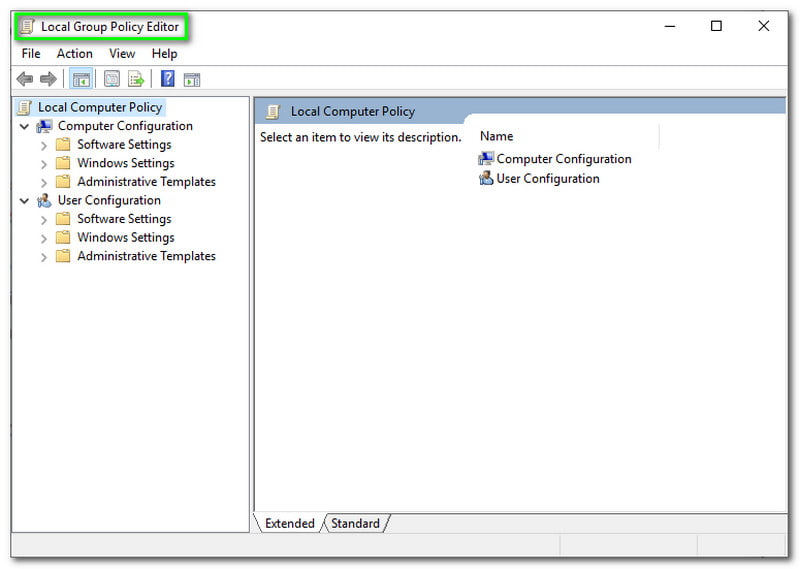 2.
On the left corner, you will notice all the options like on the Computer Configuration and User Configuration, and they have Software Settings, Windows Settings, and Administrative Templates. However, on the Computer Configuration, double click the Administrative Templates.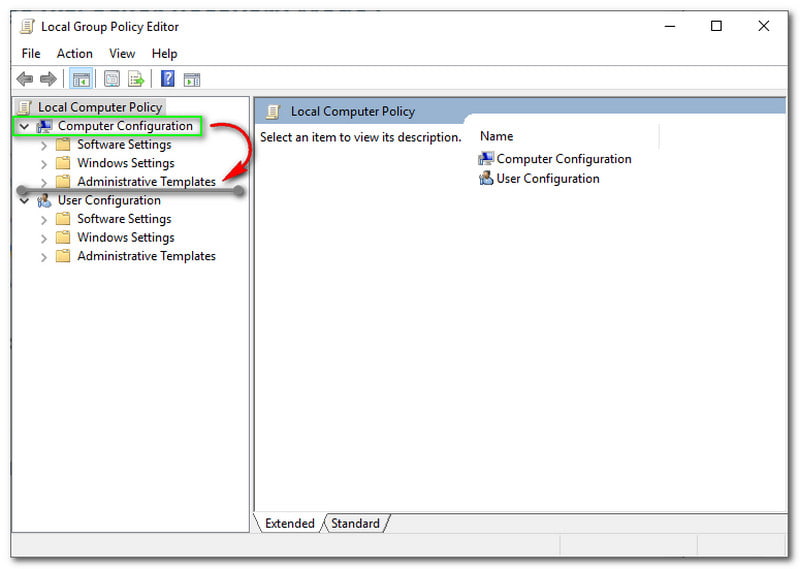 3.
Once you click the Administrative Temples, you will proceed to the next part of the panel. On the right corner, you will see the Setting, and below it are the options such as Control Panel, Network, Printer, Server, Start Menu and Task Bar, System, Windows Components, and All Settings. Now, choose the Windows Components.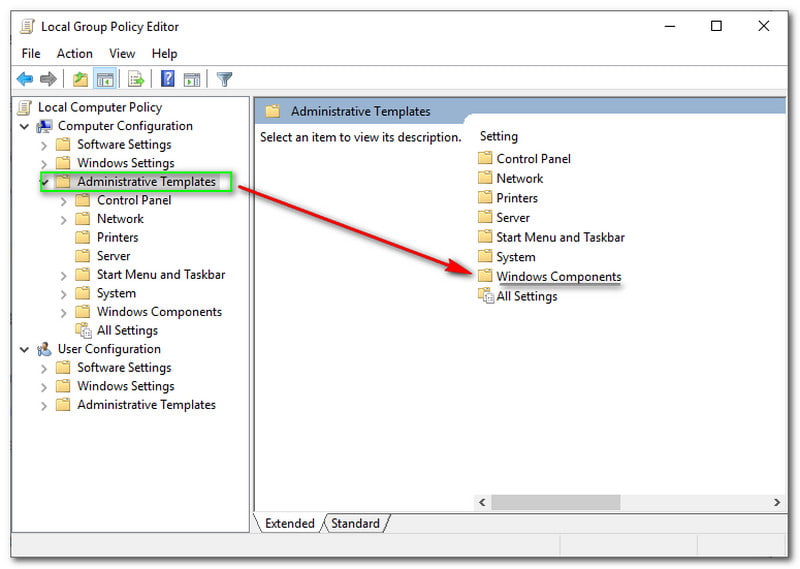 4.
After that, you will go to another part and find and double-click the BitLocker Drive Encryption.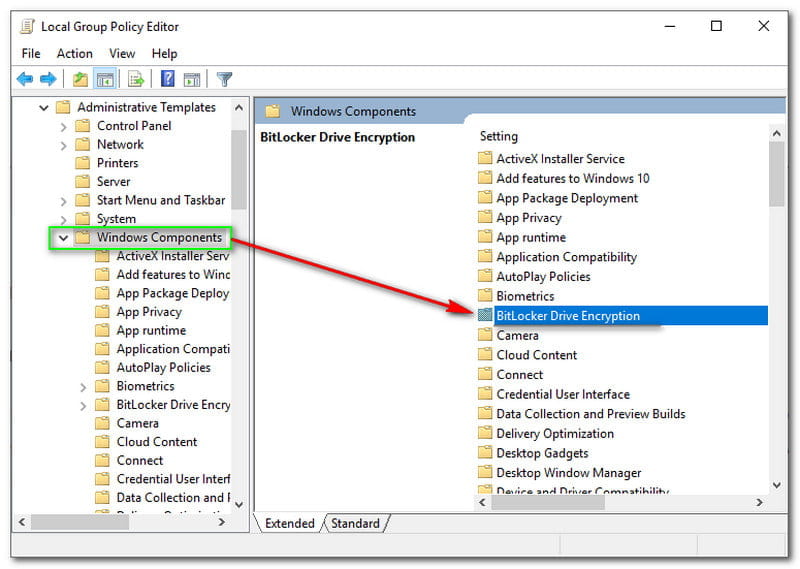 5.
Next, tap the Removable Data Drive, and you need to right-click on the Control use of the BitLocker on Removable Drives. You will see it immediately, and it is the first option. Then, press the Edit button.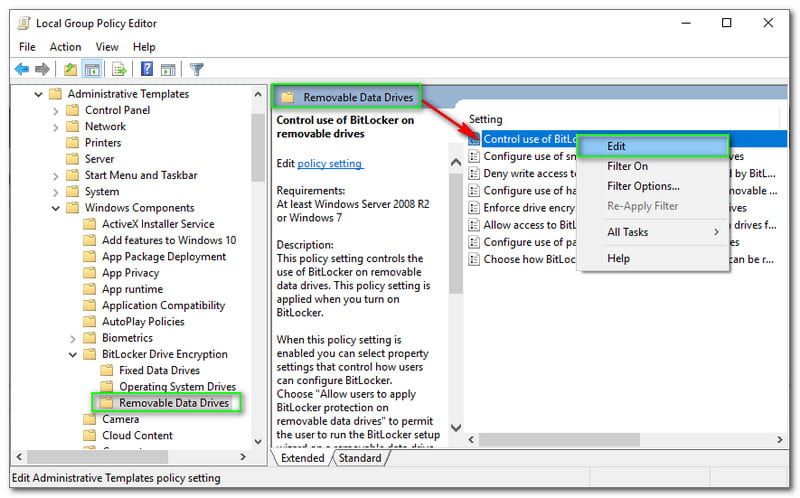 6.
Following that, a new window will pop up. On the left side, you will see the three options; Not Configured, Enabled, and Disabled.
Now, you need to press the Enabled, and below the Options menu, you need to untick the Allow users to apply for BitLocker protection on removable devices.
Then, tick the Allow users to suspend and decrypt BitLocker protection on a removable data drive and tap the OK button.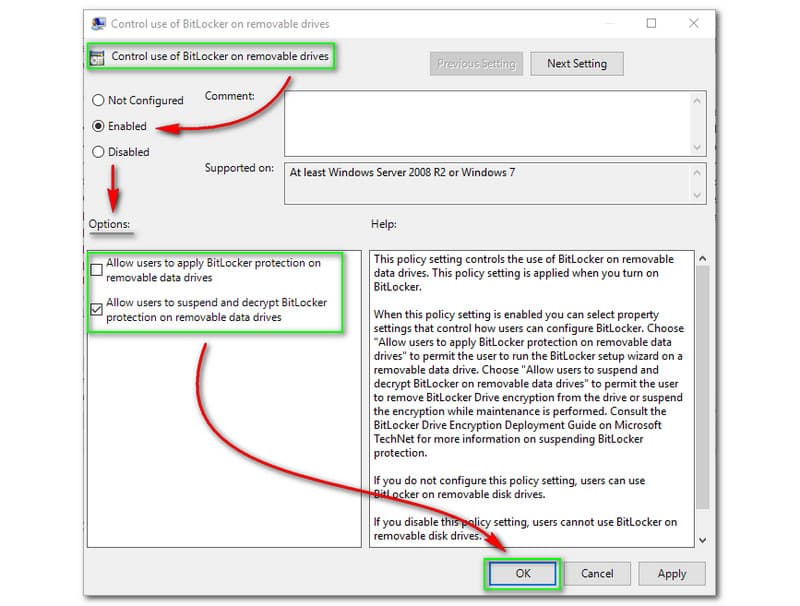 How to Find BitLocker Recovery Key Using PowerShell
Some users thought that finding the BitLocker recovery key was difficult and impossible. But, we have a solution for you to find your BitLocker recovery key using these simple and easy-to-guide steps.
1.
On your Windows Start, type the Windows PowerShell and select the Run as Administrator.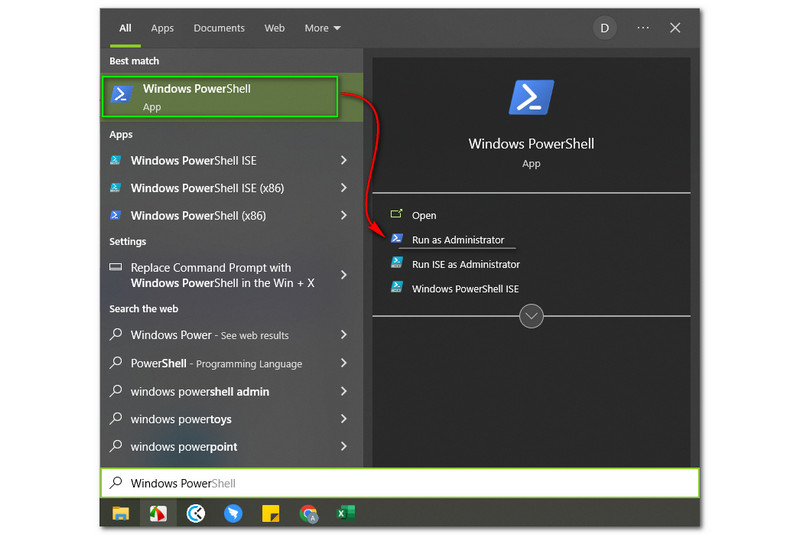 2.
The next thing you need to do is type the Set-ExecutionPolicy - ExecutionPolicy RemoteSigned and press the Enter button.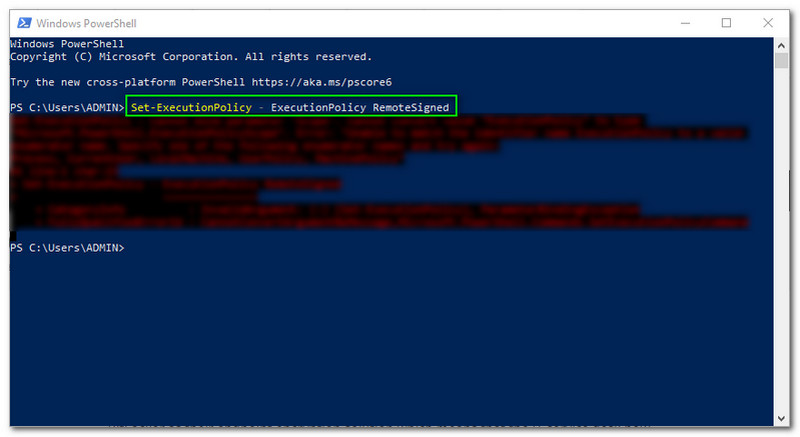 3.
Then, you need to type a command again. Type mkdir c: emp. To continue, click the Enter button. After that, you will notice the attached file and save it to the location at C:Temp.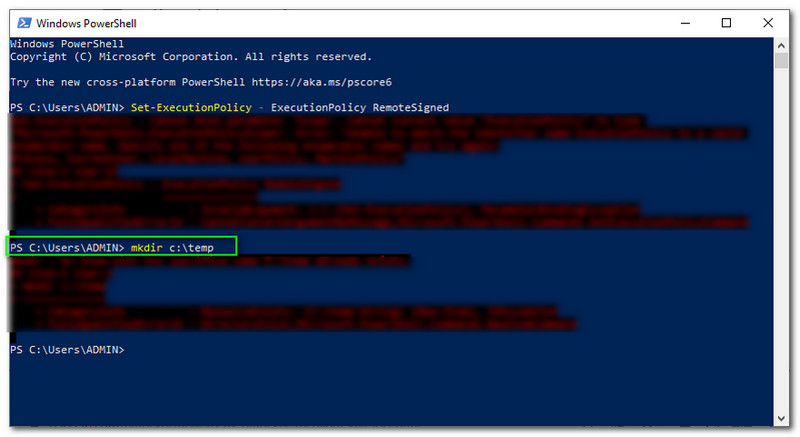 4.
You need to go to PowerShell CMD and type this command to the command prompt Get-Bitlocker.ps1. Then, hit the Enter button.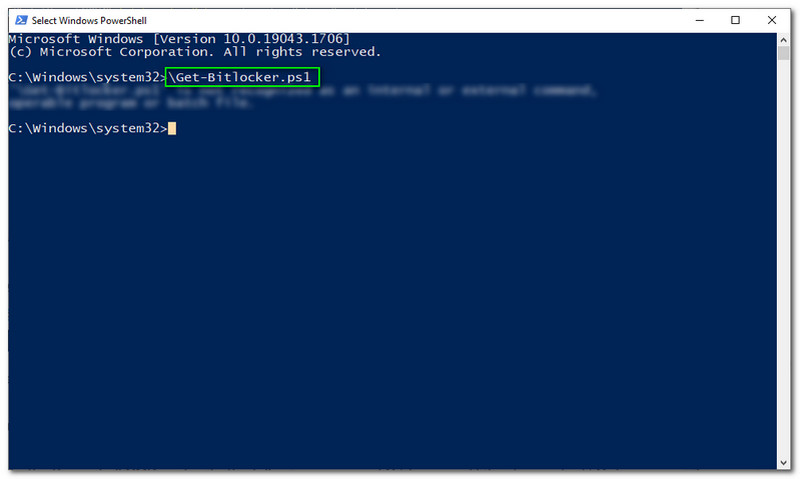 5.
And that's simple it is. You can now see the 48-digit key of your BitLocker.
3. BitLocker Recovery Lost
There is a solution now on how to recover your BitLocker key. So, suppose that you lost your BitLocker key. It is your time to read these steps. This part of this article will provide you with two methods to recover your lost BitLocker key.
Method 1: Recover BitLocker Key using CMD
1.
Open the Windows Start on the left corner of your computer and type CMD. After that, you will see the Command Prompt and select the Open as Administrator below the Open option.
2.
nce the panel of the Command Prompt appears, you can start typing this command: manage-bde -off C: Then, click the Enter button.
3.
Command Prompt or CMD will reveal your 48-digit BitLocker recovery key. A piece of advice, write it down on paper and keep and protect it from saving just in case you forget it again.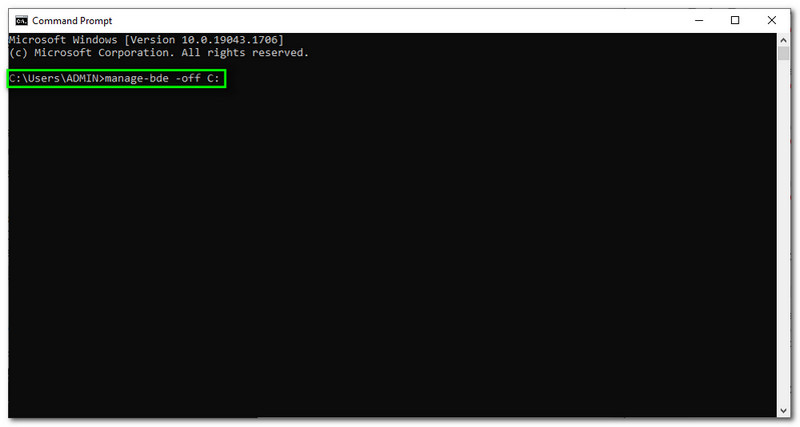 CMD is a useful command to help fix many problems, like finding Office product keys, and other keys.
Method 2: Recover BitLocker Key Using File Explorer
Here's another method to recover your BitLocker key. We all know that when creating a USB Flash Drive is one of the ways to back up the recovery key.
Therefore, once you create a recovery key on your USB Flash Drive, you can retrieve your key effortlessly. To make it possible, you need to follow all the steps provided below:
1.
You need to plug your USB Drive into your computer system.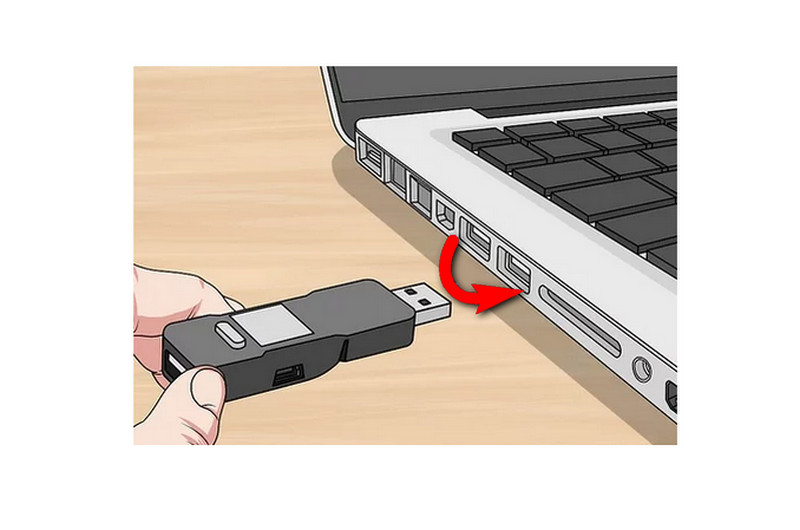 2.
Following that, open File Explorer on your computer. Then, you will see all the options on the left side. Then, find the USB Drive.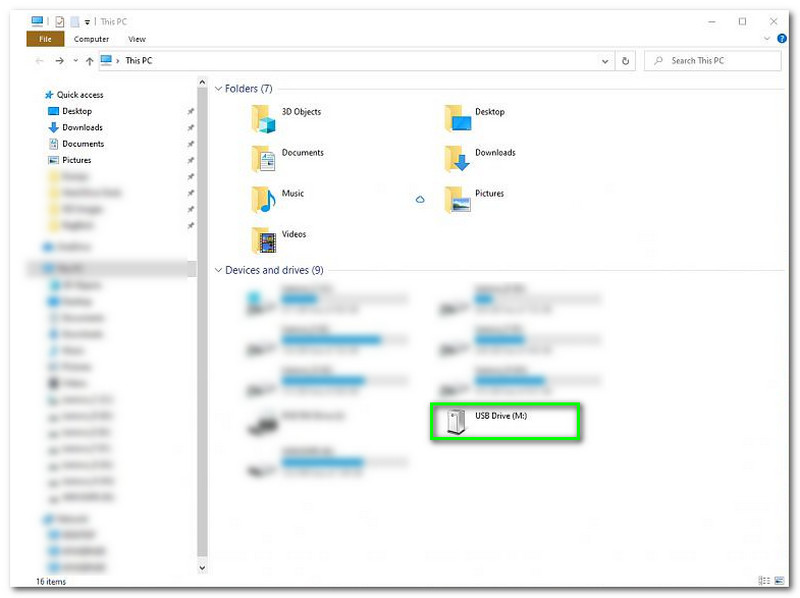 3.
After that, you will notice the Bitlocker Recovery Key's file. Then, open the file, and you can now have access to your recovery key.
4. How to Unlock BitLocker Without Password and Recovery Key
Supposing you do not want to give up your BitLocker encrypted drive because it contains essential data, recovering the BitLocker recovery or password is the only hope! Nonetheless, how can we unlock BitLocker without using a password and even a recovery key?
That is a great question! This part of the article will demonstrate how to unlock your BitLocker without a password and recover. We request you to read and follow the steps carefully to make it happen. We prepare two methods that you can easily follow. Please see them below:
Method 1: Unlock BitLocker using BitLocker Drive Encryption
1.
On the panel, you can see the two options; Local Disk (E) and Local Disk (G). You need to right-click the Local Disk (E). Then, on the first list, select Unlock Drive.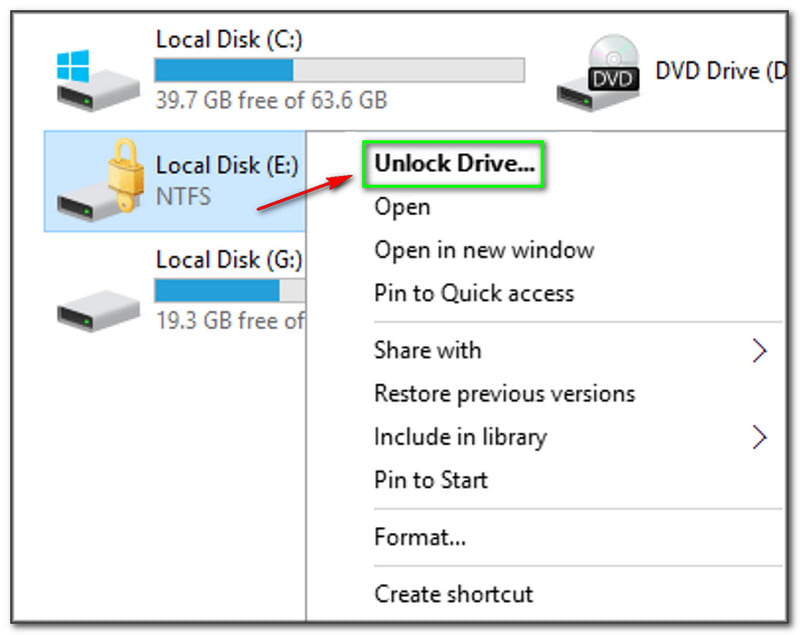 2.
After that, you will proceed to the next panel. On the lower part of the panel, you will see the More options and tap it. Next to that, the Enter Recovery Key will appear once you click the More options.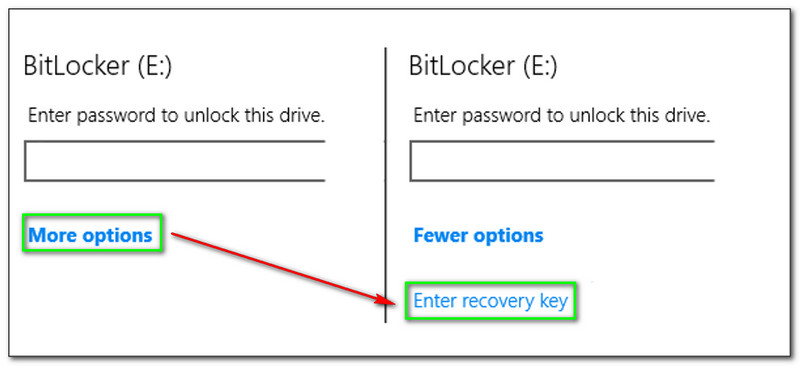 3.
Now, type your recovery key into the text box. Remember, you can copy the key from the recovery file to avoid the mistakes in inputting them. Once you successfully input the recovery key, click the Unlock on the right corner of the panel.
4.
The recovery key will be sent to you when your BitLocker is turned on. Supposedly, it is saved on a file on the local disk of your PC. But it is not on the drive you look after. Then, you can open the file and copy the key.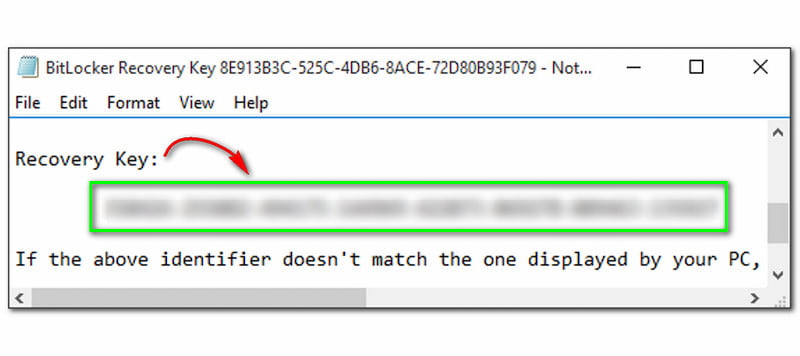 Method 2: Formatting the Drive to Disable BitLocker
1.
To start, you need to find the drive's directory. Once you see it, right-click the Local Disk (E). Then, you will see all the choices on the second part like Share with, Restore previous versions, etc. And you will see the Format and click it.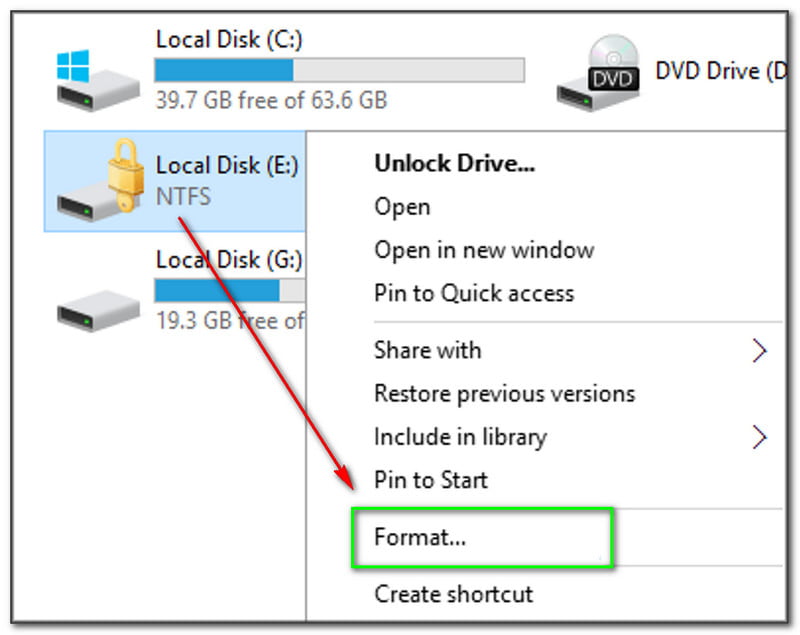 2.
Second, on the next panel, you will see the Format Local Disk (E:). In addition, you can also see the Capacity, File System, Allocation unit size, volume label, etc. Then, on the bottom part, tap the b button. After that, a warning box will pop up, and tap the OK button.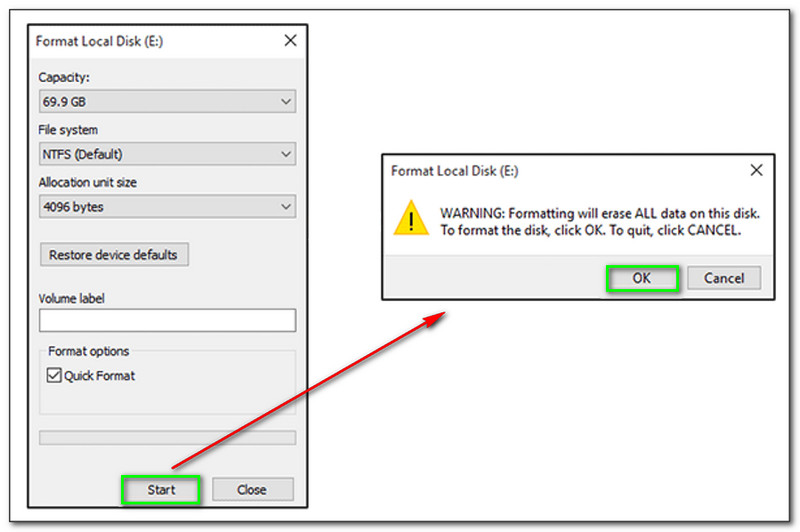 5. BitLocker Alternative - PassFab Product Key Recovery
BitLocker is not for beginner users, and it is more compatible with advanced users. The reason why PassFab Product Key Recovery is the BitLocker alternative is because of its simplicity. It is easy to use, download, and recover your keys and password quickly.
To become familiar with PassFab Product Key Recovery, we will show you some instructions on how to use it easily. Please make time to see them below:
1.
Go to the official website of PassFab Product Key Recovery and look for the Free Trial and click it. Now, start downloading and installing it.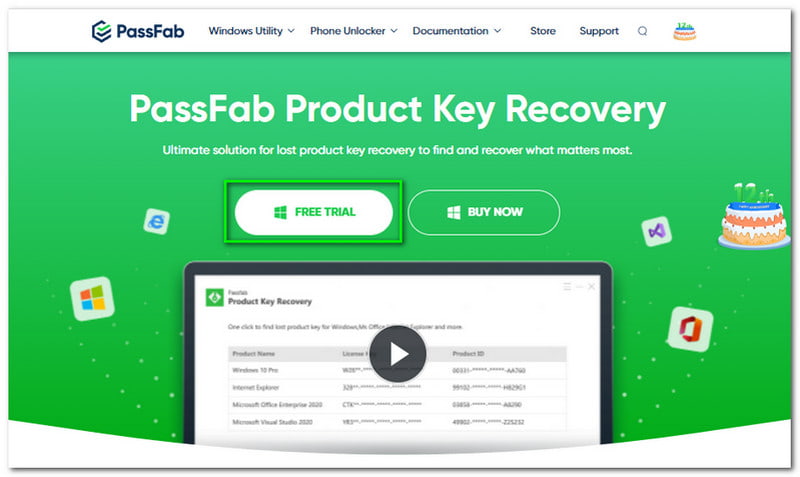 2.
Next, launch PassFab Product Key Recovery, and you will see the table in the middle part of the window. You will see the Get Key and tap it on the lower part.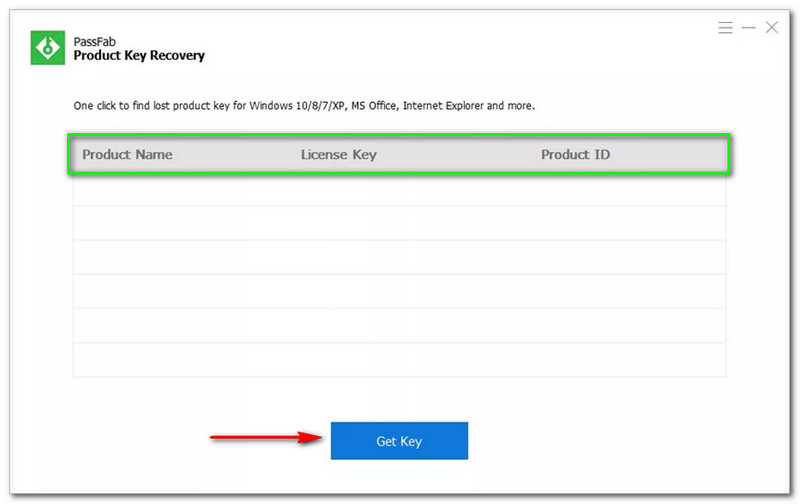 3.
After that, you will already see the results of Product Name, License Key, and Product ID.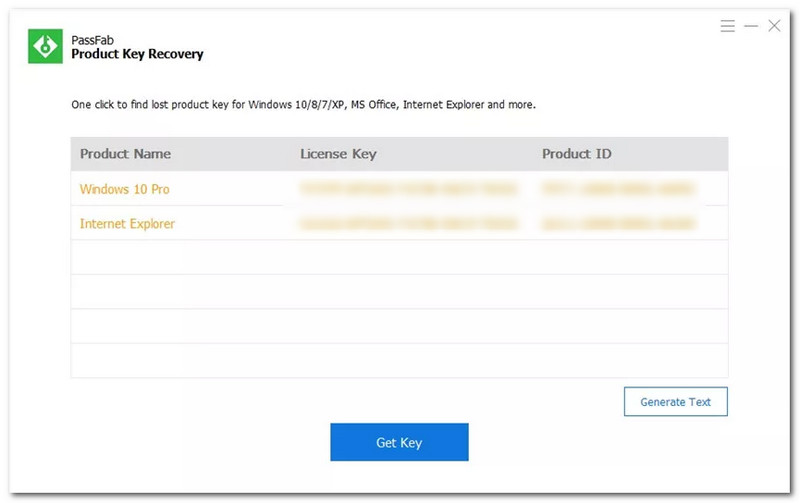 That's it! PassFab Product Key Recovery can show you what you are looking for in just three steps. In addition, it also allows you to save your Product Keys. To do that, click the Generate click on the right side of the panel and keep the product keys on your computer.
Take a look at other features of PassFab Product Key Recovery below:
1. It can find your Windows product key.
2. It can also find your lost product key.
3. It can recover Microsoft Office License Key.
4. It can retrieve serial keys from other products such as Microsoft Visual Studio, Microsoft Internet Explorer, and SQL Server.
6. FAQs
How to bypass BitLocker Recovery Key?
To bypass BitLocker, you can try to enable the secure boot. On the BitLocker, press Esc for more recovery options and then click Skip this device. Next, select the Troubleshoot and click the Advanced options. Following that, choose UEFI Firm Settings and then Restart. Then, tap the Exit and Restart to reboot the device.
How to remove BitLocker Windows 10?
Tap Windows Start plus X to open the Disk Management. After that, right-click on the drive and select Format. Next, click the OK button to format the BitLocker encrypted drive.
Where to find BitLocker Recovery Key?
You can find your BitLocker recovery key in your Microsoft account, printout, USB Flash Drive, in an Azure Active Directory account, and your system administrator could hold it.
Conclusion:
This article mainly talks about BitLocker recovery key and how to use and recover it on WIndows computer. Hope you can access the useful information from this full guide. We want to hear your feedback! See you again in our next article!
Did you find this helpful?
261 Votes
YES

Thanks for letting us know!
No

Thanks for letting us know!
Windows Password Solutions
Windows Product Key Solutions