3 Solutions If We Forgot iPhone Screen Time Passcode: Make Your Problem at Ease
The Screen Time feature of iOS devices is a great help, especially in parental control. It helps us limit and restrict us from accessing all the unnecessary content within our iOS devices. However, we all know that this function requires a passcode before enabling or disabling it. This passcode is the element we need to have access to, restricting the software within our iOS devices. It would be a big problem if we forgot the Screen Time passcode on the iPhone. Forgetting the passcode also means removing your rights to access and control the activities within your iOS devices. We are here to guide you, and we will be giving you a few effective methods to get rid of your problem. Let us take back your restrictions with these methods. Please navigate the article to discover.

1. What is the iPhone Restriction?
As the iOS is continuously evolving, there are also a lot of features existing at this moment. In line with that, iOS belongs to these devices that constantly give us an update. Fortunately, these features are beneficial. One of these features in the iOS update is the iPhone Restriction under Screen Time. It is one of the functions of iOS where we can limit and restrict all of the activities within our iOS devices. It can limit us from purchasing applications or services on iTunes and App Store as we become specific. In addition, the web contents we can access are also limited. Overall, this feature is suitable for the parent who wants to limit their children to certain aspects within their iPhones.
2. Solutions to Fix Forgot Restrictions Passcode iPhone
Solutions 1: Fix Forgot Restrictions Passcode iPhone- Aiseesoft iPhone Unlocker
As we get to know the most straightforward solution, let us proceed with the first methods we can follow. This solution is the easiest because we will use the powerful Aiseesoft iPhone Unlocker. This software is one of the most powerful tools we can use to fix the forgotten password restrictions with the iPhone. It provides the basic yet the most necessary features for our iPhones. These features are the Wipe Passcode, Remove Apple ID, and Screen Time function that we will use in this portion. In addition, this software will not erase or wipe out all of the data and settings within your iOS device. Therefore, if you are one of the iOS users who ask what to do if I forgot my passcode for restrictions on my iPhone, then this is for you. Get Aiseesoft iPhone Unlocker now by going to their official website for free.
1.
Open the Aiseesoft iPhone Unlocker on your Windows computer or macOS to see its clean and simple design. Please click the Screen Time icon box from the interface, which you can see on the third from the option.
2.
Please connect your iOS to your computer by using the USB connector as we properly start the process. It will easily allow the tool to fix your forgotten restriction passcode.
3.
After you successfully connect your iOS device to your computer. A new tab will appear, showing you a few notes about quickly removing your Screen Time passcode even without entering your passcode. Under these notes, click the Start button to proceed.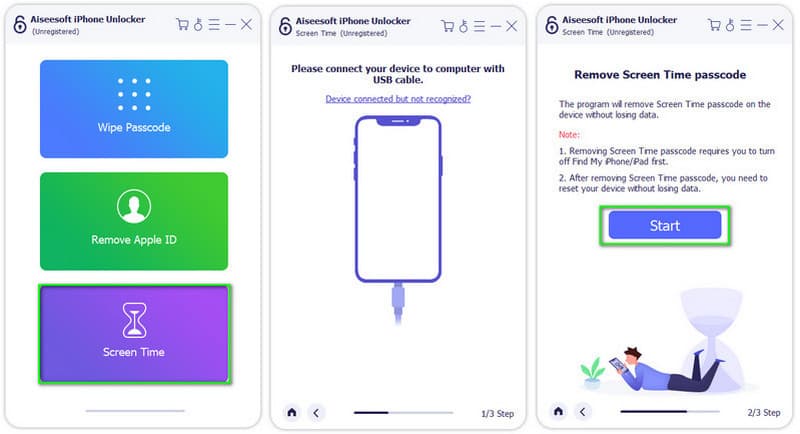 4.
As we get to the fourth step, we need to set up the device by following the instructions on the screen. These instructions aim to reset our iOS devices as we get to fix our passcode restrictions on the iPhone.
5.
If you are done following the instructions for resetting your iPhone, you may now click the OK button, which we can see under the notes. After a few moments, please let your device undergo a restarting process. So that you may now fix your Screen Time passcode.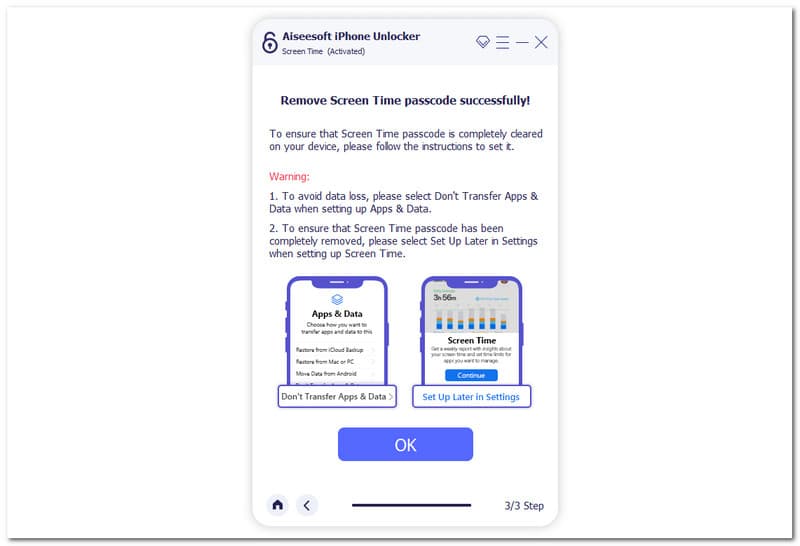 These steps are why Aiseesoft gives us the easiest way to fix our Screen Time when we forget our passcode. This software also lets you recover Screen Time password for iOS devices running in iOS 11 or earlier. You may now restart enabling your Screen Time again, but make sure to save your passcode so that you will not forget it.
Solution 2: Fix Forgot Restrictions Passcode iPhone- iTunes
We can also get rid of the problem after forgetting our iPhone restrictions. The following method is by the use of iTunes. This software is flexible and can help us alleviate the pain without complications. Also, please be reminded that the process will restore your iPhone to factory settings. We can now easily manage our restrictions without your old passcode. Please take a look at the step below on how we can make it possible.
1.
Please plug your iOS device into your computer using the USB connector on your computer. Then, launch iTunes immediately.
2.
Make sure that iTunes recognizes your device. If that is the situation, please click the Summary on the left corner of the interface. Right after it, kindly click the Restore iPhone, which we can see under our device, and click Done.

3.
A tab will show. Click the Restore button again for confirmation of the process.
4.
After waiting for a fleeting time, please select the Set up as a new iPhone button.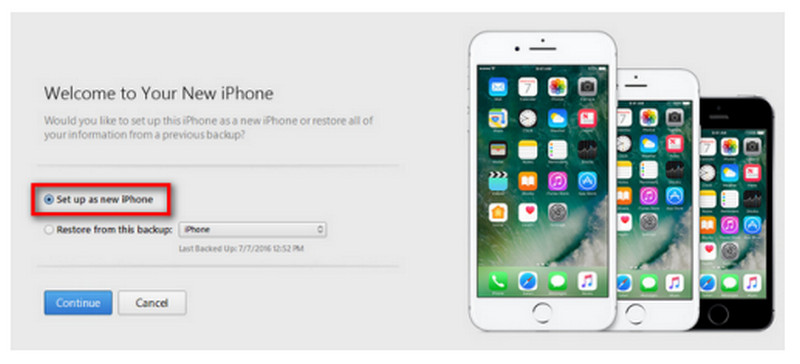 You may now reset your iPhone even without restrictions. With these easy steps, your problem will be gone without complications.
Solution 3: Fix Forgot Restrictions Passcode iPhone- iCloud
The third method is by using iCloud. Like iTunes, iCloud is also an excellent iOS application for many aspects. However, in this part, we shall see how effective it is as a solution if we forget our restriction passcode for iPhone. Similar to the second solution, this method will also wipe out our data on the iPhone.
1.
Kindly visit iCloud.com using your computer.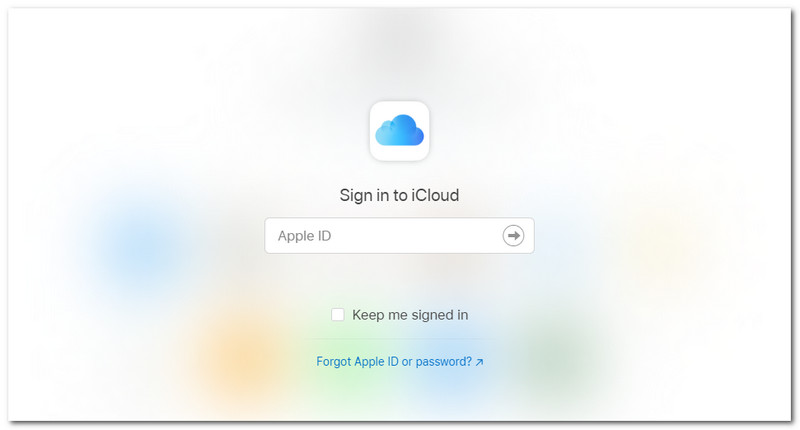 2.
From the website, please log in with your Apple ID and Password.
3.
Then, please locate the Find iPhone and select All devices.
4.
Please select your device, and you must choose the Erase iPhone now.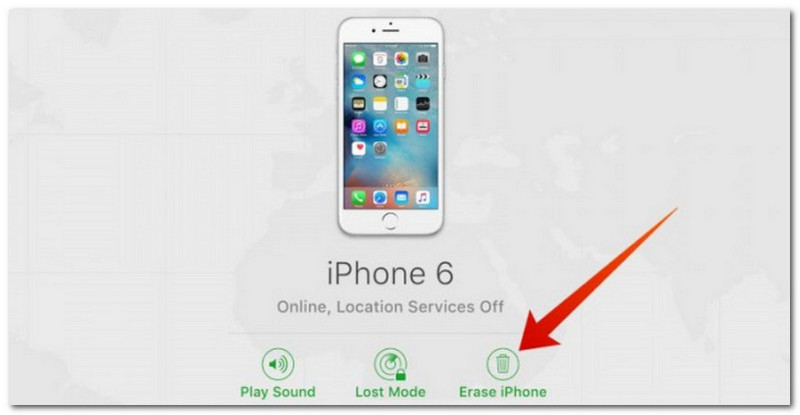 That is the simple steps we can consider following as we remove the restriction within our passcode. Please be mindful of the actions and follow each step for a successful procedure.
3. FAQs about Forgot Restrictions Passcode iPhone
How can I change the passcode restrictions on my iPhone?
In changing your restriction passcode, please go to the Settings of your iPhone. Locate the General, and find the Restrictions. However, for the updated iOS, please, go to the Screen Time and see the Restrictions. Next, enter your passcode and select the Disable Restrictions button. Please enter your passcode again for verification. Finally, tap on the Enable Restriction, and then you now have a new passcode.
What will happen if I commit ten mistakes with my restriction passcode?
The possibility of entering six failed attempts will lock out your iPhone. You will notice a message on your screen that says your device is disabled. That means you cannot utilize your iPhone as long as it is locked or disabled. If that happens, you can bypass iPhone restriction passcode to use your iPhone again.
How can I restore my iPhone after ten wrong passcode attempts?
You may restore the phone through the factory settings. This process will wipe up all of the data on your phone, but you may backup them after it using iCloud and iTunes.
Conclusion
Easy fix after we forget our restriction passcode, right? That is possible because we have helpful tools like the Aiseesoft iPhone Unlocker, iTunes, and iCloud. You may now be at ease despite the complication with your Screen Time passcode. Please share this post so that we may help others too. Lastly, you may also visit our website for more helpful conversion.
Did you find this helpful?
233 Votes
YES

Thanks for letting us know!
No

Thanks for letting us know!
Solution to Restriction Password
Aiseesoft iPhone Unlocker
Get into locked iPhone iPad iPod without password or Apple ID.