3 Methods of How to Remove Forgotten Passcode from iPhone
The passcode for our iOS devices is one of the significant aspects that can protect our privacy within our iPhone. This simple passcode can secure every piece of information within our devices. It is also a saving element whenever we lose our device, or someone stole it from us. However, even though it is made for a good thing, there are times that it can be a source of complication within your device, especially if we forget the combination of it. Forgetting our passcode will remove our access to everything within our iPhone. On the simplest thing, a passcode is also a hassle to prevent us from immediate access within our iOS devices. It can bring us complications, especially if we are in a hurry to access the things we need. In the best case, removing the passcode from the iPhone is the solution we can give about it. In line with that, this post proposes to help iPhone users in removing their forgotten passcode efficiently. We will show you three methods to remove passcodes from the locked iPhone 13/12/11/X/XR/X/8/7, etc. Join us as we discover all of these methods.

1. How to Remove Passcode from iPhone- If You Can Remember the Passcode
The first method aims to guide the iOS users in helping them in terms of removing their passcode using the default method. You will need to enter your passcode as we turn it off. However, this is the most common and easy method we can do, for it does not require any installation of an iPhone Unlocking tool. Without further ado, here are the basic instructions on how we can remove passcode from iPhone and iPad.
1.
Open your iOS device, and go to your Settings.
2.
Under the settings options, locate the Touch ID & Passcode from the third set of the settings.
3.
A new wizard tab will appear where you need to enter your Passcode. Entering it is a must to proceed with the next step.
4.
After you enter the Passcode successfully, you may now have access to the options of customizing your passcode. Please find the Turn Passcode Off button from the new settings option set.
5.
A pop-up tab will exist asking for the confirmation of turning off your passcode. Kindly click the Turn Off button on the right portion of the pop-up tab to confirm the process.
6.
After confirming the process, it will now ask for your passcode again to verify the verification. Please enter your passcode again to remove your passcode.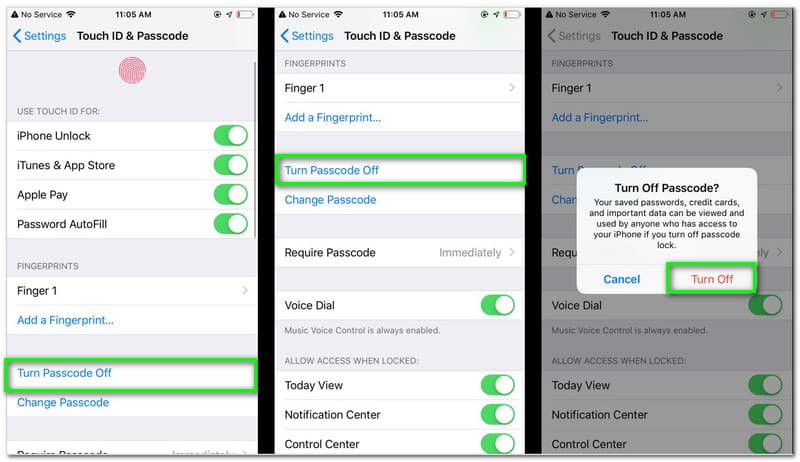 The six easy steps in removing our passcode are there even without complication. We can use these easy steps, especially if there are no problems like forgetting our passcode. As long as you know your passcode, we will not experience any complications in this process.
2. How to Remove Passcode from Locked iPhone Without Knowing It
The first method is for the users not to have any problem with their passcode. That process of removing our iOS passcode would be a significant problem, especially if we forgot our passcode. There are moments when we tend to forget our passcode due to its complex combination of numbers. In line with that, this portion exists to help the users remove their iOS password from locked iPhone.
The procedure will become possible through the use of the Aiseesoft iPhone Unlocker. It is a great tool that we can use to unlock our phones. This tool offers excellent features such as the Wipe password, which will become a great help in this process. It can remove the passcode from a locked iPhone 13/12/11/XS/XR/X/8/7/, and earlier models. In line with that, we can now see how it works and how effective it is with our problem. Please take a look at the steps below.
1.
Open the Aiseesoft iPhone Unlocker on your Windows or macOS computer. Please choose the Wipe Password features in the first button from its clean and straightforward interface options.
2.
A new tab will exist on your screen where you can see some information about the process of wiping your passcode. Please click the Start button from the details below as we continue the process.
3.
The third step will ask you to connect your iOS device to your computer using the USB cable. It allows the computer to access your device.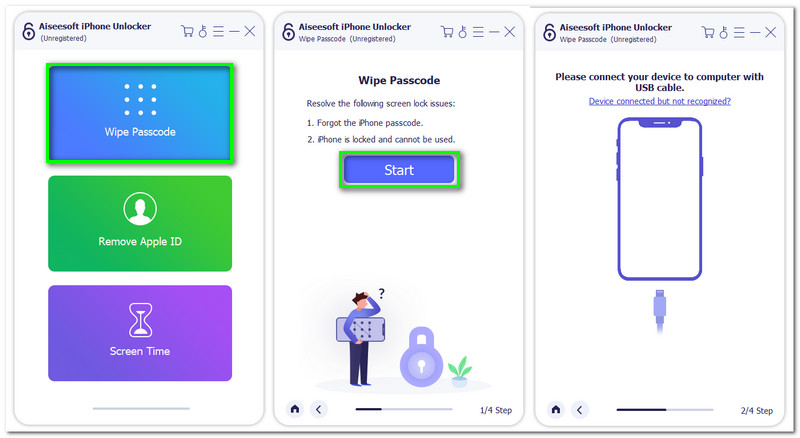 4.
After connecting your iOS on your computer, a new tab will appear where your device information is present. Kindly verify if the details are correct, then click the Start button from the central pa=rt of the interface.
5.
That start button will let you download all the Firmware packages we need to remove our iPhone passcode. It will take a few moments, and please wait until you are ready for the next step. After it, click the Unlock button now from the new tab.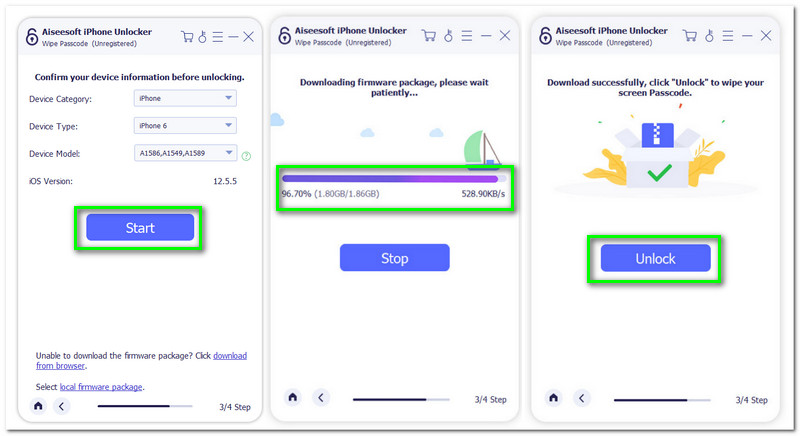 6.
For the last step, it is one the time where we need to confirm all of the procedures we did above. From the type bar, enter 0000, and click the Unlock button beside it. Please allow your iOS device to restart and retrieve your files using the backup.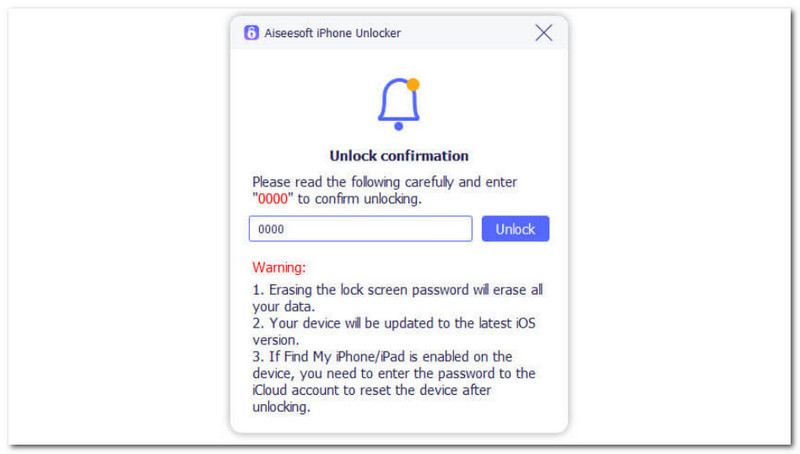 Another six simple steps to make. These steps are beneficial in helping those people who forgot their passcode. It is the most straightforward answer to your problem. Indeed, with Aiseesoft iPhone Unlocker, we do not need to worry about forgotten passcodes.
3. How to Remove Passcode from Locked iPhone Running in iOS 15 and Later Without Computer
Removing our passcode from locked iPhone with iOS 15 and later running is easy, especially when your iPhone is disabled after entering the passcode wrongly for many times. This part will see the steps and instructions we need to follow to make it possible. Indeed, it will be a massive problem if we forget our passcode. Thus, we want to alleviate your pain with these simple guidelines.
1.
Please enter your passcode from your device's screen lock until the device asks you to try it again. Type another set of passcodes again until an Erase iPhone/iPad option exists. Click it as we proceed to the next step.
2.
Then kindly wait for the pop-up tab to appear as we enter the Apple ID of our iOS device to sign it out.
3.
The next step is tapping the Erase iPhone/iPad option once again to remove the data, continents, and settings of your iOS device.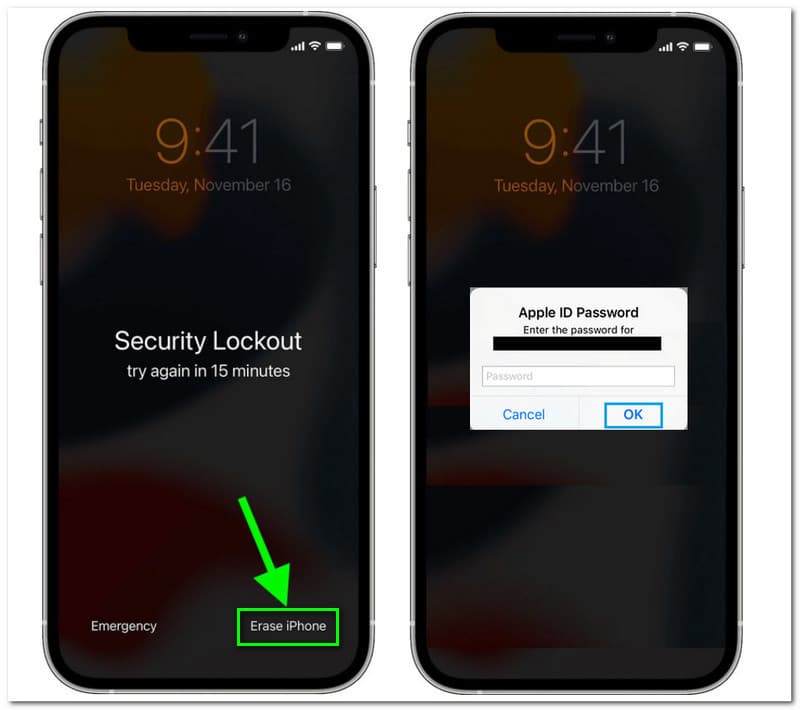 4.
Then, for the last step, let your iOS restart. From there, set it up just like the first time and restore the data of your iPhone by using the backup.
4. FAQs about Removing Passcode From iPhone
What will happen if we forget our iOS passcode?
If we forget our iPhone passcode, the tendency is disabled iPhone and locked iPhone. That is because entering a lot of wrong passcodes will be equivalent to a certain amount of disabling our iPhone, 1 minute will be the last time, and an hour or until confirmation procedure is the most time of disabling our iOS devices. On the other hand, you do not have access to your iPhone if this instance occurs.
Can Apple remove iPhone passcodes?
Apple already possesses the feature to erase and remove a locked iOS device. The fantastic thing about it is that you will not need a computer to make the process possible. This feature from Apple is under the Security Locked mode. These functions will be triggered after too many wrong passcode attempts.
Is the passcode and password from the iOS device the same?
If we look at different aspects, the passcode and password are different. Passcodes are the element in entering our iOS devices. It gives us access to information and applications within our mobile devices. However, passcodes are not mandatory. The users still possess a right if he or they want to add a passcode to their device. On the other hand, passwords are compulsory because they are used for logging in to a specific account. An absence of a password is the non-existence of a profile account such as an Apple Id, iTunes, or iCloud.
Conclusion
As we put it into a conclusion, we can say how easy it is to remove an iOS passcode without entering our passcode. However, the highlight here is that we can unlock our iOS device without a passcode using the effective Aiseesoft iPhone unlocker. In addition, we can also say the methods below are beneficial because it is applicable for all kinds and versions of iPhones until the latest version of iOS 15.2. Indeed, we hope this article helps you remove your iPhone or iPad passcode. If you think other users might need this, then do not forget to share this post with them so that we can help a lot of iOS users. You may also visit our official website for more beautiful solutions and reviews about your devices and technology.
Did you find this helpful?
321 Votes
YES

Thanks for letting us know!
No

Thanks for letting us know!
Aiseesoft iPhone Unlocker
Get into locked iPhone iPad iPod without password or Apple ID.