How to Turn Off Restrictions on iPhone (iOS 15 Included)
The iPhone restrictions may be a great feature in limiting our children from doing things on the iPhone. As we all know, it defines us in accessing web browsing contents, prevents purchasing on iTunes and App Store, restricts game centers, and more. It may be great for children, but not for adults. It is because having this feature will not allow us to become productive. If the iPhone restrictions are working, you will never be effective in using your iPhone on your task, work, or assignment. We need to remove these hindrances as we tend to be more productive. This article contains two effective and great ways to turn off iPhone restrictions without experiencing a complication with the process. We can now say goodbye to the limitation because we are here to help. In this post, we will share two different methods. The first one is the default method of removing the restrictions on the iPhone, and the second one is turning off screen time on the iPhone without a passcode. Kindly navigate the article for more discovery.

1. What is iPhone Restriction
An IPhone restriction is one of the great features in every iOS device nowadays. It is one of the most infamous features within parents because it is also Parental Control. Parents can manage every feature, application, and even content accessed by kids or adults through this feature. Turning on the restrictions can also prevent accidental purchasing of any services within iTunes and App Stores. On the other hand, this restriction is a limitation for the users of specific iOS devices to protect them from harmful content, prevent them from being greedy to their services, and being addicted to any online games using your iPhone or iPad. Overall, it is an excellent feature for all the children, but not for adults. It will not make sense with our jobs and tasks.
2. How to Turn Off Restrictions on iPhone - Default Way
In this portion, we will see two methods for the two situations. As we all know, our iOS versions are diverse, so we also need to diversify our ways to fix our problem by removing restrictions on your iPhone. The first method is suitable for those iPhone users who have an iOS 11 and below. Such as iPhone 5, 5c, 4, and 4s. In the second situation, we have a solution applicable for the iPhone that possesses iOS 11 and iOS 15.
Situation 1: iPhone with iOS 11 and below (iPhone 5, 5c, 4, and 4S)
1.
From the home screen of your iPhone, look for the Setting of your device.
2.
In the option within your screen, navigate the General option from the list.
3.
Then, it will direct you to the settings where you can find the Content Privacy Restrictions. Hit it as we continue with the next step. You may slide it going to the left to turn it off properly.
4.
Finally, enter your Passcode to make the disabling process successful. Re-enter it as we finalize the process.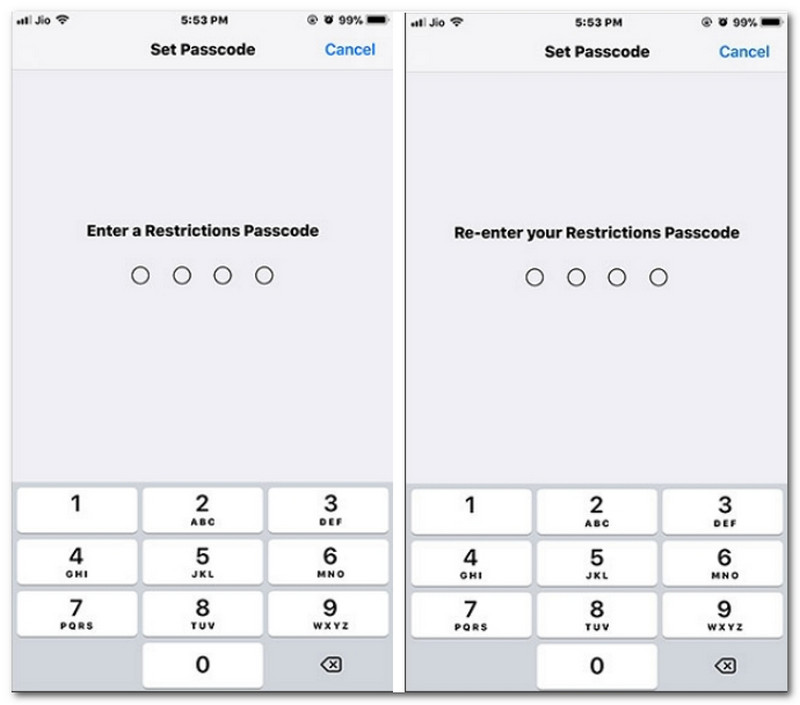 Situation 2: iPhone with iOS 11 and above (iOS 15 included)
Then, if your iPhone is running in iOS 11 or later and you want to get rid of the restrictions on your iPhone, you must follow these steps. As we all know, iOS launches further updates with their features and settings. The new version is now different compared to the earlier versions.
1.
As we navigate around our home screen, tap the Setting of your iOS device.
2.
From the options on your settings, please find the Screen Time option.
3.
Then, it will now direct you to the settings where you can find the Content Privacy Restrictions, hit it as we continue with the next step. You may slide it going to the left to turn it off properly.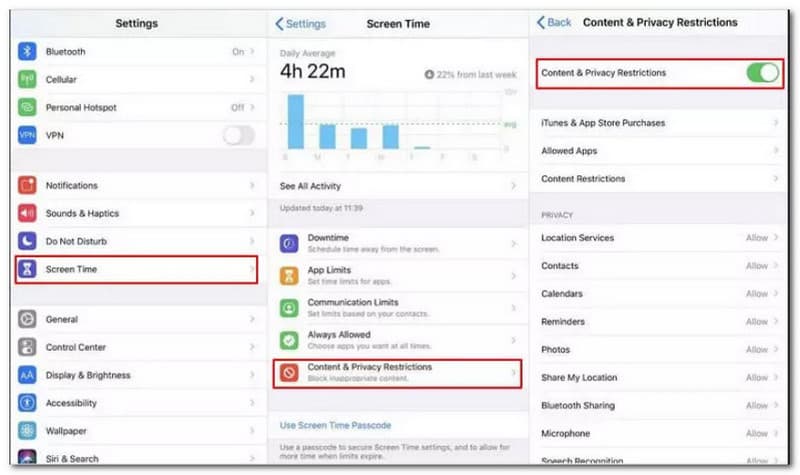 Those are just the simple ways to easily remove the screen time of our iPhone with iOS 11 and below (Solution 1) and iOS 11 above (Solution 2). You may now easily access all the apps and content using your devices without restrictions.
3. Turning Off Screen Time on iPhone with no Passcode
As we go to the second method of turning off the Screen Time within our iPhone, it is beneficial for the users who forgot their restriction passcode. In this part, we will learn how to disable screen time on an iPhone without a password. This process is possible with the use of Aiseesoft iPhone Unlocker.
These tools will now alleviate your problem if you forget your passcode while you plan to turn off the restrictions within your iPhone. These unlocking tools possess different features that can help us wipe passcode, remove Apple ID, and disable/recover the Screen Time with instant steps. Get Aiseesoft iPhone Unlocker now for free from its official web page. Please continue reading as we get to know these simple steps to follow.
1.
Launch the Aiseesoft iPhone Unlocker on your PC or Mac. You will see its clean and intuitive interface. From that, click the Screen Time feature, which we can see at the third icon box in the interface.
2.
The second action will require you to connect your iOS device to your computer. You may use a USB cable to do it, as we give the tool access to make the process successful. This tool is compatible with iPhone 13, 12, 11, XS, XR, X, 8, 7, 6, 5, and more.
3.
A new tab will appear on your screen, showing you some notes about the process of removing your screen time even without a passcode. It will also show you some tips about what to do after the operation. Below the note, you will notice a Start button. Click it to proceed with the next step.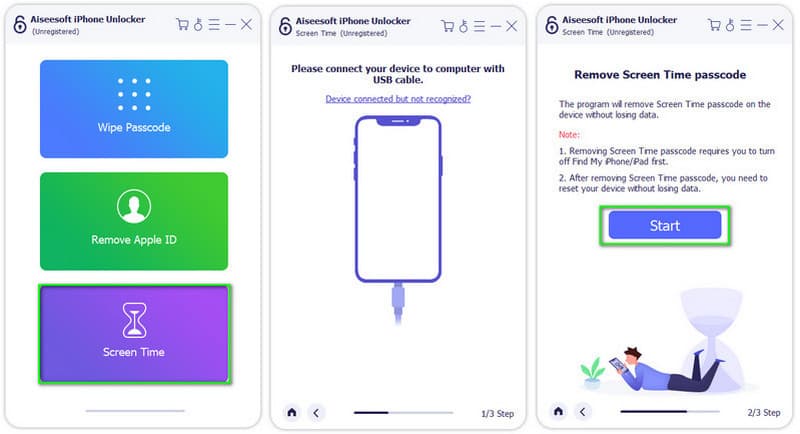 4.
You will see different instructions on your screen that you need to follow. These instructions are for resetting- up your iOS device. Please follow every detail to avoid any hindrances with the process.
5.
After that, please click the OK button below the interface. Then, allow your iOS device to restart. It will now be the time to see if your iOS is already not in a restriction mode. Thus, you can now utilize your iPhone device completely following your preference.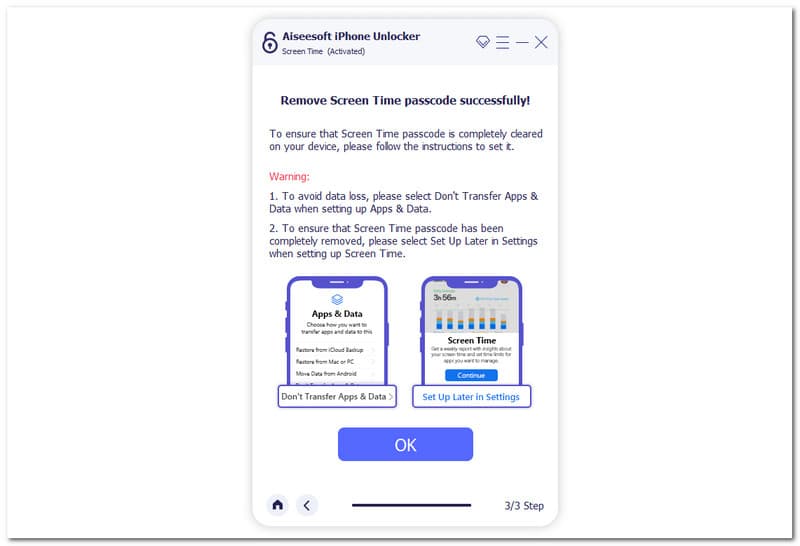 4. FAQs about How to Turn Off Restrictions on iPhone
Am I allowed to install applications from the App Store if my iPhone is restricted?
Turning on the Restriction on your iPhone will prevent you from purchasing and installing applications on your iPhone. However, it will not prevent you from installing the already purchased applications even before. That means the new application is just the only thing that is impossible to do.
Will the process of sharing my location be prevented if I turn on the iPhone restriction?
Yes. Enabling the restrictions within your iPhone will prevent you from sharing your locations. This feature is intended to avoid sharing information about you. This feature may also prevent bad guys or strangers from tracing where you are.
Why can I not find the restrictions on my iPhone?
Your iPhone or iPad with a version of iOS 12 and up is now updated. The restrictions feature is now located at the Screen Time option on your Setting.
Where can I find my restrictions passcode for my iPhone?
iPhone keychain will save your restriction passcode. You can find your restriction passcode from it.
How to access iPhone restrictions?
To access iPhone restrictions, you should remove the restriction time or set it as a valid time to access the restrictions. Besides, you can remove or bypass iPhone Screen Time or restriction passcode and disable it.
Conclusion
As we can see, the iPhone restriction is a great feature that can help us prevent our kids from doing things that can harm them within their devices. However, it is not a great idea if we use our iPhone for work and academic purposes. That is because it will limit us from becoming productive and make our work successful. In the very best scenario, disabling it is a great solution. We can see how effective the methods below are in helping us do that. In addition, we can say the greatness of the Aiseesoft iPhone unlocker in disabling restrictions mode on iPhone. Thus, sharing this post with iOS users in the same situation as you is necessary. You may also see our website for more solutions to any problems with your iOS devices.
Did you find this helpful?
326 Votes
YES

Thanks for letting us know!
No

Thanks for letting us know!
Solution to Restriction Password
Aiseesoft iPhone Unlocker
Get into locked iPhone iPad iPod without password or Apple ID.