3 Immediate Solution to Bypass iPhone Lock Screen Passcode: Updated Guidelines
Users of iPhone or iPad use a passcode as protection with the information within their iOS devices. It typically involves the usage of a Touch ID or a face ID. However, failing to enter these passcodes will lead to complications. This problem can occur, especially if we forget our passcode. That is why we need to ensure that we enter the correct password to gain access to the data and application within our iOS devices. If not, our iOS devices may be locked because too many wrong attempts to enter our passcode will disable us from accessing the data and information in our iPhone or iPad. In line with that, this article exists to help us to bypass the iPhone passcode and get access to the data within our iOS devices. We will give your three updated methods in alleviating the problem with your locked iOS device.

1. What is iPhone Passcode?
Before we begin with the practical ways we can bypass iOS devices' passcode, we should understand the definition of passcode first. Also, may we learn the different points of passcode versus the password. As we start, passcodes are commonly 4 to 6 digit numbers. We need this element to unlock our iOS devices such as iPhones and iPad. In addition, a passcode is optional to set. The owner has the freedom to add a passcode with their iPhone and iPad. In short, it is not a requirement. Your iOS can exist even without it.
On the other hand, a password is more specific. It combines different characters such as uppercase letters, lowercase letters, numbers, and symbols. This element is what we need to login to a particular account like Apple ID, iCloud, and iTunes. If the passcode is not mandatory, then the password is required. Without it, an account may not exist. It can also be the backbone of an account, going to its accessibility on the data and information within a specific budget.
This little information can define what it means by a passcode and how it varies with a password. However, even though passcode and password differ in nature, their similarity is their purpose- to protect access to our information and data files.
2. How to Bypass iPhone Passcode
Let us now dig deep into how to bypass the iPhone lock screen passcode, and we shall now begin with the easiest way. One of the instant ways to avoid an iOS passcode is the fantastic Aiseesoft iPhone Unlocker. It is one of the rising tools for unlocking our iOS devices such as iPhones and iPad without having a hard time. It is because it is a friendly user tool. As an overview, Aiseesoft iPhone Unlocker possess their main features which are the Wipe passcode, Remove Apple ID, and Wipe Screen Time. Get it with their official website now as we begin the step of bypassing our iPhone and iPad.
1.
Open the Aiseesoft iPhone Unlocker on your computer and see its full features. Kindly press the Wipe Password icon box to start the process.
2.
The next aspect we need to confirm the process from the next tab. We can see a few reminders in the new account that we need to read and comprehend. It will remind us that the process we will take will remove your passcode. You may now click the Start button if you are good to go.
3.
On the third step, kindly connect your iPhone or iPad device with your computer using the USB cable to proceed with the next step.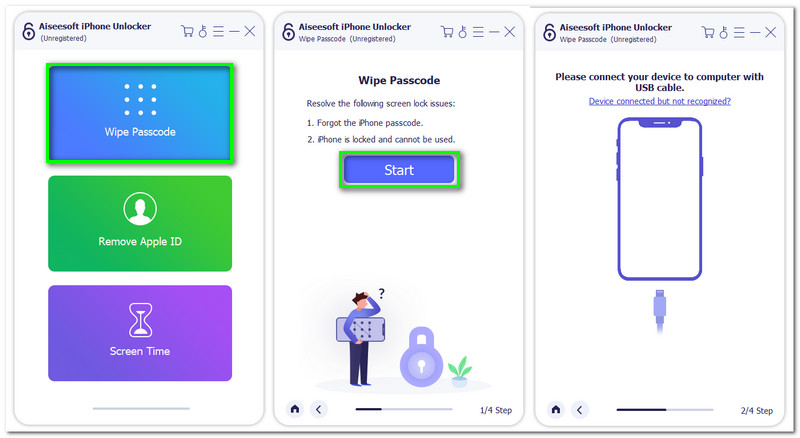 4.
You will now be at the new tab where you can confirm your iOS device's details, such as the category, device type, model, and iOS version. If the information is all good, please click the Start button at the middle scene of the interface.
5.
Afterward, one of the most important steps will occur. The next step will be downloading the Firmware package, which we will need for the success of the process. In this step, please wait patiently until you are good to go by clicking the Unlock button.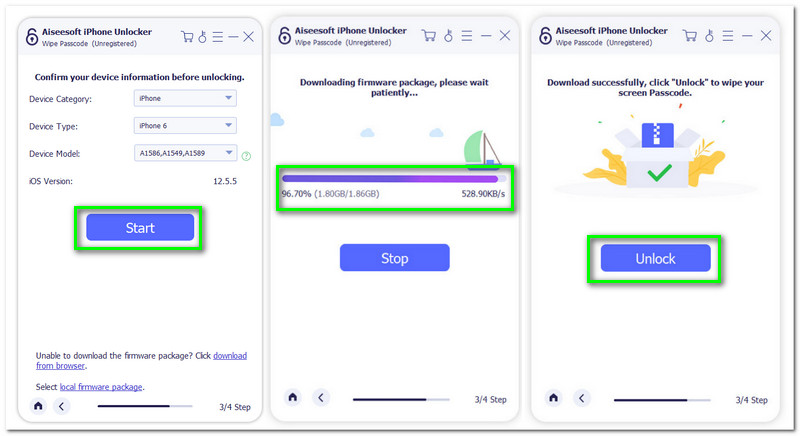 6.
The last step will ask you for confirmation of the process. It will require you to type the code digit, which is 0000. Enter it with the type bar on the screen and click the little Unlock button on its proper portion.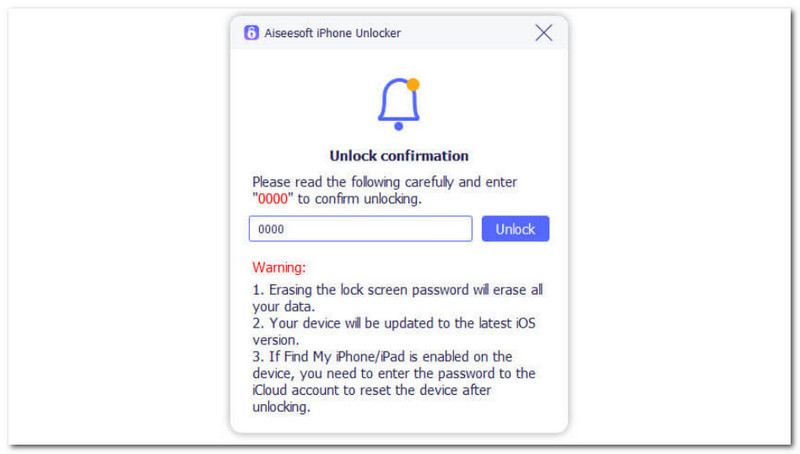 Then, those are the steps we need to take to bypass the iPhone passcode easily. May you enjoy your iOS devices now and continue the things you need to do within them.
3. How to Bypass iPhone Passcode with iTunes
We all know that iTunes is one of the most flexible and helpful software for our iOS devices. Thus, it is also the second method we can use to bypass an iPhone or iPad passcode with ease with iTunes by Recovery Mode.
1.
Launch iTunes on your computer.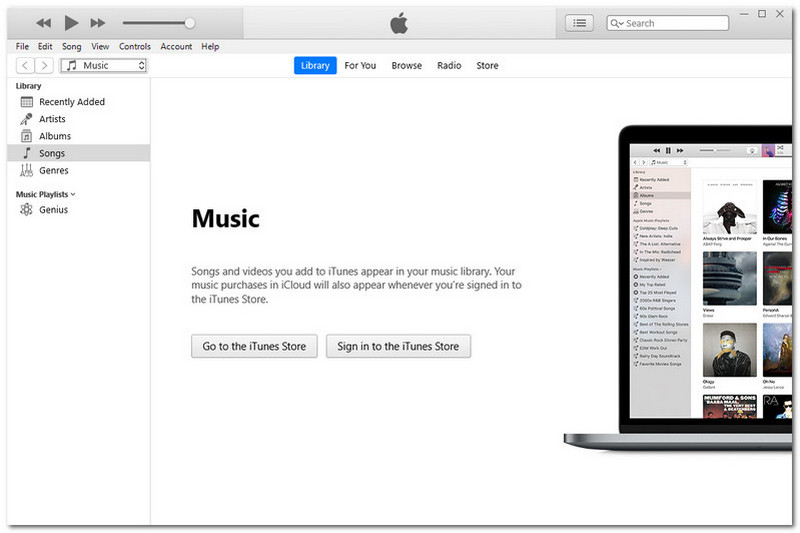 2.
Make sure your iOS device is in Recovery Mode. It is a vital thing we need to make a successful process. Kindly look at the information below in putting our iOS devices in recovery mode.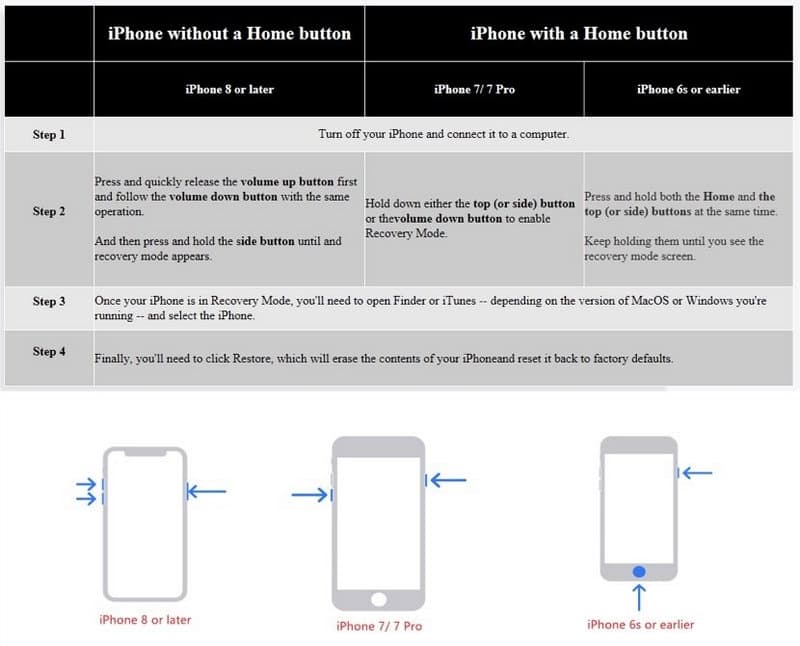 iPhone 6s and earlier: Pressing the Home button and the Power button simultaneously for a few seconds will lead you to recovery mode.
iPhone 7, 7Pro, and 7 Plus: Recovery mode comes with pressing the Power button or your Volume down buttons for a few seconds.
iPhone 8 and later: We need to click the Volume up and proceed with Volume down in this unit. Then press the Power button too and hold it for a few seconds.
3.
Going back to your iTunes. Under your device, please tap the Restore button. It will allow you to restore your iPhone. The restoration process includes removing your passcode so that you may bypass it as you get into your device. Last, wait for your device to start.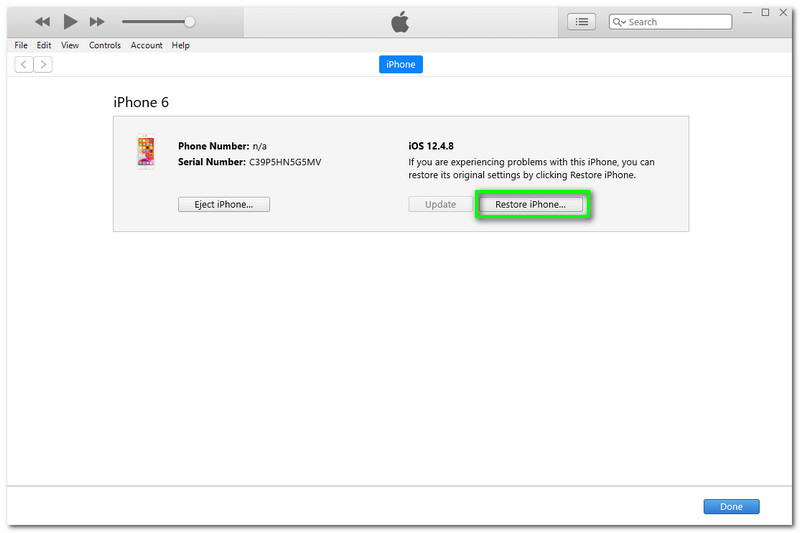 These are the simple steps to bypass the passcode of our iOS device. We can see how beneficial iTunes is in making the process at ease.
4. How to Bypass iPhone Passcode via iCloud
The third method will also require us to have an iCloud account. In this part, we will see the ability of an iCloud account to bypass the iOS password. Before we begin, we need to make sure that the iOS device you want to bypass is connected with an internet connection, and please turn on Find My iPhone. These are essential elements that we need to make the procedures successful. However, if your iOS devices are not connected with an internet connection and the Find my iPhone is turned off, you use the other methods above to alleviate your problem.
1.
As we begin, kindly go to iCloud.com through your browser on a computer or another mobile phone. As you go to the website, please log in to your iCloud. Then enter the code from your mobile number. Afterward, a pop-up tab will exist asking for Trust. Click the button as we proceed to the next step.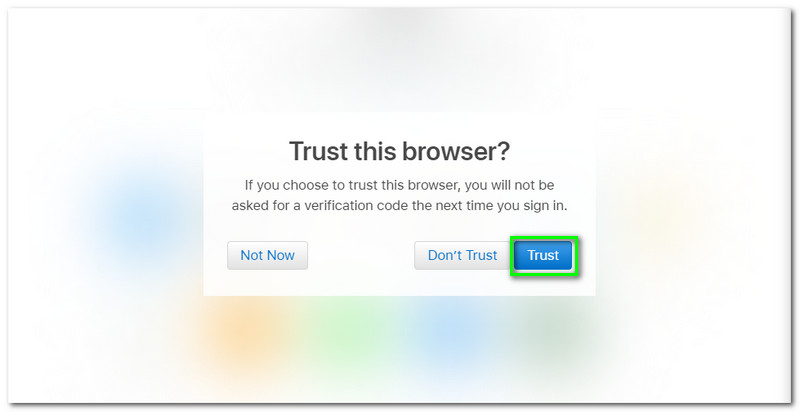 2.
On the web browser, locate the Find iPhone tab. Under it, please choose the iOS device you want to bypass by clicking the All Device list.
3.
The third step will need you to find the Erase iPhone option on the screen. Kindly click it. After the confirmation, allow your device to automatically restore your contents, data, and settings within your iPhone or iPad. The restoration process includes removing your passcode as we make the bypass possible.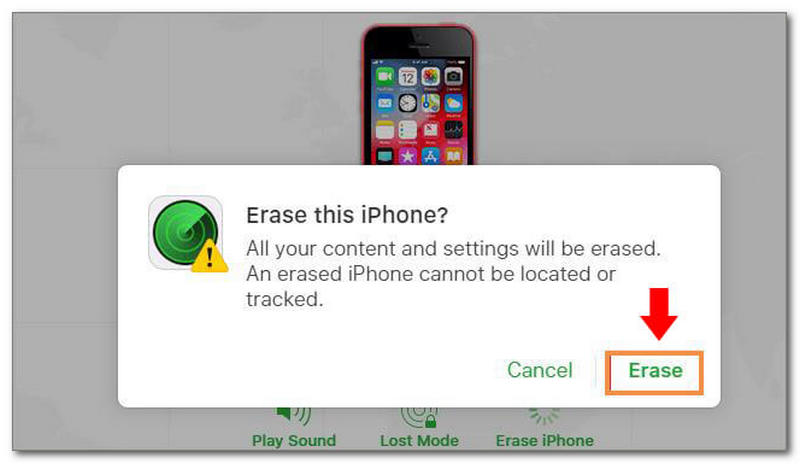 5. FAQs about How to Bypass iPhone Passcode
Is Aiseesoft iPhone Unlocker safe to use for bypassing iPhone passcodes?
Yes. Aiseesoft iPhone Unlocker is one of the leading unlocking tools nowadays. That is because it possesses tons of helpful features and a developer that cares about our privacy and safety. Overall, the safety process of the Aiseesoft iPhone Unlocker is one of the reasons why many users are constantly using these over any other tools.
Is it possible to unlock an iOS device even without the passcode or face ID?
Yes. Unlocking your iPhone or iPad without even using your passcode and face ID is possible. There are a lot of ways to make it possible. There are iOS unlocking tools in the digital market, like the Aiseesoft iPhone Unlocker and PassFab iPhone Unlocker. These two are also great software that can get into a locked iPhone without password.
Can we reset a bypassed iPhone?
Yes. Resetting a bypassed iPhone is possible. By resisting your device, you can wipe out all of the content and data within your iPhone. It can make you feel that your iOS device is brand new.
How to bypass iPhone passcode without losing data?
Actually, the process of bypassing passcode for iPhone 7 or any more recent iPhone models running on iOS 11 or later means reset all the settings and content on your device. So to bypass iPhone lock screen passcode will lost data, no matter which way you are using.
Can I bypass iPhone passcode with Siri?
Siri cannot bypass your iPhone passcode directly, but you can use Siri to open some applications when you turn on the Allow Siri When Locked option.
How to bypass iPhone passcode with emergency call?
1. Slide to unlock your iPhone with a random passcode. 2. Hit Cancel, and bring up the passcode screen again. 3. Tap Emergency and then hold down the Power button until slide to power off appears. Then tap Cancel. 4. Dial the emergency number and tap the emergency call button, and cancel it immediately. 5. Press the Power button and turn off the screen. 6. Press the Power button for about 3 seconds, and tap Emergency before slide to power off appears. Now your iPhone is unlocked. However, this method only applies to iPhone running in iOS 6.1.
How to bypass iPhone passcode without computer?
Follow the part 4 and you can bypass iPhone passcode without computer. You just need to log in your iCloud on a mobile phone browser, and then erase iPhone.
Conclusion
As we conclude this discourse, we can instil in our mind the simplicity of the process of bypassing iPhone passcodes. That process is possible through the use of different ways and unlocking tools. One of these tools is the Aiseesoft iPhone Unlocker which possesses excellent features and a user-friendly method of unlocking our devices. In addition, we can also see how useful it is to have iTunes and iCloud to bypass an iPhone with ease. We hope the methods above help solve your problem as we end this discussion. Do not forget to share this post with the iOS users in the same event as you. You visit our website as you discover more phone tips in making your usage better.
Did you find this helpful?
113 Votes
YES

Thanks for letting us know!
No

Thanks for letting us know!
Aiseesoft iPhone Unlocker
Get into locked iPhone iPad iPod without password or Apple ID.