Block YouTube Ads for Instant: Proper Procedure for You
YouTube is a prominent video-sharing network where users can watch, publish, and share videos on various themes. Millions worldwide rely on it for entertainment, education, and information. However, one of the primary disadvantages of utilizing YouTube is the inclusion of adverts that play before, during, and after videos. These advertisements may be annoying, intrusive, and repeated, prompting viewers to get irritated. Some advertisements may also be irrelevant or unrelated to the viewer's interests, making them less enticing.
As a result, many individuals look for YouTube ad-blockers to improve their YouTube experience. Ad-blocking enables viewers to skip or avoid commercials, resulting in a smoother and uninterrupted watching experience.

Part 1. How to Block Youtube Ads via Browser on the Web
Various browser extensions or add-ons may be used to block YouTube advertisements in web browsers. Here's an overview of how to prevent YouTube advertisements in common browsers such as Google Chrome, Mozilla Firefox, and Microsoft Edge:
1.
Open your web browser like Chrome, Firefox, or Edge.
2.
Go to the browser's Extension/Add-on store. For example, for Chrome, visit the Chrome Web Store; for Firefox, visit the Firefox Add-ons store; and for Edge, visit the Microsoft Edge Add-ons store.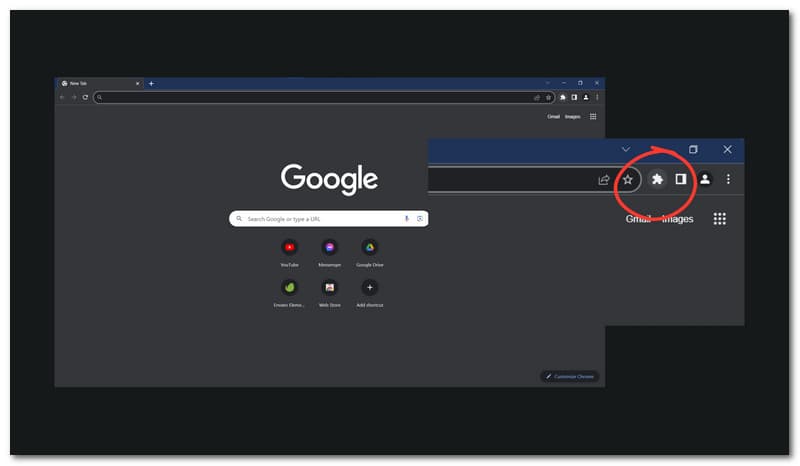 3.
Search for Ad Blocker or YouTube ad blocker in the extension store's search bar. We can now choose a well-rated and widely used ad blocker extension that suits your preferences. Some popular options include uBlock Origin, AdBlock, and AdBlock Plus.
4.
To Install the Extension, click on the chosen ad blocker extension's listing. After that, we need to hit on the Add to Chrome (for Chrome), Add to Firefox (for Firefox), and Get (for Edge) buttons to install the extension. Please follow the on-screen instructions to complete the installation.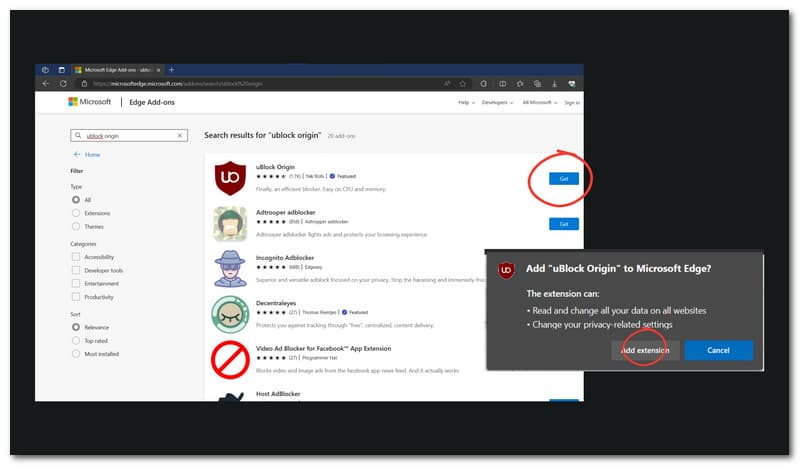 5.
We are now about to restart your browse after the extension is installed. It might require a browser restart. If prompted, close and reopen your browser. Once the extension is activated, visit YouTube and start enjoying ad-free videos.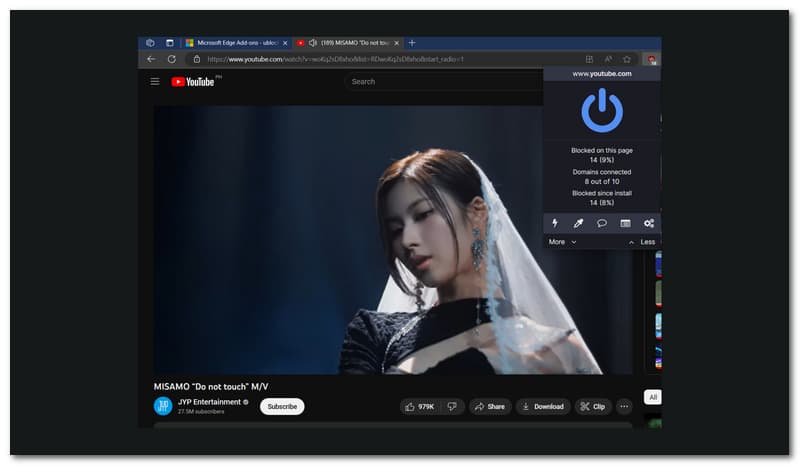 That is the common procedure we can do to block Youtube ads on our web browsers. From there, we can now surf and watch on YouTube without interruption. Ad blockers might improve your surfing experience; remember that content producers rely on ad income to sustain their work. If you have favorite artists or channels that you want to support, try whitelisting their channels in your ad blocker settings or supporting them in other ways, like memberships or direct payments.
2. How to Block Youtube Ads on Android or iPhone
On Android and iPhone devices, blocking YouTube advertisements often entails utilizing specialist apps that may block adverts within the YouTube app or through other YouTube clients. Please remember that the procedures detailed below are subject to change owing to app updates or policy changes. Always be sure you're utilizing trustworthy apps and sources:
1.
Download a Third-Party YouTube App by looking for alternative YouTube apps on the Google Play Store (for Android) or the App Store (for iPhone). We only need to go to our mobile store, install the chosen YouTube app, and open it on our device.
2.
Please log in to your YouTube account to access your subscriptions and personalized content.
3.
After that, we can now enjoy Ad-Free YouTube. Some third-party YouTube apps have built-in ad-blocking features, which should provide an ad-free experience.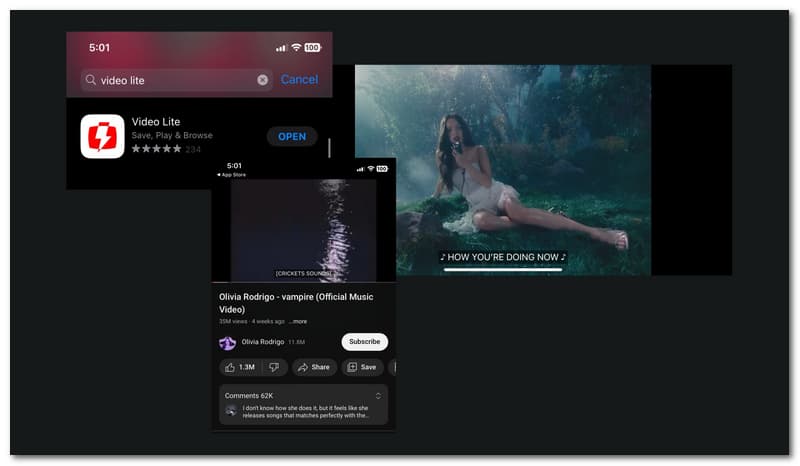 Utilizing modified versions of programs or third-party apps may have risks, such as security problems or non-compliance with YouTube's terms of service. When downloading programs from unknown sources, use care and consider utilizing certified apps wherever feasible. Furthermore, YouTube's policy and technology may alter over time, making ad-blocking measures less effective.
3. How to Block Youtube Ads on Smart TV
Because Smart TVs often have limited support for third-party apps or browser extensions, blocking YouTube advertisements on them can be more difficult than on web browsers or mobile devices. For that, subscribing to YouTube Premium (previously YouTube Red) is one of the easiest and official methods to remove YouTube adverts on your Smart TV. YouTube Premium is a premium membership service with no ads, offline playback, and access to YouTube Originals. Here's how to go about it:
1.
We need to subscribe to YouTube Premium by visiting the YouTube Premium website https://www.youtube.com/premium and sign up for the service. Note that this may not be available in all regions.
2.
After that, we are about to sign In on Smart TV to the YouTube app on your Smart TV using the same account you used to subscribe to YouTube Premium.
3.
We can now enjoy Ad-Free YouTube. Once signed in, you should have an ad-free experience using the YouTube app on your Smart TV.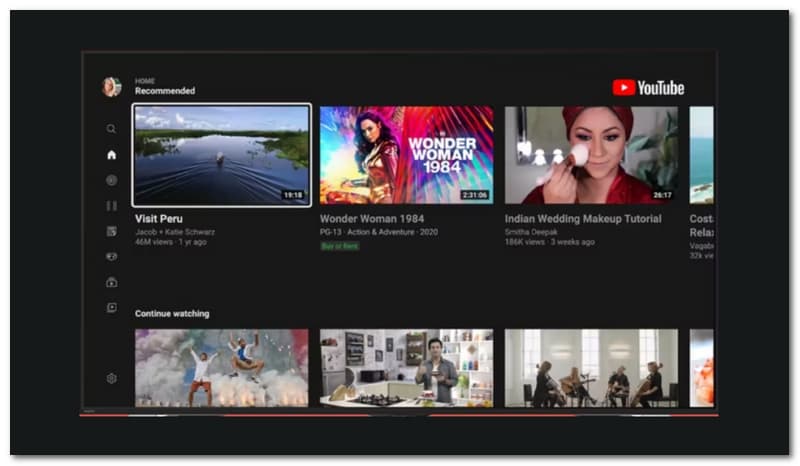 YouTube Premium is an official method to support content creators while enjoying ad-free viewing on various devices, including Smart TVs. Remember that the efficacy of ad-blocking solutions may alter over time due to upgrades and changes in YouTube's ad delivery systems.
Part 4. FAQs about How to Block YouTube Ads
Is YouTube Premium worth it to get rid of ads?
YouTube Premium is worth eliminating ads and enjoying an ad-free YouTube experience. It is the most amazing process we can do if we want to enjoy a great experience in watching or listening to YouTube.
Does Adblock block YouTube ads?
AdBlock is designed to block YouTube and other online advertisements on supported platforms like web browsers.
Can I block a specific ad on YouTube?
No, YouTube does not provide users a built-in feature to block specific ads individually. That is why we need a premium account or an Ads-Blocker to make it possible.
How do I stop YouTube from asking for a premium?
How do I stop YouTube from asking for a premium? You can stop YouTube from asking for a premium subscription by clicking the No, thanks, or Skip options when prompted to subscribe to YouTube Premium.
Why do I still get ads with YouTube Premium?
While YouTube Premium offers an ad-free experience for most videos, there are some exceptions where you may still encounter ads. These exceptions include certain types of content, ads embedded by content creators, and ads shown outside the YouTube app or website.
Conclusion
In conclusion, using ad blockers to block YouTube ads on web browsers, iPhone, Android, and Smart TVs offers several benefits: Enhanced User Experience, Time and Data Savings, Privacy and Irrelevant Ads, and Reduced Ad Fatigue. However, the impact on content providers must be considered, as ad income supports their labor. Users that like their favorite creators may choose to investigate alternative avenues of support, such as direct donations or subscriptions. Furthermore, owing to platform modifications, ad-blocking methods may vary over time, so users should keep updated about the current ad-blocking solutions and any restrictions on their efficacy.
Did you find this helpful?
366 Votes
YES

Thanks for letting us know!
No

Thanks for letting us know!
AnyMP4 Video Converter Ultimate
All-in-one video converter, editor, enhancer upscaled with AI.