Use Instagram Reels: Guide to Monetize Creativity with Ease
As social media platforms continue to evolve, Instagram has emerged as a hub for creative expression, storytelling, and community building. Among its many features, Instagram Reels is a powerful tool for users to showcase their creativity, share engaging content, and reach a wider audience. With that, we are now calling all of the creative and aesthetic media users out there,
We need to learn the details to utilize Reels on Instagram. Let us maximize this feature as it makes our Instagram feed interesting and fun to visit. Let us now start this guide by seeing the information below.

Part 1. What is a Reel on Instagram
Reel on Instagram
Instagram Reels is a dynamic and creative feature introduced by the platform, designed to enable users to express themselves through short-form videos. It allows users to record and edit videos for 15 to 60 seconds, offering a wide range of creative tools to enhance their content. These engaging videos can be spiced up with music, augmented reality (AR) effects, stickers, text, and more, empowering creators to craft captivating stories that resonate with their audience.
The Reels feature is seamlessly integrated into the Instagram app, making it easily accessible to personal and business accounts. It is located on the Explore page, showcasing a curated selection of Reels from various users worldwide. This prime placement enhances the visibility of Reels, providing content creators with a unique opportunity to showcase their talent and grow their reach beyond their existing followers.
Instagram Reels Size/Dimension
As of my last update in September 2021, the recommended size or dimensions for Instagram Reels are as follows: Aspect Ratio: 9:1 and Resolution: 1080 x 1920 pixels.
The 9:16 aspect ratio ensures that the Reel video fits perfectly within the vertical format of Instagram, which is ideal for viewing on mobile devices. The 1080 x 1920 pixels resolution ensures high-quality playback on various screen sizes and devices. Remember that Instagram's features and guidelines may change over time, so it's always a good idea to check for any updates or changes in dimensions from official Instagram resources or their help center.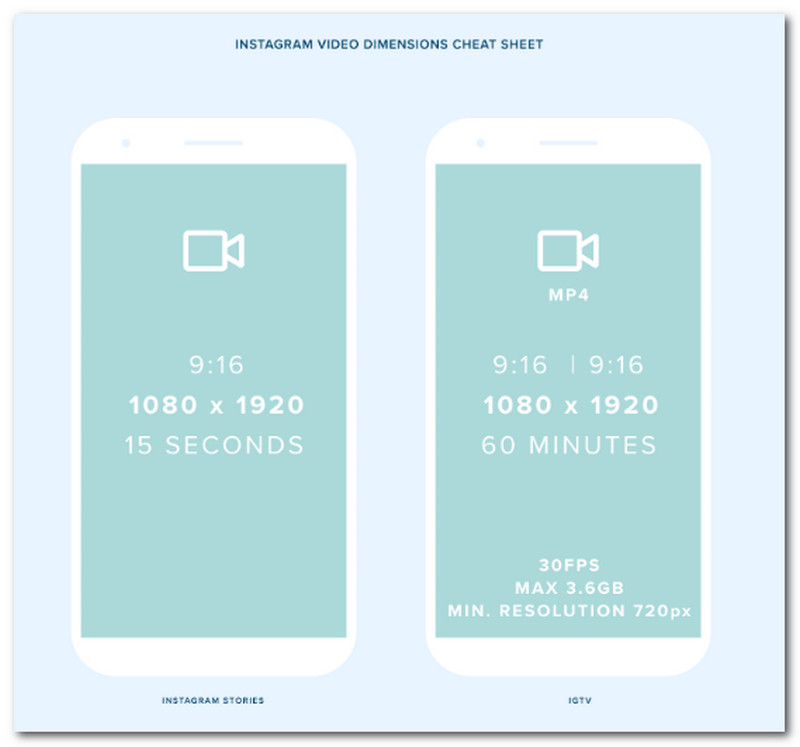 Best Hashtags for Instagram Reels
The content and concept of your Reel will determine the ideal Instagram Reels hashtags. Hashtags are critical for enhancing your content's discoverability and reaching a larger audience. Here are some pointers for locating and employing the finest hashtags for your Instagram Reels:
◆ Size and Popularity: A combination of popular and unique hashtags can be helpful. Popular and widely used hashtags may expose your material to a broader audience.
◆ Trending Hashtags: Using trending hashtags increases the likelihood that your Reel will be viewed by viewers looking for the most recent material.
◆ Location-Based Hashtags: If your Reel is relevant to a specific location or event, include location-based hashtags to reach people interested in that area.
◆ Community Hashtags: Find and use popular hashtags within your niche or community. This can help you connect with like-minded users and increase engagement.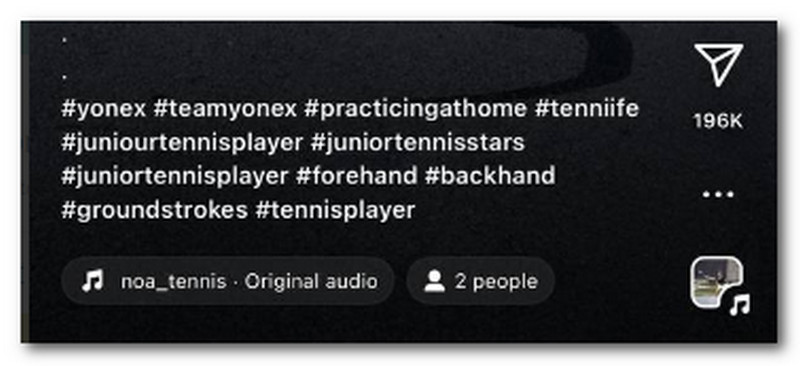 Part 2. How to Make a Reel on Instagram
Instagram offers a lot of features in terms of content creation. According to the study, most creative people use Instagram. Good thing Instagram expands this chance for us to be creative by giving us features that can edit videos or Reels.
However, before proceeding with the extra element of making an Instagram Reel, we must follow the basic steps. These steps are the following:
1.
Open Instagram and see the Add icon below the interface. Then see the Reels.
2.
From there, we can select the clips, videos, and images we want to include on our Instagram Reels. Here, we can add multiple files. Then click the Arrow to proceed.
3.
After that, you can now see the clips on your screen. Then explore more on the features to make it better.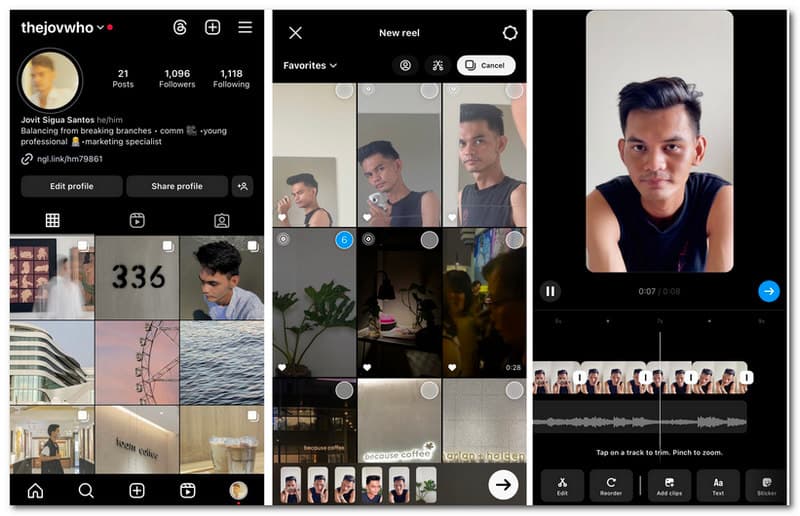 Those are the basic steps we need to do to make Reels on Instagram. To make it more interesting, we should see the other elements we can put on the next sub-parts.
How to Add Music to Instagram Reels
Adding background music to your Reels is possible on Instagram. The app can automatically offer you the music it suits on your Reels. However, you should follow these steps if you have your preferences and own music
2.
Search for the music you want to add. Please click it, and you will see it on your Reels.
That is the easy way to add audio for your reels. Please continue reading to add elements.
How to Add Text to Instagram Reels
The next element will be adding text to the Reel on Instagram; here are the steps to make it.
1.
Click the Aa or Text icon
2.
From there, a Type feature will appear then you can add the text you want.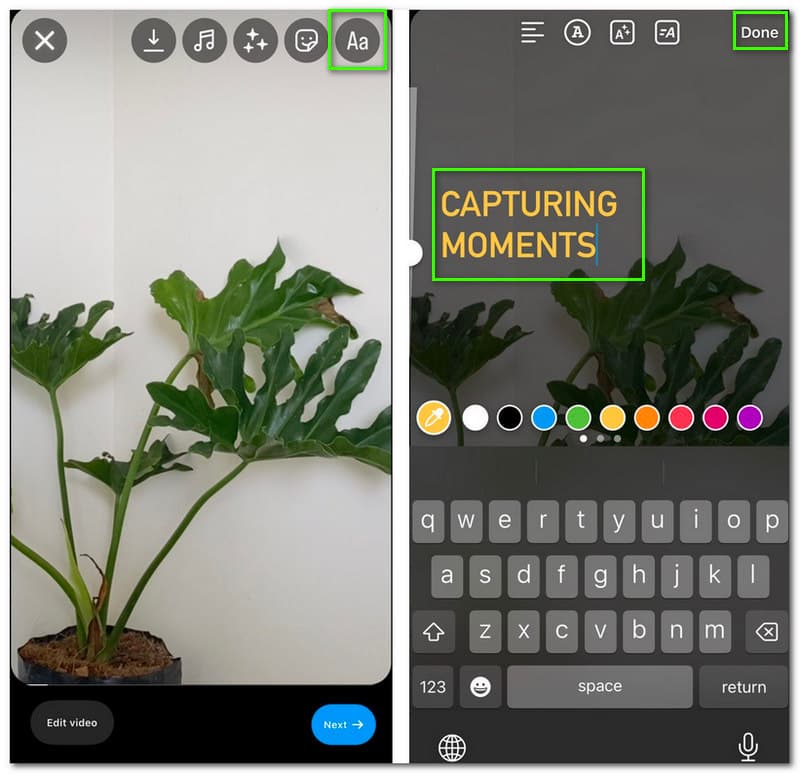 Part 3. How to Post a Reel on Instagram
After knowing the creation process of reels on IG above, we will learn how to post our output and how to add captions on Instagram Reels. See the procedure below.
1.
Continue the edits and click on the Next button.
2.
After that, Instagram will show you details of posting the reels, including Write a Caption. Please write what you want to include.
3.
At this moment, we are bound to Share the reels and post them on IG.
After doing that, you will see that your Reels are posted on your instagram feed.
Part 4. How to Share a Reel on Instagram
Here are the steps we need to share our reels with our friends.
1.
Go with your Reels on your IG Feed.
2.
After that, please click the Paper Plane icon.
3.
Then choose whether you want to share it on Facebook, Copy Link, WhatsApp, etc.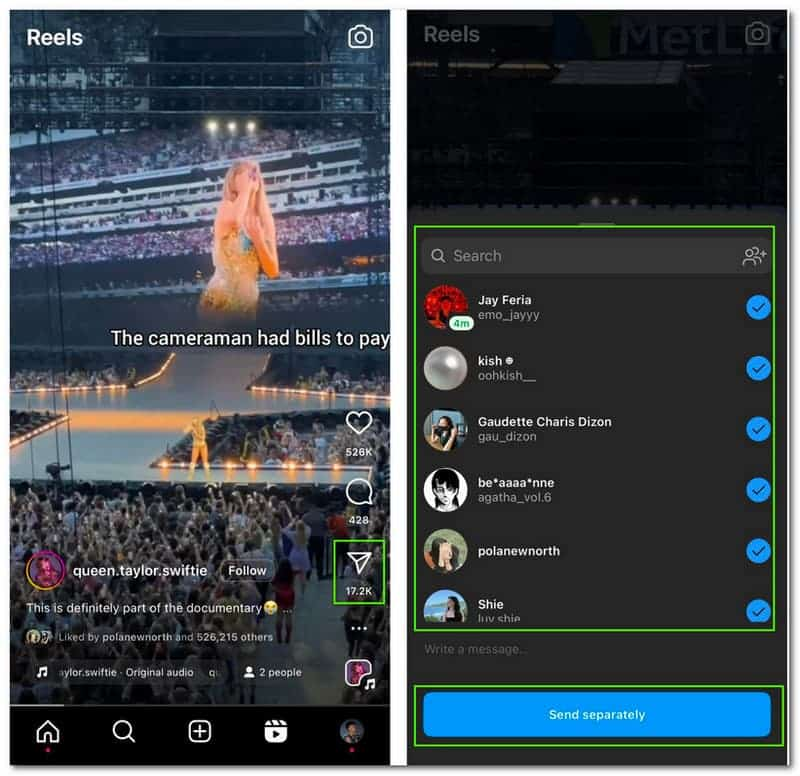 We hope this helps you expand your happiness with your friends by sharing with them the reels you made.
Part 5. How to Save Instagram Reels
Shaving a Reel on Instagram is very easy. See these to be able to make.
1.
Find the Reels you love on your News feed.
2.
Then on the lower part, see and click the Save icon.
3.
Then a text will appear that will remind you to save the Reel.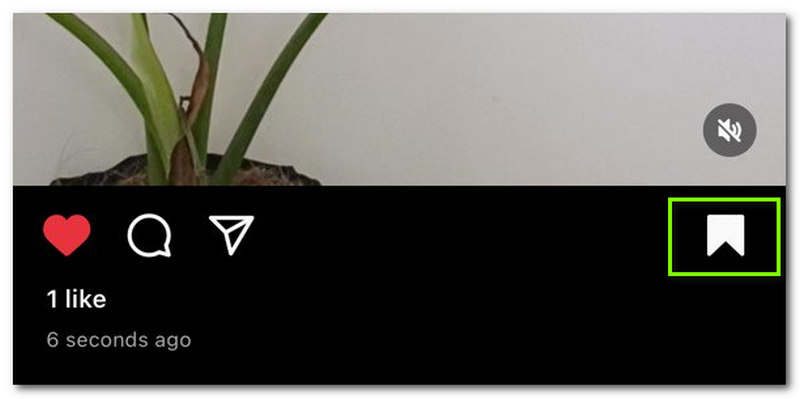 Now, you can enjoy watching, again and again, the Reels you love by saving them.
Part 6. How to Monetize Instagram Reels
Monetizing Instagram Reels can be a rewarding venture for content creators and influencers. Here are some tips to remember.
◆ Build a Strong Following: Focus on growing your follower base organically.
◆ Join the Instagram Partner Program: The Instagram Partner Program allows eligible creators to earn money through ad revenue sharing.
◆ Leverage Influencer Marketing: Collaborating with brands in your niche can be a lucrative way to monetize your Reels.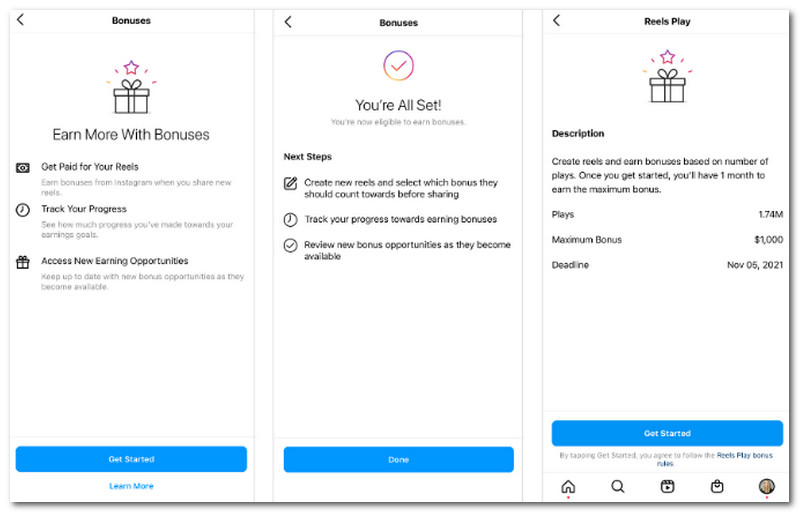 This simple points will help you to earn money using Instagram reels.
Part 7. Instagram Reel vs. Story
Instagram Reels and Instagram Stories are two distinct features on the platform, each offering unique benefits and serving different purposes. Here's a comparison between Instagram Reels and Stories:
| | | |
| --- | --- | --- |
| | Instagram Reels | Instagram Stories |
| Duration | Allowing users to create videos between 15 to 60 seconds. | Stories are short-lived, lasting for only 24 hours. Each Story segment can be up to 15 seconds long. |
| Editing Tools | Audio, effects, text, and stickers enable users to create polished and engaging videos. | GIFs, filters, and interactive elements such as polls and quizzes. |
| Content Focus | Explored page. | Best suited for sharing casual, spontaneous, and behind the scenes moments. |
| Discoverability | Primarily designed for entertaining, informative, or visually appealing content. | Real-time interaction with followers |
| Evergreen Content | Reels are displayed on a creator's profile in a dedicated tab, making them accessible for an extended period. | Encourages a sense of urgency, driving followers to check regularly to avoid missing content before it disappears. |
Part 8. FAQs about How to Use Reels on Instagram
What is the best time to post reels on Instagram?
The best time to post Instagram Reels depends on your target audience's demographics and location. Analyzing your followers' activity can provide valuable insights into their peak engagement times.
Are Instagram Reels public, or can I control who sees them?
By default, Instagram Reels are public, meaning anyone on the platform can view them, even users who don't follow you. However, Instagram offers the option to switch your account to private, restricting access to your content to approved followers only. If your account is private, only your followers can see your Reels.
Does Instagram pay you for creating and posting reels?
Instagram does not directly pay creators for creating and posting Reels. However, Instagram has introduced various monetization features, such as the Instagram Partner Program, where eligible creators can earn revenue through ad revenue sharing and brand partnerships.
Can I see who viewed my Instagram Reels?
Instagram does not provide a specific feature that shows the exact list of users who have viewed your Reels. Unlike Instagram Stories, where you can see who viewed your content, Reels viewers' list remains private. Creators can only see the overall view count, likes, comments, and shares on their Reels.
Where are saved reels on Instagram stored?
Do Instagram Reels post to Facebook?
Yes, Instagram Reels can be cross-posted to Facebook. Instagram and Facebook are owned by the same company, offering integration features that allow users to share content between the platforms.
Does rewatching an Instagram Reel count as a view?
Yes, rewatching an Instagram Reel counts as a view. Each time a user watches your Reel, whether the entire video or just a part of it, it is counted as a view. Repeated views from the same user will also contribute to the total view count.
How long can a Reel be on Instagram?
As of my last update, Instagram Reels can last 15 to 60 seconds. Creators can record and edit videos within this time frame to share engaging and concise content with their audience.
Conclusion
In conclusion, Instagram Reels present an incredible opportunity for content creators and businesses to unleash their creativity, engage with audiences, and expand their reach like never before. With a perfect blend of creative editing tools, a vast music library, and prominent placement on the Explore page, Reels offer a captivating platform to showcase your unique stories and talents.
Did you find this helpful?
398 Votes
YES

Thanks for letting us know!
No

Thanks for letting us know!
AnyMP4 Video Converter Ultimate
All-in-one video converter, editor, enhancer upscaled with AI.