Mastering Facebook Unblocking (Comprehensive Guide)
Facebook has become crucial in our lives, enabling us to stay in touch with our buddies, friends, family, and acquaintances worldwide. But the complex web of social ties isn't always easy, and occasionally, for various reasons, we find ourselves in circumstances where we need to block someone on Facebook. Blocking is a personal decision frequently made to protect our online experiences or to put some barrier between us and people who might not share our interests. However, as life progresses, things happen, and occasionally it's necessary to unblock someone.
Furthermore, unblocking someone on Facebook is more than just regaining access; it also serves as a metaphor for a desire to reestablish contact, a chance for peace, or a new beginning in the digital world. This in-depth manual explores the complex procedure of unblocking someone on Facebook, revealing its ramifications and complexities and answering the pressing concerns about this action. Please learn more about this through the detailed guides we have prepared for you.

Part 1. How to Unblock Someone on Facebook
Method 1: Using Mobile Phones like iOS and Android
If a smartphone is your preferred device, you can unblock people quickly by doing the following:
1.
Log into Facebook on your mobile devices.
2.
Now, please click the Menu button, then select Settings. After that, please locate and select Account Settings.
3.
After that, hit the Blocking icon. As we select the Unblock button after finding the user's name, you wish to unblock.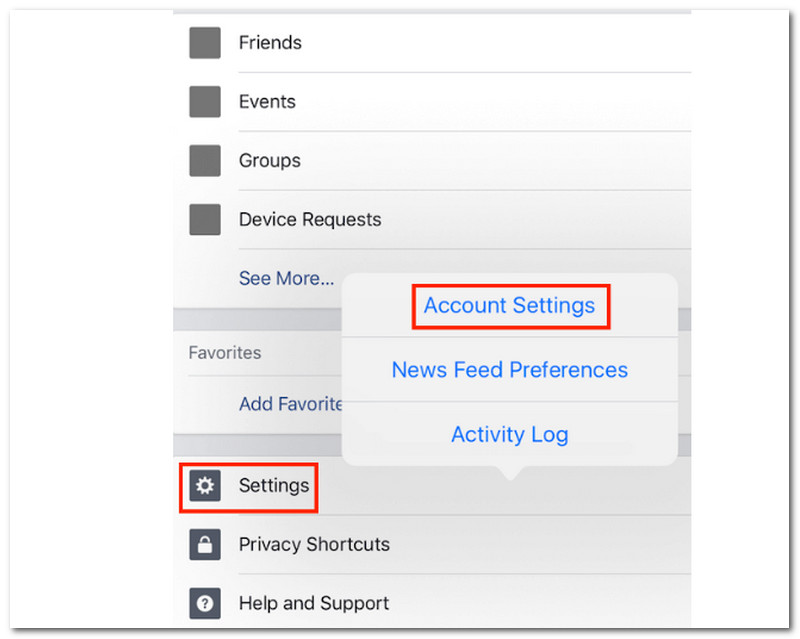 The hitch is that until you send them friend requests, you won't immediately become friends with them on Facebook once more. This is Facebook's most recent update.
Method 2: Utilizing a Computer Browser
The unblocking can also be done on a computer. If you're using a desktop computer and wish to unblock Facebook friends, just follow the instructions below:
1.
Open Facebook in a browser. From there, please access Settings.
2.
Among the Menu choices on the left, select Blocking.
3.
Next, to unblock a name, look it up, then please Confirm the request to unblock

After 48 hours, you might be unable to block someone again on Facebook after unblocking them.
Part 2. What Happens When You Unblock Someone on Facebook
Unblocking someone on Facebook involves more than just flipping a digital switch; it has major effects. This section will examine what happens when you unblock someone on Facebook.
Reestablishing Contact
When you unblock someone, the lines of communication are successfully reopened, and your relationship with the unblocked person is reignited. Here is what transpires: Friendship Restoration: Unblocking them will automatically reestablish your Facebook friendship if you were friends before the block. Also, View to Profile: The previously blocked individual can now view your Facebook profile again. They can access your cover photo, profile photo, and any posted public information. It is one of the main reasons why we need to unblock friends on Facebook.
Access to Content on Profiles
Access to your shared content is also made possible by unblocking. Things like Viewing postings: As long as your postings are set to Public or shared with friends, the unblocked individual can view them on their News Feed. And, Viewing Photos and Albums: The unblocked person can view photos and albums you have shared with a larger audience.
Part 3. If You Unblock Someone on Facebook Will, They Know
Unblocking someone on Facebook is frequently done covertly, but it makes sense to wonder if the individual being unblocked is made aware of the activity. We'll look at what transpires when you unblock someone on Facebook and whether they are aware of it in this part. Let us now answer the question: does Facebook notify you if you unblock someone?
The answer is no. On Facebook, unblocking is often a discrete procedure. That means it has no Notification: Facebook does not notify them after unblocking someone. They won't get any notifications, texts, or alerts that tell them they've been unblocked. In addition, it is also a quiet reconnection. From the viewpoint of the unblocked person, it could seem you have never blocked them. They have access to your profile once more and can interact with your stuff as usual.
Part 4. Why I Can't Unblock Someone on Facebook
Unblocking someone on Facebook is typically simple. However, there may be times when you run into obstacles or limitations. This section looks at typical barriers to unblocking people and solutions to those barriers.
Tech Problems
Technical problems or problems may occasionally hamper the process of unblocking. First is the Network Connectivity. Unstable or poor internet connections might impede Facebook activity. If you want to unblock someone, ensure your internet connection is steady. Another one is the issues with the Facebook app or web browser. If you're using an old version of the Facebook app or web browser, it may interfere with the unblocking feature. Make sure that your browser or app is up to date.
Limitations on Profile
Your ability to unblock the other person may be impacted by certain circumstances relating to their profile. The first possible reason is the Account was Deactivated or Deleted. You won't be able to unblock someone whose Facebook account has been deactivated or deleted. It is impossible to resume the connection because they are no longer on the platform. It can also be the person who blocks you. If the person has also blocked you, it may result in a mutual block that stops you from unblocking each other. Requests to unblock won't be accepted in this situation.
Part 5. How to Ask Someone to Unblock You on Facebook
If someone bans you on social media, you cannot ask the site to unblock you. Any restrictions must be lifted by the person who blocked your profile. However, you can use a few tried-and-true techniques to ask them to unblock you.
Method 1. Message Them Using Different Channels
Platforms for social media are merely a medium of communication. You can ask for an unblock via alternative communication channels. Ask them why they would block you on Facebook, Instagram, Whatsapp, Snapchat, or any other social media platform while being as courteous as you can.

Method 2: Message Each Other Through a Mutual Friend
If you cannot contact someone via social media, you can ask a friend you have in common to shed further light on the situation. They can advocate for you and explain why someone could block you. You can let your friend handle the situation or contact the person who blocked you via their social media sites.

Part 6. How to Find Someone I Unblocked on Facebook
It is simple to locate a Facebook user who has previously been unblocked. The straightforward steps are as follows:
1.
To access a drop-down Menu, click the downward-pointing arrow on the top-right portion of the Facebook page. Then, kindly go to the menu and choose Settings & Privacy.
2.
You can view a list of the persons you've already blocked under the Block Users section. To unblock someone, scroll through the list until you find their name.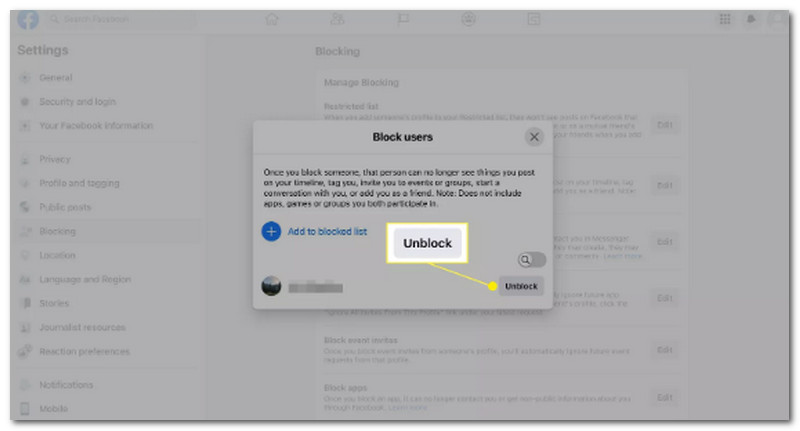 3.
There is a Unblock button next to the name of the person you want to unblock. Select Unblock from the menu. There will be a confirmation dialog. To unblock the person, click Confirm
4.
Go to the Search Bar now and type the username of the people you unblock.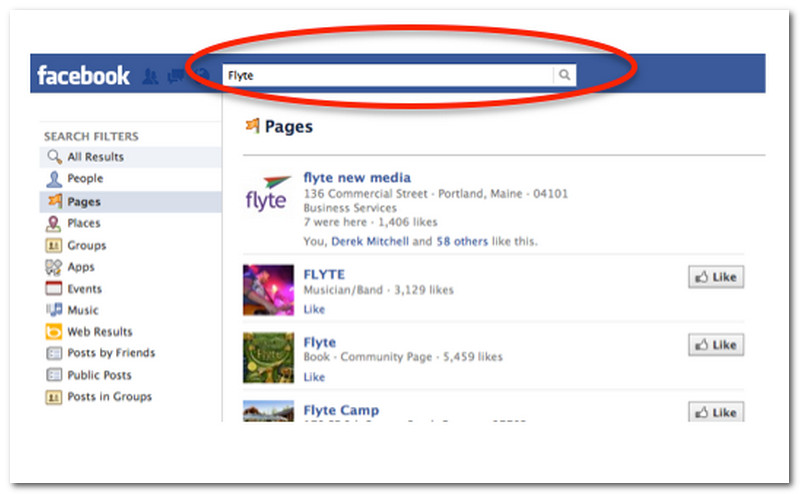 That is the most common steps we need to do to find someone we unblocked,
Part 7. FAQs about How to Unblock Someone on Facebook
Can You Unblock Someone on Facebook?
Yes, unblocking someone on Facebook is possible. It allows you to restore connections, view profiles, and interact with content.
Does Facebook Unblock Automatically?
No, Facebook does not automatically unblock users. Unblocking is initiated manually by the user. That means facebook cannot block your friends automatically.
How Long After Unblocking on Facebook? Can You Block Again?
There's typically no waiting period after unblocking someone on Facebook to block them again. However, it's important to remember that blocking and unblocking should be used thoughtfully and respectfully.
Does Deactivating Facebook Unblock You?
Deactivating your Facebook account does not automatically unblock people you've blocked. If you reactivate your account, the block settings will remain as you previously set them.
If I Change My Facebook Name, Will I Be Unblocked?
Changing your Facebook name does not automatically unblock you from someone's profile. The block settings remain regardless of name changes.
How to Get Unblocked from Commenting on Facebook?
The post owner usually imposes the block if you're blocked from commenting on someone's posts. Engaging in respectful and positive interactions outside of Facebook might influence them to reconsider.
Conclusion
In conclusion, unblocking someone on Facebook is a nuanced digital act with symbolic and practical implications. It offers renewed connections but should be approached with respect and responsibility. By understanding the process, potential challenges, and ethical considerations, you can navigate the digital landscape with thoughtfulness and empathy, fostering positive relationships in the online world.
Did you find this helpful?
448 Votes
YES

Thanks for letting us know!
No

Thanks for letting us know!
AnyMP4 Video Converter Ultimate
All-in-one video converter, editor, enhancer upscaled with AI.