How to Make Money on YouTube: From Videos to Revenue
If we were to list the best platform to start and invest our time in earning a profit, there's no doubt YouTube is on the list. YouTube elevates the user experience by providing a space for entertainment, with which content creators, or what we call YouTubers, exist to create that content for its users to watch. Those YouTubers get paid by the views of their content, the runtime of ads in their videos, sponsorship, and more. Regarding that, depending on your video's popularity, you can get as much money as those other jobs combined.
How to make money on YouTube? Many have tried to enter the YouTube world, but not all have succeeded because people are so excited about earning a lot that they forget to research content creation, proper ways to make money, and other things. This article contains ways to make money on YouTube the right way that people tend to overlook. Ready to start and get your first paycheck? Read this article and take the first step towards financial freedom.

Part 1. 3 Ways to Make Money on YouTube
Are you interested in profiting from YouTube but afraid to produce your material? The good news is that it is possible to make money on YouTube without making traditional videos. In this article, we'll look at five ways to earn money on YouTube by viewing and reposting videos.
Without Making Videos or Using Other People's Videos
How to make money on YouTube without showing your face. You don't necessarily have to be in the video to profit from YouTube. In truth, several methods exist to make money on YouTube without creating your videos or utilizing third-party material.
◆ Video Games Streaming. If you enjoy gaming and are good at providing commentary, you might want to think about live-streaming your games on YouTube. Platforms like YouTube Gaming provide a specialized area for gamers to interact in real-time with their audience. Your game material may be profitable through advertising, super chats, channel memberships, and product sales. You may gain a devoted following and make money by interacting with your audience, demonstrating your abilities, and fostering a fun environment.
◆ Create a Playlist. Make playlists with related themes that include videos from other YouTubers. Create a playlist of the greatest cooking videos or recipe demos, for instance, if your channel primarily focuses on cooking. You may increase the number of subscribers to your channel by selecting useful material that resonates with your audience. You may monetize your playlist as it becomes more popular through affiliate marketing and ad income.
◆ Freelancing Thumbnail for YouTubers. YouTube videos must have captivating thumbnails to draw in visitors. You can help content authors who are having trouble coming up with intriguing thumbnails. Offer to create unique thumbnails for other YouTubers using your graphic design talents. You may advertise your services through social media or on websites like Fiverr. Paying for each thumbnail can be lucrative, particularly if your designs increase click-through rates.
◆ Freelancing Voiceovers for YouTubers. Clear and compelling voice may significantly improve a YouTube video's quality. Offer voiceover services to other YouTubers if you have a compelling voice or voice acting skill. You may construct audio intros and outros, narrate screenplays, and offer character voices. Your abilities may prove to be an invaluable resource for content producers since there is a growing need for top-notch voiceovers.
◆ Podcast. Another option to benefit from YouTube's reach without making videos is through podcasting. Your podcasts should be captured and published as videos with static graphics or minimal animations. Concentrate on specialized subjects or debates that appeal to your intended audience. Once your podcast has a sizable following, you may start making money by selling commercials, sponsorships, goods, or Patreon subscriptions. You can draw listeners and make money with YouTube's large user base.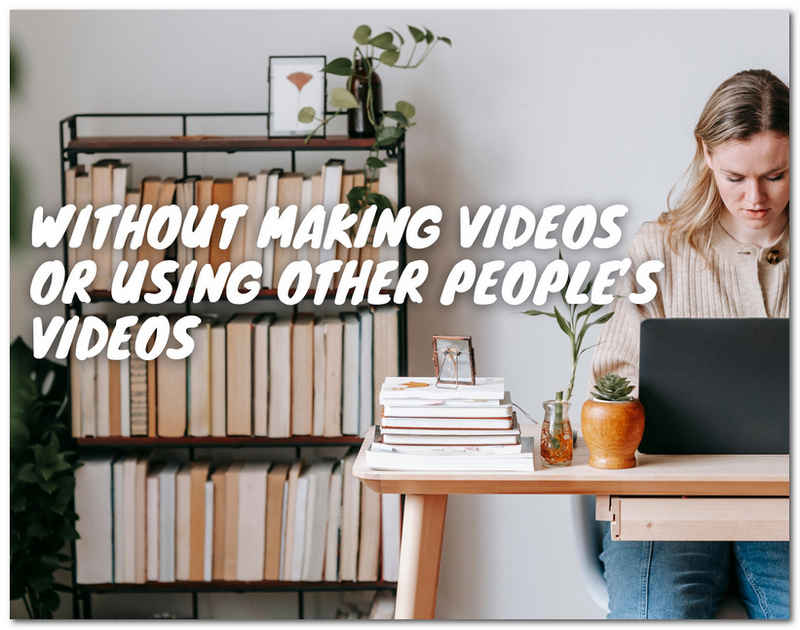 In summary, generating money on YouTube doesn't necessarily entail producing original material or repurposing other people's. These alternate approaches may be equally profitable and enable you to use your area of specialization, abilities, and knowledge to make money on the platform. Without lifting a camera, you can transform your YouTube channel into a lucrative business with hard work and innovation.
By Watching Videos
Do you devote much time to watching your favorite content producers on YouTube, logging in for hours daily? What if we told you you could profit from your love of viewing YouTube videos? Although it might seem impossible, it is doable.
◆ YouTube Reviewer/ Reaction Video. By watching videos on YouTube, you may earn money by reviewing or criticizing them. Make a channel to analyze and evaluate the platform's various content categories. You can concentrate on any subject that interests you, such as viral trends, music videos, or movie trailers. You may monetize your channel with sponsorships and adverts as it expands and gets more viewers and subscribers.
◆ Offer Exclusive Insights and Exclusive Behind-the-Scenes Material. Create a platform or channel with a subscription model where you may provide unique information, behind-the-scenes material, or early access to videos. You may earn a regular income outside of ad revenue by allowing viewers to access this premium material for a price by subscribing or joining.
◆ Freelancing Closed Captioning Service. To make their content more accessible and appealing to a larger audience, many YouTube creators aim to add closed captions to their videos. You may help content makers in need if you are skilled at transcribing and captioning. For delivering precise closed captions for their films, they levy a charge.
◆ Paid Survey Sites. Several survey services pay users to view YouTube videos and give comments, like Vindale Research and Survey Junkie. These portals link you to market research projects that ask you to watch particular videos and provide feedback. For your involvement, you can win money or gift cards.
◆ Swagbucks and InboxDollars. Users of these well-known online rewards programs can accumulate points or money by watching videos, including YouTube material. Your profits can be redeemed for gift cards, PayPal cash, or other prizes. While it won't make you wealthy, it's a straightforward method to supplement your income when you're not working.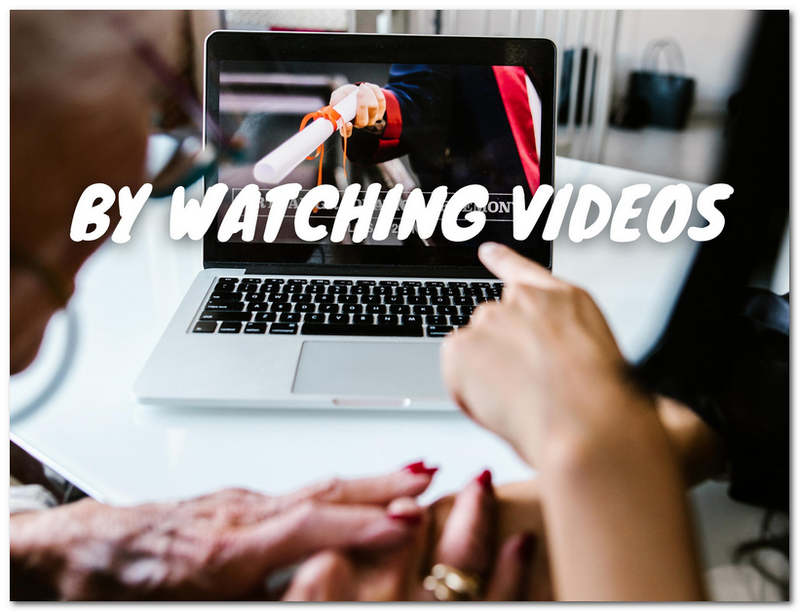 Even though it might not be the most common technique to get money, viewing YouTube videos can be quite successful like making money on TikTok. You can transform your watching habits into a profitable source of revenue while having fun doing what you love by utilizing your passion, creativity, and loyal following. Start experimenting with these techniques, and who knows, you may be the next YouTube hit by just participating in the stuff you love.
By Reposting Videos
When done correctly, reposting videos may be a successful method of making money on YouTube. In this article, we'll look at many strategies for making money by reposting videos on the site.
◆ Create a Compilation of Videos. Making compilation videos is one technique to earn money from reposting content. These videos combine relevant moments from several other videos to provide viewers a well-rounded and enjoyable experience. Compilation videos frequently do well, draw a sizable audience, and may be made profitable through sponsorships and advertising.
◆ Add Value Through Commentary. Adding value to videos that have been uploaded by offering intelligent comments or analysis is another successful tactic. Discuss your ideas, viewpoints, or knowledge on the video's subject. This engages your audience and promotes conversation while also assisting you in avoiding copyright problems. Through affiliate marketing and ad money, these videos may be made profitable.
◆ Collaboration with Other Content Creators. On YouTube, cooperation is essential for success. Contact the video producers whose work you wish to rebroadcast and suggest working together. Some content providers could agree to let you rebroadcast their work on your channel in exchange for a cut of the profits or publicity. Both sides may benefit from this circumstance.
◆ Reposting Game Highlights. Gaming has become a significant industry, with millions of fans ready to witness the finest gameplay highlights. If you're an avid gamer, think about doing it to monetize your love of gaming on YouTube.
◆ Reposting News. Reposting the highlighted part of relevant news might get you some viewers and subscribers. People like talking about something, and doing such on YouTube might bring you profit. In doing so, review and understand fair use principles so you won't get in trouble and practice proper credits to the content owner.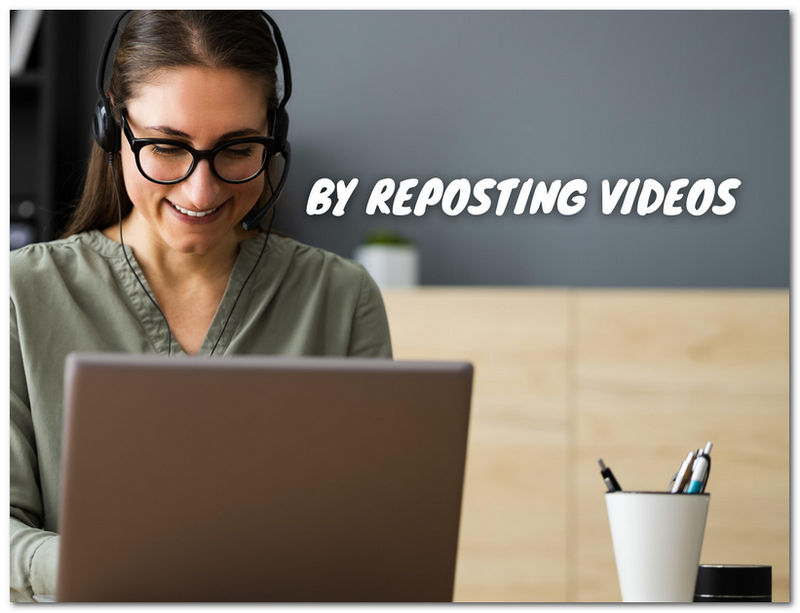 Reposting on YouTube may be profitable morally, legally, and inventively. There are many chances to earn money, whether you enjoy sharing gaming highlights or exploring the world of news and pop culture. The secret to success is cultivating a loyal following, offering value through comments and analysis, and remaining up-to-date with trends. Remember that every successful YouTube endeavor requires consistency, high-quality material, and interaction with your audience.
Part 2. FAQs About How to Make Money on YouTube
How many views on YouTube to make money?
You can earn money through YouTube's Partner Program when your channel accumulates at least 1,000 subscribers and has 4,000 watch hours in the last 12 months. These metrics are used to qualify for monetization, which includes ad revenue sharing.
How much subscribers on YouTube to make money?
You typically need at least 1,000 subscribers to monetize your channel using the YouTube Partner Program. However, having many subscribers does not ensure financial success; watch time and other engagement characteristics are also very important.
How long does it take to make money on YouTube?
Making money on YouTube might take a very long time. While some producers begin making money within a few months, others need years to develop a sizable revenue. It relies on your specialty, the caliber, consistency, and effectiveness of your content and audience engagement strategies.
How hard is it to make money on YouTube?
On YouTube, generating revenue might be difficult. It takes commitment, persistent content generation, audience awareness, and platform adaptation. There is a lot of competition, making it challenging to stand out and gain a following of devoted viewers. However, success is attainable with tenacity and imagination.
How many likes on YouTube to make money?
Your YouTube video's likes don't necessarily mean money. Likes may indicate audience engagement and pleasure, indirectly affecting your channel's expansion and revenue potential. However, statistics like views, viewing time, and ad income matter more than things like likes when it comes to how much money you make on YouTube.
Conclusion
Although these strategies let you earn money on YouTube without creating your own material or directly leveraging someone else's, remember that creating a successful YouTube channel still demands commitment, consistency, and work. To build a successful online presence, it's crucial to abide by YouTube's laws and community standards, offer your audience value, and interact with your audience. YouTube may be useful for investigating other revenue prospects, whether you're curating content, providing services, or participating in affiliate programs.
Did you find this helpful?
483 Votes
YES

Thanks for letting us know!
No

Thanks for letting us know!
AnyMP4 Video Converter Ultimate
All-in-one video converter, editor, enhancer upscaled with AI.