How to Unlock Your iPhone if you Forgot the Password: Effective Guidelines
We tend to forget our passwords most of the time due to the complicated characters. The more we want to make it hard to guess, the higher the possibility of forgetting it. Thus, ignoring your iPhone passcode can lead us to different hassles. It can hinder us in making our day productive. The worst case is that it can disable us from accessing any applications within your iPhone. As we all know, our screen lock passcode aims to secure every element within our iOS. It is essential information that we need to bear in mind. Therefore, it is practical and easy to do if you forget your iPhone passcode. Kindly continue exploring as we alleviate the complication in unlocking your iPhone. Be mindful of the steps and details we need in making it possible. Here are the simple instructions for unlocking the iPhone without further ado.

1. What You Will Do if You Forget Your iPhone Password?
Forgetting our passcode with iOS can occur anytime, bringing tremendous problems for us. Many iOS device users, such as iPhone and iPad, ask what I will do if I forget my iOS passcode? Therefore, we have to make a solution for this problem. In line with that, we have numerous solutions that we can do. As we try to solve it, we want to give you some of these solutions and how they can affect your iOS devices if we do it.
Solution 1: Try Another Passcodes
The first thing we can do when we do not know the passcode of our iOS devices is to try another passcode like 0000, 1234, your birthday, or your family's important days. However, after many times wrong inputs, your iPhone will be disabled, and you will have to unlock it after hours or days.
Solution 2: Factory Reset iOS Devices
Restoring your devices to factory settings will enable you to open the iOS devices without entering your 4-pin passcode. This will remove all of the data and content within your iPhone and iPad. However, it is an effective way to open the iOS device with a forgotten passcode. It is suitable especially for devices that do not contain important details, information, and contents. Kindly see another post to help you do it without complications. That is why it is an excellent solution to opening our iPhone or iPad without affecting our information.
Solution 3: Unlock iOS Devices using a Tool
The following method is also an effective way to get rid of the problem concerning your iOS device. If you do not know, there are tons of existing desktop software to help us block our iOS devices with ease. That means we do not need to worry about forgetting our passcode because tools are willing to help unlock your device. Kindly proceed with the latter part of this article to discover means to use.
2. Forgot iPhone Passcode? Fix on iOS 15
As we process the next part, we will know how to reset a locked iPhone running iOS 15.2 version. As we all know, most iPhones and iPad nowadays possess the latest version of iOS, which is iOS 15. In addition, we will be careful in not erasing all of the information within the iOS devices as we reset it. In line with that, here are the simple instructions we can follow as we reset our forgotten iPhone passcode without erasing its data.
1.
We shall now start with your device's Lock screen. First, you may try entering your passcode as much as possible until it asks you to try again after a few moments. After that, you may try the action until you can see the Erase iPhone/iPad option, which we can locate in the lower part of the screen.
2.
The step will require you to enter your Apple ID password, and this will enable you to sign out your Apple account with the locked device.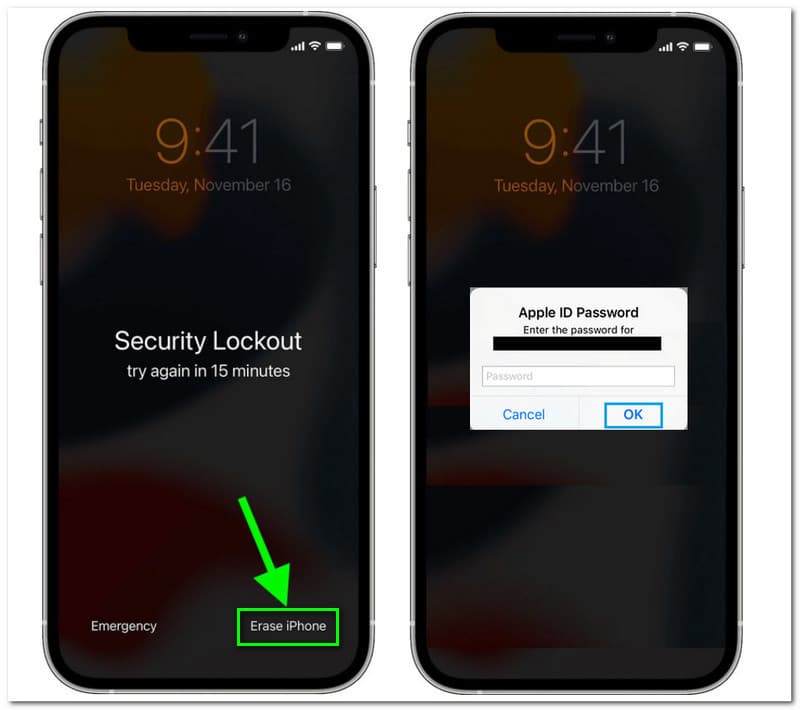 3.
Click the Erase iPhone/iPad again to delete your data and settings. After it, allow your device to restart. Follow the instructions on the screen for the setup, then restore your data and scenes from the backup.
3. How to Unlock your iPhone when You Forgot the Password (All iOS Supported)
As we get to know more about the best solutions in solving these forgotten passcodes with our iOS devices, we shall proceed with the following methods. We can associate this part with Solutions 2 above. Because in this portion, we will unlock your iPhone running iOS 15 and earlier versions due to the forgotten passcode. That is possible because we have the best desktop unlocking tool to help us. In line with that, Aiseesoft iPhone Unlocker is one of the best tools we can use in unlocking your iPhone or iPad. Without further ado, kindly check all of the details and instructions below as we start unlocking your device with forgotten passcode.
1.
Get the Aiseesoft iPhone Unlocker with its official website and install it with your Windows or Mac devices.
2.
Open Aiseesoft iPhone Unlocker on your computer and see its full features. Kindly click the Wipe Passcode feature button on the interface, which we can see at the first portion of the interface.
3.
You will now see a new tab, and please click the Start button at the middle part of the interface. Then, it is now time to connect your iOS device to your computer using a USB cable.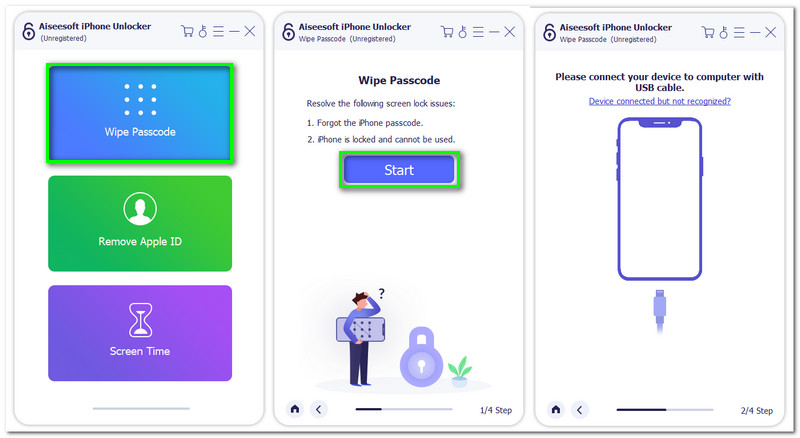 4.
After that, it will enable you to adjust the details of your iOS device. If you are good to go, kindly click the Start button at the middle part of the interface. This step will allow you to download the firmware package we need for unlocking.
5.
A few moments will occur for the downloading process of your firmware package. After it, you will now see the Unlock button on your interface. Please click it.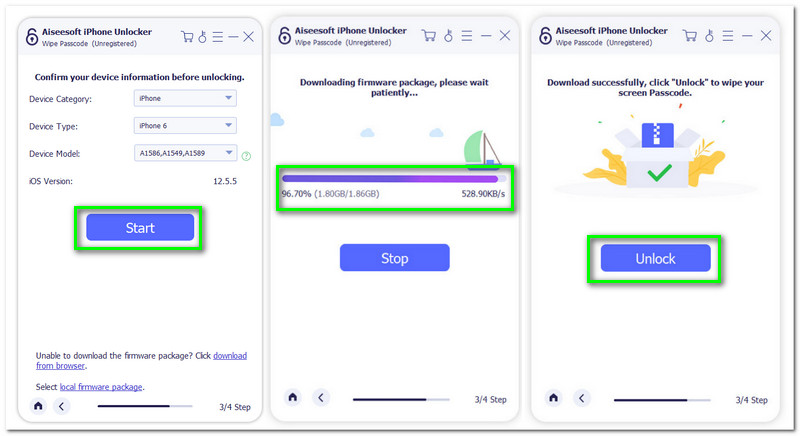 6.
The last procedure we need to take is entering a 0000 on the new tab as a confirmation to complete the process.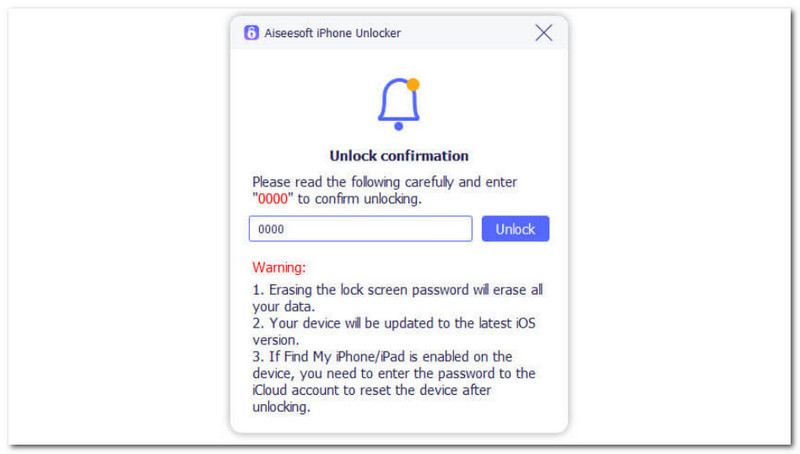 4. FAQs about Forgot iPhone Passcode
What is an iOS Passcode and password?
Your iPhone passcode is a set of 4 to 6 characters that can help us Porsche our iOS devices. This element can grant us access to all iPhone or iPad information and services. In addition, the lock screen password is what we call a passcode here. On the other hand, the characters we indicate with Apple ID, iCloud, and other accounts is the password. The password is most commonly for login inThey may be different with names yet serve the same purposes for safety and security.
Is it safe to use an iOS unlocking tool after forgetting our passcode?
Using iPhone unlocker tools is very safe to use as long as we choose the best tool. Tons of desktop software can offer the most secure service and privacy for all of us. The Aiseesoft iPhone Unlocker, Wondershare Dr. Fone, and FoneLab iOS Unlocker are tools. These tools give us safety and an effective way of unlocking our iPhone or iPad.
Will unlocking my iOS device erase all of the data and content of my appliance?
Unlocking your iOS devices does necessary means delegating all of the data and contents within your devices. The unlocking process will open your iOS without a passcode. However, the process of Factory Reset is the one that can erase all of the data, information, and contents on your iPhone or iPad devices. Overall, unlocking your iOS devices will not remove or erase all of the data in your iPhone or iPad device.
Did you find this helpful?
325 Votes
YES

Thanks for letting us know!
No

Thanks for letting us know!
Conclusion
As we support the statement above in this conclusion, we can say that forgetting your iOS passcode has a great solution. Through practical tools like Aiseesoft iPhone Unlocker, we can not access our iOS devices even without your passcode. That can alleviate the struggle, especially if we forget our passcode. For that, we can now see how it is possible to unlock it even without erasing your essential data within the iOS devices. Thus, if this article helps you, please share it with other users to alleviate their struggles. In addition, you may now get the tool for free on their main website. Also, do not forget to visit our website because we have thousands of useful and helpful articles in any aspect of your grind.
Aiseesoft iPhone Unlocker
Get into locked iPhone iPad iPod without password or Apple ID.