How to Do Screen Share on iPad/iPhone with Enormous Mediums (PC, Mac, Apple TV, & more)
The demands of iPad/iPhone consumers have changed along with the times. Users desire to share the iPad/iPhone screen on devices like PCs. Mac, Apple TV, and Smart TV at this time. The action is referred to as mirroring. This feature is excellent for movie marathon control, presentation, and even playing games on a larger screen. Apple TV users also share their screens with iPad and iPhone users, so it's not just Mac users.
With all these amazing facts, let us now dig deep into how we can share iPad/iPhone screens with a different medium. Here is the full-detailed method for all of us.

1. How to Share Screen on iPad/iPhone to PC
We all know that Windows computers most likely do not possess the features from Apple, like the easy mirroring process between our iPad/iPhone to our PC. With that, we all need the help of a great phone mirroring tool. In line with that, we introduce you to Aiseesoft Phone Mirror, which can help us easily mirror our iPad/iPhone to a PC. These tools possess all the features we need, plus a simple and smooth mirroring process. Let us see how it can perform.
1.
To begin with, download and install Aiseesoft Phone Mirror for free by visiting its official website. After that, you can use this program.
2.
You can select Mirror iOS to cast the iPad/iPhone's screen to a PC.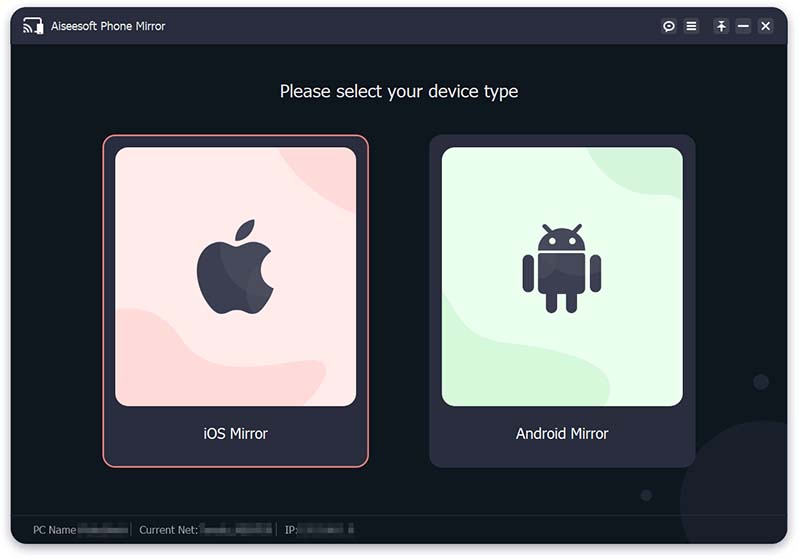 3.
There are two ways to link your iPad/iPhone to the computer to mirror it. Please verify that your iPad/iPhone and PC are connected to the same WLAN or Wi-Fi before establishing a connection. Then, please choose the Screen mirroring option if you wish to transmit the screen of your iPhone to a computer.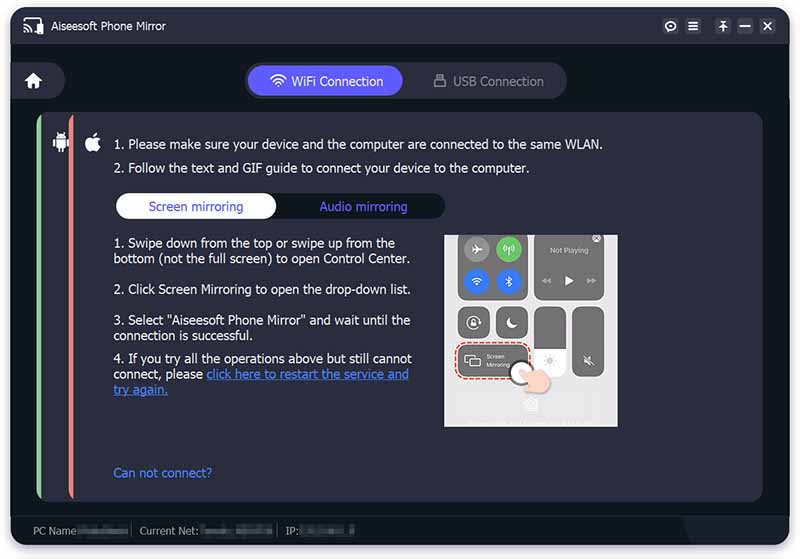 4.
Later, to access the Control Center on your iPad/iPhone, slide up from the bottom or down from the top. Afterward, select Aiseesoft Phone Mirror from the pull-down list by tapping the Screen Mirroring icon. Wait a moment, and your iPhone and PC will successfully connect.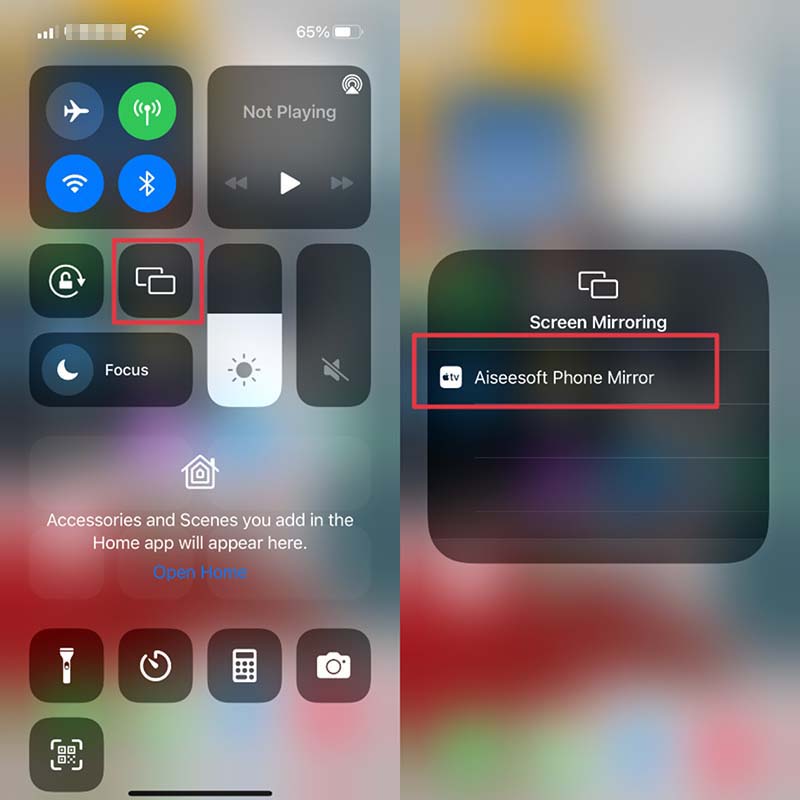 5.
After that, we can also do an Audio Mirroring process from your iPad/iPhone to your Mac. You can choose the Audio Mirroring option if you only want to mirror your iPhone's audio to the PC. On your iPad/iPhone, open the Control Center and tap the symbol in the top-right corner. When the playback menu appears, please select Aiseesoft Phone Mirror. You can now correctly connect your iPhone to the PC and start casting.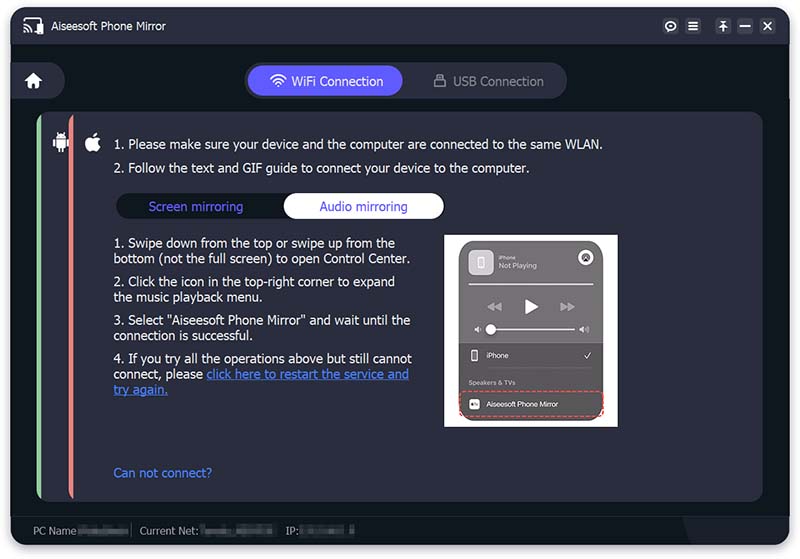 After we follow each step above, you will notice your iPad/iPhone screen will immediately be cast to the computer once the connection between the iPad/iPhone and PC is successful.
2. How to Share Screen on iPad/iPone to Mac
As was mentioned, mirroring is currently famous for all the right reasons. Many people mirror the iPad/iPhone screen on their Smart TV, Apple TV, Mac, and other devices. Although Apple offers Quick Time, a valuable and straightforward program, some users prefer to utilize third-party apps because they offer a superior user experience. Additionally, Airplay is available; it is pre-installed on the devices.
So AirPlaying from an iPad/iPhone to a Mac is undoubtedly simple. However, the topic is well-known third-party iPhone mirroring programs like AirServer, Reflector, etc. Remember that while QuickTime and Airplay offer their services without charge, these third-party apps will cost you money while offering a marginally superior experience. For that, Reflector makes it relatively simple to display the screen of your iPad/iPhone on your Mac. Here are the steps to use Reflector without complication.
1.
On your Mac, download and install the Reflector. Considering that the trial edition is free for seven days, you should get it.
2.
Connect your iPad/iPhone and Mac to the same WiFi network.
3.
On your iPad/iPhone, go to the Control Centre and hit the Screen Mirroring option.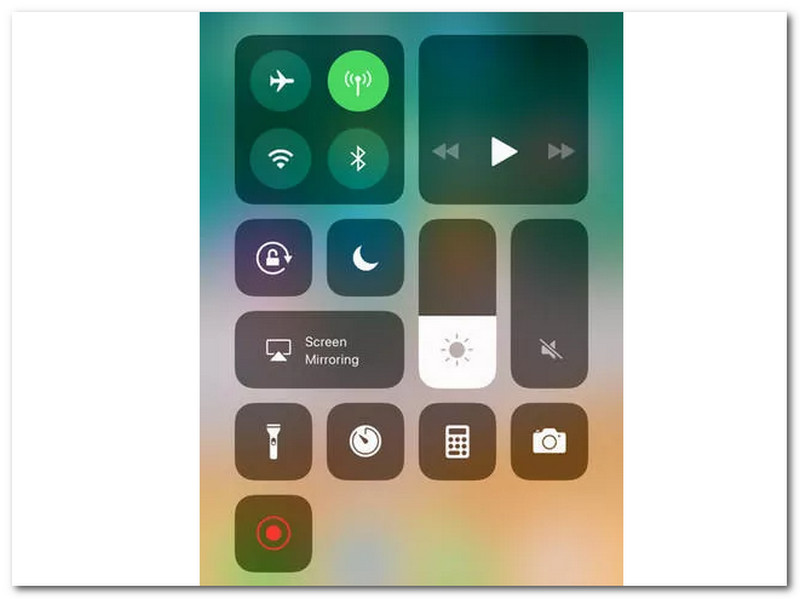 4.
You will have a list available; choose Mac from the list.
5.
Turn on the toggle switch by selecting the mirroring option located beneath your Mac's name. The screen of your iPhone is now viewable on your Mac.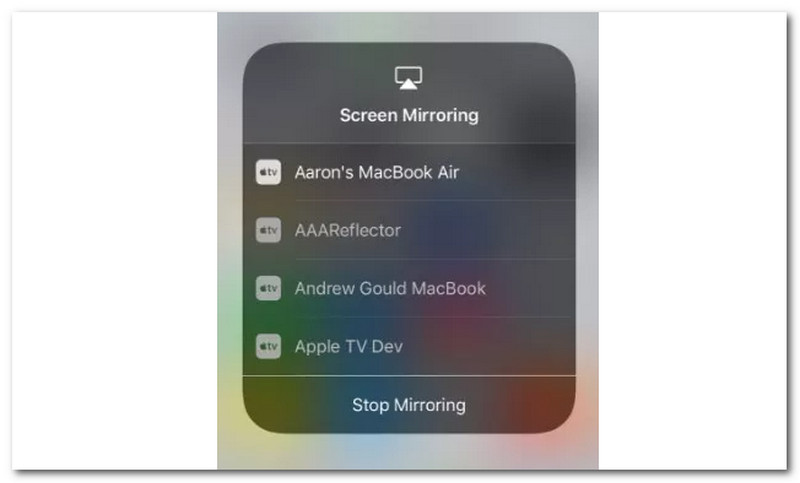 3. How to Share Screen on iPad/iPhone to Apple TV
The fact that Apple gadgets work effortlessly with one another is one of its advantages. This is true when you wish to broadcast content from an iPhone to an Apple TV; to do so, you use a feature of iOS and tvOS called AirPlay, which is used by many apps. If the application with the content you want to stream offers AirPlay, it will be more straightforward. You can still use the Apple TV to display your stuff even if it doesn't.
Follow these instructions to stream content from an AirPlay-compatible app, such as an Apple app that supports audio, video, or images, from an iPhone to an Apple TV.
1.
Put your Apple TV and iPad/iPhone on the same Wi-Fi network.
2.
Launch the app on your iPad/iPhone that contains the content you want to stream.
3.
Tap the AirPlay button on the app, which is a rectangle with a triangle poking into the bottom.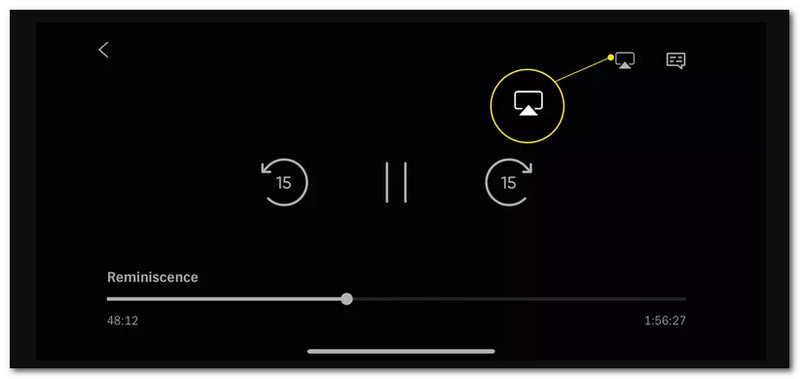 4.
The Apple TV you need to stream to is listed. Tap its name. In a moment, your video will display on the TV.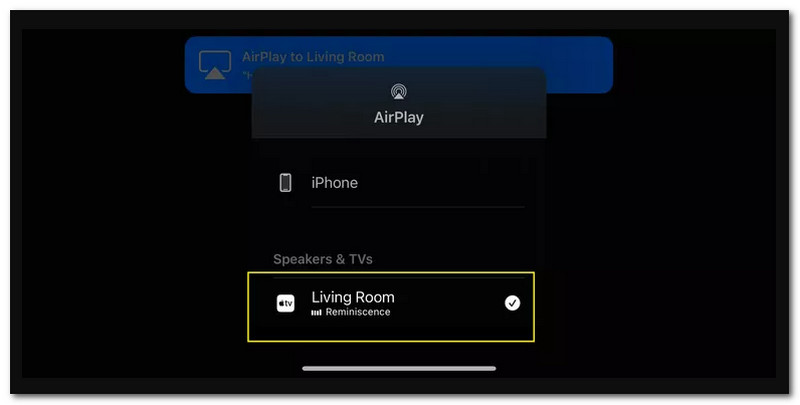 5.
You may manage your material using an iPad/iPhone app. Tap the AirPlay symbol, then tap your iPad/iPhone to halt streaming completely.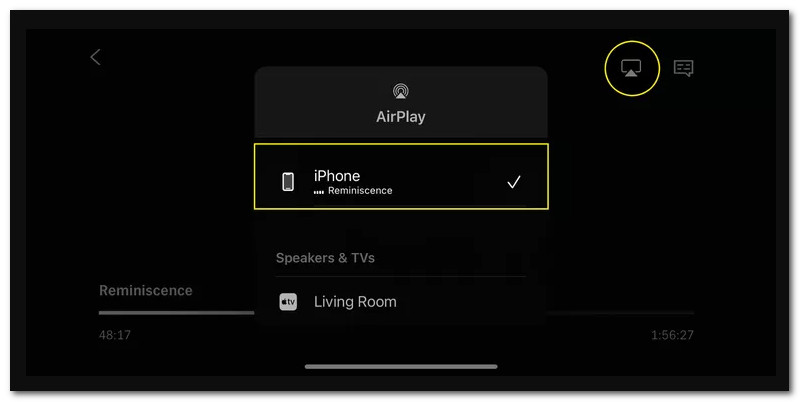 4. How to Share Screen on iPad/iPhone to Smart TV (Samsung, LG, Sony, and more)
The procedure of mirroring media files from an iPad/iPhone to a Samsung TV or any Smart TV can be accomplished utilizing a WiFi connection, an HDMI cable, or another means in addition to connecting your iOS wirelessly. In keeping with that, this section will give you a simple method to make it happen. Please review the instructions listed below.
1.
The iOS charging port on the Samsung TV will accept the plug from the HDMI, so begin by connecting your iPad/iPhone device and the Apple Lightning Connector to the Samsung TV.
2.
The other end of the wire should then be connected to the TV's HDMI connector. This process may be used without an Apple TV, making it an excellent alternative method for using Smart TV.
3.
Finally, select HDMI from the Sources menu in order to see your TV remote. If your iPad/iPhone experiences problems reflected on the screen, you might need to switch sources. On the other side, if you want to stop mirroring, unplug the HDMI cable from the iOS device.
To get the details of sharing and mirroring iPhone iPad screen to smart TV, you can check them here.
5. FAQs about How to Share Screen on iPad iPhone
How can I share the iPad screen in a Zoom meeting?
As we share our iPad screen on Zoom, we need to launch the Zoom app on our iPad. From there, we are about to join the existing meeting; please tap Join button. Also, we can create our meeting by gapping the Create a Meeting. After that, we will see the Share Content button from the menu. We need to hit it as we are about to share our screens. Following the steps correctly will now share the screen of your iPad.
How can I use an iPad/iPhone to stream content to a Roku?
You may use a Roku device to mirror your iPhone. Open the Control Center on your iPad/iPhone, Select Screen Mirroring, and then pick your Roku device. If prompted, use your iPhone to enter the code that shows on TV. You may stream content from your iPhone to your Roku device by opening the app and selecting the Cast icon.
How do I send content from my iPhone or iPad to my TV?
You have a few alternatives for streaming content from an iPhone to a TV. An iOS smartphone can be connected to your TV using an HDMI cable and a Lightning Digital AV Adapter. To cast Chromecast-compatible apps to your TV, you can use a Chromecast. Use a DLNA-compatible app if your innovative TC is DLNA-capable.
Conclusion
With all of those methods, we can now expect to share the screen of our iPad/iPhone with any devices we have for different purposes like entertainment or presentation. As long as we are poorly following the steps above, we will not experience any hindrances to it. If you think this article is helpful, share it with someone who might need it.
Did you find this helpful?
379 Votes
YES

Thanks for letting us know!
No

Thanks for letting us know!
Aiseesoft Phone Mirror
Cast and share iPhone and Android screen to computer.