How to Share Your Screen in a Zoom Meeting: The Basics Method in Doing it
As more people work from home, online meeting platforms such as Zoom are becoming more popular and frequently used. Thus, if you are in a Zoom meeting, you will almost certainly have to present your work to your coworkers at some point. As we all know, having a visual presentation during meetings helps us interact more in an online setup.
Zoom has a plethora of features that make screen sharing quick and simple. You can share your entire desktop, screen, computer programs and applications, files or other information, and more. In line with that, this article will present the steps on how to share your screen on Zoom while using a desktop PC, cellphone, and more during a live video conversation.

1. How to Share Screen on Zoom on iPhone or iPad
Method 1: Using Zoom Share Content Feature
1.
Please download and open the Zoom app on your iPad. If you are done log in, you will see your Zoom account's main interface. From there, please Create a Meeting or Join Meeting.
2.
From there, please tap Share Content in the upper-right corner of your screen. Afterward, you tap Select Screen on the new set interface to proceed.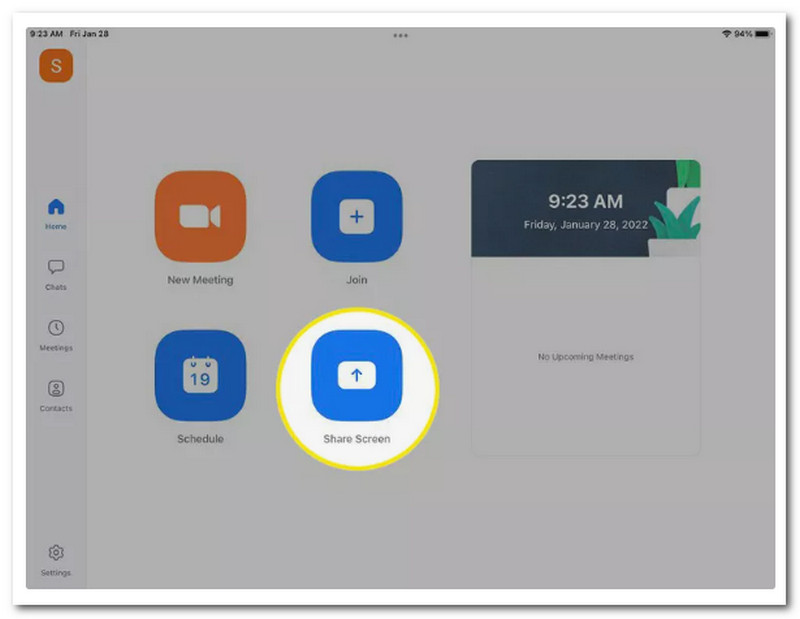 3.
If you are done doing the last step, you will notice your iPad's screen will start recording. For that, it is essential to know that anyone in the Meeting can see any notifications you receive while using Screen Share. To keep your alerts private, use Do Not Disturb
Method 2: Using the Control Center of your iPad
The Control Center enables quick access to several iPad features, including screen recording. Here's how to utilize the Control Center to begin screen sharing during a Zoom conference.
1.
Scroll down from the upper-right corner of your screen to access the Control Center on your iPad.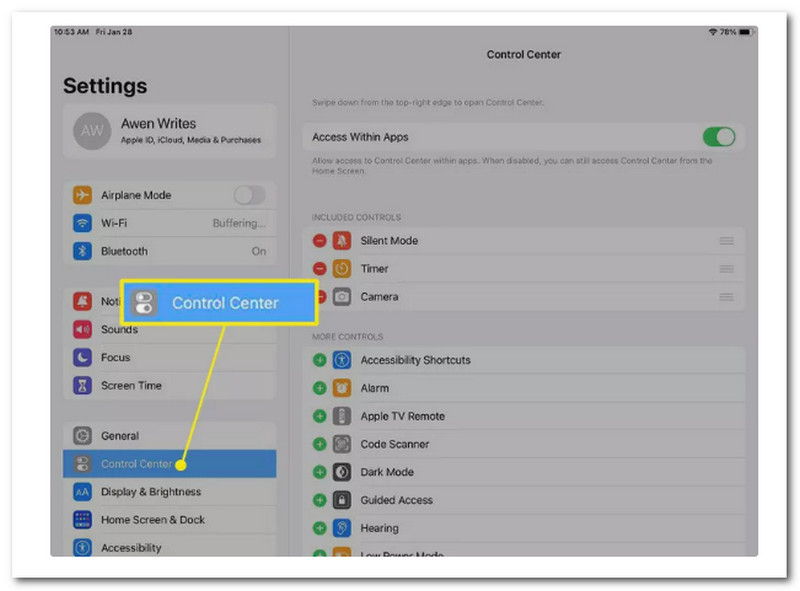 2.
Select Screen Recording. The emblem, which consists of a filled circle within another circle, resembles a recording indicator light. Its position is determined by the number of additional controls you have enabled.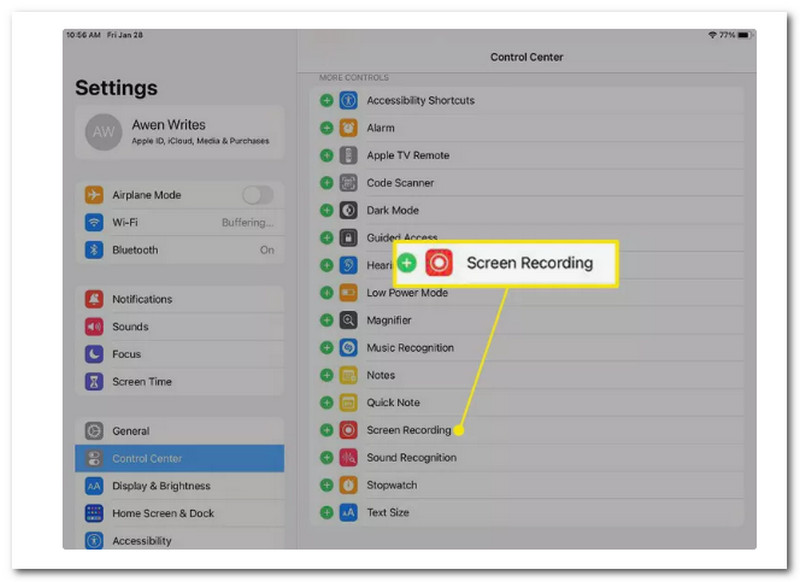 3.
From the drop-down option that displays, select Zoom. Zoom will display your screen three seconds later. After you record the screen on your iPhone, you can share it easily with others
2. How to Share Screen on Zoom on Android
Unfortunately, there is no direct option in Zoom's desktop client to share the screen of an Android phone. You still have two options. First, install the Zoom app on your phone, join the conference with a different account, then use the Zoom app's screen-sharing feature.
Secondly, you can use third-party software to mirror your phone's screen on your PC. Then, in the Zoom desktop client, select the screen share option. Let us perform it on your device with Aiseesoft Phone Mirror. This tool possesses remarkable features in mirroring devices to your computer, such as Android. Let's see how we can use it.
1.
As we start, we need to download, install, start, and register Aiseesoft Phone Mirror on your PC.
2.
To cast your Android phone's screen for Zoom, click the Android Mirror icon on the interface.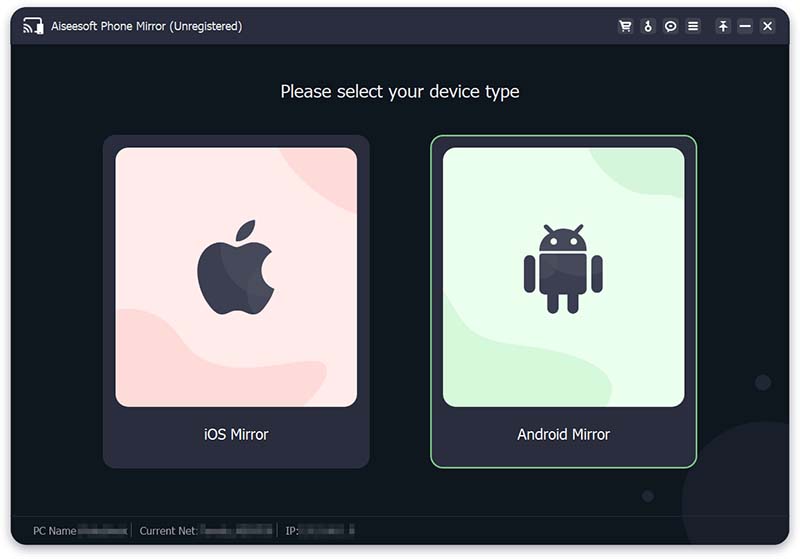 3.
The feature icon above offers two methods for connecting your Android phone and computer: WiFi Connection and USB Connection. However, users recommend using the WiFi Connection for the Zoom screen-sharing process.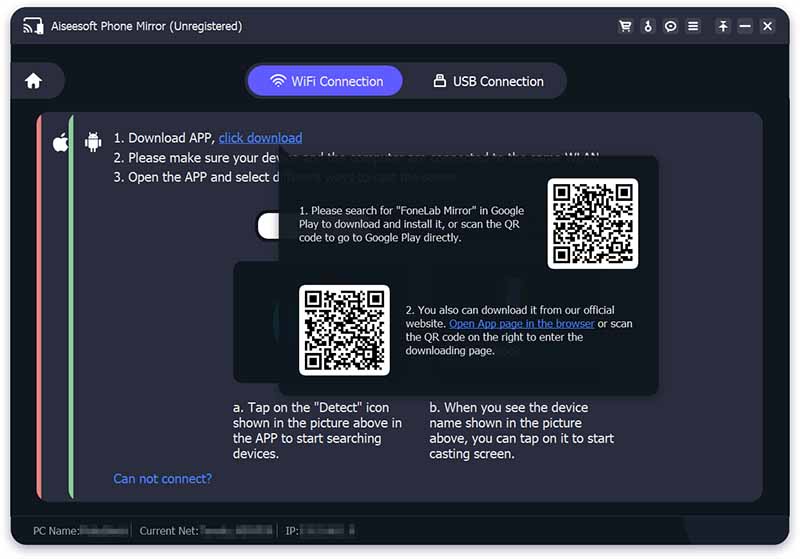 4.
Now, we need to press the Detect button on the FoneLab Mirror Phone to see our devices for connection.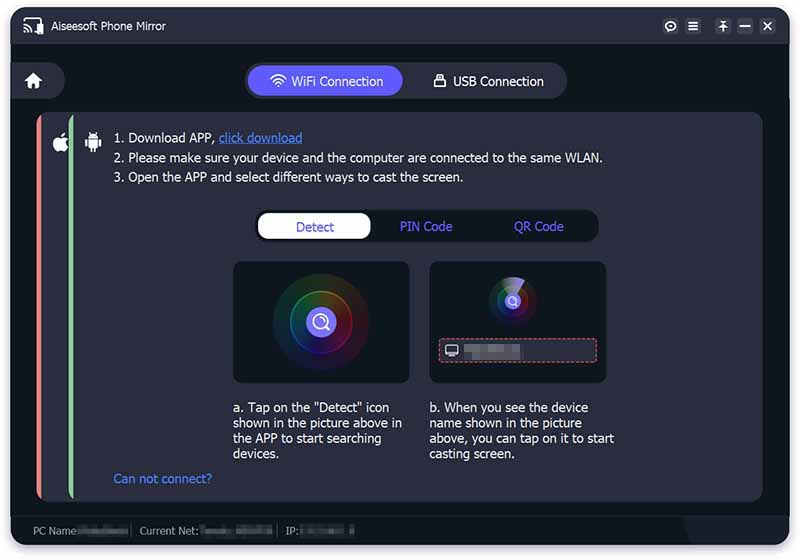 5.
After that, to connect the Android phone and PC, enter the PIN code displayed on the Aiseesoft Phone Mirror and press the Start connecting button. You may also connect via the QR code. You only need to click the Scan QR. Then you will notice your Android screen will be mirrored on your computer.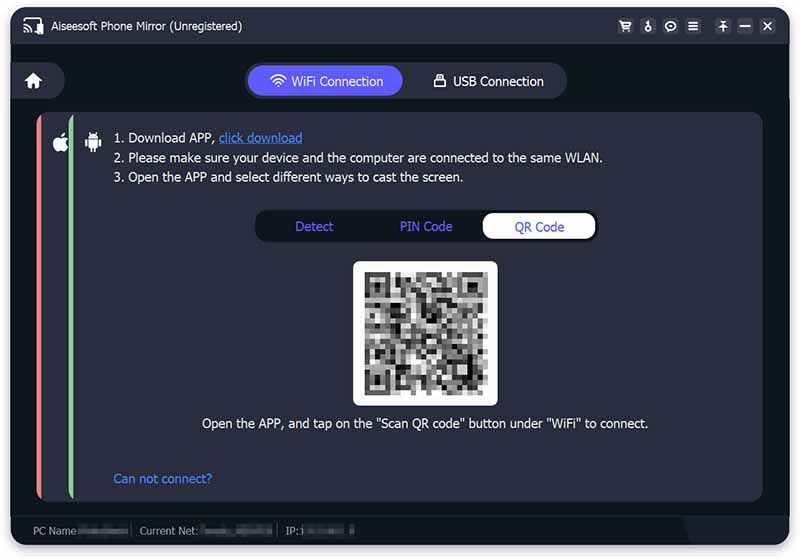 6.
Now, you may present the visual you need in your Zoom meeting. For more ways of sharing screens on Android, you can check them here.
3. How to Share Screen on Zoom on PC
Like other communication solutions, Zoom Cloud Meetings may be used for video, phone, content sharing, and chat across several platforms. If you use the Zoom screen-sharing tool during a video meeting, you can present the following content:
◆ The entire desktop, phone, or iPhone/iPad screen.
◆ At least one particular application.
◆ A section of your display.
◆ Whiteboard.
◆ A video that has been saved locally.
◆ Content shot with a second camera.
These features are exceptionally compatible and excellent to use with Computer devices. Let's look at how to screen share using Zoom on Windows 10/11.
1.
Open Zoom and sign in with your login to access the Zoom homepage. If you do not already have one, you must create one by following the on-screen instructions.
2.
Click the New Meeting option if you wish to host a meeting. On the other hand, please click the Join button if you have an existing meeting ID or a personal link name.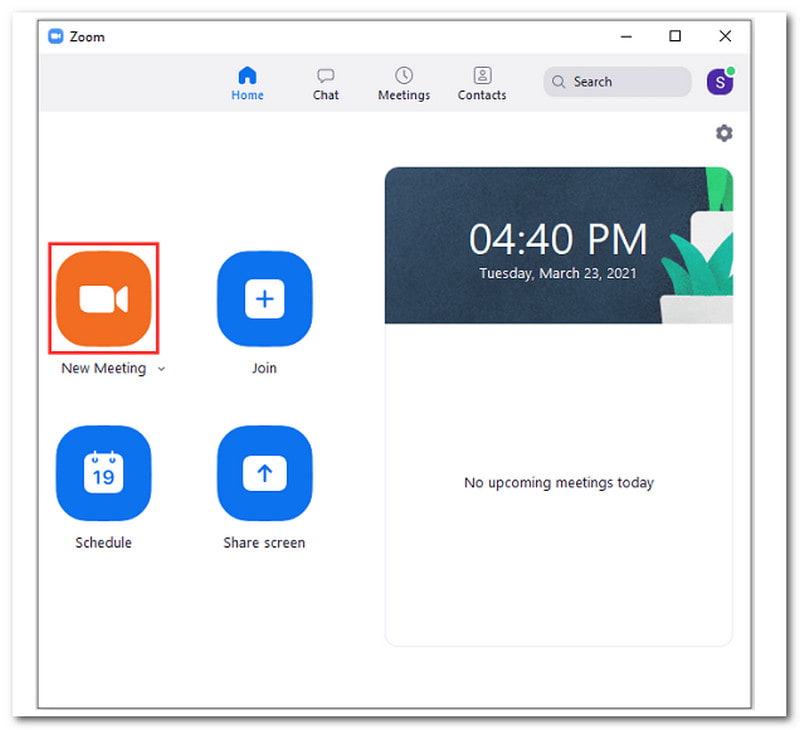 3.
Click Join with Computer Audio in the pop-up box to begin the meeting. You can select Automatically join audio by computer when attending a meeting to avoid repeating this process the next time you join a Zoom meeting.
4.
When you join a meeting, click the Share Screen icon at the bottom of the window. You can press Alt + S to open the Zoom screen-sharing tool rapidly.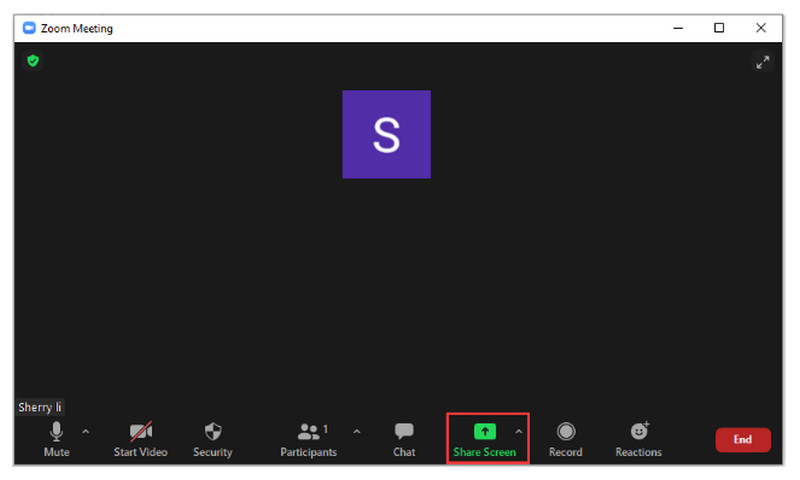 5.
Choose a Zoom screen-sharing option from the list below:
◆ Basics include a desktop screen, a whiteboard, and an iPhone/iPad.
◆ PowerPoint as a virtual background, a portion of the screen, computer audio, and video;
◆ Dropbox, Microsoft OneDrive, Google Drive, Box, and Microsoft SharePoint are all options for storing files.
6.
Hit the Share icon to begin screen sharing with Zoom. You will receive a notification indicating that you are screen-sharing during the procedure.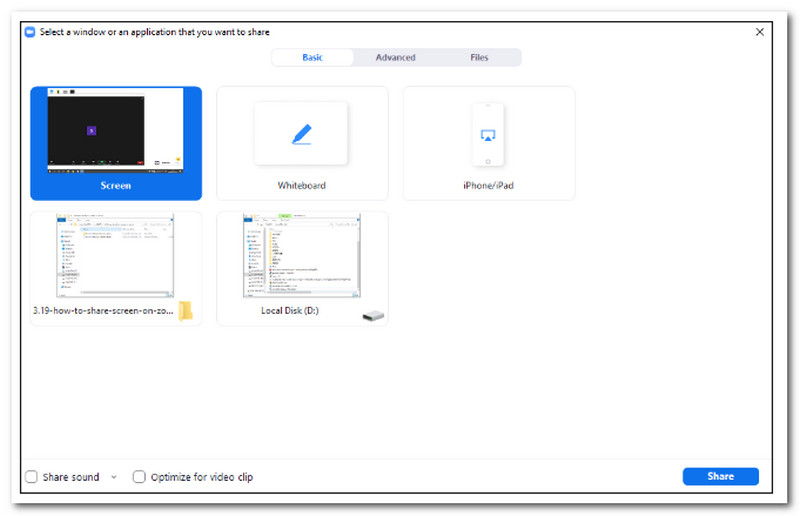 7.
Hit the Stop Share button next to the notification banner to end the Zoom screen sharing

4. How to Share Screen on Zoom on Mac
Ensure your Mac is running macOS Mojave or later before proceeding with the next steps. Let's get started with the essential procedures. Let's say that you already know how to create and join a Zoom Meeting on your Mac.
1.
Open Zoom on your MacBook and host or participate in a meeting.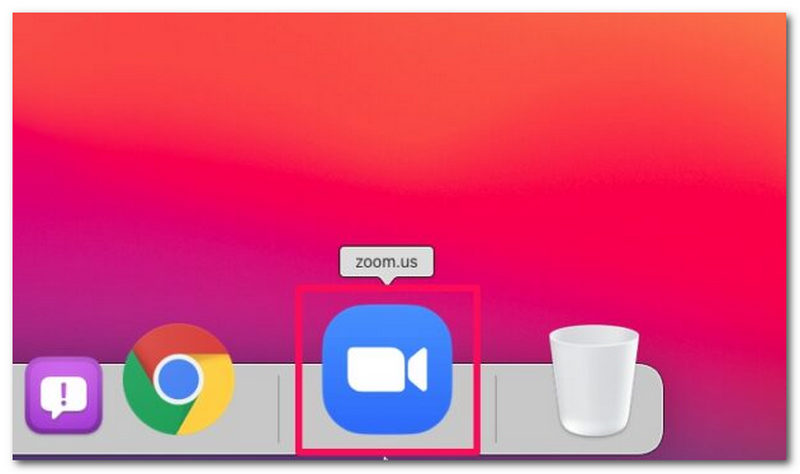 2.
When you are in a meeting, select Share Screen from the bottom menu, as shown in the screenshot below.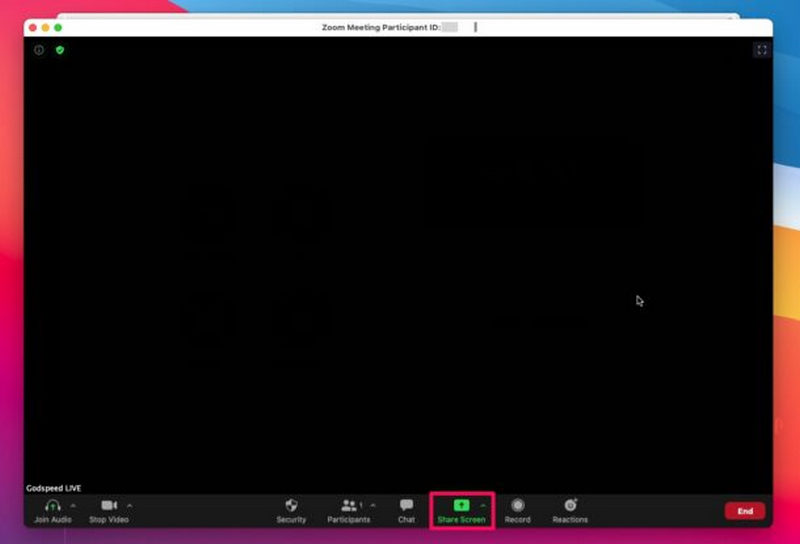 3.
After that, the app will launch a new window on your computer. You can select your desktop for screen sharing here. To begin, click the Share button and then click Open System Preferences when prompted to grant Zoom the important permissions to share your screen.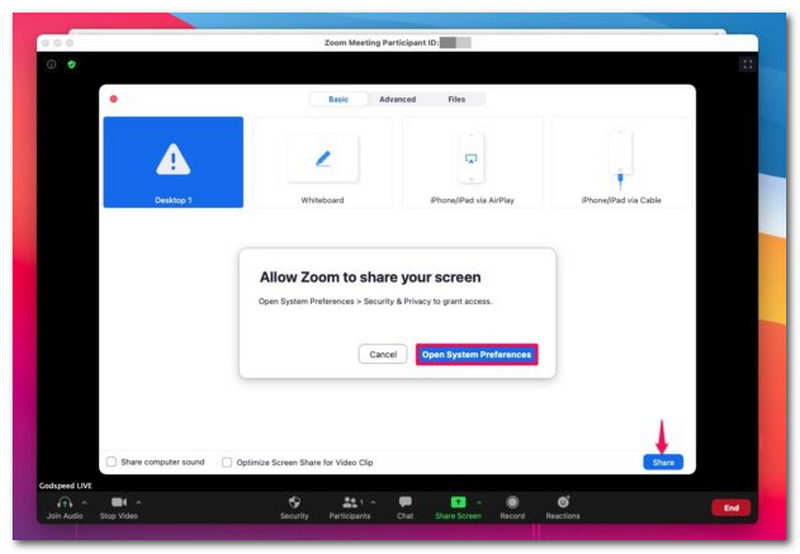 4.
This process will direct you to the Security & Privacy section. Select Screen Recording from the left pane and tick the Zoom box. You may be requested to restart Zoom, but this is not required. You may return to Zoom by closing this window.
For more recorders for Zoom, you should visit it here.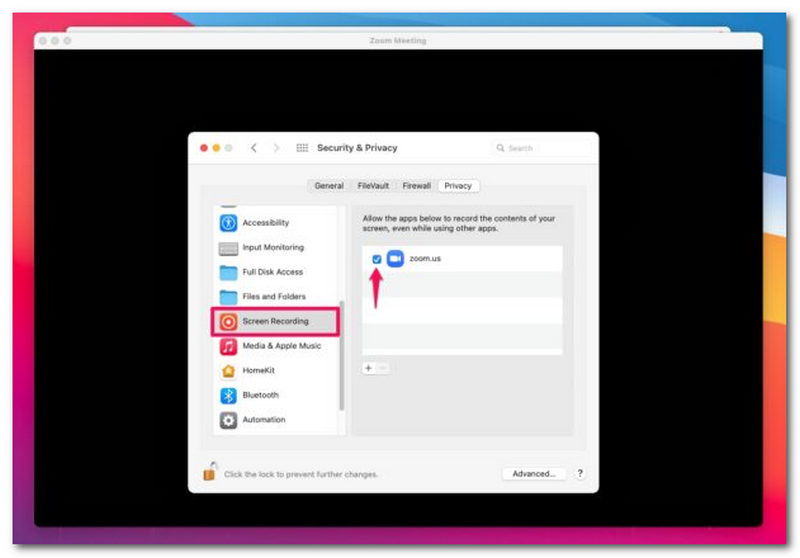 5.
Select your desktop once more and click Share to begin the screen-sharing session.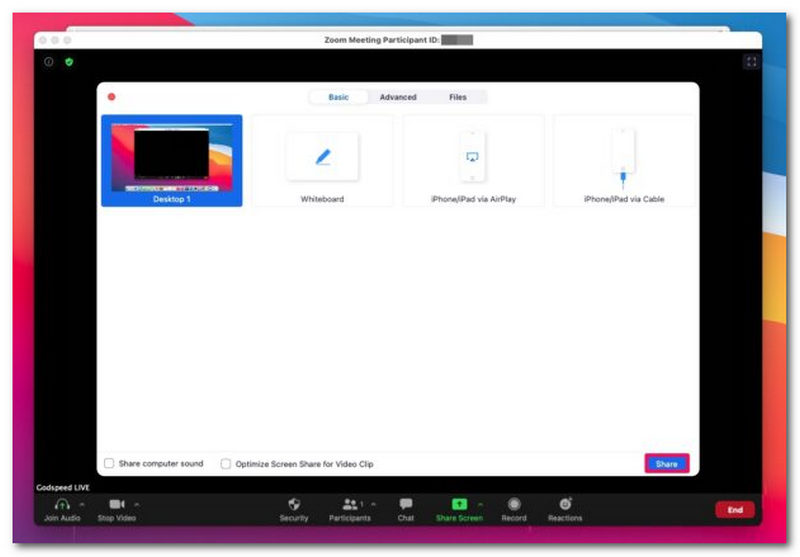 6.
When you begin sharing your screen, you will be notified. You can pause the Share by using the buttons at the top. When you're through sharing your screen, click Stop Share as we end the sharing process.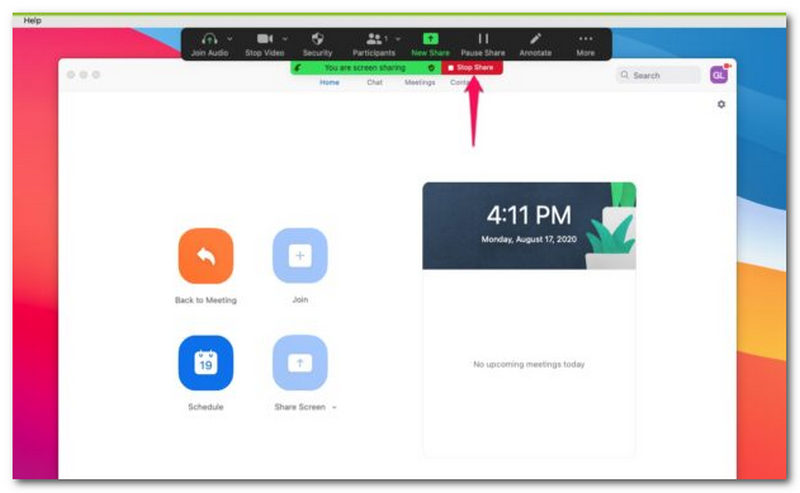 That's all there is to it. You've now successfully shared your Mac's screen during an ongoing Zoom meeting. This method would not have been possible without the native screen recording functionality in recent macOS releases. You will only be able to use Zoom's screen-sharing tools if your Mac runs an older version of macOS.
5. FAQs about How to Share Screen on Zoom
How do I share the screen and see participants in Zoom?
Sharing your screen on Zoom while seeing the participant in Zoom is very easy. Begin a meeting and show your screen by clicking the Share Screen button on the interface. By default, the Participant Video Panel will appear, but if you do not see it. In the meeting controls, click More. After that, the Show Video Panel should be selected to see all of the participants in the meeting.
Do Zoom shares screens and videos at the same time?
Yes. Share your screen, desktop, or other content during a conference using Zoom, even if your video is on. Screen sharing during Zoom meetings is intended to foster collaboration. Only users who share their screen have complete control over their screen and what other meeting attendees can and cannot view. Furthermore, unless you want to share your screen, meeting hosts cannot monitor your screen actions.
What is the reason behind an inability to share a screen on Zoom?
If you are a host and the screen sharing feature in the web portal Settings page is grayed out, it has been enabled at the group or account level. To enable it, you must contact your Zoom administrator. Find out how to enable the screen-sharing function in Zoom meetings.
Conclusion
As we get to the conclusion, we can now say that sharing your screen on Zoom using different technologies or devices is possible. The process will become possible if we follow the proper steps for it. Therefore, if you are one of the users who need to share your screen on Zoom, we must ensure that it is properly followed. On the other hand, we can also see the incredible help that the AIseesoft Phone Mirror can give, especially in sharing your Android screen on Zoom. You may also use it if you are an Android user.
Did you find this helpful?
374 Votes
YES

Thanks for letting us know!
No

Thanks for letting us know!
Aiseesoft Phone Mirror
Cast and share iPhone and Android screen to computer.