How to Share Screen on Mac: Proper Methods in TV, Discord, & FaceTime
When you are attempting to demo your product, explain your problem, or simply share what is on your Mac's screen with others, screen sharing is just what you need. With that, we can say that screen sharing using your Mac can give us a lot of benefits. This will be useful for presenting certain topics for a clearer and larger visual. For that, let us ask how we are going to make it?
In line with that, we have looked at different ways to share screens on Mac, and we hope that after reading this piece, you will be fluent in screen sharing on your Mac and confident in your ability to do so effectively. Without further explanation, here's how you can share your screen on Mac with different mediums and devices.

1. Does Mac allow Screen Sharing?
Yes. You can easily screen share with your mac for presentation. As we all know, transmitting what is on your screen to another device is known as screen sharing. It is typically used to talk about a project, give a walkthrough, offer a demo or a presentation, or exhibit a design or layout you have been working on, but the other person needs the software to view it. All these benefits apply to performance in our Mac devices by going to Television, Discord, and more. For that, there are numerous other circumstances where screen sharing might be helpful, so let us know how to share a screen on Mac using built-in and third-party applications.
2. How to Screen Share on Mac to Samsung TV
Method 1: Connecting using HDMI Cable
Macs have had at least six different types of video-related connectors over the years. As a result, depending on the device model, you may require a unique cable converter to connect your Apple device and Smart TV. Make sure you use suitable ports or have the appropriate adapters before connecting your Mac to your TV HDMI. When connecting your Mac to your Samsung TV, Apple recommends the following simple steps:
1.
First, connect the video to your computer's Thunderbolt, HDMI, or DVI connector. Then connect the second cable terminal to the video input port on the TV.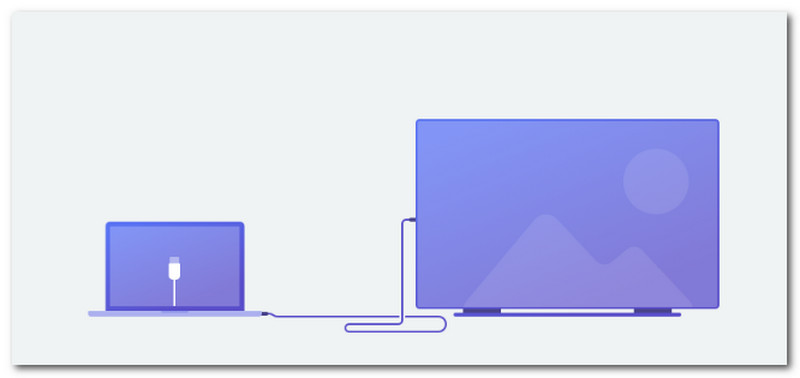 2.
Preceding with your MacBook, please go to System Preference by clicking on the Apple logo. Then, under Displays, ensure Default is selected for the display.
3.
To add sound, click the Apple logo, then System Preferences, and finally Sound. Make sure to choose the correct TV screen. Older Mac and television versions, on the other hand, require the Mac headphone jack to add Sound.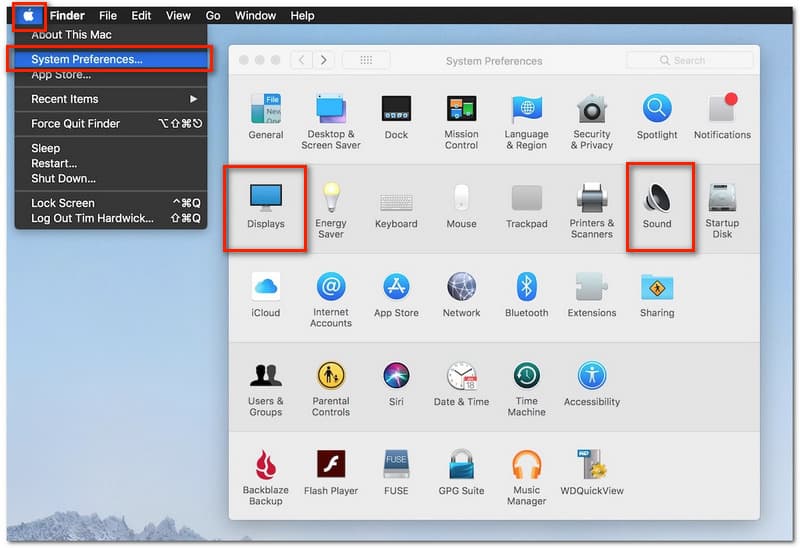 Tips
When connecting your Mac to your TV, pick a cable that supports video and audio if your computer has a Mini DisplayPort.
Method 2: Mirroring Using AirPlay
Mirroring screens from one device to another has become extremely popular recently. Screen mirroring can be accomplished in a variety of ways. The screen can be cast from one device to another via cable or wireless. Mirroring apps are also available. AirPlay allows users to mirror their Mac screen and share music, images, and movies on Samsung TVs that support it. Here are the simple methods to Airplay from your MacBook to your Samsung TV.
1.
Connect the Mac to the same local network as Samsung.
2.
Select your Samsung TV by clicking on the AirPlay symbol in the Apple menu bar. If your TV does not show in the menu bar of accessible devices, check its compatibility with Airplay.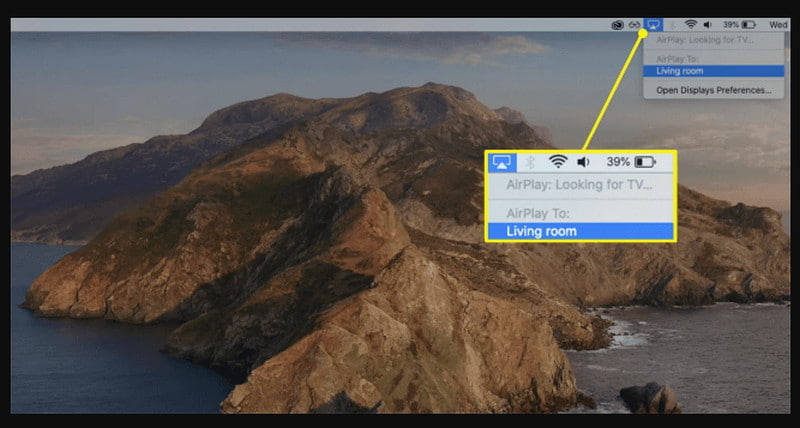 3. How to Share Mac Screen to Discord
It is pretty simple to share your screen with a speech channel. Remember that everyone who joins the voice channel can see your stream if they desire. Use this strategy if you only want to share your screen with a few individuals. Here's how to use a voice channel to share your screen on Discord:
1.
Start the game you want to share via Discord. Click a Discord server in your list, and then select a Voice Channel from the list on the left.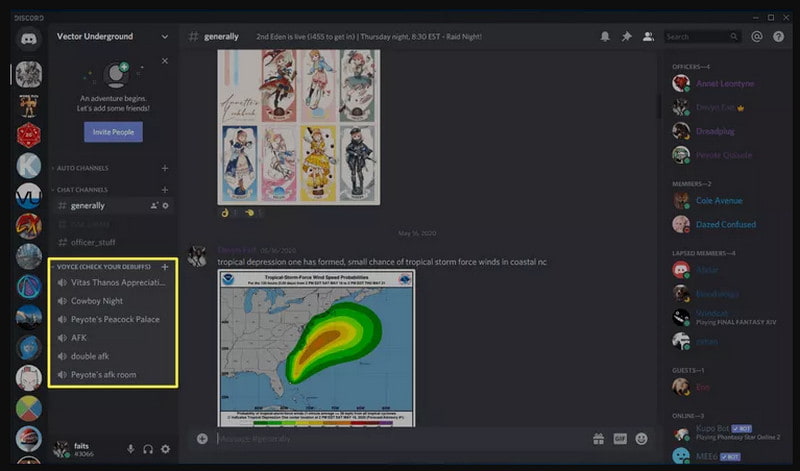 2.
Look for the banner with the name of the game you're playing beneath the voice channel list, then click the Screen Sharing button, which looks like a computer display with a tiny recording symbol placed into it.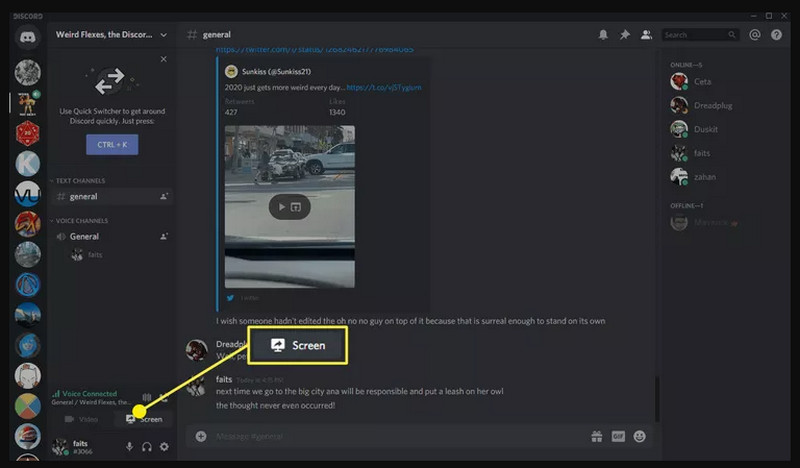 3.
Check the settings and then click Go Live. If Discord has chosen the incorrect game or app, click Change, then if you wish to change voice channels, click the name of the one you're in.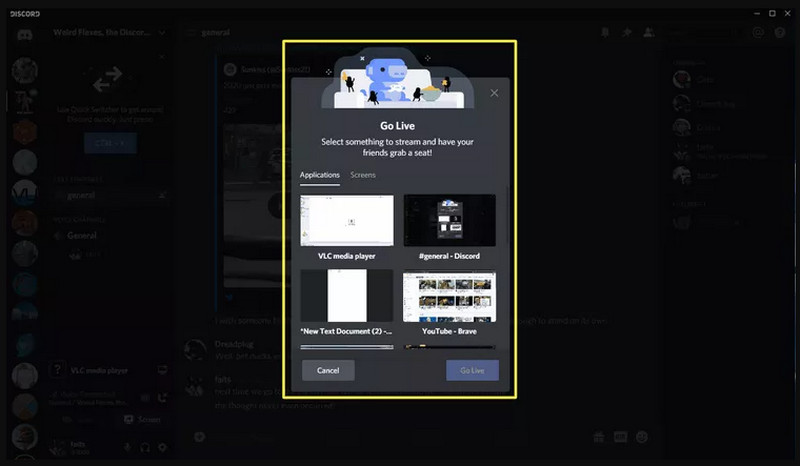 4.
Your screen sharing is now visible to other users in the same voice channel. In the voice channel, you will notice a little box in the bottom right corner of Discord that reveals what you are broadcasting for the duration, as well as a LIVE icon next to your name.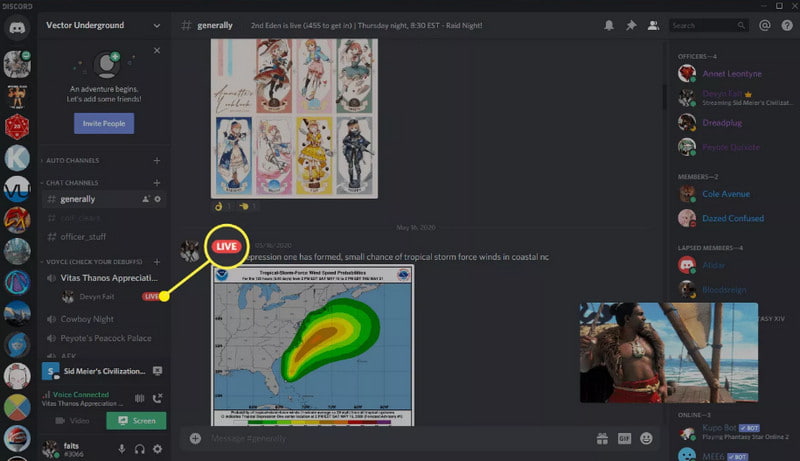 5.
To stop streaming, click the Stop Streaming symbol, which resembles a monitor with an X in it.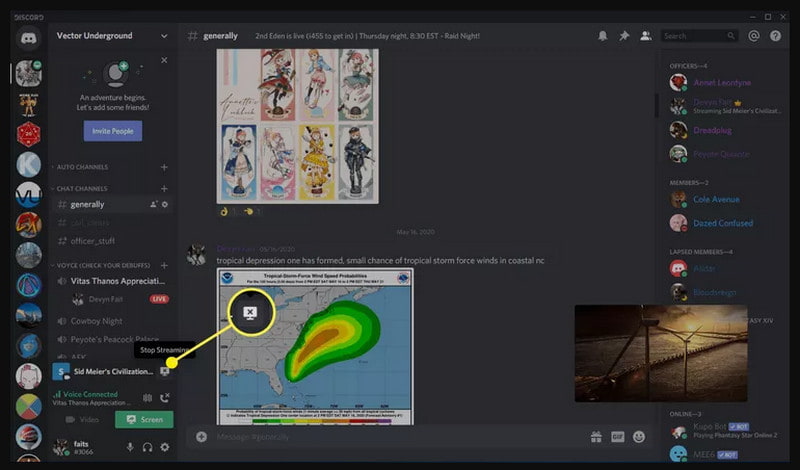 Anyone who joins the voice channel can see your stream, and you will notice a little box in the corner of Discord that reveals what you are streaming.
4. How to Share Mac Screen in Facetime
You must be using macOS Monterey 12.1 or later to share your Screen in FaceTime, and all participants must be running macOS 12.1 or later, iOS or iPadOS 15.1 or later.
1.
Launch FaceTime on your Mac. From there, please open an app that you want to share on the call during the call.
2.
Now, click the Screen Share icon in the navigation bar, which you can see on the bottom part of the interface.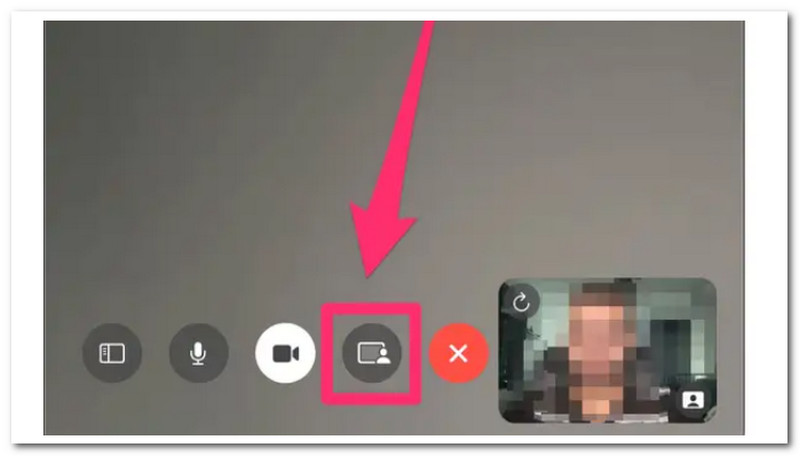 3.
Then, we must now choose how you wish to share now. Select Box or Screen in the pop-up window, depending on whether you want to share a specific program window or the full Screen.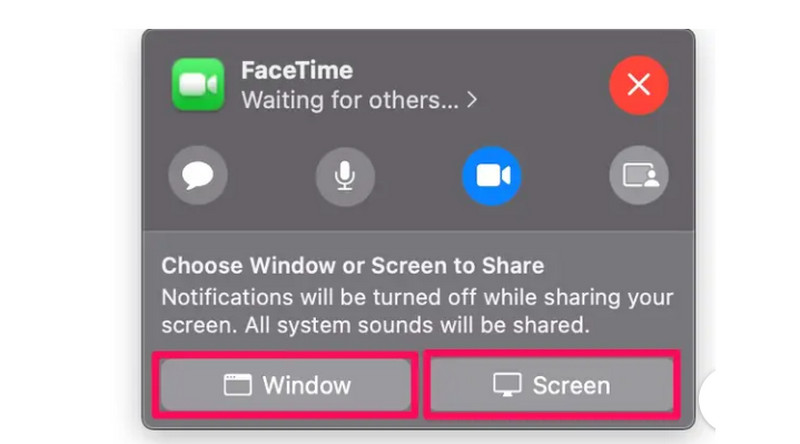 Tips
◆ Share the app window by selecting Window, dragging the mouse pointer to the app you want to display, and then clicking Share This Window.
◆Share the full Screen by selecting Screen, then dragging the mouse pointer anywhere on the Screen and selecting Share This Screen.
◆To end your sharing session, go to the menu bar and select Stop Sharing. For more details about sharing screens in FaceTime, you should not miss this post.
5. FAQs about Screen Share on Mac
Can I do a Mac screen sharing without asking permission?
Yes. The screen-sharing session begins when both machines are logged in with the same Apple ID. If they aren't, you'll be requested to provide the username and password of a user on that computer who has screen-sharing access, also you can request permission to cast the Screen if the machine allows it.
Why won't my Mac let me share screens?
Your Mac won't let you share your Screen when you have the improper set-up of your setting as we make it. Please follow the following step. This is essential and useful, especially if you want to share the Screen of another Mac. Go to the Apple menu and find the System Settings, then click General in the sidebar, then click Sharing on the right, then click the Info button next to Screen Sharing, and make sure you're on the list of people who have permission to share its Screen.
Why isn't my sharing screen functioning correctly?
Open your screen share app and try again after clearing the cache and cookies from your device's settings. If screen sharing stops working again, you can forcibly restart your device. In theory, rebooting your device will provide you with a clean slate on which to work. Your device may now be faster than before, which is why some features will only function properly.
Conclusion
After knowing every detail we need to share screen on Mac with a different situation, it is now expected that you will do it on your own with ease. Perhaps, you want to use the guideline above in the proper ways. You can now enjoy a much more immersive presentation, watch movies, or share your gameplay on Mac with different mediums.
Did you find this helpful?
377 Votes
YES

Thanks for letting us know!
No

Thanks for letting us know!
Aiseesoft Phone Mirror
Cast and share iPhone and Android screen to computer.