Recording Podcast devoids of Complication and Bugs: How is that Possible?
Media entertainment is rapidly getting massive throughout the decade. Different industries are constantly improving and existing. All of these types of media provide specific benefits for all of us. This media includes films, articles, and Podcasts. Nowadays, Podcasts have become one of the trends in this time of contagion. We can share different lessons, opinions, and meanings for all the people or the specific aspect group through a Podcast.
On the other hand, conveying meaning for different people must possess different elements to spread it successfully. Thus, having excellent audio quality is one significant factor for it. However, we will need a great recording tool for that to make it possible. A superb recording tool can be software that is rich with features. In addition, it can also be a tool that is easy to use. In line with that, this article will introduce you to two of the most excellent recording tools existing in the digital market.
Furthermore, after knowing their features and description, we shall know how to record a Podcast using the tools. In the end, this will serve as a guide in recording your Podcast. It also aims to help different users do their errands at ease, especially with recording a Podcast.

Part 1. How to Record a Podcast with Aiseesoft Screen Recorder
There might be a lot of existing recording tools in the market nowadays. All of these also come with different features and characteristics. That is why we narrowed them down into two to choose what is the best and suitable for you. The first software that is great in helping us record a podcast is Aiseesoft Screen Recorder. Let us know what it is all about and what features it can offer for all users. Please take a look at the details below.
Aiseesoft Screen Recorder
Price: $25.00
Platforms: macOS and Windows

Aiseesoft Screen Recorder is taking its spot as the best screen recorder software in the market. This software is one of few recording tools that can offer all of our needed tools. It possesses different functions for different aspects of our work. Thus, recording any media is now possible with ease. Aside from its screen recorder's main feature, it can also help us record audio. That means recording a podcast is not a problem with Aiseesoft Screen Recorder. In addition, this software offers only what is essential and what will be the easiest way to finish our task. As we specify, Aiseesoft Screen Recorder can capture our internal audio. Any audio that we can hear within our system device can be captured. In addition, it also supports recording audio coming from external devices such as a microphone. That will be a practical feature that will bring us so much efficiency. Overall, these features come with a noise-canceling part to remove unnecessary noise within the recording.
On the other hand, here are the simple steps you can take in recording a Podcast using Aiseesoft. Learn and be keen on every detail to make the process more professional and effective.
1.
You open Aisesoft Screen Recorder on your computer as we start the process.
2.
You will have to wait for a few seconds for the loading process of the tool. Right after it, it will enable you to see different features and icons that are beneficial to our work.

3.
Next, we shall now start the main process of recording a Podcast with Aiseesoft Screen Recorder. From the interface, click the Audio Recorder on the most-left corner. It is in the second icon box of the elements.

4.
From there, a new tab will appear where you can see the set of different tools we can use for modifying our recording process. We shall not forget to enable or to set the System Sound and the Microphone. You only need to turn them on by sliding the button going to the right.

5.
If you are now good with the modification, we will start the recording. Locate the REC button on the most-left part and click it. You can now begin to speak for your Podcast.

6.
While speaking and uttering all the words for your Podcast, let the recorder run. You may only click the Stop icon on the little floating tab if you have already finished your speech. Then click the Save button and choose the Folder where you want to save it.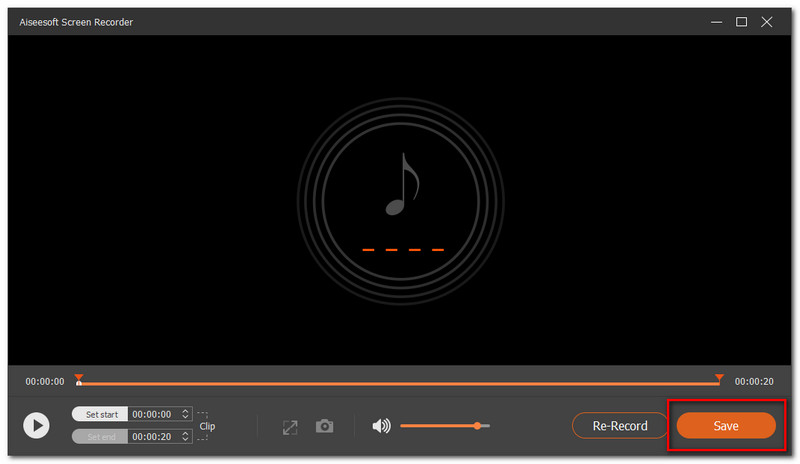 Part 2. How to Record a Podcast with Audacity
Audacity
Platforms: Windows, macOS, Linux..
Price: Free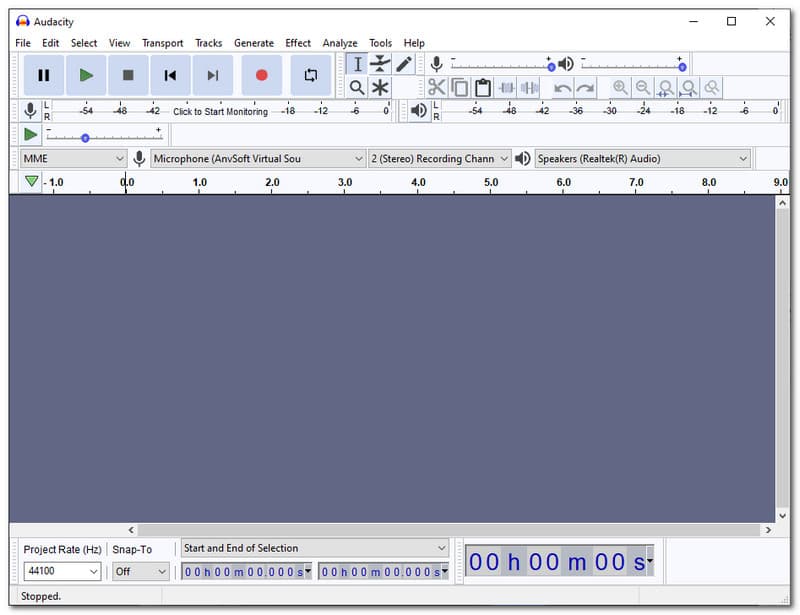 Audacity is open-source software that can support multiple platforms. It serves as a multi-track media editor that is effective with our audio tracks. In addition, it is also effective and efficient to use in recording our audio. Throughout the times, the developers of Audacity continuously do their job improving the services they are offering. As an overview, this software possesses recording features and enhances your output. This function includes the mixer and digitized recordings from different media. That means Audacity is a great tool that we can use to capture our insight in the form of a podcast.
In line with that, here are the guidelines we should know about Audacity. It will allow you to record your podcast without experiencing the complexity of the process.
1.
Go to the website of Audacity and install the software on your computer. After doing it, open the Audacity on your computer.
2.
As the opening process is continuously occurring, you will start seeing different elements and tools that we can use along the way.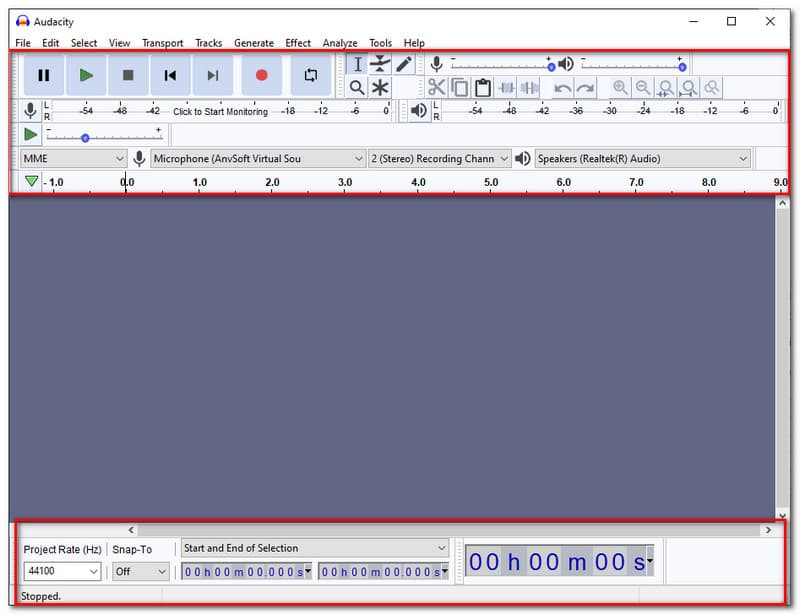 3.
Before starting the recording itself, you need to ensure that your Microphone is appropriately on set. Check the Microphone you are using in the drop list. Choose the correct element of the Microphone you are using to capture the audio for your Podcast successfully.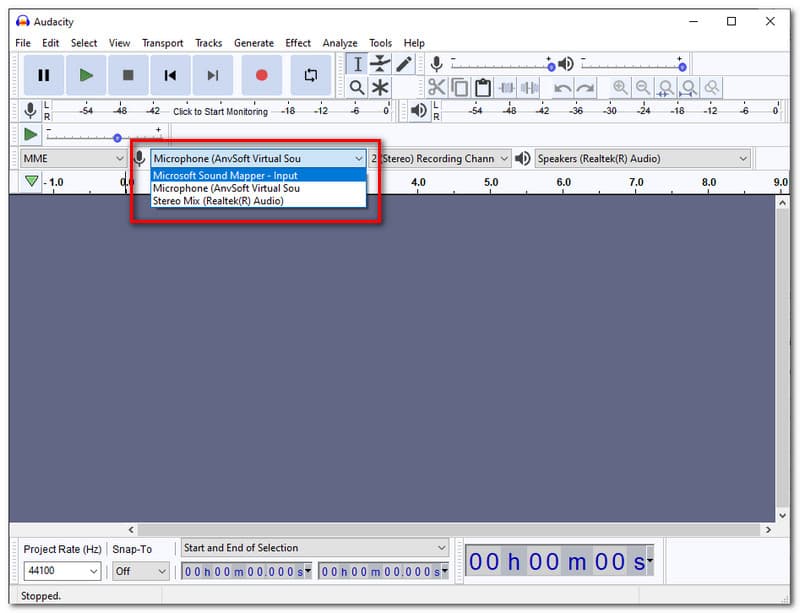 4.
You also have another choice to modify. You may also change the Project Rate (Hz) for a beautiful recording output.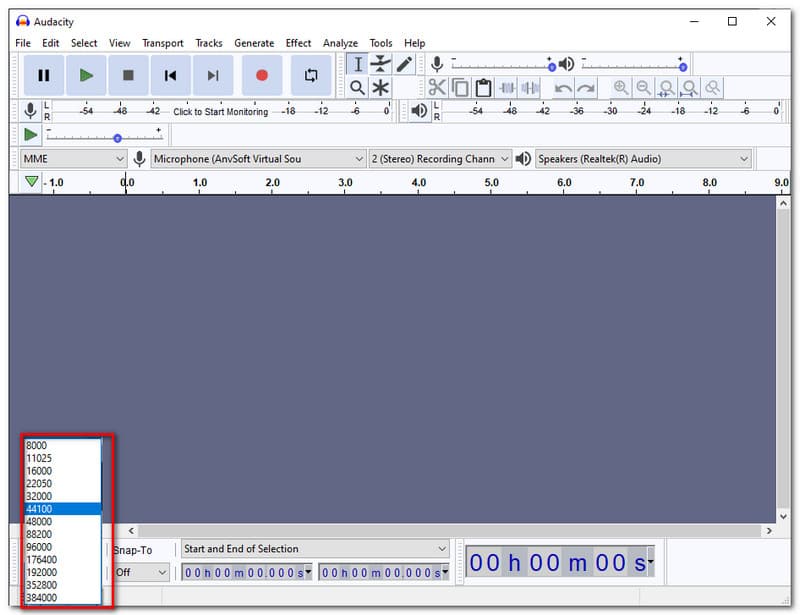 5.
If everything you need is now on set, you may start recording a podcast. Click the Rec button at the top portion of the interface. It usually comes in red.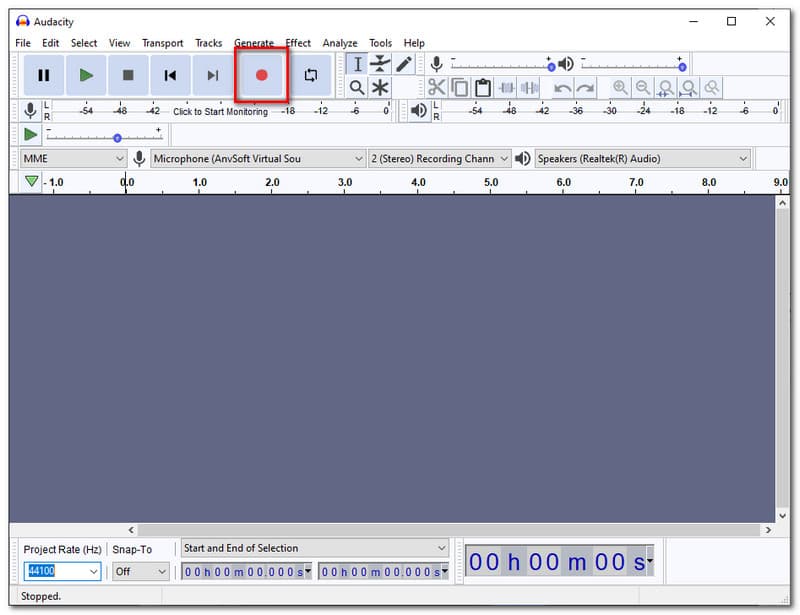 6.
As the ongoing recording process, you will see a wave scale in the interface. It symbolises that you are recording.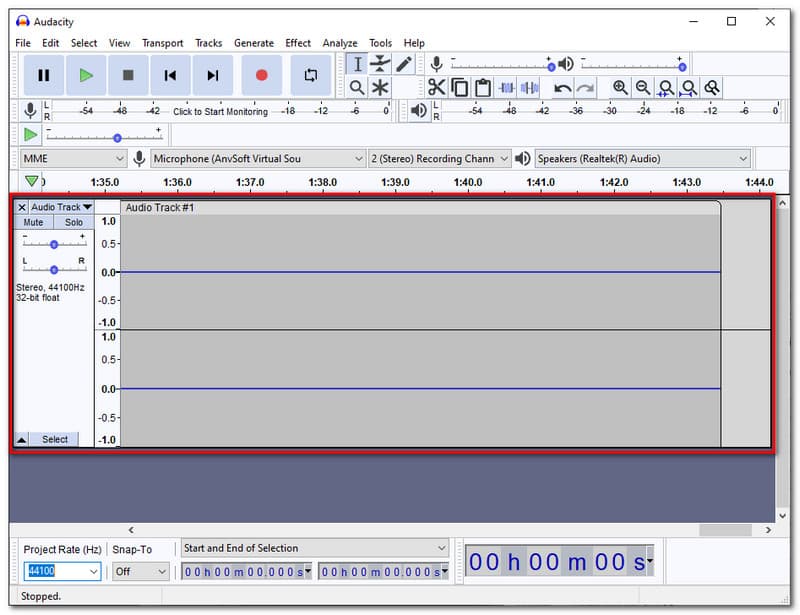 7.
If you are done with your podcast, click the Stop icon at the top of the interface to stop the recording process.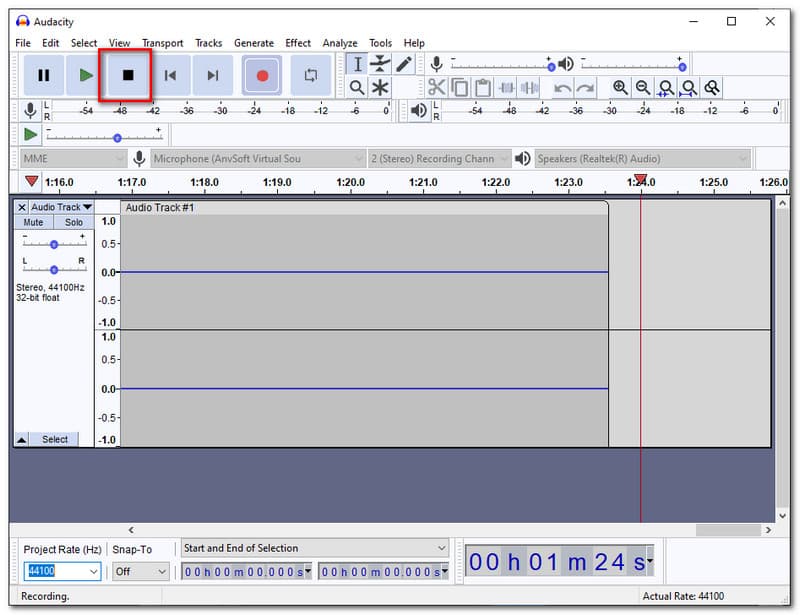 8.
You may also listen to your recording as an additional feature right away. That is possible via the built-in audio player it offers.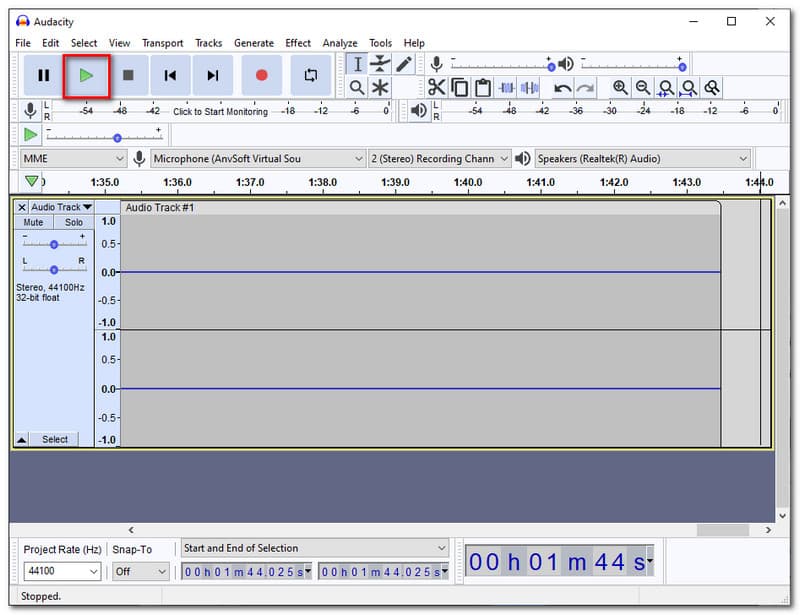 9.
As we save your outputs, go to the File tab, select Save Project, then under it click Save As.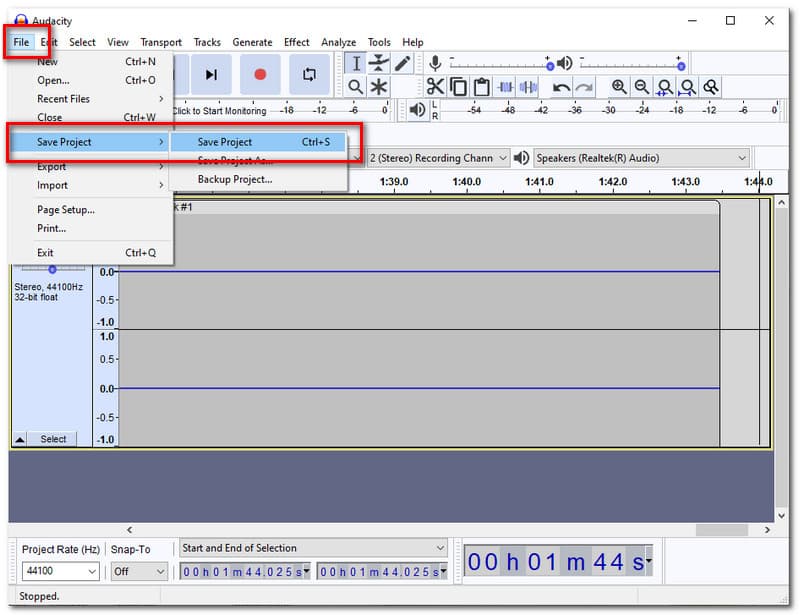 10.
Lastly, choose the Folder where you want to save recording output.
Part 3. FAQ about Recording a Podcast
What is the reason why I did not capture audio with my computer?
There may be different reasons behind not recording audio with your computers. But there are a few common reasons that users are experiencing this most of the time. One of these is the improper configuration and enabling of your microphone and sound to the software you are using. Second is the improper plug-ins of the external devices you are using. Third, there might be a problem with third-party issues. All of these might be one of why you are experiencing the problem. Thus, checking everything you need to do before the recording process is an excellent step in alleviating these hindrances.
Why can I not find the saving button with Audacity?
The saving process with audacity comes with a bit of a unique approach. The saving tab is under the File. You only need to access it and find the Save project in the drop list. From there, you can now save your recording without complications.
What is the most recommended format for a Podcast?
A podcast usually carries an audio element only. Therefore, it is highly recommended to save it as MP3 for compatibility. Many listening and audio players support MP3 Podcasts like Spotify and Apple Music.
Conclusion
They are two of the most beautiful recording tools we can use in recording a podcast. We see some of their features that can help us in the recording. On the other hand, we can also see how simple recording audio using Aiseesoft Screen Recorder is. However, Audacity also gives us compelling features with our recording outputs. Overall, both tools are excellent in providing us with the service we need without podcasts. We hope this article helps you with your work. You may also visit our website for more solutions that you might need.
Did you find this helpful?
286 Votes
YES

Thanks for letting us know!
No

Thanks for letting us know!
Aiseesoft Screen Recorder
Capture every moment in desktop, browsers, programs and webcam.