Windows Step Recorder Review: Assimilate of What This Recorder Can Do
Are you looking for a steps recorder that will help you to record the steps you took and be able to share them with others? Perfect! This article review will introduce Windows Step Recorder to you. It is an ideal assistance recorder that can record actions that have been taken on your computer. Moreover, we will also show you its advantages and disadvantages. In addition to this, we will also present to you the difference between Windows Steps Recorder and AnyMP4 Screen Recorder. These two software programs are good. However, let us know who stands out. So, allow us to begin reading now!

1. Our Verdict
Pros

It is a built-in screen recorder.
It can save recordings as ZIP files.
It is free to use.
Cons

It cannot capture the text you type.
Its editing tools are not enough.
It cannot record any gameplay and more.
It has minimal features.
Overall Ratings
Easy to use:8.0
User-friendly:8.0
Features:8.0
2. What is Windows Steps Recorder?
Price: Free
Platform: Windows 7, Windows 8, Windows 8.1, and Windows 10
Windows Steps Recorder is also known as Problems Steps Recorder in Windows 7. It is a program that will help you solve a problem on your devices by recording the proper steps. Furthermore, you can share the steps you took with others you might need.
Main Features
Please see the available features that Windows Step Recorder offer:
◆ You can take a screenshot of what you are doing.
◆ You can review the step recording like a slideshow.
◆ You can record both screens even if you are using two displays.
3. Windows Steps Recorder Review
Interface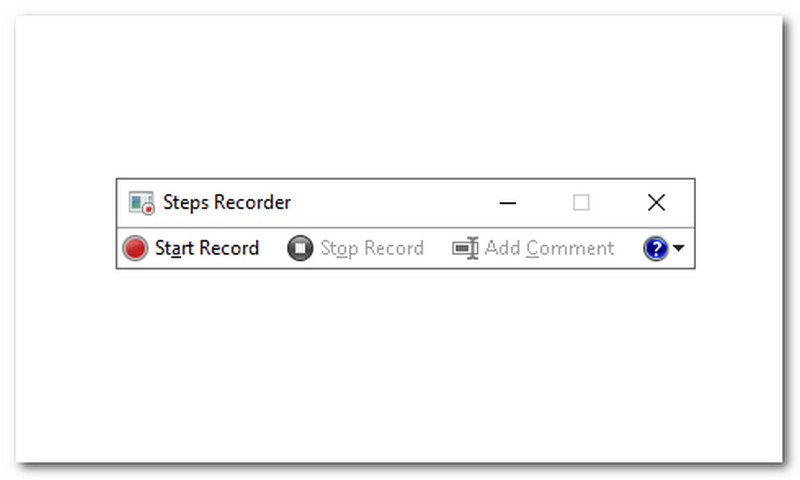 As you can see, Windows Step Recorder has a simple and basic interface. It is a small rectangular panel, and the good thing about this is it is not space-consuming. Therefore, its size is perfect for users looking for a recorder with a small interface. You can only use the Start Record, Stop Record, Add Comment, and Settings panel software. Furthermore, the color is white, and the white is so clean to the eyes.
Adjust Settings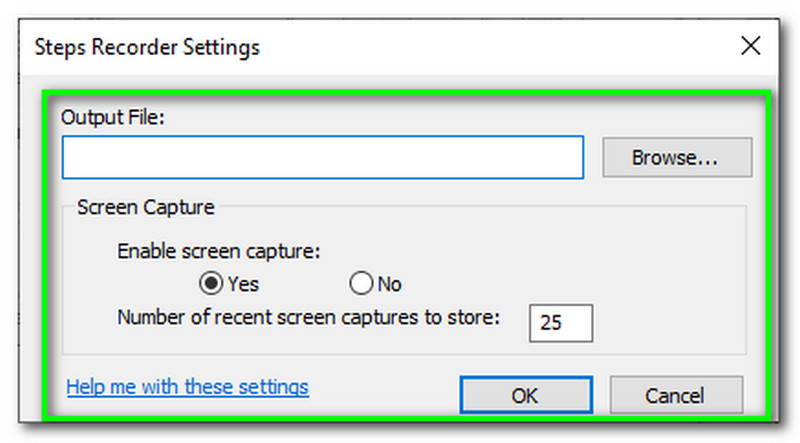 To adjust the settings, select the question-mark icon on the right side of the panel and select settings. The purpose of doing this is to choose an Output File where you want to save all the recorded files every time. Therefore, it will be the default folder each time you want to save a recorded file. In addition to this, you can enable the screen capture by selecting the YES option. Also, you have a choice to put several recent screen captures you want to store. After all the adjustments, tap the OK. However, if you do not desire to make changes, click Cancel.
How to Use Windows Step Recorder?
Many of the users are not usually familiar with the Windows Step Recorder. Maybe this is their first time hearing Windows Step Recorder. For that reason, allow this article review to illustrate some steps for you to be familiarized with and just in case you want to use it in the future. Please see the steps below:
1. First and foremost, click the Start in your Windows and open Steps Recorder.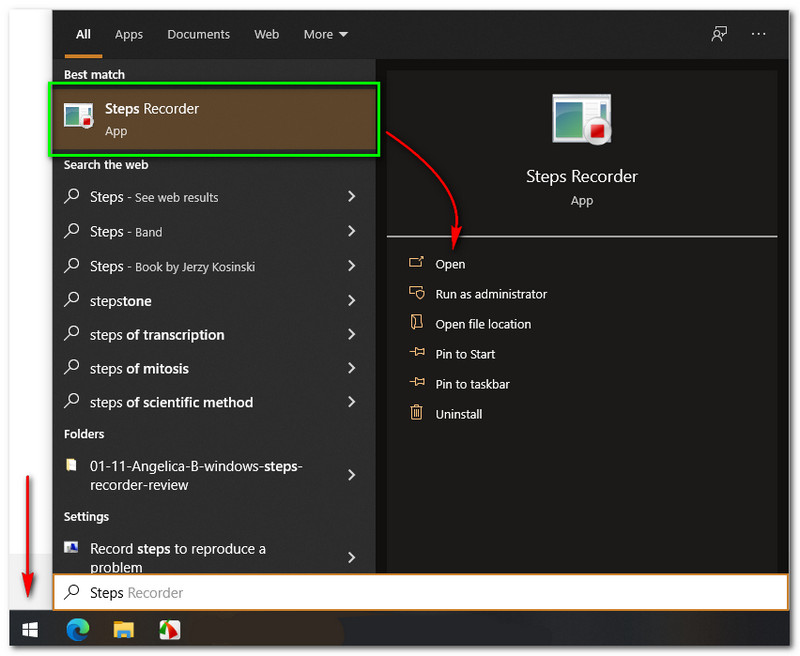 2. Then, select the Start Record.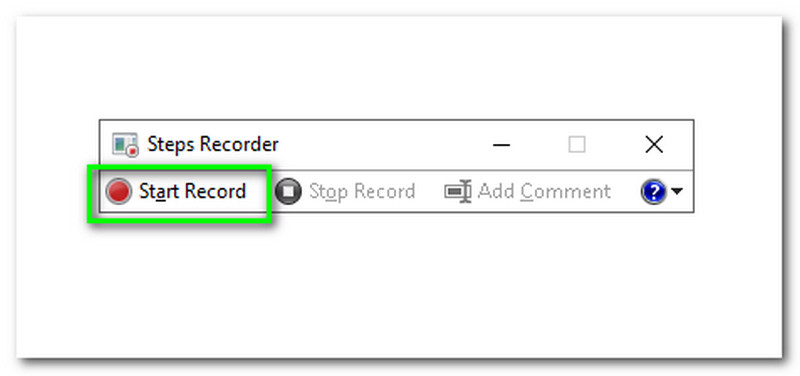 3. Upon recording, you can stop Pause Record and Stop Record anytime you want.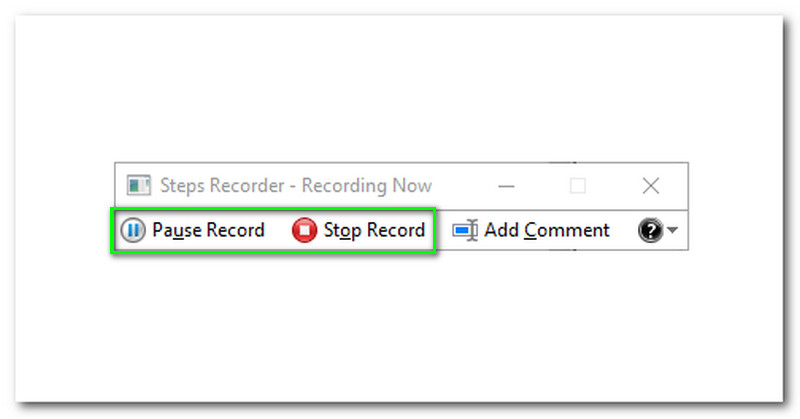 4. Following this, you can add comments by selecting the Add Comment on the right side of the panel. Then, a small box on the below right side of the panel will appear. After that, you can type the comment you want and tap OK.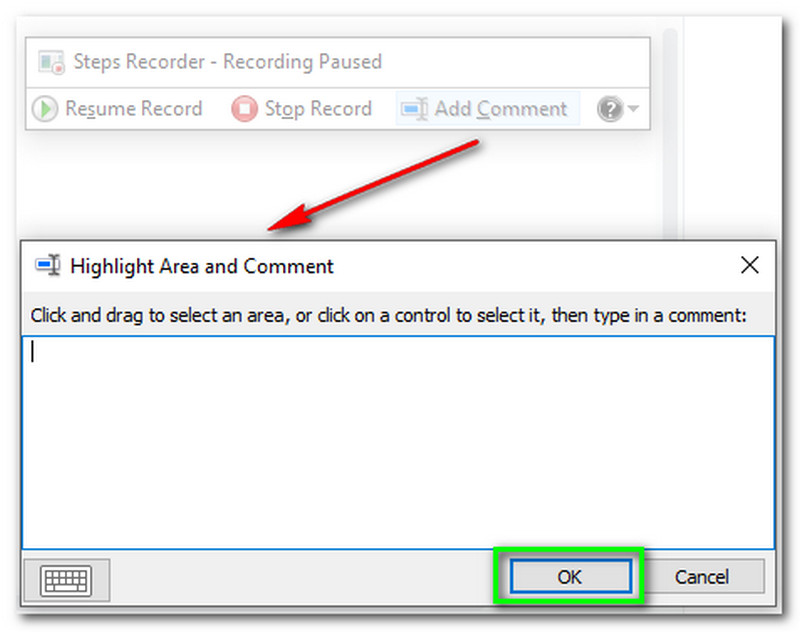 5. After the recording process, press Stop Record.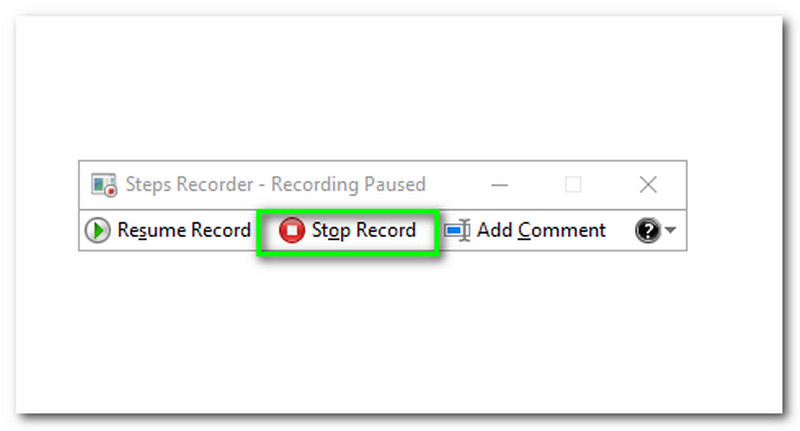 6. Upon clicking Stop Record, a new window panel will pop up. In the new panel software, you will see the options to view your recorded file, such as review the recorded steps, review the documented step as a slideshow, and review the additional details. Once you're done, click Save above the left panel.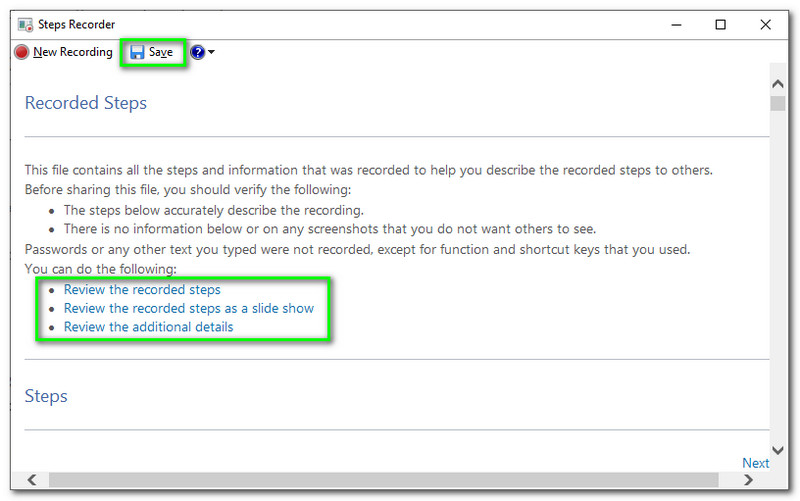 7. After clicking the Save, the folder on your computer will appear. Then, select a folder where you want to save the recorded video. Next, extract the zip file and see the recorded file.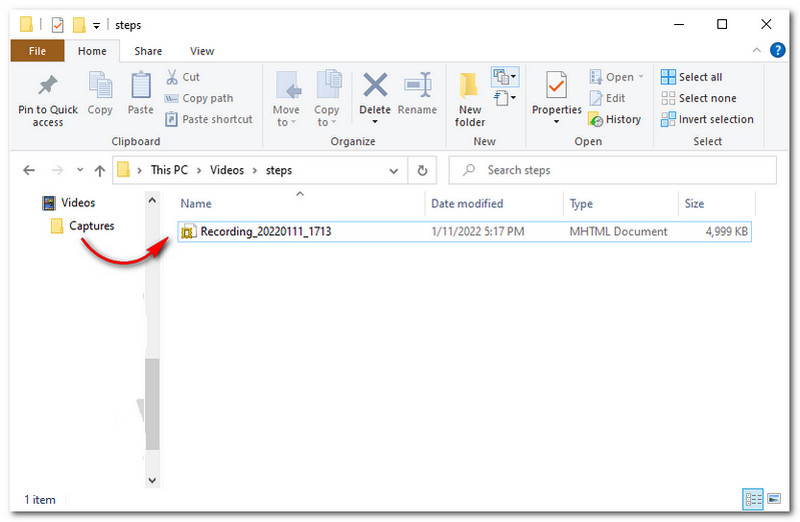 8. Finally, you are done!
4. Best Alternative - AnyMP4 Screen Recorder
Windows Steps Recorder is excellent and easy to use. However, recording your screen, audio, and more is not recommended. That is why we will present to you the best alternative to Windows Steps Recorder, and that is AnyMP4 Screen Recorder.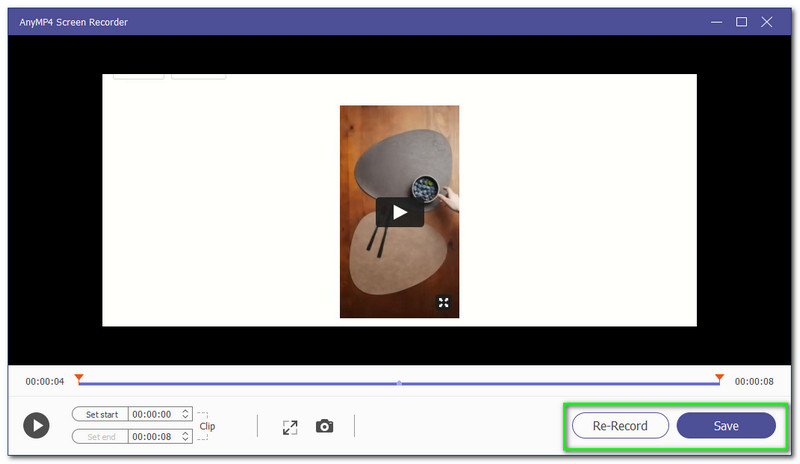 This recorder software will provide you with a great screen recorder of good quality. In addition to this, it enables you to edit your recorded video. Not just that, it has various features that you will love and enjoy. Overall, visit AnyMP4 Screen Recorder webpage and download it for free.
Windows Steps Recorder VS AnyMP4 Screen Recorder
In this part, let us tackle the dissimilarities between Windows Steps Recorder and AnyMP4 Screen Recorder. If you are not familiar, both recorder software is compatible with Windows. Actually, Windows Steps Recorder is a built-in steps recorder from Windows. For more ideas, see the table below:
Windows Steps Recorder

AnyMP4 Screen Recorder
| | | | | | | | | | | |
| --- | --- | --- | --- | --- | --- | --- | --- | --- | --- | --- |
| Platforms | Price | Money Guarantee | Customer Support | Easy-to-Use | Interface | Features | Record with Camera | Record with Audio | Editing Features | Export Media File Formats |
| Windows | Free | Free | | 9.0 | 8.5 | 8.0 | | None | None | |
| Windows | 29.25 | 30 days | 9.0 | 9.5 | 9.5 | 9.5 | | Internal and External | Add text, lines, arrows, logo | |
5. FAQs of Windows Steps Recorder
Can you edit in Windows Steps Recorder?
No. The only thing you can do while taking the steps is to add a comment. However, if you want a recorder software that has editing tools. We recommend AnyMP4 Screen Recorder.
Is screen recording or audio available in Windows Steps Recorder?
Sadly, no. Windows Steps Recorder will only record the steps, but it cannot record your screen and even your audio. If you want a screen recorder, we recommend AnyMP4 Screen Recorder. You can visit their webpage for more information.
Does Windows Screen Recorder have a time limit?
Yes. The maximum length is 15 minutes. Therefore, upon recording your screen, make sure that you do not exceed the maximum time.
Conclusion
Summing up, in this article review, we show you the comparison between Windows Steps Recorder and AnyMP4 Screen Recorder. To add, we also offer you a piece of brief information about Windows Steps Recorder and its pros and cons. Moreover, we also provided you with questions and answers that might help you. All in all, we hope that this article review helped you so much. Do not forget to give us a thumbs up. See you in our next article!
Did you find this helpful?
369 Votes
YES

Thanks for letting us know!
No

Thanks for letting us know!
Best Video Recorder with Audio
AnyMP4 Screen Recorder
Capture every moment in desktop, browsers, programs and webcam.