Solutions on How to Screen Record on Mac Using a Software and Built-in Hotkeys
Mac operating system devices are one of the best mediums we can use in many aspects of our grind. That is why macOS is rapidly getting massive due to its efficiency and effectiveness. This device is excellent in helping us with different professional errands that we need to accomplish. In addition, macOS also operated a smooth processor that enabled us to experience a complication-free process. These errands might include different presentations, meetings, forums, online classes, and more. This kind of work conveys so much information we need to absorb most of the time. Mostly, it is very troublesome for us to have a lot of paper pieces in front of us while working. That is why screen recording every work we have is a great solution that can save a lot of information we may need. For that, this article exists to help users record using their Mac computer.
Furthermore, it will show you different methods that are effective in helping us to record your screen with Mac. We will introduce you to software that offers convenient features for recording screens. On the other hand, we also have the Hotkeys method that is still effective and efficient. Without further ado, here are the solutions to how to screen record on Mac.

Part 1. How Do You Screen Record on a Mac with Sound
The element of sound in a recording output is one of the essential things. It gives life to every recording output we have. That is why it is critical to know the steps of recording your Mac screen with sound. This thing requires proper adjustments and customization of settings. In line with that, in this portion, we will introduce you to software that can help you have a smooth and hassle-free experience of recording your screen with sound.
Aiseesoft Screen Recorder
Price: $25.00
Platforms: macOS and Windows

Aiseesoft Screen Recorder is a fascinating screen recording software that we can use. This software offers numerous features that we can use with any aspect of our work. That means recording your Mac using this screen recorder will bring us great results. It consists of different tools that we can use with other modes. In addition, all of these functions are very suitable and applicable to use with your Mac computers. As an overview of its features, Aiseesoft Screen Recorder possesses a tool where you can record any events with your computer. It includes recording any meetings, forums, discussions, and virtual meetings.
On the other hand, it also has a unique tool to record your gameplay on Mac devices. What makes it more remarkable is its ability to capture the sounds of what you are doing with super high-quality sound even. That is only an overview, and there are more features to discover with this software.
Furthermore, in this portion, we will see how to utilize these features without experiencing complications. As we specify, we will teach how to screen record in Mac using Aiseesoft Screen Recorder.
1.
Open the Aiseesoft Screen Recorder on your Mac computer.
2.
Secondly, please wait for a few seconds for the loading time. After that, you will see a different set of tools that we can use with our grind.

3.
As we start the recording process, we will record our presentation and a quick tutorial with our Mac computer. Select the Video Recorder on the first icon in the interface.

4.
After selecting the video recording icon, you will see a new set of tools and icons for recording our screen. The first thing you will need to do is select a Video Recording Mode. You may choose between Full or Custom and adjust its resolution display if you want.
5.
If you are done selecting the mode of your recording process, it is now time to enable the Microphone. Drag to the side right the button under the Microphone icon. You can also do it with the Sound icon for internal audio. It is an important step that we should not miss.
6.
If everything is one set, you may now press the REC button on the right side of the interface. This step will enable you to start the process of recording your screen.

7.
The next step we should live out is the saving process. First, click the Stop button, which we can see on the small floating tab of the recorder. Then it will lead you to the saving portion, where you can choose what folder you want to put it in. Click the Save button to finish the process.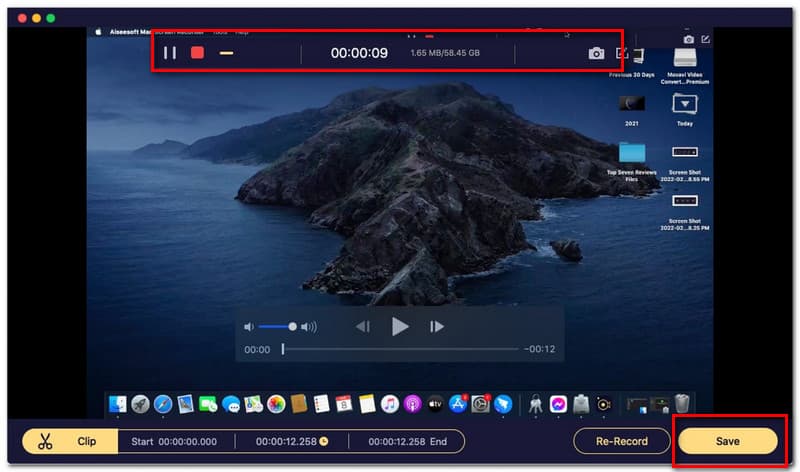 Part 2. How Do You Screen Record on a Mac (Built-in Hotkeys)
We are now aware how Aiseesoft Screen Recorder can offer amazing features. These functions indeed have the ability to make our recording process instantly. However, we also have different methods in making it possible. Mac computers offer different features that purpose to help their user experience a great process of grinding. In line with that, we shall now see how to record the screen of our Mac without downloading and installing any software. That process is possible with the use of the built-in screen recording tools of your mac computer. Using the Hotkeys, let us try to record the screen of our Mac computer instantly and hassle-free.
1.
Prepare your errands on your screen. Launch every file of every piece of information you might need to record on your screen.
2.
If the tabs for your errands are now floating, you now launch the built-in screen recorder in your Mac computer. Use the Hotkeys to activate the writer. Press the Command plus Shift and the number 5 tab simultaneously on your keyboard.

3.
A small tab showing all the options for the screen recorder will now appear on your screen. Before starting screen recording, you may adjust all the settings following your preference. Click the Options tab to see what you can do.
4.
The next step, make sure that you are in the proper mode. Select the Video Recorder icon on the small floating tab on your screen. Also, selecting the way of your video recording is possible. You may choose between Full and Region.
5.
You may now click the Record button to start that recording process and let the built-in recorder run while doing your work.
6.
If you are done with recording, click the Stop icon on the floating tab or in the control centre

Part 3. FAQ about Screen Record on Mac
What are the factors why I cannot record on my Mac computer?
There may be different factors why we cannot record our screen successfully. One of the huge factors is the issue with Privacy and Security. Some software is powerful when it comes to their privacy, which causes them to fail to record their screen. However, we can go with the Privacy tab of your Mac and enable the specific software you want to record. The next thing you need to do is register again and see if the problem is gone.
What are the advantages of using software recording like Aiseesoft Screen Recorder rather than the built-in tool?
Software like Aiseesoft Screen Recorder is more prosperous with features. It can give numerous functions that are indeed beneficial in recording our screen. That is why using software is a more effective tool to use. It also possesses features that we cannot get with the built-in tool.
What are the hotkeys for screen charging only in terms of screen capturing?
The Command plus Shift and 5 will show us different options for recording and capturing our screen. However, if you want to screenshot with your screen without many processes, you need to remember to press Command plus Shift and 3. It will automatically capture your screen without complications.
Conclusion
In the end, we can now conclude that recording the screen of our Mac computer is now possible with the use of different tools. We can also see how Aiseesoft Screen Recorder helps us alleviate any problem making the process easier. Its features enable us to be at ease. On the other hand, we also have built-in hotkeys. It is also a great tool to record your screen even without downloading and installing software. But there is nothing to compare because they are both excellent in helping us grind. Thus, if you find this article helpful, you may now share this with a friend who might also need a guide about recording. In addition, we also have different solutions to coffee with you. Access our website now to learn more.
Did you find this helpful?
262 Votes
YES

Thanks for letting us know!
No

Thanks for letting us know!
Aiseesoft Screen Recorder
Capture every moment in desktop, browsers, programs and webcam.