ApowerUnlock Review: Unlocks Your Passcode, Touch ID, and Face ID Instantly
If you find yourself stressed because you cannot find software to help you with your locked device, this article review is an answered prayer for you! When your Apple device is locked, you need an Apple unlocking software. So, here's ApowerUnlock. It can unlock your locked iPhone, iPad, and iPod Touch. What else? To obtain more ideas, please read this article review until the end. We promise that you will learn from this!

1. Our Verdict
Pros

It offers a money-back guarantee.
It is secure and safe to use.
It will send you a VIP account after you purchase the product.
It provides a free update.
It also offers a customer support service.
It does not require you to jailbreak your Apple device to unlock it.
Its interface is clean and straightforward.
Cons

It requires extra steps to remove passwords.
It cannot detect your locked iOS device immediately.
It is expensive.
It requires you to log in first before using the free version.
Overall Ratings
Features:8.5
Interface:8.5
Safety:8.5
2. What is ApowerUnlock
Best for: Unlocking your iOS screen without a passcode. Also, it is best for users who need an unlocking iPhone software.
Price: Unlock iOS for a time within a year: $19.95, Unlock iOS for two times within a year: $29.95, and Unlock iOS for five times within a year: $59.95
Platform: Windows and Mac
Main Features
ApowerUnlock enables you to unlock your Apple devices such as iPhone, iPad, and iPod Touch; In addition to this, it can remove your Apple ID without using a password. Upon reviewing it, we can say that ApowerUnlock is a little bit expensive. Not everyone can afford it.
However, the good thing is it offers a free version. On the bottom part, we will show you all the features of ApowerUnlock. If you are interested, please read them now:
◆ It can unlock your iPhone and iPad without a passcode.
◆ It allows you to remove your passcode from your iPhone and iPad.
◆ It also allows you to unlock your fingerprint passcode and Touch ID.
◆ It can unlock your disabled iPhone and iPad lock screen passcode.
◆ It can also unlock your iOS screen.
◆ It can remove your passcodes set by others and unlock your device effortlessly.
◆ It can unlock your forgotten Screen Time passcode.
3. ApowerUnlock Review
Interface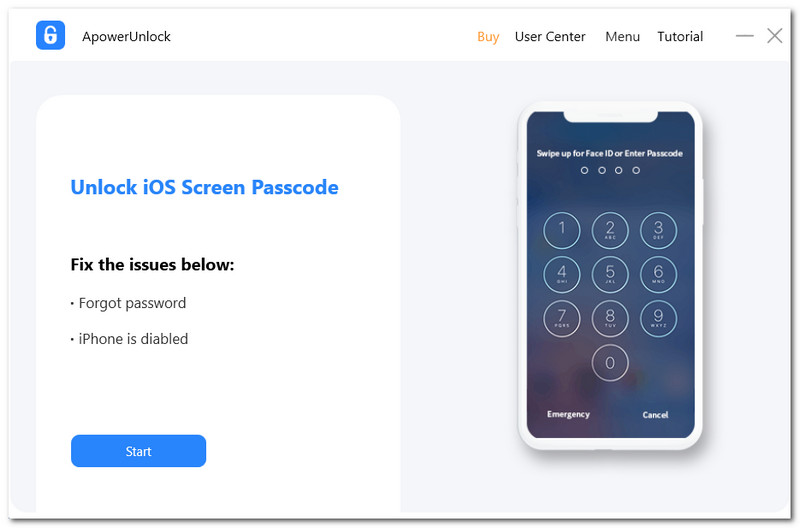 We are aware that interface is one of the factors we use software because of its interface, and ApowerUnlock did not fail the user with its interface. ApowerUnlock has a clean and straightforward interface, and it has a color of white, light blue, and light gray.
On the upper part, you will see the options such as Buy, User Center, Menu, and Tutorial. Then, in the main part, you will see the iPhone vector art on the right side. In addition, you will see the Start button when you want to begin the unlocking process.
Connect your iPhone to your PC to Unlock the iOS Screen Passcode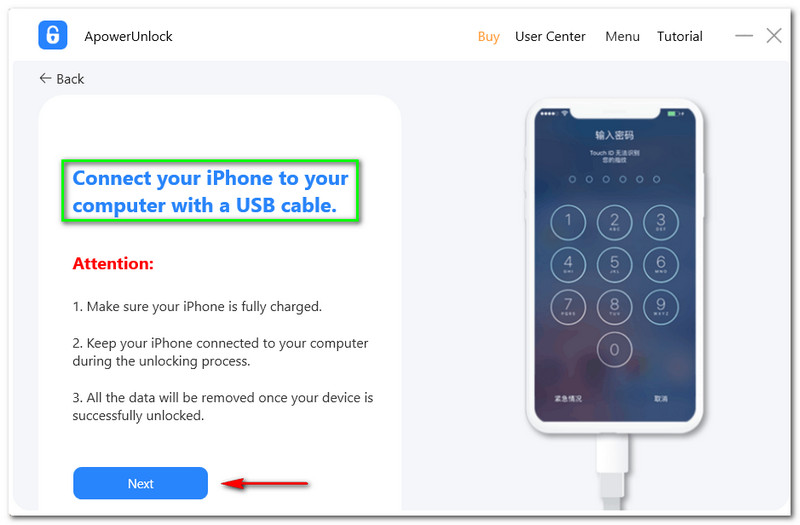 Did you also think that when you are about to connect your iPhone to a PC would be a complicated process? It sounds funny, but we find out that it is super easy to connect your iPhone your PC with a USB cable.
However, before connecting your iPhone to your PC, you need to remember some reminders from ApowerUnlock. These reminders are a must, and it is not hard to follow. The first reminder is to ensure that your iPhone is 100% charged.
Next, the iPhone must be connected to your PC during the unlocking process. Please prevent any instances that might disconnect your iPhone from your PC. Lastly, all your data will be removed after your iPhone is successfully unlocked.
Unlock iOS Screen Passcode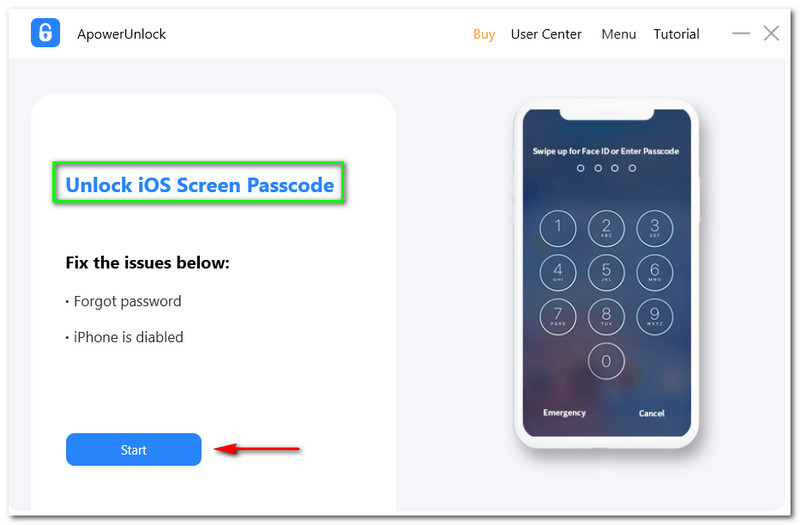 Using ApowerUnlock can unlock your iOS Screen Passcode quickly. Once you launch ApowerUnlock, you will automatically see the Unlock iOS Screen Passcode.
When you are unlocking your iOS Screen Passcode, it could be you are unlocking your forgotten password or your iPhone is disabled. After you decide, you need to click the Start button to start the unlocking process.
Unlock Touch ID and Face ID
Did you know that ApowerUnlock can unlock not only your passcode but also your Touch ID or Face ID? Yes, you read it right. There are many reasons why you cannot use your Touch ID or Face ID.
No matter the reasons you have, the clear thing here is that ApowerUnlock can unlock your Touch ID and Face ID effortlessly. To do that, launch the ApowerUnlock and proceed to the unlocking process.
But before you proceed with unlocking your Touch ID or Face ID, all your data on your Apple device will be deleted.
User Center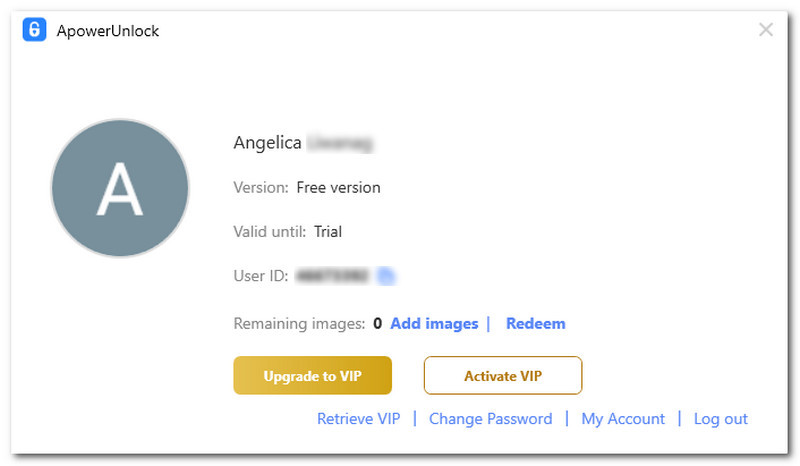 Even if you are using the trial version of ApowerUnlocker, you can see your User Center. Would it be your main profile from ApowerUnlocker? What is the use of this? You will see your Name, Version, Valid Until, User ID, and Remaining Images.
In addition, it is where you can upgrade your version to VIP. Then, you will also see the Activate VIP right next to the Upgrade to VIP. You will also see the Retrieve VIP, Change Password, My Account, and Log out on the bottom corner.
4. FAQs of ApowerUnlock
Is ApowerUnlock safe?
According to the founder of ApowerUnlock, their software is 100% safe and secure to download and use. It is also added into their policy to cover all the personal data that every user provides. In addition, ApowerUnlock also guarantees you that they will not share your personal nor sell it with other parties.
Is ApowerUnlock still working on iPhone 5 and lower?
Of course, ApowerUnlock can still work on iPhone 5 and lower. Before the unlocking, removing, and bypassing process, you need to choose your Apple device on the choice. Then, ApoweUnlocker will show you all the versions of Apple devices. After that, choose the iPhone 5, including other lower versions. Then, start the process.
The activation lock appears after I use the screen to unlock, what happened?
It is a protection from the Apple company to prevent user's privacy leakage. When you erase all your data in your device without turning off the Find My iPhone feature of Apple, the activation lock will be compromised. To release the activation lock, you need to enter your Apple ID and the password that binds the device.
Conclusion:
Finally, we are now aware of the advantages and disadvantages of ApowerUnlock. For example, it has an easy-to-use user interface, yet you need to log in before using the software. Moreover, we are glad that we provided a review with all of you about ApowerUnlock. Do not forget to share your feedback with us if the price of ApowerUnlock is worth buying or not. Also, we expect that you will share this review with your family and friends that might need software to unlock their Apple devices. See you at our next one!
Did you find this helpful?
267 Votes
YES

Thanks for letting us know!
No

Thanks for letting us know!
Aiseesoft iPhone Unlocker
Get into locked iPhone iPad iPod without password or Apple ID.