Top 7 Voice Changer to Fake You as Anyone
Creativity nowadays is simply in our hands. With the help of different apps and tools, we can simply turn the ordinary into something extraordinarily fun, just like using the voice changer app to make our interactions with others more unique and experimental. These apps and tools have given us the power to explore our creativity and express ourselves in new and exciting ways.
You can discover more about this interesting effect as this article presents unbiased reviews of different voice changer apps you can access online.

Part 1. What Is Voice Changer?
Voice changer software enables us to alter the way we sound by adding distortion, modifying the pitch, and adjusting the tone of our voice. In this age of consent online communication, such applications are just as essential as any other. These software tools help us protect our privacy and allow us to have fun with our friends by creating various voice impressions. With the advancement in technology, the capabilities of such software are improving day by day, making them more versatile and user-friendly.
However, there are no right or wrong ways to use voice modulators and sound effects. Whatever works for you is acceptable, provided that it does not involve illegal activities.
Part 2. Top 7 Voice Changer Review
Ghostface Voice Changer
Platforms: Android, iOS, Windows, and macOS
If you're looking for a free voice changer to do it all, look no further than MagicMic Ghostface Voice Changer. This real-time voice changer boasts a wider range of horror voices and sound effects, allowing you to explore and play with all sorts of mesmerizing and scary sounds. With over 225 voices to choose from, including terrifying options, MagicMic Ghostface Voice Changer offers an immersive gaming experience that will leave your friends shaking in their boots. Whether you want to freak out your friends or have fun, MagicMic Ghostface Voice Changer is the perfect tool for an unforgettable gaming experience.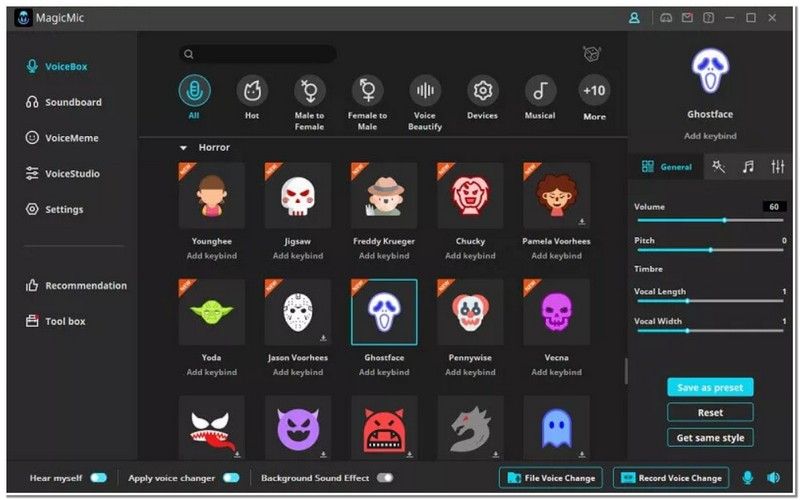 Pros

Provides a frightening experience with various terrifying voice filters and scary sound effects.
All pre-recorded voices can be customized using the available sound settings.
Offers more natural and realistic voices with background sounds for almost 225+ voice filters.
Cons

It's a new product in the market.
Clownfish Voice Changer
Platforms: Windows Vista/7/8/10/11
Clownfish Voice Changer is another amazing, user-friendly, easy-to-use tool that lets you effortlessly change your voice from one style to another. It is available for free and can be used on various platforms. Its popularity is due to its simple setup process, and it does not come with any complex features. This voice changer app is perfect for pranking your friends, gaming, and streaming. It is a versatile tool that can be used in various situations.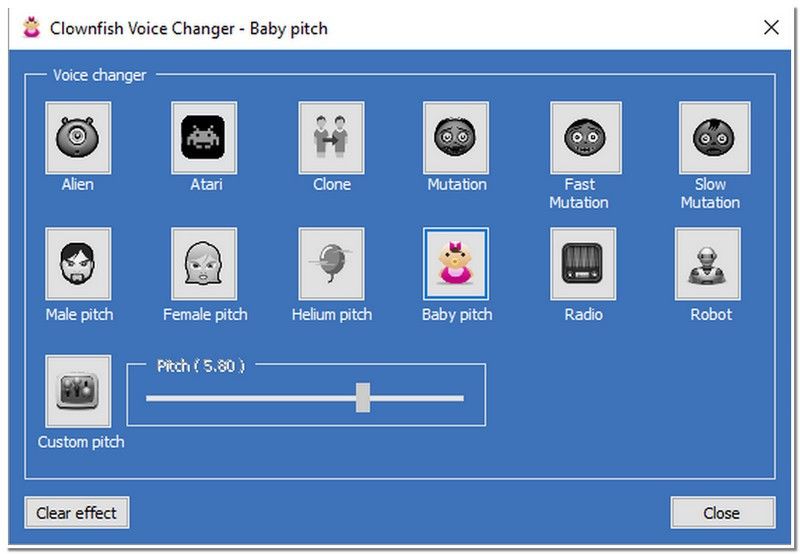 Pros

A seamless connection with desktop applications such as Discord, Twitch, and others.
It has an integrated audio player for managing audio files.
It has text-to-speech support.
It has advantageous sound players and audio control capabilities.
You can use it to play music in the background while you do other things.
Cons

There are limited voice filters.
There is only a limited day of free version.
Only available for Windows users.
Voicechanger.io
Platforms: Android, iOS, Windows, macOS, and Online
Visit Voicechanger.io if you're looking for another user-friendly voice changer. This tool may appear basic and generic in its user interface, but it has a wide range of features and functionality you should explore. The AI-powered voice changer has over 50 pre-made voice effects and masks, allowing you to create custom voice effects and experiment with your audio. You only need a web browser, microphone, and internet connection. With this tool, you can have voice effects like robotic to villains to superhero-like voices in Hollywood movies.
Pros

It has multiple platform support.
The tool has a user-friendly interface.
You have an option to save and share voice recordings.
Cons

It has limited features.
The tool has occasional stability issues.
There is no direct integration with chatting platforms.
Voicemod
Platforms: Windows 7/8/10
Voicemod is a highly popular and effective voice changer software on Discord that you can use seamlessly. With Voicemod, you get access to a wide range of voices, and the program is also incredibly user-friendly. In addition to Discord, Voicemod can be used effectively on other voice chat services such as Skype, PUBG, Fortnite, Google Chat, Mumble, and more.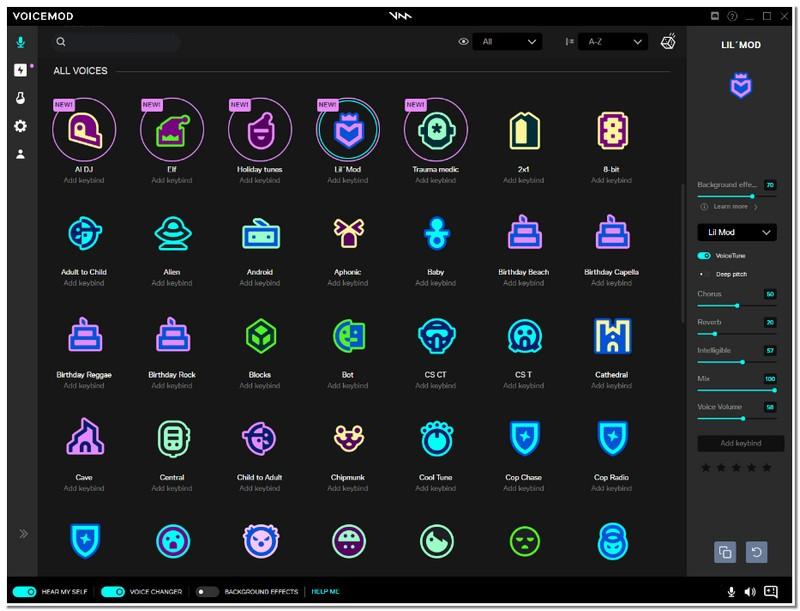 Pros

There's a free version available with several essential features.
Let users adjust tune, pitch, frequency, and more.
Let users create personal sound effects.
It works with several voice chat services.
Cons

Only available for Windows.
Ads can be annoying.
Some users complain that the sound quality is low.
MorphVOX
Platforms: Windows and macOS
MorphVOX is the ultimate voice changer software, designed with exceptional voice-learning algorithms and unparalleled sound quality. Whether you're a gaming enthusiast or a professional voice artist, MorphVOX offers free and paid versions to meet your needs. Experience the power of MorphVOX and take your voice to the next level.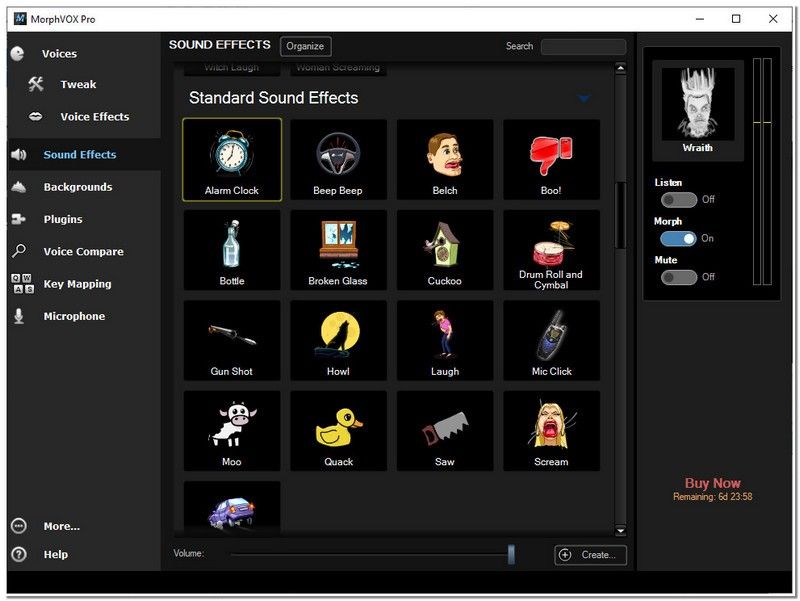 Pros

It has an advanced voice-learning technology that enhances voice change quality.
It grants users the ability to customize voice editing and changing finely.
It offers many voice parameters to edit your voice.
Allows users to do optimal voice change effects.
Cons

It is a complex tool that requires learning to use effectively.
The free version of the product has a limited number of voices, while the paid version offers a wider selection.
Voice.ai
Platforms: Android, iOS, Windows, macOS, and Online
Voice.ai is an online AI voice-changing software that allows users to change their voice in real time while speaking with others through various platforms such as Skype, Zoom, and Discord. The tool offers a variety of voice effects, including male, female, robotic, and celebrity voices. Additionally, Voice.ai allows users to upload audio files and convert them into different voices.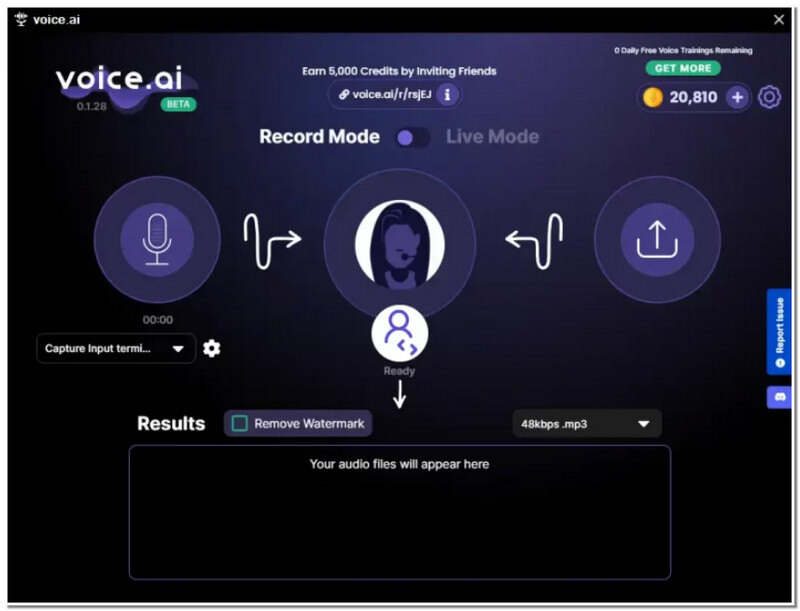 Pros

It supports record mode and live mode.
It has a singing mode and breath reduction.
The tool offers various character and celebrity voices.
It supports audio file voice changing.
Users can easily add and select different AI voices through the user-friendly interface.
Cons

It has a poor sound quality for free users.
It takes a lot of storage space.
The tool requires upgrading to remove the watermark from the audio.
Voxal Voice Changer
Platforms: Windows and macOS
Whether you're a gamer, want to mask your voice for privacy reasons, or just want to have fun with different voices, Voxal Voice Changer is an excellent choice. Voxal Voice Changer is the final voice changer to make it into our list of amazing voice changers. This software offers various versions to meet your variety of needs for voice modification. It provides a variety of character voices, including Chipmunk, Dracula, and Goblin. It allows quick modification and change of the voices in any application or game. It is a real-time voice-changing software with a large vocal effects library that can create custom voices, modify vocal recordings, add background voices, distort or amplify voices, etc.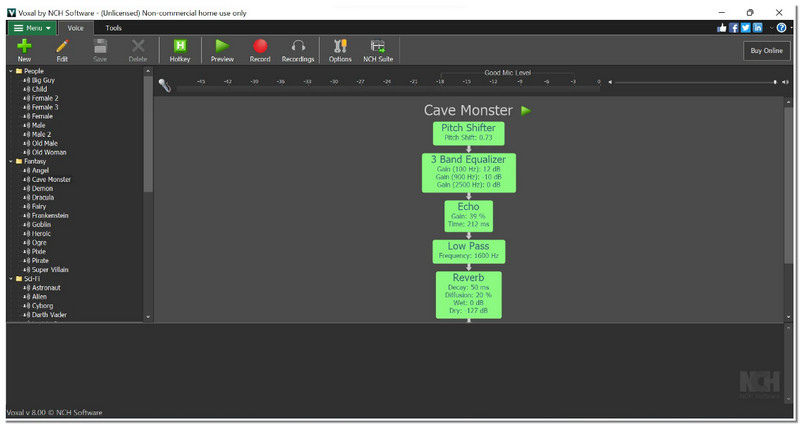 Pros

It changes your voice in real time.
It allows users to change the background noise.
It has low CPU usage.
There are no ads.
Cons

You cannot reset a voice effect after customization.
The user interface is not user-friendly, making it difficult to use.
Part 3. FAQs about Best Voice Changer
How to change your voice on TikTok?
There are a few ways to change your voice on TikTok. One way is to use a voice filter. To do this, open the TikTok app and create a new video. Then, tap on the effects icon at the bottom of the screen. Scroll through the effects until you find a voice filter that you like. Tap on the filter to apply it. You can also use a third-party app to change your voice on TikTok. Many different apps are available, just like the ones discussed in this post, so you can find one that fits your needs.
Is Clownfish voice changer safe?
Yes, Clownfish Voice Changer is known to be safe. Many users use it without issues because it is a reliable and well-liked software. It doesn't share your data with outside parties or have any malicious components.
Is it possible to change your voice?
If you are unsatisfied with how your voice sounds, there are many ways to modulate and hide it. One of these is using a voice changer app. You can use the top 7 best voice changers mentioned in this article.
Is there a real-time voice changer for Android?
Yes, there is, and it is called Voice.ai, which gives you the power to change your voice in real-time. You can scroll above this post for its features and pros and cons.
Is voice changer safe?
Using a voice changer is considered safe as long as you are using it ethically and not to deceive anyone seriously that may inflict harm to them and others.
Conclusion
There are a lot of tools and apps' features ready to use if you want to keep your real voice hidden or anonymous, or maybe you just simply want to try another persona, don't you? As we explored the seven best voice changers, we discovered each tool's unique features, benefits, and considerations, catering to various preferences and needs. Using these different voice changer apps through your Android, iPhone, Windows, or any browser, you can easily try high-quality voice modulation and effects that you can customize, be it for gaming, streaming, assisting, or just simply all for fun and games.
Did you find this helpful?
481 Votes
YES

Thanks for letting us know!
No

Thanks for letting us know!
AnyMP4 Video Converter Ultimate
All-in-one video converter, editor, enhancer upscaled with AI.