Google Voice Review: A Reliable Voice Over Internet Protocol Around the World
We notice the change in the way of communication from time to time. And there are so many ways to communicate with people. However, they won't work the way they should or how you want. An example of that is a voicemail, and the voicemail message is stored on the voicemail system. Plus, it will be deleted after two weeks. But, do you wonder what are the most high-tech inventions for communications nowadays? Here is the answer, Google Voice. How? Because Google Voice provides many features that can help you communicate with others, especially with your family and business. It works on your Web and different kinds of Smartphones. If you are wondering about more of its features, read this whole article, and we will make sure that you will learn a lot!

1. Our Verdict
Pros

It works on smartphones as well as on the Web.
You can expect calls everywhere.
You can save time, and you can stay connected.
It allows you to decide when and who can reach you.
The spam calls are automatically blocked.
It is perfect for personal and business use.
Cons

There are some technical issues.
It does not send a notification sometimes.
Personal use is not available in other countries yet.
It does not have toll-free numbers.
It does not offer a free trial for business plans.
Overall Ratings
Accessibility:8.0
Features:8.5
Easy to use:9.0
2. What is Google Voice
Price: Starter: $10.00, Standard: $20.00, and Premier: $30.00
Platform: Chrome OS, Mac, Windows, and Smartphones
Main Features
Google Voice is one of the features of Google. It also offers Google Drive, Google Chat, Google Meet, and more. However, you will focus on Google Voice. Since Google wants to maintain its reputation when it comes to its quality, Google makes sure that Google Voice meets the company's high technical standards. According to the research, Google Voice is one of Forbes' picks because Google Voice is the best for Voice over Internet Protocol, known as VoIP. Nonetheless, one of the disadvantages of Google Voice is it's not available in many countries. That is why its accessibility is affected. But so much with that, let us see what Google Voice can still offer:
◆ It provides voicemail transcription.
◆ It allows you to send messages for free.
◆ It offers unlimited calls and texts.
◆ It has ring groups.
◆ It will enable you to set up incoming calls.
◆ It provides a calendar for personal and, most significantly, business use.
◆ It lets you turn on the Do Not Disturb.
◆ It has a voicemail greeting.
◆ It allows you to get a voicemail via message and email.
◆ It enables you to connect with your contacts.
◆ It allows you to search for your references.
◆ It lets you listen to voicemail before answering it.
◆ It allows you to make calls to International with low rates.
◆ It will enable you to block unwanted calls.
◆ It has a multi level auto attendant.
◆ It lets you make conference calls.
3. Google Voice Review
Make a Call with Google Voice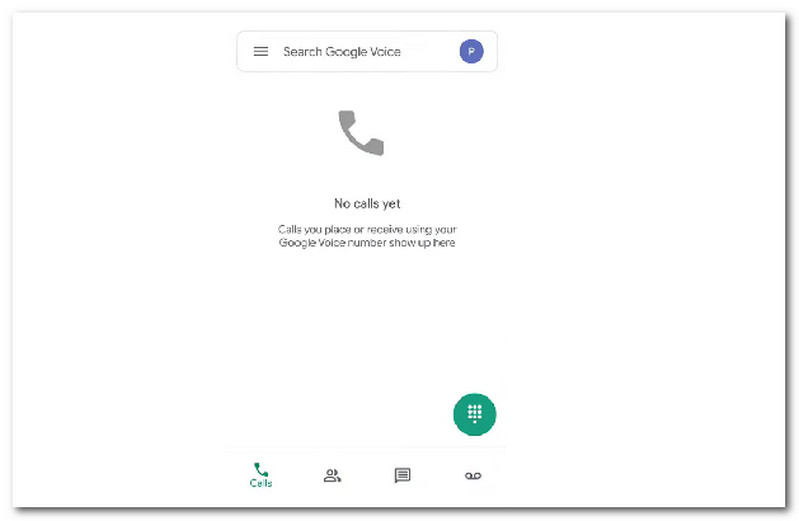 Before calling using Google Voice, your ID must turn on for you to make calls from your mobile carrier. Also, you can make an emergency call on Google Voice for Google Workspace accounts only because your work or school manages it. In addition to this, assuming that you call someone, a United States phone number will be able to appear, which is not your number. However, the person you call will still receive a phone call from your Google Voice phone number.
To start, open the Voice app. After that, tap Call at the bottom of the screen. Suppose that the number you like to call is on a saved contact. You will notice the search bar on the top of the screen. Then, please enter the name and select it from your list. Nevertheless, if the number that you like to call is not a saved contact, tap Dial and enter the number. Lastly, press the Call.
Google Voice Set-Up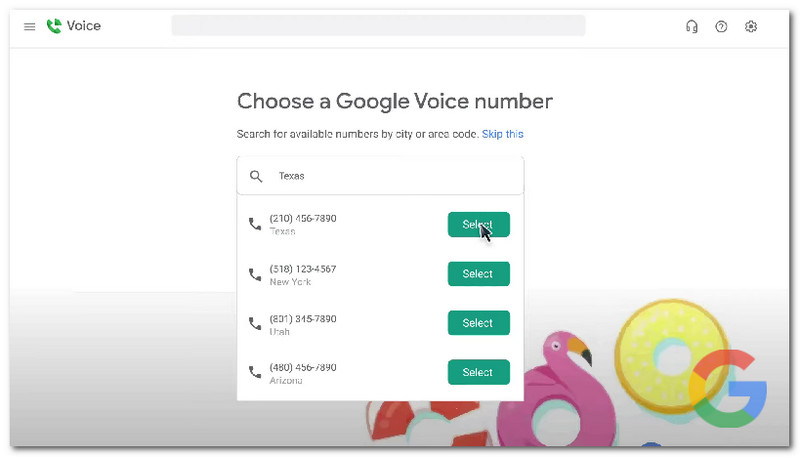 Google Voice gives you a phone number that you can use for texts, calls, and voicemails. This number is to make an international and domestic call from your mobile devices and the Web. The good thing about this is if you are in the United States, you can choose your number.
So, to set up Google Voice, you need to visit the official page of Google Voice. Then, sign in to your Google Account. After that, it is a must to review the Terms of Service and Privacy Policy of Google Voice and click Continue. Next to that, search for the available numbers, and it will be based on your area, city, and country. If there are unavailable numbers in your area, Google Voice lets you search and try for a nearby area code. Following that, you can now follow the on-screen instructions.
Google Voice Audio Recording
You can choose whether you want Google to save your audio recording to your Google Account every time you interact with Google Search and more. It has an audio recognition technology that keeps your information safe and secure, especially when using Google Assistant products. Furthermore, it is expedient to allow Google to save your audio recording in your Google Account. In that way, you have an opportunity to improve the Google speech system and make the audio recognition technology become better. Furthermore, every audio recording is safe in your Google Account. It also has machined-selected audio snippets that are parted from Google Accounts. Decide to secure your audio recordings now to help Google's audio recognition technologies worldwide.
How Google Voice Functions
This part of this article will demonstrate to you how simple and user-friendly Google Voice is. It is perfect if you are connected with your home or office network because Google Voice works on a broadband connection.
Suppose that it is your first time signing up to Google Voice; you have an option to use your phone number or get your own. To give you a tip, just in case you choose the last, you must input your area code and select your phone number. Then, suppose you like the phone number digits to use on your business so anyone can dial it. In that case, you can enter the digits you like and make sure it is available.
After the phone number process, you can now create a voicemail message and make calls using your phone or computer. In addition to this, you can also use Google Voice to send and receive a text message. Moreover, after receiving a voicemail in Google Voice, you can access it using the app. You have a choice to get a transcript and a recording of the voicemail sent to your email.
Furthermore, presuming that you receive a call, you will hear an alert from Google Voice that someone is calling your number. Then, you choose whether you want to answer the call or not. If you decide to answer the call, press the green phone button. After that, it is up to you if you want the Google Voice number to show up on the person's caller ID rather than your phone number.
4. FAQs of Google Voice
Is Google Voice free?
Google Voice is not free. However, it offers a free service for signing up. In addition to this, you do not need to worry about the price because it is very affordable.
Is it necessary to change a Google Voice number?
Yes. Google Voice allows you to delete and get a new number. To start, open your computer and go to Google Voice. Next to that, sign in to your Google Account that you use to register your number. Then, you will see the Settings and click it on the top right. Following that, on the left side, press Account. Find the number you want to change below the Google Voice number and click Delete. Then, select the Delete number. Next to that, you will receive a message like You do not have a Google Voice number. Then, click the Get a number.
I accidentally deleted my Google Voice number. How can I recover it?
First, go to Google Voice. Then, sign in to your Google Account. Following that, click the Settings on the upper right. Then on the left, click the Account. Next, you will receive a message reminding you that you do not have a phone number. At that time, select the Get a number. Then, find the number that you accidentally delete and tap Reclaim. Lastly, you must follow the on-screen instructions to verify your phone number.
Does Google Voice provide good quality?
According to the user's reports, the quality of Google Voice is exceptional. The quality of connection of Google Voice will depend on the internet that you have at your home or in your office. Therefore, if you have a poor connection, the quality of Google Voice will be affected
5. Best Alternative - AnyMP4 Screen Recorder

Google Voice is a great VoIP, but it is not commendable in recording your audio. Google Voice is perfect for making calls and using it for school and business. However, we cannot advise you to use Google Voice if you want an audio recorder. But, we can recommend a better recorder software. It is AnyMP4 Screen Recorder. It is not just an audio recorder. It offers additional features such as video games, a phone recorder, etc. Do not worry because you can also use this for your business, school, and even personal use because AnyMP4 Screen Recorder is an all-around recorder software. Overall, decide what is best for you and what you need the most.
Conclusion:
While reading this article review, we discover that Google Voice is perfectly fit for making calls, voice messages, sending and receiving texts. Moreover, suppose you want an audio recorder. In that case, we provide you with an alternative for that, and you can refer to the upper part of this article. Thank you for reading our article. See you at our next one!
Did you find this helpful?
322 Votes
YES

Thanks for letting us know!
No

Thanks for letting us know!
Top Review for Audio Recorder
AnyMP4 Screen Recorder
Capture every moment in desktop, browsers, programs and webcam.