7 Best AI Chatbots for Multi-Purpose: Review of Key Features, Pros, Cons, & More
Today, billions of people use chatbots. The interest in ChatGPT is fanning the flames of chatbot adoption, which is set to become even more widespread for personal and business use. Companies are scrambling to launch their best AI chatbots to conduct 1:1 discussions with customers and employees. AI-powered chatbots can also automate various functions, such as sales and marketing, customer service, and administrative and operational chores.
As the need for chatbot software grows, the marketplace of companies offering chatbot technology becomes more difficult to navigate, with many organizations providing the same thing. However, not all AI chatbots are created equal. To assist businesses of all sizes find the best, we've compiled a list of the top 7 AI chatbots for various commercial use cases. This piece will review everything you need to know about AI chatbot solutions. Read every detail and choose what AI bot is best for you.
Part 1. Best 7 AI Chat Bot Apps
ChatGPT
ChatGPT is the most well-known AI on this list, but it's not a chatbot. ChatGPT is a natural language processing model, not a chatbot. It is trained on a big text data set to generate human-like text input answers. ChatGPT can generate coherent and realistic responses to various topics based on the sophisticated GPT-3 language model. As a result, it is beneficial for various natural language processing applications, including language translation, text summarization, and conversation production.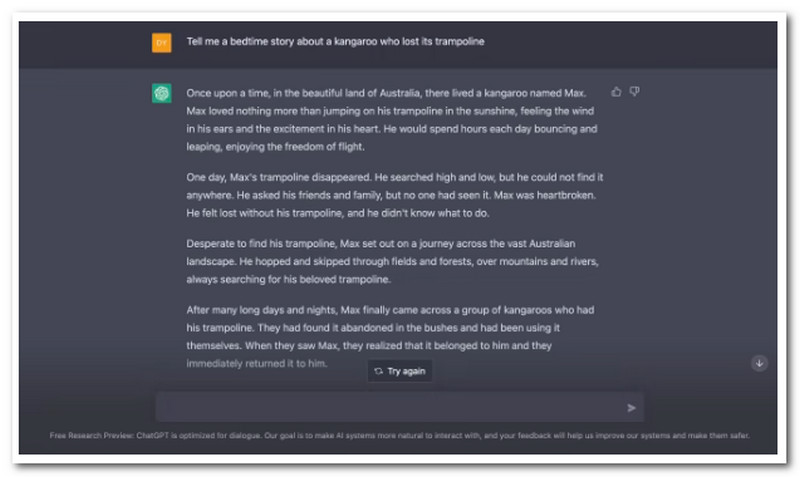 Pros

Engage in natural and human-like dialogue with users.
Integrates easily with a wide range of apps and platforms
Handles a variety of conversational subjects and settings
Learn to adapt to different conditions and environments.
Cons

Regarding answering queries, ChatGPT has a low level of predictability.
Lacks procedural reasoning capacity
Due to a lack of integrations, the business utility is low.
It works with information sources and does not interface with your systems.
Chai - Chat with AI Friends
We can communicate with chat AIs everywhere in the world using Chai - Chat with AI Friends to find out more about their capabilities. Enjoy an endless supply of AIs that you'll want to chat with in addition to that. Chai also features discussions and a stream of AIs that are personalized for you based on your tastes, the people you engage with, and the topics that interest you the most. Whether having tea in the morning or brushing your teeth at night, do it to improve your day. Whether you're a chatterbox, a tech fanatic, or just looking for a laugh, there is something here for everyone.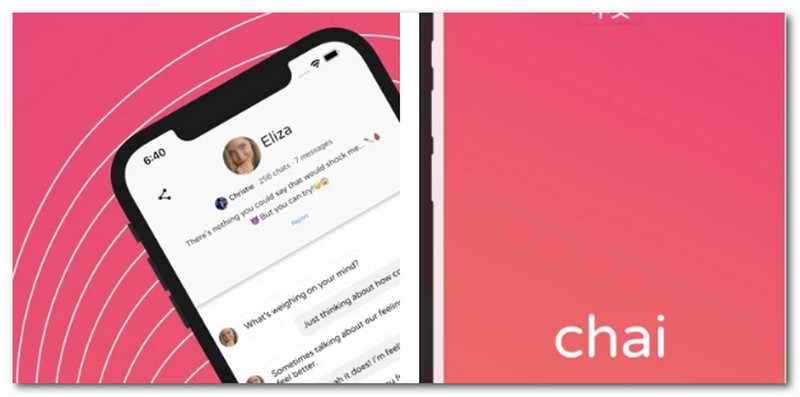 Pros

You can converse with robots in real time.
Generating a 200 word article
can say whatever they want.
Cons

This app is a bit strange.
Update and subscription pricing are problematic
Tough to use.
Wysa: Anxiety therapy chatbot
All of the CBT tasks on the Wysa: Anxiety, therapy chatbot app may be finished in 5 to 10 minutes and are user-friendly and simple to manage. An AI chatbot controls all of the exercises and activities, which may feel limiting and annoying to some people. Although Wysa claims to provide therapy, they provide mental health coaching from either a coach based in the US or an Indian therapist with a license (since they are not legally permitted to provide therapy in the US). There are no face-to-face coaching sessions; everything is done through live messaging conversations.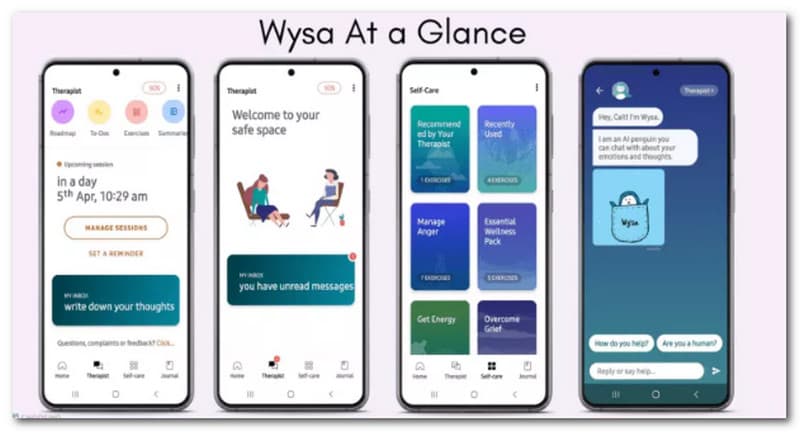 Pros

The app is simple to use and navigate.
You can hire a mental health coach and organize 30-minute live text sessions with them.
The CBT activities are simple and only take ten minutes.
Cons

While the app advertises itself as a therapy tool, it provides text messaging-only mental health coaching from US-based coaches or an Indian licensed therapist.
Whether you use Apple or Android, the premium version and coaching cost will vary. Each platform offers different discounts.
AI Chat & AI Writer - Genie
AI Chat & AI Writer - Genie is an OpenAI-powered conversation GPT 4 AI conversation application. You may quickly and easily write excellent content for your website, social network accounts, or any other platform with just a few taps. Based on the OpenAI ChatGPT 4 AI chatbot, which is an upgrade from GPT 3 and GPT 3.5, the software. In addition to producing high-quality videos, Genie may be spoken to live. Use ChatGPT to its full potential. Make use of Genie as an AI writer or chat app. You decide!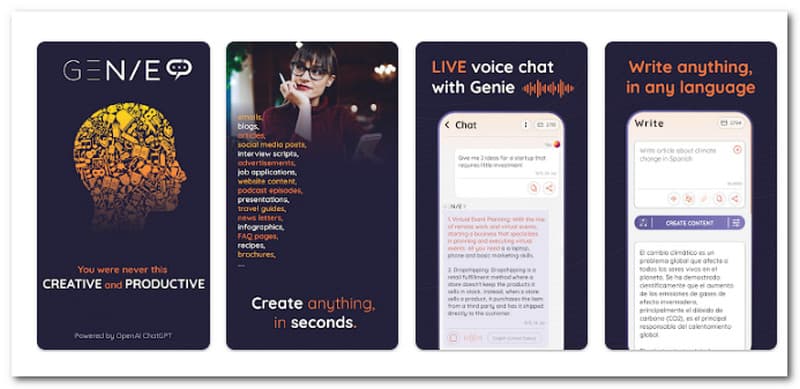 Pros

AI-driven content creation.
Options for customization: You can alter the generated content's length and tone to suit your requirements.
The software may provide information on various topics.
Cons

The features of this app are a bit limited.
The performance gets a bit slow sometimes.
Chatie - Chat Stories
Chatie - Chat Stories is an application that transports you to different worlds by using words and stories. This application has incredible stories submitted by Chatie users. All of these stories are completely free! Novels of several genres involve dialogue. You name it: romance, suspense, mystery, fantasy, true stories, fan fiction, and everything else. There's something for everyone here. You'll discover a new way to read a story with Chatie - Chat Stories. It's not the same as a novel, comic book, or webtoon. A dialogue bubble and a background effect display with each tap. This makes reading more immersive and enjoyable. A K-pop idol fan-fic romance, vampire fantasy, and historical fiction in which you fall in love with a prince are also included.
Pros

It offers amazing stories.
The app is very useful and easy to use.
It is free.
Cons

It often stops functioning.
Some stories are not loading.
Gemsouls - My AI Avatars
With the help of the social media platform Gemsouls, users may express their personalities and desires while chatting with virtual and actual friends. Users can create their identities, pick their crew, share their talents, and co-create the world in the Gemsouls universe. This program is a fantastic tool for killing boredom, in our opinion. Additionally, it gives you the freedom to express your creativity to the world. You see, in virtual reality, you can do whatever you want. It's okay to be who you are without restrictions or criticism. All of these are provided by My AI Avatar on Gemsould.
Now, live out your fantasy. Live your dream life and be your true self when communicating with your Gemsouls friends online and offline. Be whoever or whatever you desire. With the Gemsouls - My AI Avatars App, you can create your identity before you leave on your journey. Please consider the few advantages of installing the app on our smartphones.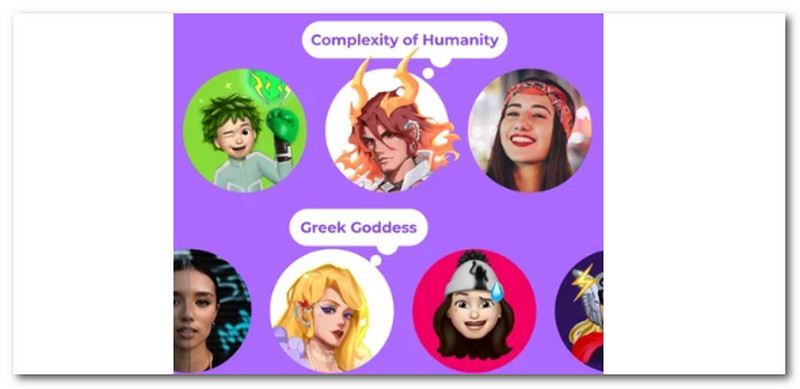 Pros

The world is very wide.
It offers immersive services.
Nice concepts and themes.
Cons

Some items will come out of subscriptions.
It is overwhelming at first.
YouChat
Search engines like You.com are more conversational in style. You.com developed the artificial intelligence (AI) platform known as YouChat. You and existing Large Language Model (LLM) AIs were used to build YouChat. com-developed custom features.
YouChat can get the necessary information, but you can also use the search engine feature to perform standard web searches. You cannot search for information on YouChat by entering a word or phrase. Instead, you ask a detailed question through a chat interface, exactly as a real person would. Everything is provided online in the chat session, so there is no need to visit other websites or read a lot of material to get the solution.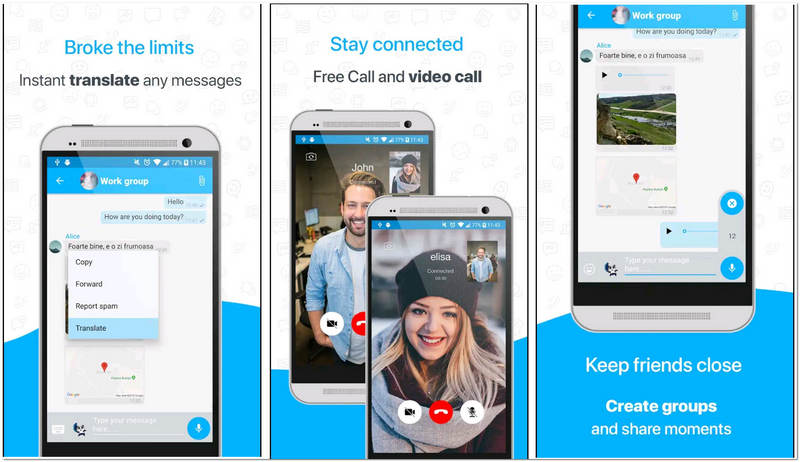 Pros

References are advised.
Real-time information
Permits multimodal search
Conversations that sound human
Intuitive and speedy online search
Cons

It induces allusion hallucinations.
They are no longer active links.
Part 2. Comparison Chart
Best AI Chat Bots

ChatGPT

Chai – Chat with AI Friends

Wysa: Anxiety, therapy chatbot

AI Chat & AI Writer – Genie

Chatie – Chat Stories

Gemsouls – My AI Avatars

Chatie – YouChat
Platform
Price
Best For
Features
Easy-to-use
Convenience
Overall Ratings
Windows, macOS, online, Android, and iOS
Free
1. Conversation with users that is human-like and natural.
2. Easily integrates with various apps and platforms.
3. Takes care of various conversational topics and situations.
4. Gains the ability to adjust to various circumstances and environments.
9.0
9.4
9.2
9.2
Android and iOS
Free
1. You can converse with robots in real-time.
2. A 200-word article
3. Can say whatever they want.
8.7
8.8
8.7
8.7
Android and iOS
Free
1. For anxiety therapy.
2. Seek mental help issues.
9.0
9.0
9.0
9.0
Windows, macOS, online, Android, and iOS
Free
1. Topical breadth.
2. AI-driven content creation.
8.9
9.0
8.8
8.9
Android and iOS
Free
1. Featured stories.
2. Wide library.
9.0
9.0
9.0
9.0
Android and iOS
Free
1. A constant smile.
2. treatment for depression.
3. In support of the LGBTQ+ community, you speak up.
4. Interesting conversations.
5. logical bots.
9.0
9.3
9.0
9.1
Windows, macOS, Online, iOS, and Android
Free
1. Searching in Conversation and Prompt Responses
2. Provides real-time information, citations, and multimodal search
3. Contextual answers and social media profiles are supported.
8.9
9.0
8.8
8.9
Part 3. FAQs about Best AI Chat Bot Apps
What are artificial intelligence (AI) chatbots?
AI-powered chatbots deliver a more human-like experience, can engage in natural conversation, and develop with time. While basic chatbot technology advances the conversation through bot-prompted keywords or UX features such as Facebook Messenger's suggested responses, AI-powered chatbots use natural language processing and semantics to understand the context of what someone is saying.
Is there chatty AI software out there?
Replika is the top artificial intelligence-powered chatbot companion. Get in on the conversation with millions of AI buddies! Replika is for anyone looking for a companion without drama, judgment, or social anxiety.
What do Chat Stories consist of?
Chat fiction stories are presented as digital text chats between two or more people without a plot.The format limits the kinds of stories that may be told well and makes it difficult for authors to tell stories entirely through dialogue. The most popular kind of stories are thrillers and horror.
Conclusion
Those are incredible tools for AI Chat Bots; we can see that these seven tools above offer different amazing features that can help us generate ideas, talk with AI, and more. Hopefully, by now, we will help you choose the best AI tools. You can consider their features above.
Did you find this helpful?
369 Votes
YES

Thanks for letting us know!
No

Thanks for letting us know!
AnyMP4 Video Converter Ultimate
All-in-one video converter, editor, enhancer upscaled with AI.