Ultimate Review of Chai - Chat With AI Friends
In today's fast-paced world, people constantly look for innovative ways to interact with AI technology. If you want to chat with AI and explore the virtual world, you are at the right place. When you try Chai - Chat with AI Friends for the first time, you may still wonder why it is so popular.
In this review, we'll look at the Chai AI app from its performance. This review aims to help you understand if this AI chatbot is worth trying and purchasing. Additionally, the reviews will provide some similar choices for you. Just read and learn more now!

Part 1. What is Chai - Chat With AI Friends
Chai - Chat with AI Friends is an app that lets you to engage in conversations with AI-powered chatbots. These AI chatbots are designed to simulate human-like conversations and provide companionship, entertainment, and general assistance.
The Chai app can be used for various purposes, such as playing a special role, getting quick interaction, or simply engaging in casual conversations with an AI friend. It allows you to customize your AI chatbot's personality, interests, and conversational style to create a more personalized and enjoyable chatting experience. But while AI robots like those in the Chai app can have realistic conversations, they are still based on algorithms. And they may not be as empathetic or accurate as real human interactions.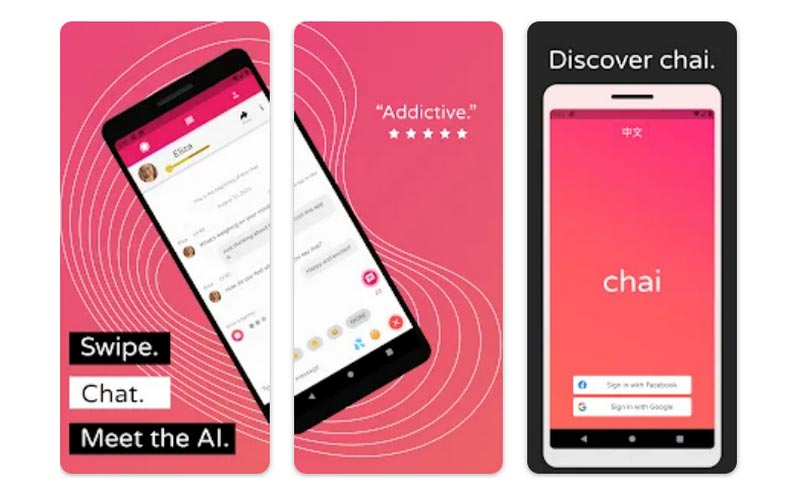 Pros

Easy to use with a user-friendly interface.
Support customizing your bot.
Chat with 100+ AI bots with different features.
Provide a wide range of conversational options.
Cons

The free version has many ads.
Support one language (English) only.
Sometimes the sign in button won't work.
Part 2. Chai - Chat With AI Friends Review
Basic Details
Version:0.4.59 (2023)
Platform:Android 6.0 or higher
Developer:Chai Research Corp.
Interface and User Experience
Chai's pages are themed in pink and white and support switching to dark mode. Meanwhile, its pages are romantic and intuitive. When you download and enter the Chai app, there are five different tabs to switch from Setting, Search, Bots, Conversation, and Leaderboard.
In the Setting tab, you can set your name, photo and invite your friends. In the Search tab, you can find any bot you like by typing in feature keywords. You can create your avatar in the Bots tab, name it, and personalize it. In the Conversation tab, you can view and delete the chatting history. In the Leaderboard tab, you will see all bots' popularity and ranking. Select a character, click Chat, and quickly start a new conversation. And you will find that when you talk to different bots, each character will show the character's background information and the scene with detailed text. These bots can actively guide you to chat and interact and give you a broad experience of being in a fictional scene.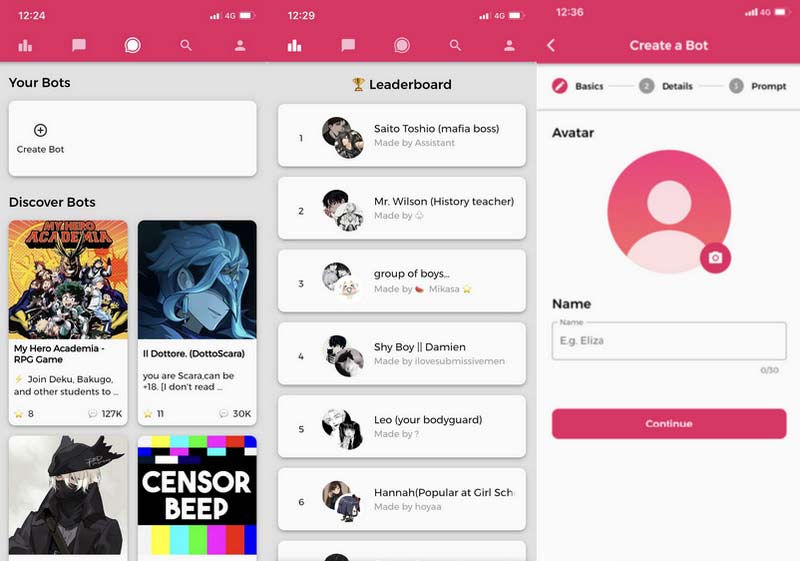 However, many users have found that they occasionally experience flashbacks and even need to log in again when using the Chai app. Meanwhile, although Chai provides three login methods (Facebook, Google, and Apple ID), it often fails to log in when using a Google account. Moreover, you can see that the program supports both English and Chinese on the login page. However, after entering the program, it only supports English.
Overall, Chai's page design is very intuitive and user-friendly. This app would be more popular if further fixes could be made to the program's glitches, such as login and stuck back.
Information Processing Capability
Chai chatbot provides over 100 AI chatbots with specific personalities and features. Every bot is trained on vast data, allowing it to understand and respond to your inquiries with ease. After selecting any one avatar you want to chat with, you can start a private conversation from daily life to working or studying sceneries. But you should note that everything they say may not be factual.
For example, you can try the most popular avatar, Saito Toshio (mafia boss), to start a new story. Certainly, you can also select a boyfriend, bully girl, servant, history teacher, etc., to chat with as you like. Then, you can type a message and see how the avatar responds. It is interesting and amazing.
It is worth mentioning that the Chai's responsiveness and capacity are sometimes not as good as they should be. On the one hand, it may relate to the phone's unstable internet connection. On the other hand, the app's performance still needs to be improved.
What is the Best for?
The aspect that sets Chai apart from its competitors is its customized avatar. Chai supports everyone in creating their bots, from basic to detailed information, including name, photos, description, the first message your bot sends, etc. More importantly, it lets other users try and chat with your avatar. It is a truly exceptional experience for every user.
Is Chai Worth the Pricing
Besides the free version, Chai provides a Premium version for $13.99/month and $134.99/year. Meanwhile, it also supports the Ultra version for $29.99/month and $269.99/year. So, you can subscribe to it for a month or year.
On its free version, you can use some basic chatting features. But you can only send limited messages and view many ads. Upgrading to Premium allows unlimited messages, bots, and no ads. If you continue to the Ultra version, you will access the best conversational models with higher comprehensibility. All the versions will update and improve the AI capability regularly.
The choice of version depends on your needs. If the pricing fits your budget, you can subscribe to it to try advanced features. But if not, you can consider other alternatives since its pricing is slightly expensive compared to similar chatbots.
Part 3. Apps Like Chai - Chat With AI Friends
There are some other popular Chai app alternatives in the market. You can also try and find more amazing things in the virtual world.
Replika: My AI Friend
Pricing: $5.83/month, $69.99/year
Replika: My AI Friend is the best alternative to Chai - Chat with AI Friends. Replika is designed to be a virtual friend who listens, learns, and adapts to your needs. It can provide companionship and emotional support for you anytime. It also can engage in role-play scenarios, allowing you to practice social situations.
Replika offers various features, such as journaling, mindfulness exercises, and mood tracking, to help you manage your mental health. Besides, it lets you select an avatar from a friend, romantic partner, family, or mentor you want Replika to be. Moreover, you can customize your Replika's appearance and personality traits to create a special companion.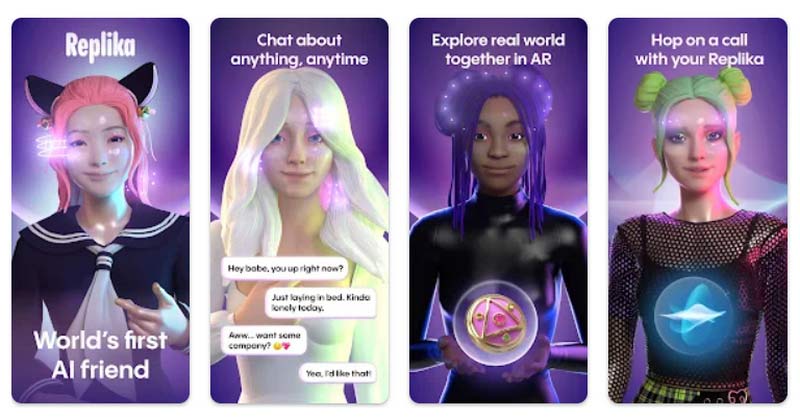 Gemsouls - My AI Avatars
Pricing: $12.99/month, $32.99/year
Gemsouls - My AI Avatars is another Chai AI alternative. Gemsouls lets you to live out your fantasies while conversing with virtual and real friends. In the Gemsouls universe, you can build your identity, choose your crew, share your talent, and co-create the virtual world. Therefore, you can be whomever you want without judgment. You can do whatever you like in virtual reality without limitations.
Gemsouls' intuitive interface lets you tell your interests and vibes to match the soul AI friends. Moreover, you can communicate your thoughts by sending Actions, GIFs, and Photos. It is more interesting and convenient when exploring the virtual world.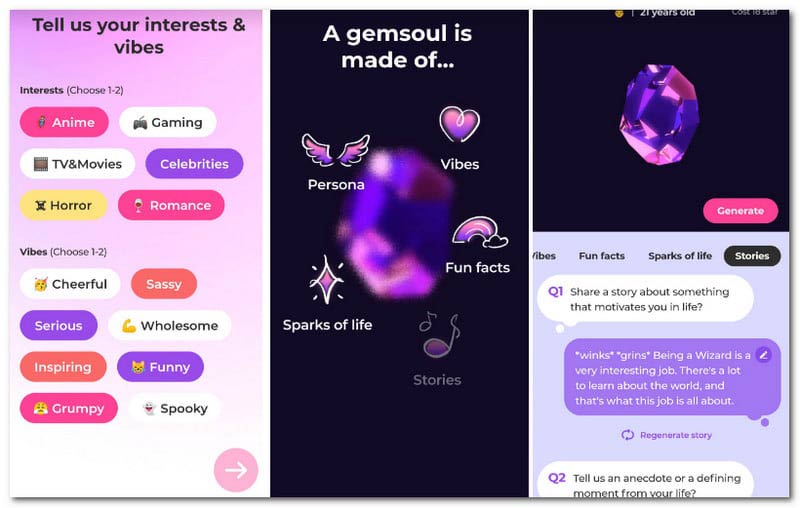 Part 4. FAQs of Chai - Chat With AI Friends
Is the Chai app safe?
Yes. The developer promises that the Chai texting app won't share your data with other companies or organizations. And it allows you to delete the chat history manually.
Does Chai AI have a website?
Yes. You can access the Chai ai website to start a conversation with a bot immediately. But to access the full experience, you must register to use Chai ai online.
Can Chai creators see your chats?
Yes. It's worth noting that the bot creators can read your chats. And they have access to refine the responses further when chatting.
Conclusion
Chai - Chat with AI Friends is worth trying for anyone want to try an innovative way to interact with AI technology. With its exceptional language processing capabilities, rich and diverse avatars, user-friendly interface, and outstanding user experience, Chai is an interesting app to expand your conversational abilities and imagination. If you have other ideas about Chai AI, leave your comments here.
Did you find this helpful?
368 Votes
YES

Thanks for letting us know!
No

Thanks for letting us know!
AnyMP4 Video Converter Ultimate
All-in-one video converter, editor, enhancer upscaled with AI.