AI Chat & AI Writer - Genie: Help You Create Top-Notch Textual Content
Ever run out of inspiration when preparing to write an article? Or do you also need help gathering relevant information when writing about an area you could improve? After Chat AI came into the limelight so strongly, many people tried to let it help them compose some paragraphs or give them some new inspiration by chatting with them. These AI writers can gather information quickly and produce logical paragraphs. Here we will review AI Chat & AI Writer - Genie, a top software, to help you apply it.

Part 1. What is AI Chat & AI Writer - Genie
What is Genie
Genie is an AI chat and writer App developed by Silky Apps. It is based on the OpenAI ChatGPT 4 chatbot, which further improves GPT 3 and GPT 3.5. The primary objective of Genius is to do AI chatting and help people create top-notch textual content for different purposes, such as emails, blogs, articles, and social media posts. It can provide valuable insights on various topics and offer expert-like responses to questions. You can use it as a go-to writing assistant, an AI essay or blog writer, or a chat partner.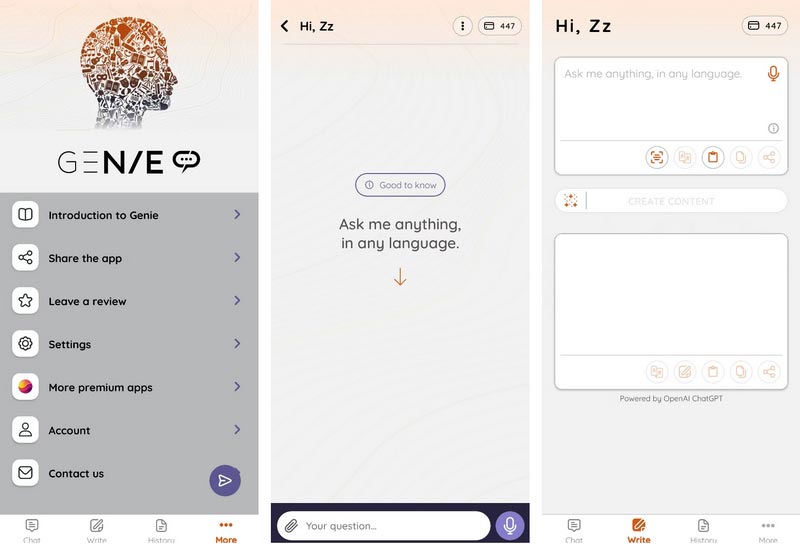 How Does Genie Work
As an AI chat and writer App, Genie uses advanced machine learning algorithms to analyze and understand natural language written inputs from users. Users can ask questions, make requests, or converse with it. Based on the input, it works as an AI content generator that can help users create high-quality textual content or assist with writing tasks such as generating article ideas, summarizing text, or even proofreading content. Understanding the nuances and context of text allows Genie to provide very personalized and helpful responses to any query. Communication with it is presented in the form of a dialog box.
Part 2. AI Chat & AI Writer - Genie Review
The Key Features of Genie
Various topics to choose from
No matter what you are interested in, Genie will give you excellent and reliable answers very quickly. It can talk and write about current events and history, entertainment, sports, and technology. The technological basis of OpenAI ChatGPT 4 makes it possible to quickly gather the latest information in any field and analyze it, then generate a fluent article depending on your questions.
Completion and suggestion for your article
Genie can help you refine incomplete pieces of text and suggest some improvements to your article. The service of grammar and spell checking to ensure error-free writing will be provided. It can also help you with paraphrasing and rewriting to improve the readability of your article. If you want to write some official documents, it can provide you with the most standard templates, such as emails, resumes, proposals, and reports.
Help you with essay writing
Try this excellent AI essay writer if you need help writing an essay. Genie offers research assistance for finding credible sources and relevant information. If you need to read too much literature and cannot accurately grasp the central idea of each article, Genie will help you summarize long documents and texts.
Keep your contents safe
In your communication with Genie, the history of previous interactions will be stored for future reference. And your documents will enjoy cloud-based storage and backup for easy access and sharing across devices. Also, Genie has anonymous and secure private chat support for discussing content-related queries. You don't need your chat or writing to be seen by others or used for other purposes.
Multiple personalization settings
Genie lets you choose the themes of your chat interface among Light, Follow your system, and Dark to fit your eyes. The formality of the AI content can be set to the level you prefer. You can find the degree between Accuracy and Creativity that suits you. And the length of the content Genie offers can be adjusted to 750 words, 1500 words, and 2500 words.
Live voice chatting
Using Genie, you can even enjoy free AI voice-over. You can use voice input when asking a question or apply live voice chatting when you talk to this AI. Genie is available in multiple languages for you to choose from.
Pros of Genie
Faster writing
Genie uses advanced machine learning algorithms to quickly analyze large amounts of data and provide users with accurate and relevant information, which in turn helps them to write faster.
Higher quality output
Genie is built on advanced technologies like GPT-4 from OpenAI. It can provide users with high-quality written content free from spelling errors, grammatical mistakes, and other common issues that can detract from the overall professionalism of written work. Also, Genie will not generate controversial content like hateful, violent, or sexual content.
Versatile use
Genie can be used for various writing tasks, including email correspondence, social media posts, blogs, articles, academic writing, etc. This makes it an essential tool for virtually anyone who needs to write high-quality content.
Saves time
By automating many of the more tedious and time-consuming aspects of writing, Genie allows users to focus on creating interesting and engaging content rather than getting bogged down in the details.
Constantly improving
As an AI-based platform, Genie is constantly evolving and improving based on user feedback and the latest developments in machine learning technology. This means that users can expect even better results as time goes on.
Cons of Genie
A little out of date
Genie is trained with data up to October 2021. It has limited knowledge about events after this date. This also means that if you want to talk to it about new things that have emerged in the last two years, its answers may not be as good as it could be.
Offer incorrect answers
Although this App provides high-level answers, Genie also suffers from the common problems of other AI. It might occasionally give complete, biased, or incorrect answers. If you use it for some important documents, you should check carefully when you output your article.
The Price Plan of Genie
Although chatting with AI and having it be your private AI story writer is free, you only get 500 chances to interact with Genie. If you run out, you can refill the opportunity by purchasing Genie credits in the App.
Here is the price plan of Genie.
The price is $9.99 if you want to purchase 1000 Genie credits.
The price is $19.99 if you want to purchase 2800 Genie credits.
The price is $39.99 if you want to purchase 6000 Genie credits.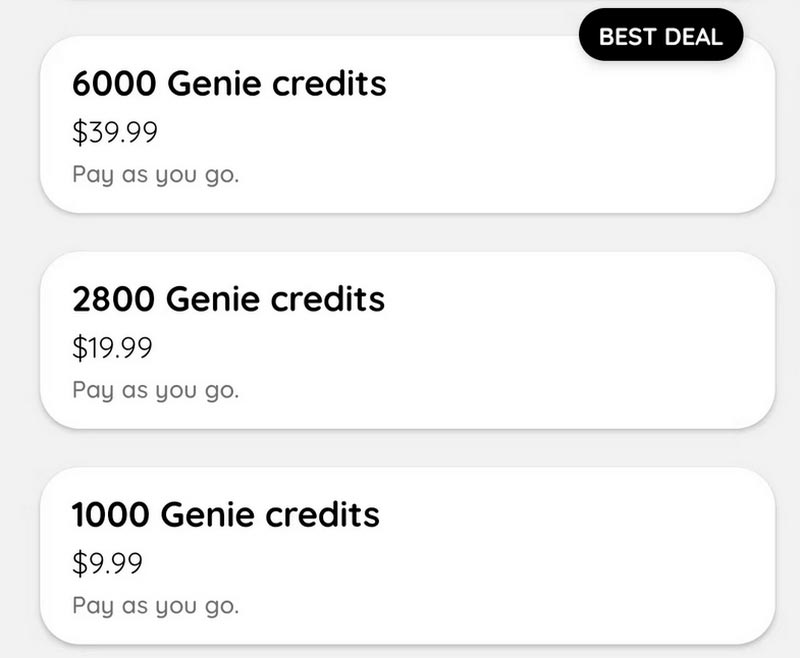 Part 3. Apps Like Genie
Genie is fabulous, but it still has space that needs improvement. Some excellent alternatives are on the market to compensate for its limitations, such as ParagraphAI, Writecream, and Chatie. After comparing and analyzing them, you can choose the one that suits you best.
ParagraphAI
ParagraphAI is powered by ChatGPT, the same model used in the ChatGPT product. It can help you with improving productivity and writing quality. ParagraphAI can correct or rewrite drafts and outlines using professional spelling, grammar, and vocabulary while interpreting the tone of your writing with the highest quality GPT AI sentiment analysis to ensure you are conveying what you want to say. The latest update of this tool is May 2023. It can discuss with you the most popular topics and the hottest events.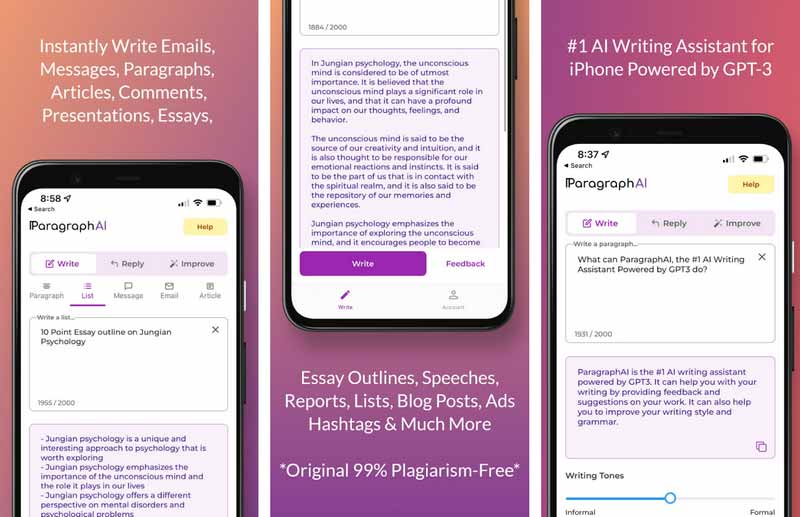 Writecream
This software is a free AI writer that can help you write articles on various topics at a very fast pace, and it also guarantees the originality of your work. It can also fill the gaps and inspire if you hit a creative bottleneck. Moreover, it can be used as an AI blog writer to help you write content posted on blogs or other social media. More than 75 languages are supported in this App.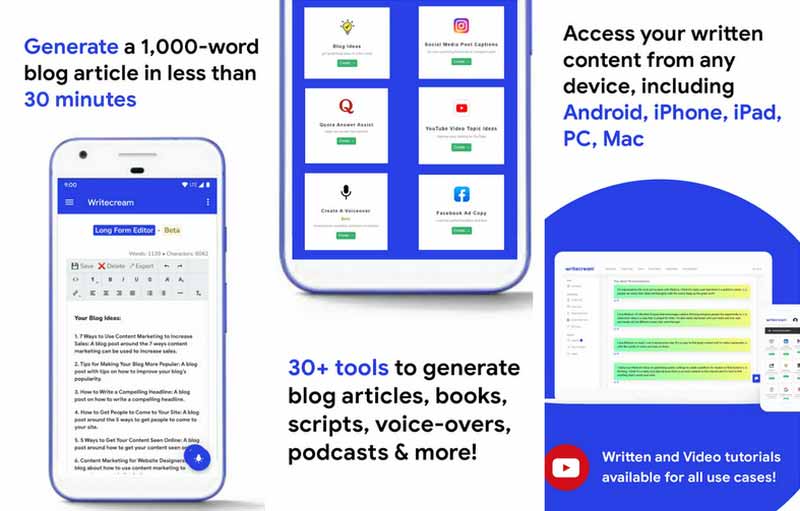 Part 4. FAQs of AI Writer
Why do I have to pay for interacting with AI?
Chat AI always applies the technology from OpenAI. Every time you interact with AI, the software must request the servers from OpenAI, and the developers are charged accordingly. That's why most of them have further charges.
Will AI replace writers?
Even though the AI is already writing at a high level, it still makes all kinds of mistakes. It is only reliable sometimes. And the works of human authors tend to have a deeper emotional resonance. AI writers cannot replace those wonderful human writers.
Can Google detect AI content?
Yes, Google can detect AI content. Google keeps on developing new algorithms to analyze the pattern of AI-generated content. However, the content written by old models like GPT-1 and GPT-2 is easier to detect. The newest GPT-3 and GPT-4 based on OpenAI's ChatGPT are advanced, making their written content harder to detect.
Conclusion
This article leads you to a comprehensive understanding of Genie. Its strengths and weaknesses are very sharply marked out. If you also want to chat with AI or let it help you with some text tasks while talking with it, download one and try it out!
AnyMP4 Video Converter Ultimate
All-in-one video converter, editor, enhancer upscaled with AI.