Reviewing YouChat App: Instant Translate, Createm, and Generate Information
YouChat is an artificial intelligence that can answer general questions, explain things, make suggestions, translate, summarize material, create emails, and generate code for you. YouChat is driven by artificial intelligence and natural language processing, allowing you to converse with it human-likely. Because it constantly learns from massive amounts of online information, it may occasionally get some answers wrong. Its AI is always improving and frequently shares sources for my responses.
However, that is only an overview of the applications. Let us know more about it using this article as we review YouChat and its features. We will also see how it varies on ChatGPT and other alternatives we can use. without further ado, let us get started.

Part 1. What is YouChat?
You.com is a search engine that is more conversational in nature. YouChat is an artificial intelligence (AI) platform created by You.com. YouChat is constructed with existing Large Language Model (LLM) AIs and YouChat. com-created bespoke features.
You may use the search engine functionality to conduct typical web searches, but YouChat, this AI Chat Bot apps can also obtain the required information. You don't receive answers on YouChat by typing a keyword or phrase into a search field. Instead, you use a chat interface to pose a comprehensive question, just like you would to a person. There is no need to go to other websites or do a lot of reading to find the answer because everything is supplied online in the chat session.
This is the breakthrough YouChat and other AI search tools provided: they condense massive amounts of papers and websites to give you a concise, detailed answer to your question. Traditional search engines require you to visit numerous websites to gather and synthesize information for your own answer. YouChat and similar platforms conduct the synthesis for you, delivering responses faster and allowing you to ask follow-up questions that keep the context of your original query, just like you would with a personal expert.
Part 2. YouChat Review
Conversational Search and Prompt Responses
YouChat enables us to conduct conversational web searches like Google. This web tool will help you get the information you need by just typing what you need. Moreover, YouChat responds to the user's questions in simple language. It is capable of producing blogs, ideas, and code. That feature made this tool popular among students and others who need to gather tons of information.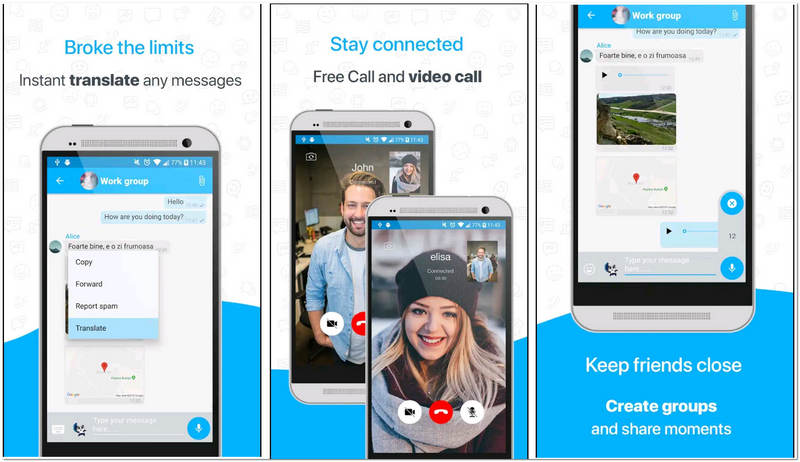 Provides Citations, Multimodal Search, and Real-Time Information
Another feature of YouChat includes citations for all of its responses, making it simple to double-check the facts. This feature is proof that this application is legit and can provide real and factual information. In addition, YouChat searches include tables, graphs, text, codes, photos, and interactive components. It provides these elements to make your documents and information gathering more interesting and brief. This multimodal search feature is suitable for summarizing data and knowing which variable is larger, lesser, and more. The third one, YouChat, offers consumers real-time information, including rich-media formats. This feature allows users to instantly search for fresh, factual information, as mentioned above.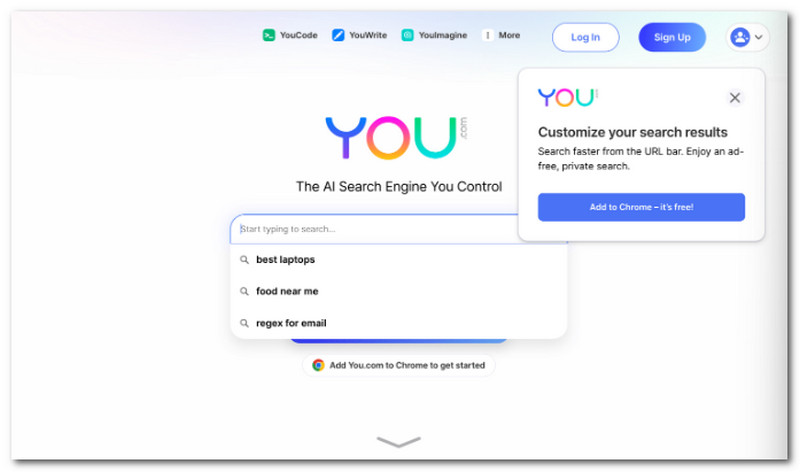 Supports Social Media Profiles, and Contextual Answers
More than the features above, you may also use YouChat to find people by searching their social media profiles and verifying them using their LinkedIn app. We know social media are a great channel for information about certain people. In simple ways, the platform remembers past inquiries and, as a result, gives contextual responses to subsequent questions from specific users or anything we ask.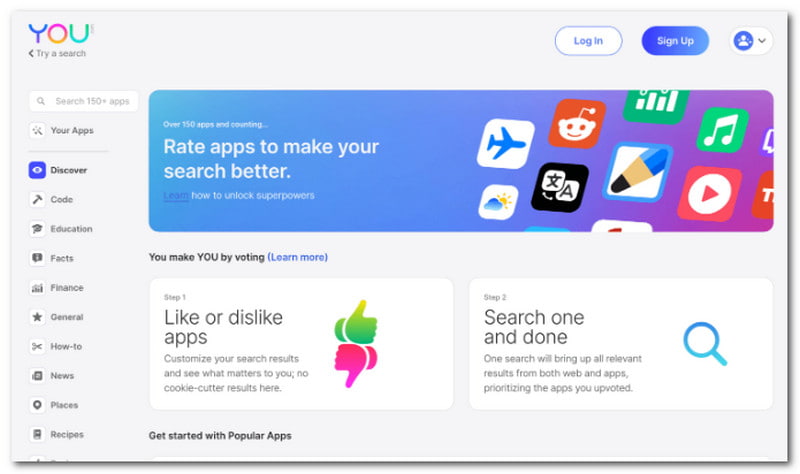 Part 3. YouChat VS. ChatGPT
As we all know, YouChat and ChatGPT are similar; here is a chart exposing the main differences/similarities between the AI applications. Kindly take a look at their details to know more about each tool.
YouChat

ChatGPT

Price
Free
Free
Free Trial
A free Version is available.
A Free Version is available.
Company/Origin
You.com
N/A
Platforms
Windows, macOS, Online, iOS, and Android
Online, iOS, and Android
Easy to Use
Features
Customer Support
Pros

Citations are recommended.
Information in real-time.
Allows for multimodal search.
Human-like conversations
Online search that is intuitive and quick

GPT benefits include increased natural language understanding, faster response times, and more.
The potential to generate more natural-sounding conversations.

Cons

It creates hallucinations of allusions.
The links are no longer valid.

it is challenging to train models to respond effectively to a large variety of topics
Part 4. YouChat Alternatives
Chat with Ask AI
Overall Rating: 4.5
Price: Free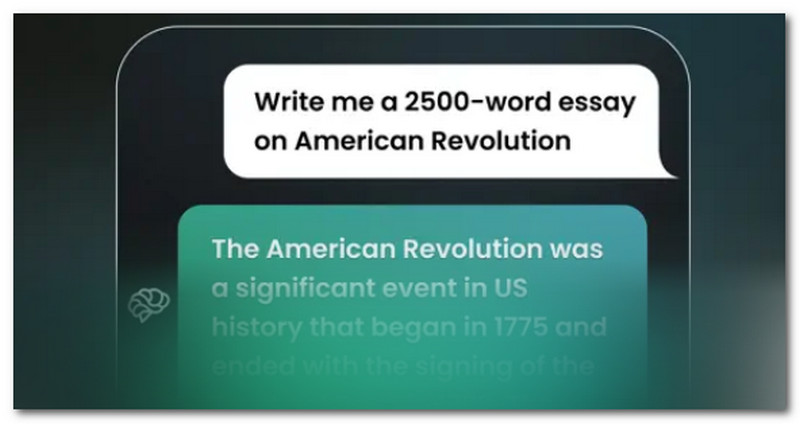 Character,AI
Overall Rating: 4.2
Price: Free
Character.AI is an artificial intelligence program allowing open-ended conversations with machines. The product's unique selling point is bringing various personalities to life. The character's response to the user's inquiry is determined by its attribute, training, and the context of the discussion.
Characters in Character.AI can be both fictional and real-life individuals. For example, you can hold a scientific debate using Albert Einstein's AI avatar. Similarly, you can converse with Keanu Reeves' character about the film. Character.AI is powered by the company's deep learning model, which includes language models. The neural language model serves as the cornerstone of Character.AI. Indeed, it is a great tool like YouChat.

Moveworks
Overall Rating: 4.0
Price: Free
Another great alternative to YouChat is the amazing Moveworks. Moveworks is a conversational AI created exclusively for businesses. To give staff support, this AI-trained tool uses advanced large language models. Moveworks is a conversational AI that focuses on three purposes. For starters, it understands the needs of the employees regardless of how they express them to the platform.
Second, it handles the needs through its natural flow of speech, which is script-free. The final stage automatically integrates the entire technology stack to automatically give the most relevant solution. By automating assistance, Moveworks boosts productivity. Its unique selling point is that it effortlessly connects people to company systems.

GPT-3 OpenAI
Overall Rating: 4.0
Price: Free
OpenAI is the parent business of both ChatGPT and GPT-3 Playground. On the other hand, this platform is specifically created for developers and is best regarded as a developer tool. Developers can utilize GPT-3 Playground to practice prompts and become more comfortable with the API's work. The unifying feature of ChatGPT and GPT-3 is that you assign a task to the platforms, and they complete it. Playground enables developers to use GPT-3 without writing a single line of code. To get started, simply supply the tool with the prompt in plain English.

Part 5. FAQs about YouChat
Is there a connection between the YouChat conversation search engine and the YouChat messaging app?
YouChat, the AI search engine, is unlike the YouChat applications or services accessible for iPhone and Android-based phones. For the YouChat search engine, this tool is suitable for your web browsers. However, if you want a handy AI tool, the AI application is a great choice since it mostly offers a messaging feature. Overall, all of these are connected and offer everyone the same purpose.
Does YouChat have a plagiarism checker?
Unfortunately, YouChat does not offer a plagiarism feature to check the information on the generated details from the tools. However, there are tons of plagiarism tools that we can use. One of these tools is Grammarly, which we can use for web tools and mobile devices.
Does YouChat require my Email to log in?
It will require you to have your Email for their service. However, you can also use your mobile number to create or log in with YouChat. All we need to do is get the code they will send you to your mobile number and verify it with the service to log in successfully.
Conclusion
With the YouChat service, we can now have an amazing AI experience to help us with our tasks, mostly document aspects. Above is the information we gathered just for you to dig deep into the app. Moreover, we also compare YouChat and ChatGPT as we see the similarities and differences between the two apps. Lastly, we also have alternative tools for YouChat, which are also great for making all of your tasks.
Did you find this helpful?
423 Votes
YES

Thanks for letting us know!
No

Thanks for letting us know!
AnyMP4 Video Converter Ultimate
All-in-one video converter, editor, enhancer upscaled with AI.