Lasted Review of Wysa: Anxiety, Therapy Chatbot
Are you feeling anxious, depressed, or overwhelmed but cannot find anyone to talk to? Want to find a comforting space to express your emotions?
As mental health concerns continue to escalate globally, the demand for accessible, reliable, and non-judgmental support like Wysa: Anxiety, therapy chatbot is more significant than ever. Wysa is a trailblazing app to enhance mental health support in our tech-driven world. Wysa combines AI technology with principles of cognitive behavioral therapy and mindfulness practices to help you find the balance.
This article provides an in-depth review of Wysa, exploring its effectiveness, usability, and overall value in the digital mental health landscape. Afterward, it will help you decide if it is worth trying and subscribing when you need mental health help.

Part 1. What is Wysa App
Wysa: Anxiety, therapy chatbot is a mobile application designed to provide emotional health and wellness services by AI (Also named as AI chatbot). It lets you talk with a penguin chatbot about whatever's on your mind. This AI-powered 'pocket penguin' provides psychological support to users worldwide, helping them self-manage stressors and mental health.
Wysa is built on cognitive behavioral therapy (CBT), dialectical behavior therapy (DBT), yoga, and meditation principles. It's meant to serve as a safe space where users can express their feelings without judgment. You can engage in text-based conversations with the AI, designed to help you work through stress, anxiety, sleep loss, and a host of other mental health-related concerns.

Pros

It's free and simple with a user-friendly interface.
Offer support for a variety of mental health issues.
The chatbot provides you with help and advice 24/7.
Cons

The free version has limited features.
Support chatting with English only.
Part 2. Wysa App Review
Basic Details
Version: 3.2.1 (2023)
Platform: Android and iOS
Developer: Touchkin
Pricing:
Premium: $11.99/month, $74.99/year, $129.99/lifetime (Tools)
Premium Plus: $99.99/month (Coach and tools)
Home Screen and User Experience
On the Wysa home screen, you can see the AI chat penguin that always prepares to talk with you. Once you start the conversation, the penguin will ask you to do a mood check-in. These are quick and ask you to move a smiley face up or down to let it know. Then, it will guide you to continue a talk, reframe thoughts, practice gratitude, or practice mindfulness. For example, you will get a few mindful meditations once you select the Practice Mindfulness button.
Also found on the home screen is quick access to different tool packs. There are over 100 therapeutic exercises to manage your anxiety, stress, pregnancy, self-esteem, and more. You can choose any one and follow the exercise introduction.
More than that, Wysa also shows the Coach and Journal tab on the home screen. To access the Coach, you need to have a paid plan. Switch to the Journal tab, and you will find that the feature is not a diary but a list of everything you have finished in Wysa. And you can view all the dates and times of each exercise you completed and reread what you chatted about before. Rereading the previous thoughts and seeing how you reframed them can effectively show your growth over time.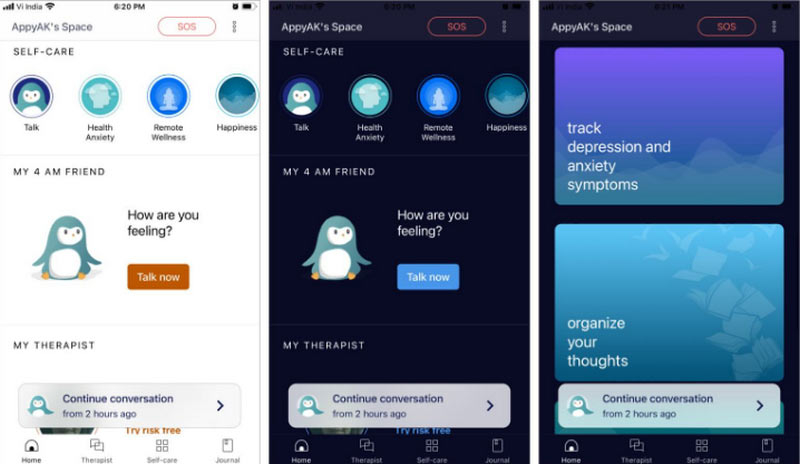 Overall, Wysa's interface is user-friendly, and its design is very intuitive. That's one of the reasons why it is so popular.
Wsya and the Missing Middle of Mental
The mental health needs of most of the world are not being met. Mental health support is vast, ranging from self-care practices to intensive professional interventions. This spectrum often exhibits a missing middle between self-help strategies and full-fledged therapy. It is where Wysa positions itself as a bridge.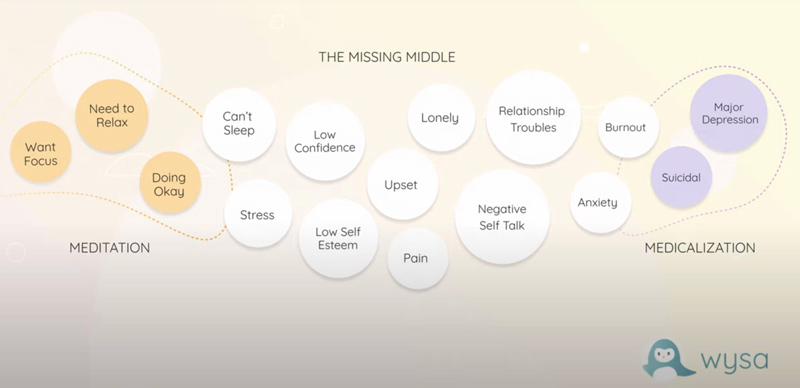 Wysa aims to provide immediate, anonymous support for those who may not need professional therapy but want more than self-help. The app engages you in empathetic text-based conversations, offering tailored responses based on established therapeutic techniques like CBT and DBT. Meanwhile, Wysa serves as a constant companion. It offers various mental wellness tools to help you manage stress, anxiety, and sleep issues.
However, Wysa has its limitations. The AI interaction lacks the depth and complexity of human understanding. It may not fully catch the nuances of your emotional state. But it is a vital part of mental health support.
How Does Wysa Work?
Wysa works by providing an interactive, AI-based chat interface where users can express their thoughts, feelings, and concerns. And here's a general idea of how the process works.
You can download the Wysa app from the Apple App or Google Play Store. After installing, Wysa will start with some initial questions to understand your state of mind and what you're seeking help with. It helps tailor the AI's responses to your needs. Then, you can chat with the AI bot. For example, you can type in your thoughts and feelings, and the bot will respond with empathy, offering exercises, mindfulness techniques, and suggestions based on psychological approaches.
Meanwhile, Wysa offers a range of tools that you can use to manage stress, anxiety, sleep issues, and more. It includes guided meditation and breathing exercises, sleep stories, CBT-based techniques, and more. For more personalized support, Wysa also allows you to chat with a human coach or therapist, though this service requires a paid subscription.
Tips
While Wysa can help manage stress and improve mental well-being, it's not a substitute for professional medical advice or therapy. If you're experiencing serious mental health issues, seeking help from a healthcare professional is essential.
Part 3. Apps Like Wysa
Mental health is a big problem for many people. Sometimes, they need more help. Like Wysa, here are two applications that are highly recommended in the field of digital mental health support.
Woebot: Your Self-Care Expert
Woebot is a mental health chatbot app designed by psychologists from Stanford University. Like Wysa, it uses cognitive-behavioral therapy (CBT) principles to help you manage your emotions. It lets you engage in text-based conversations with Woebot, which provides empathetic responses and offers guidance based on CBT. Woebot provides educational information on various mental health topics, helping you better understand your emotional processes. The app is designed to be a readily accessible tool for mental wellness, providing support whenever you need it.
Besides, Woebot is easy to talk to and fits into your life whenever you want to chat. There's no such thing as appointments or waiting rooms, so you can quickly start chatting. When you're feeling sad, angry, or anxious or just need to check in, Woebot is always here to help you work through it.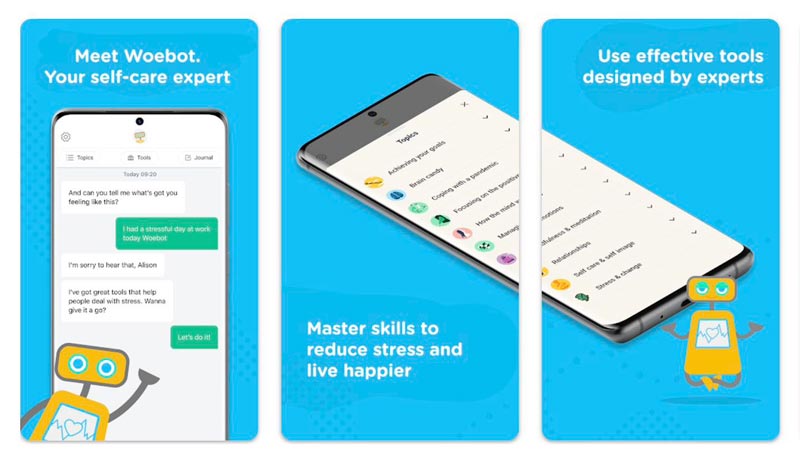 Youper - CBT Therapy
Youper is another Wyse AI alternative that combines various therapeutic techniques to support users. It incorporates methods from CBT, Acceptance and Commitment Therapy (ACT), mindfulness, and other therapeutic approaches. Youper facilitates personalized conversations with you, helping you understand your emotions, improve your mood, and develop better coping strategies.
Additionally, Youper includes a mental health assessment feature, which can help you track your emotional health over time and gain insights into your mental health patterns. Then, you will think more clearly, deal with stressful emotions, and take control of it.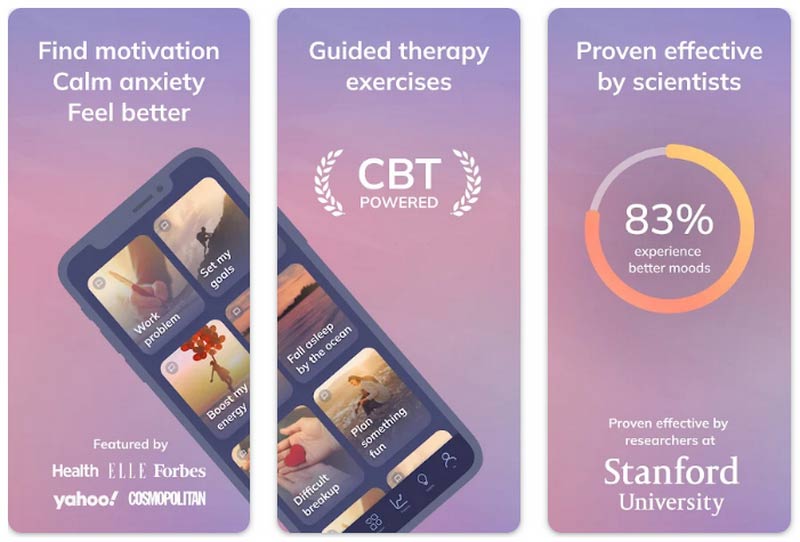 Part 4. FAQs of the Wysa App
Is the Wysa app free?
Yes. Wysa is a free, anonymous, and low-pressure app. Talking to the Wysa bot is free, including tools offered in chat. It also provides a paid plan, and you can upgrade to its premium (plus) version to access more advanced features, such as a mental coach.
Is the Wysa app safe?
Yes. The Wysa app was designed with privacy in mind and reportedly adheres to HIPAA guidelines, which means it handles user data with high security and confidentiality.
Is there an age limit in Wysa?
Yes. Children under 13 years old cannot use Wysa. And if you are less than 18, read through the Terms of Service and Privacy Policy with your parent before using.
Conclusion
Let us now enjoy chatting and doing exercises with the Wysa chatbot. You will find that getting out of anxiety or depressed emotion is easier than you struggle with that by yourself alone. Rebuild the mental balance is a great choice for using the Wysa app. If you have more ideas about Wysa, please leave your comments now!
Did you find this helpful?
367 Votes
YES

Thanks for letting us know!
No

Thanks for letting us know!
AnyMP4 Video Converter Ultimate
All-in-one video converter, editor, enhancer upscaled with AI.