Detailed Review of Chatie - Chat Stories (Features and App Similar to it)
Do you consider yourself a bookworm? Or is someone falling in love with words, stories, and imagery? Then, we are sure you will love unique stories and novels. That is probably one of the great factors and reasons why you are reading this article. We want to assure you that you are at the right phase. That is because, in this article, we will review the Chatie - Chat Stories app and how we can use it to discover different stories we can read and to create stories we can share with all the users.
This review post proposes to help you understand if this application is worth trying and what features it can offer for all of us. In addition, we will also give you another similar application so that you will have choices. For that, we shall now start!

1. What is Chatie - Chat StoriesApp?
Chatie - Chat Stories is an application that can take you to different worlds using words and stories. This application offers tremendous stories coming from the same users of Chatie. These stories are all free! Novels include dialogue in a variety of genres. You name it: romance, thriller, mysteries, fantasy, real stories, fan fiction, and more. Any kind of genre is here. With Chatie - Chat Stories, you will discover a new approach to reading a narrative. It is not like a novel, comic book, or webtoon. With each tap, a conversation bubble and a background effect appear. That makes your reading more immersive and fun. Moreover, a K-pop idol fan-fic romance, vampire fantasy, and historical fiction where you fall in love with a prince. All you have to do is tap in this AI chatbot.
In addition, it is very simple to write a dialogue tale, short stories, novellas, and more using this application. All it takes is a few taps on your phone to create a conversation story. More than that, all of the Chatie users are eager to be captivated by your incredible story, so please ensure to create fascinating stories as we expand your fandom and realize your dream of being a real writer. All of those are possible with Chatie - Chat Stories.
That is just an overview of what we can do if we install the amazing Chatie - Chat Stories on our mobile phone: to read and write like a real writer. Kindly dig deeper into this post as we discover more features this app offers.
2. Chatie - Chat Stories Review
Chatie - Featured Stories
It offers a space with different stories we can read. There are tons of stories available on it. Most of the time, it features stories based on the things you like. Under this page, we will see a portion where we can see the Editor's Pick. Mostly, under this are the stories that many writers and developers of the applications want to read. All the stories featured here are highly recommended, and you must try them. In addition, it also has a portion of the top trending stories within the applications. Remember, these stories will not be trending for no reason, so try one of them too.
Chatie - Library
On the applications, once you have your own account, you also have your own Library already. This feature helps us organize every story we want to read and keep for future endeavors. Under this portion, you can see all the stories you Recently Viewed. In this portion you can go back to the last story you read. Using this feature, you can also see the stories coming from your Following, which allows us to keep updated with each other. Other than that, your like stories are still here.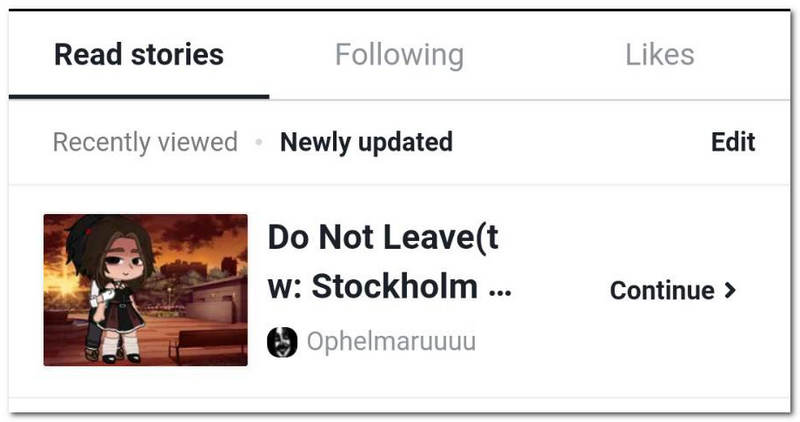 Chatie - Personal Page
We are now sharing information about one of the fascinating features we can enjoy in this application. The incredible Chatie -Chat Stories offers you one page where you can create your own stories to share with everyone. In this feature, you can also see the users you are following and the fans you have; more importantly, this feature is where you organize and gatekeeper the stories you are creating. You can decide if you will post them or keep them for yourself.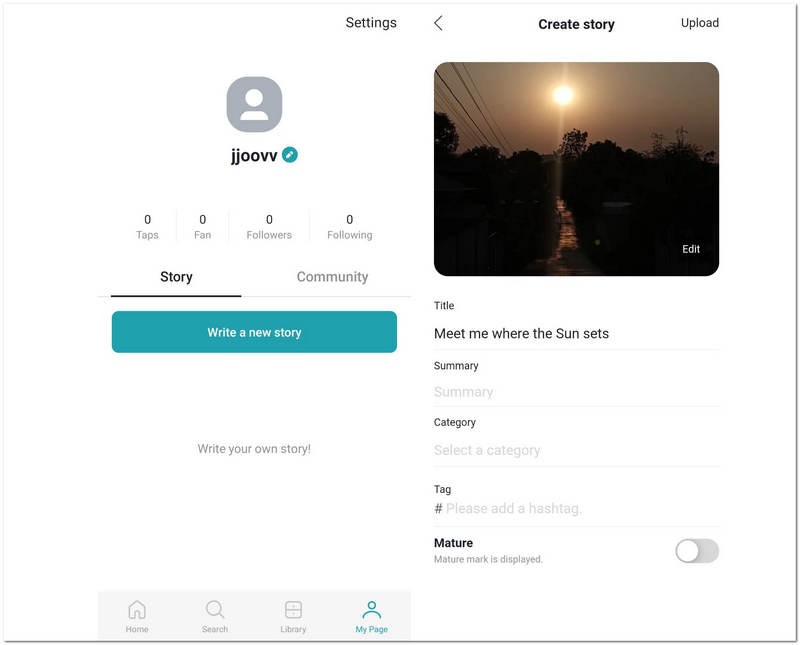 3. Apps like Chatie - Chat Stories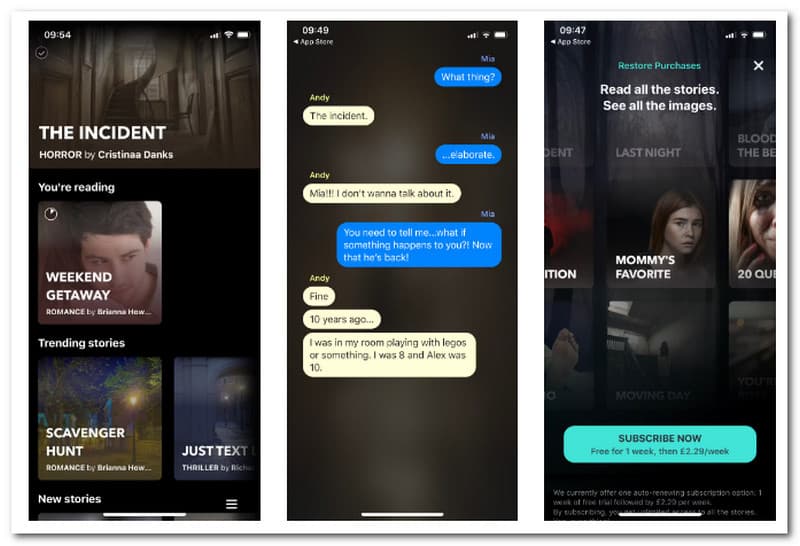 ReadIt
Platforms:iOS and Android
Expect ReadIt tales to pique your interest immediately. However, remember that you must subscribe to read the entire story and see the photographs. Many users do not expect this and, as a result, are disappointed while enjoying the material. Horror, romance, and thrillers are among the genres available. The software automatically selects fictional chats for you to read. You can, however, select your own stories by scrolling to the top and hitting the X button.ReadIt is one of the highest-rated conversation stories applications on iTunes, and it's worth downloading to see why. The features that made this app a great alternative to Chatie- Chat Stories.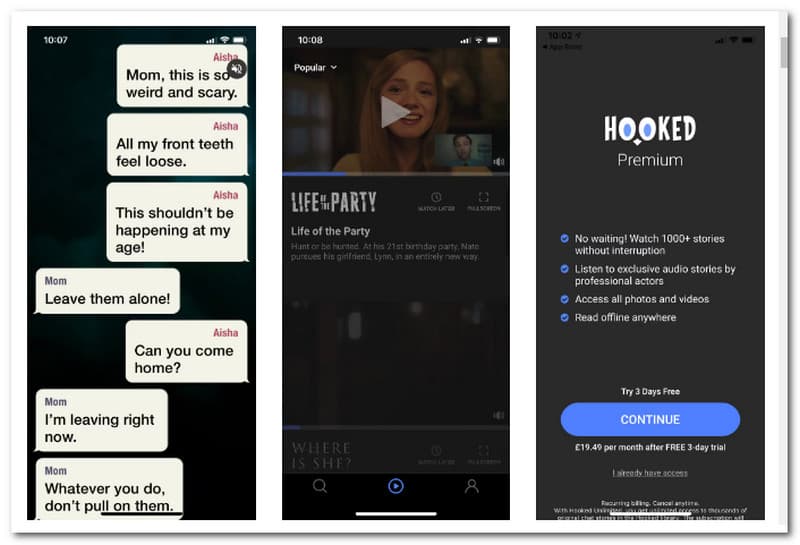 Hooked
Platforms:iOS and Android
Hooked provides compelling conversation stories to the people through a business strategy that stresses how stories must evolve, as the company describes on Medium. Hooked topped Instagram and Snapchat in the iTunes charts at one point. Like other applications such as Chatie- Chat Stories, Hooked provides original stories in a chat-based structure. You may also download audio recordings to hear actors read the messages loudly as they come onscreen. If you don't want to read, Hooked also has short films to view. The content includes romance, horror, mystery, and comedy.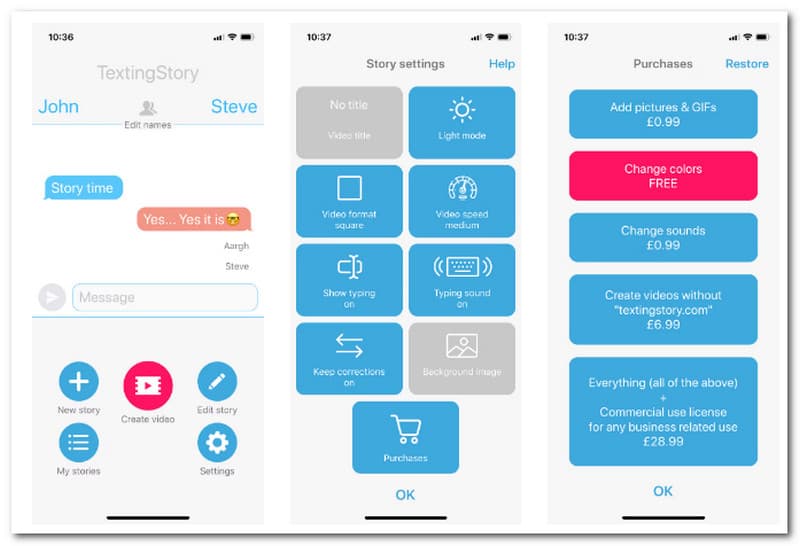 TextingStory
Platforms:iOS and Android
TextingStory is a program that allows you to construct your own chat-style stories, unlike the other apps on our list. Make up an amazing story and text it to yourself with as many characters as you choose. Images and GIFs can be used to provide extra color. Then, to share your finished story with your friends, export it as a video. TextingStory is completely free to download and use. However, in-app payments are required to add custom alarm sounds or to enable photo and GIF capability. After you have completed your story, select the video speed and format you want before exporting it. You must purchase an extra in-app purchase to remove the TextingStory watermark from your finished movies.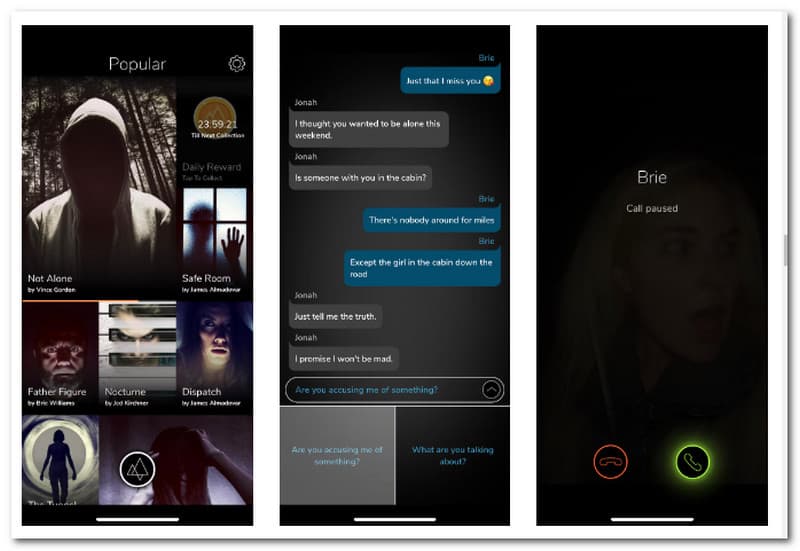 Cliffhanger
Platforms:iOS and Android
Most of Cliffhanger's stories are thrillers, mysteries, or horror, as one might anticipate from the name. You may read stories for free or join up for a weekly membership to get more consistent stories as well as access to photographs and videos. Cliffhanger fans believe the text stories in this app are simple to understand and completely addictive. They admit to getting lost for hours in the stories, which are updated weekly. So, if you're planning a long airline or train ride, this app might make the trip more bearable.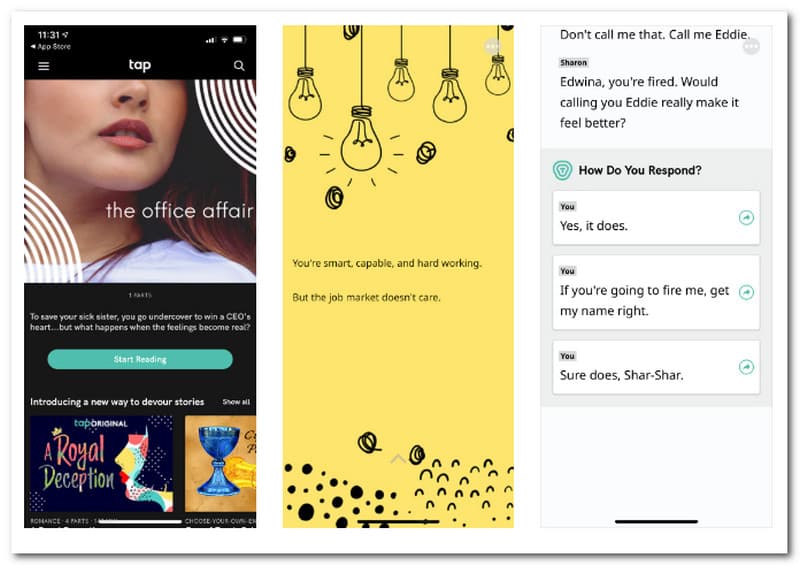 Tap: Wattpad
Platforms:iOS and Android
Tap by Wattpad delivers stories with visuals, bright backdrops, noises, and videos than text-only conversation stories. This makes each narrative more entertaining and fully utilizes the technology available on your smartphone. Wattpad's Tap has a massive library of stories in every genre imaginable, including an LGBTQ+ section. Most of these stories have alternate endings, giving you more reasons to return to your favorites.
4. FAQs about Chatie - Chat StoriesApp
Does Chatie - Chat StoriesApp offer programs for the desktop version?
Yes. Chatie - Chat StoriesApp offers programs for desktop versions. That means we can continue reading stories or creating novels on a bigger screen. As we all know, it is a bit of a hassle to type for so long using the keyboard on our mobile phones. Using this version, the outwriting process can now be sped up.
What are the Chat Stories?
Without any narrative, chat fiction stories are presented as digital text dialogues between two or more characters. The format restricts viable storytelling options and offers authors a challenge in expressing narrative solely through dialogue. Horror and thriller stories are the most popular.
Can I create an account on Chatie - Chat Stories using my Gmail?
Yes. creating an account on Chatie is possible using our Gmail account. In addition, it is also possible to create an account using your Facebook. All of these purposes are to use the app with ease.
Conclusion
Let us now enjoy reading and writing stories with Chatie- Chat Stories. In addition, you can also do the same with the five alternative tools above. However, if you know a friend who also loves reading and writing stories, then there is no way that you can gatekeeper this information to him or her! Share it now!
Did you find this helpful?
357 Votes
YES

Thanks for letting us know!
No

Thanks for letting us know!
AnyMP4 Video Converter Ultimate
All-in-one video converter, editor, enhancer upscaled with AI.