Detailed Review of MusicBee Player: Explore the Features and What it Can Offer
Most of the time, listening to your favorite music with the bad performing audio player can ruin the immense experience. Therefore, having an audio player that can offer you the best audio will prevent you from getting pissed-off from listening. For that being said, to know if an audio player software is a great choice to use we may review it. In line with that, if you are planning to use MusicBee in playing your audio this post exists for you. We will review MusicBee audio player, its features, price, playback formats, add-ons components, and more. At the end we may know if it is a nice choice to utilize in playing your audio. Without further ado, let us start the review.
1. Our verdict
Pros

Updating frequently, in fact, the last update is May 2021, as of October.
Jam packed with features and functions for very affordable and accessible.
Less complicated to use.
Incredibly fast audio player.
Cons

The interface is a bit dull.
Crashes occur sometimes.
Overall Rating
As we begin with an end in mind, it is proven that the MusicBee Player has the potential to offer the best features of a music player. From its speed, numerous features, easy to use tools, and more. We can say that it deserves to rate higher. In fact a lot of users trusted and proved it for a long time now.
Easy to use9.0
Smooth Playback8.5
Supported Formats9.0
2. What is the MusicBee Player?
Price
This amazing audio player offers the best features and amazing functions for free. It is known to be the best and cost-efficient music player in the market because it is accessible for everyone. Therefore, you may get a MusicBee audio player for free, just download MusicBee from their website now.
Platform
MusicBee Player is created and licensed as a freeware that is compatible with your Windows 7, Windows 8, Windows 10, and more that has a 32-bit and 64-bit operating system. Currently, it has the MuisBee 3.4.7805 as the latest version that is available now in the market.
MusicBee Main Features
Main Features
Possess amazing sound quality because of the 10-band to 15-band MusicBee equalizer.
Possess amazing sound quality because of the 10-band to 15-band MusicBee equalizer.
It offers DSP effects that are kind of similar to the equalizer.
It is capable of crossfade or gapless playback for uninterrupted listening.
It utilizes logarithmic volume scaling to properly modify the volume streaming.
To enhance your audio, you may now use WinAmp plugins with MusicBee.
Incredible MusicBee skins that can be easily downloaded or customized.
MusicBee Sync your audio files with whatever devices you use.
There are still a lot of features that this audio player can offer – CD Ripping, tagging tools, and more.
3. MusicBee Player Review
User Experience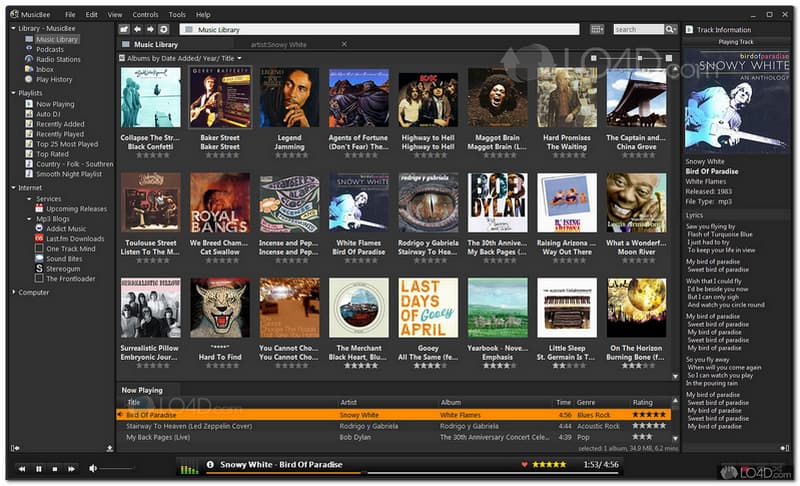 In accordance with the users of MusicBee Player, they defined it as completely packed with features, considering its price. As we tried it, the interface is just light and will see nothing but just the functions, buttons and features of it. It is a very lightweight audio player that is very simple and easy to use. It is actually suggested for all the new users out there. Although, the player is not perfect and it still possesses flaws. There comes a time, where the software froze for a second in playing the files. Through updates and other needs, we may prevent these kinds of troubles soons. Overall, the user experience is rated high.
Add-on Components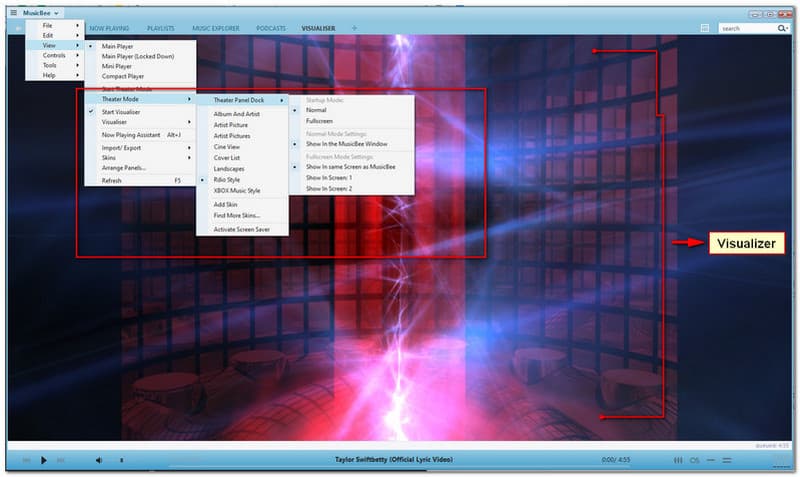 Just so you know, MusicBee audio player also offers add-ons components other than its main features. We in this part are now proving why MusicBee is one of the best and cost efficient players for everyone. Below is the list of the add-ons for MusicBee player.
● Visualizer - grab your visualizer with full hues that are appealing to the beholder.
● Theater Mode - this mode will give an extraordinar overwhelming experience of listening to music.
● Misc - it is capable of enhancing your MusicBee journey.
Audio Playback Format
When it comes to the Audio playback format of MusicBee audio player, it actually supports a wide variety of audio file formats. It includes MP3, AAC, MPC, M4A, ,OGG, ALAC, FLAC, APE, and more. Even audio CDS is also supported by this audio player. Therefore, you do not need to worry about your playback format because MusicBee got you. You may now play your audio in any format through this audio player.
| | |
| --- | --- |
| Audio File Formats | MP3, AAC, MPC, M4A, ,OGG, ALAC, FLAC, APE, and more. |
Synchronization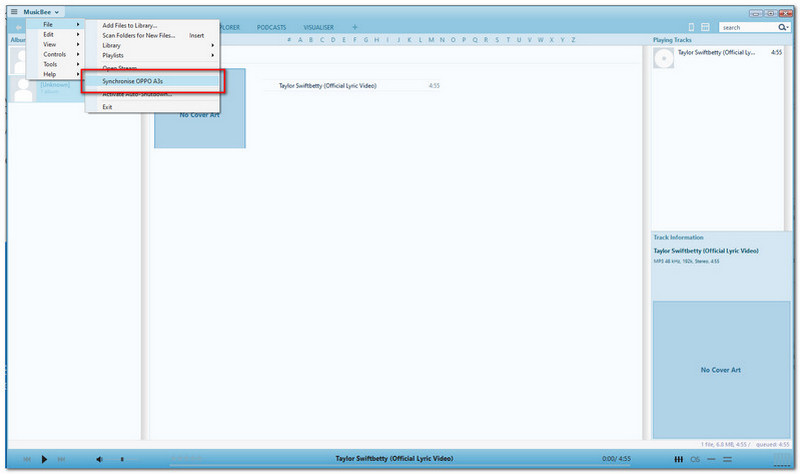 We listed that one of the main features of MusicBee is its ability to Sync, that is real. Through MusicBee synchronization with your devices with ease is possible. The best thing about it is that it supports any kind of audio like music, audio books, podcasts, and more. In addition, syncing your Android or Windows with 8.1+ mobile devices is possible here too.
Library Management
In addition to the features that we should flex about this player, is its ability to manage libraries. Through the MusicBee player you may now manage your audios properly. Just create, add, import your library instantly. Therefore, for that being said you do not need to worry about messy and chaotic audio files because utilizing the library features can alleviate it for you.
4. MusicBee Player Download
MusicBee is highly compatible with Windows 10/8/7, and you can download this media player here: https://www.getmusicbee.com/downloads/ Surely, you can download MusicBee plug-ins, skins, visualizers, and more to use its powerful features.
5. MusicBee vs MediaMonkey vs Foobar2000
When it comes to music manager, another 2 tools, MediaMonkey and Foobar2000, will come into your vision. Let's see what is the best one music manager and plater among them.
| | | | |
| --- | --- | --- | --- |
| Features | MusicBee | MediaMonkey | Foobar2000, |
| Video player | 9.4 | 9.4 | 9.5 |
| Music player | 9.5 | 9.5 | 9.6 |
| Speed | 9.5 | 9.2 | 9.2 |
| Design | 9.5 | 9.3 | 9.2 |
| Virtual tags | 9.6 | 9.2 | 9.3 |
| Plug-in customization | 9.5 | 9.5 | 9.7 |
| Device synchronization | 9.3 | 9.5 | 9.2 |
6. FAQ
May I use MusicBee with my Mac computer?
Fortunately, MusicBee Player offers a version that is compatible with your Mac. Just download it from the website with ease so that you can utilize MusicBee Player using your Mac computer now!
Is it allowed to convert FLAC to MP3 using MusicBee?
We do not think so, as we know MusicBee player is known to be great in playing your music. However, converting FLAC audio to MP3, you might need converting softwares for that. In fact, MusicBee has its own converter called the ALL2LAME. Try it now.
Is It easy to update MusicBee?
Yes, MusicBee is just one click away to update. Just make sure that you are at their legit website and see for the information about their updates, and from there you may now download the updated version of it to your computer.
Is MusicBee free?
Yes. MysucBee is a freeware to manage music library on Windows computer. You can free download this music manager on your Windows computer completely.
MusicBee ripping CD is not working, and how to fix it?
1. Reinstallall MusicBee. 2. Check the CD ripping preferences to make the CD detected by MusicBee. 3. Windows backwards compatibility issue. Windows do not recommend installing HHD or DVD/CR-ROM to A: or B: drive.
7. Best Alternative- AnyMP4 Blu-ray Player
If you think that MusicBee Player is not enough for you, or there are some requirements that you do not meet. Well, we have the best alternatives for you. Introducing you to the fascinating AnyMP4 Blu-ray Player. This player is known to be the best media player on the market that possesses incredible features and tools in playing your various file formats, especially your music files. Therefore, we guarantee you that you may now enjoy an immense experience in listening to your favorite tracks. For this player it is just easy to use, that means less complications you may experience.
In addition, AnyMP4 Blu-ray Player is equipped with an advanced playing or processing technology that boosts your playback as smooth as possible. Just like the MusicBee, it also offers tools where you can organize and manage your media files using the smart local music library. Actually, there is still a lot that AnyMP4 Blu-ray Player can offer, however, those features presented above are more than enough to say why it is the best alternative you may use to MusicBee Player. Try it now to experience what we have been told.
Conclusion
There is so much blast in here. As we reviewed MusicBee Player we found out that it has a lot to offer. From its playing experience, tools for playback, like the visualizer, library, equalizer, and more. We know that all of these are free, right? Therefore, we can say that MusicBee Player is one of the best, just like the AnyMP4 Blu-ray Player as an alternative. If this article is helpful, you may share it to others so that they will be informed, too.
Did you find this helpful?
246 Votes
YES

Thanks for letting us know!
No

Thanks for letting us know!
AnyMP4 Blu-ray Player
Make Blu-ray, DVD, and video playback easier on computer.