Updated Review of AIMP Player: Professional Audio Player with Fast Processing Speed
Great music can really strengthen the camaraderie between your friends and loved ones. That is why, If you are planning to have a sound trip with your friends, you will need a fantastic audio player that possesses amazing features. Well, you do not have to be worried, because we have here AIMP Player- one of the best music players in the market nowadays. This media player can really offer the greatest functions compared to any others. Are you curious about it now? If that is the case let us start the AIMP Player review.

1. What is AIMP Player?
AIMP Player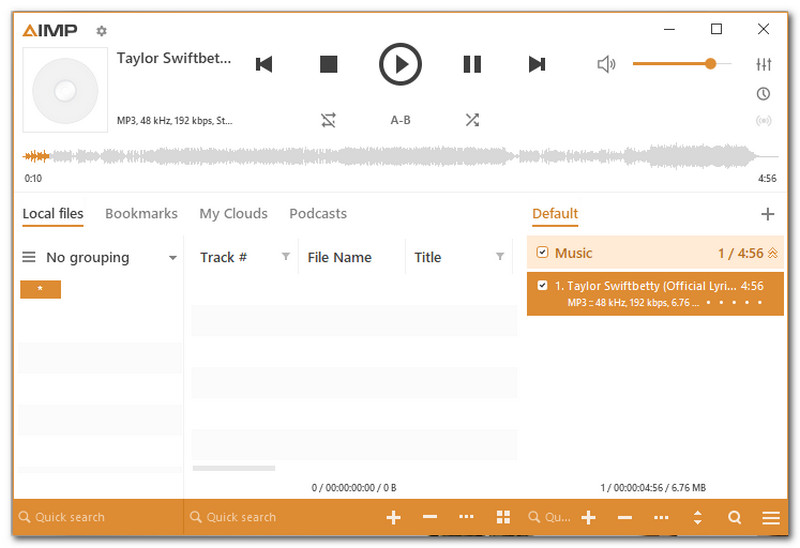 There are millions of audio players in the market nowadays. This media player has the ability to offer various features and functions. One of the best is the AIMP Player, this player is capable of playing your music smoothly and enjoyable. It can also act as an audio organizer to manage your audio files. Aside from these wonderful features, AIMP Player is an adaptable program that can provide you numerous features that are beneficial for us users. In addition there is also an AIMP Player App perfect for your Androids. Let us dig deep about it as we continue this article.
Price
AIMP Player is a free audio player. You can enjoy its full features that are designed for a very high sound quality. All you need to do is download AIMP Player from its official web page and install it properly with your computer devices.
Platform and System Requirements
AIMP Music Player for Android
Operating System: Android 4.4 - KitKat or Android 11
CPU: ARM64 / ARMv7 / x86 / x86-64
RAM: 2 GB of RAM or more
AIMP MP3 Player for Windows
Operating System: Windows Vista / Windows 7 / Windows 8 (8.1) / Windows 10 / Windows 11
Minimal Screen Resolution: 1024x768
RAM: 2 GB of RAM or more
Main Features
It is already common knowledge that AIMP Player offers a lot of functions that we can really use in playing out media files. That is why in this part we listed a few of the features you can get with this media player.
● It supports multi-format playback.
● Provides a wide range of output supports.
● The best audio processing technology.
● Provides internet radio. Liste everywhere.
● Availability of playback queue and bookmarks.
● Offers AIMP plugins that can add new utilities.
● Supports various clouds like OneDrive, Google Drive, DropBox and more.
● Listen to various podcasts.
● Support a 4K and super high DPI video.
● Possess flexible UI.
● Utilizing the clean Music Library.
● Extra features like the Tag Editor.
● Cross-fading of listening music.
● AIMP preset genre equalizer.
2. AIMP Player Review
Pros

Supports multiple platforms including Androids and Windows.
It is a free application player.
No advertisements for uninterrupted listening music.
User friendly and easy to use.
Offers unique features and functions.
No complication in installing.
Cons

Audio files should be manually added into the AIMP playlist.
UI buttons are confusing to use since they are not properly colored.
Can play video but without video playback.
User Experience
First, the user experience of AIMP Player from the users is great. They found it very easy to use. In terms of its playback, it has a smooth and clean audio playback that can give you an amazing experience of listening to your music. However, there were some complications when they utilized the UI buttons. However, despite that the user experience is great.
AIMP DSP Manager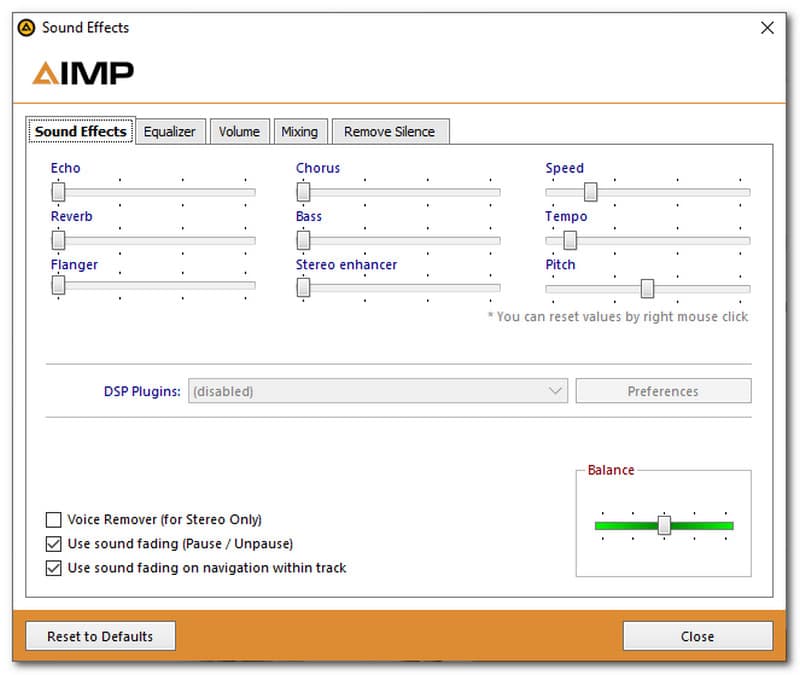 AIMP toolbar offers various types of tools. One of the best among these is the AIMP DSP Manager. This is an audio setting that will allow you to make your sound manager better. The AIMP sounds effects tab will provide you different features like the echos, reverb, flanger, chorus bass, speed, and more. This is a bit similar to AIMP Enhancer, but the DSP Manager is more of a general tool that offers various features that will help you improve your sound quality. Therefore, with these two features offered we can really say that AIMP Player wants to offer what is the best for their users.
AIMP Enhancer
The Enhancer of AIMP provides an excellent DSP plug-in. It is a really effective tool in enhancing music files' sound. This tool is very easy to utilize. Furthermore, it has an automatic level control that is very nice in touch. In addition, the presets work really great with your video file, plus the effective boost buttons for those people who love more loud sounds. Overall, the Enhancer was created to offer a great music playback for your music.
AIMP Equalizer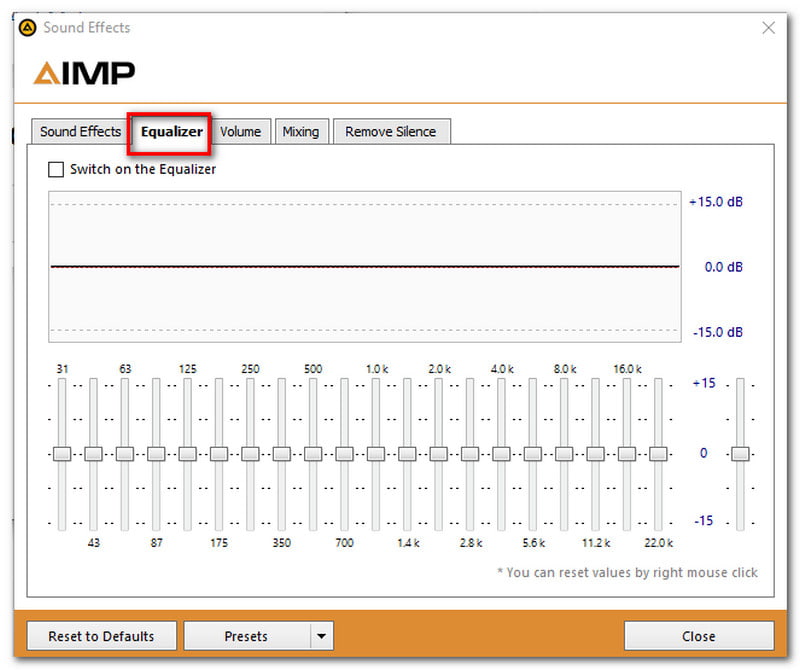 AIMP Media Player has a very powerful 18-band equalizer that is ranging from 31-hertz to 16.0 Kilohertz. In fact, this is actually equipped with built-in equalizer presets and options that will enable you to save your customized settings. In terms of its simplicity, it is really easy to use as a drag and drop process. That is why it may be overwhelming to use at first, we guarantee you that is not.
AIMP Classic Utilities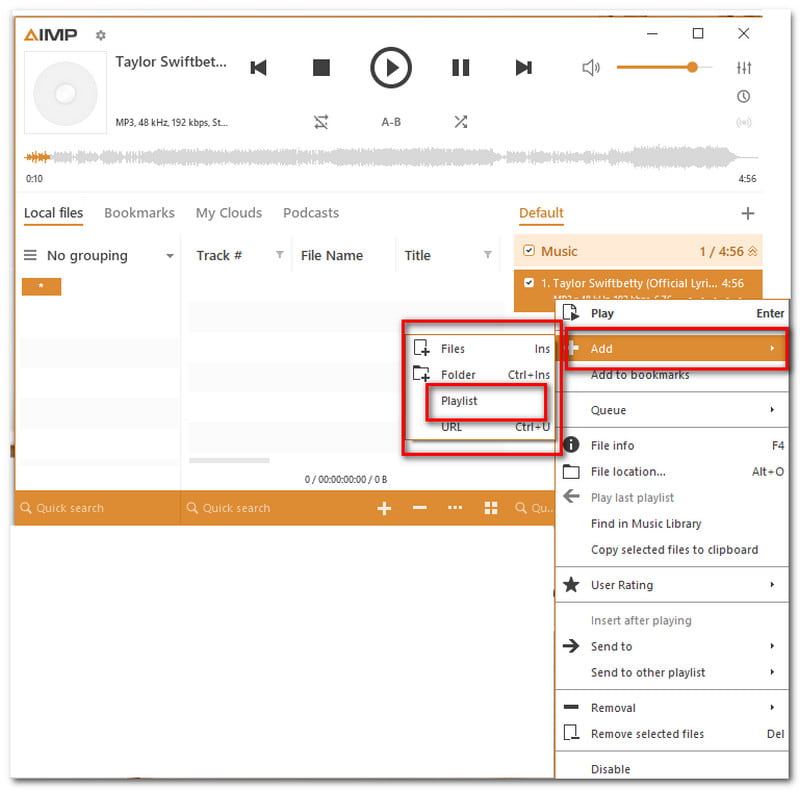 AIMP Player is also equipped and possesses integrated utilities that are classic and common with other players. These utilities are the Audio Library, AIMP Audio Recorder, AIMP Audio Converter, Grab editor, Tag editor, and more.
Extra Features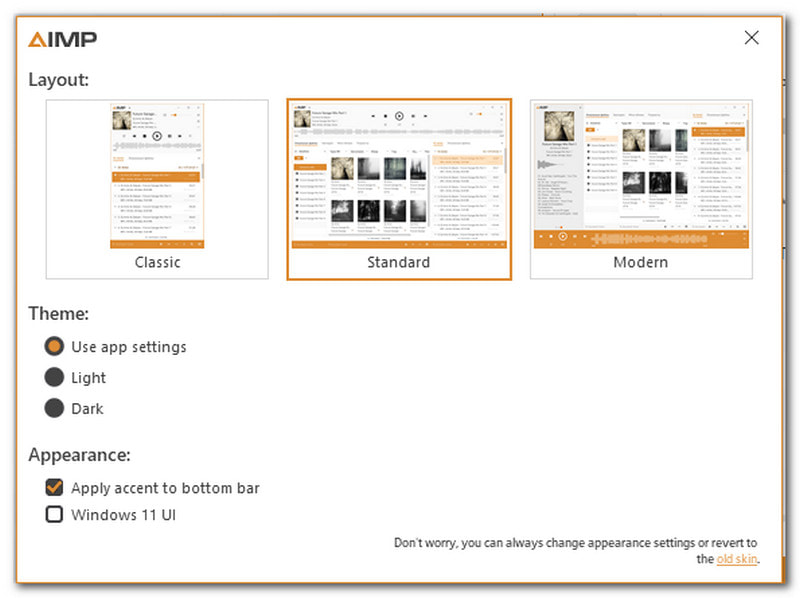 We know we presented a lot of features already and there are more, like the customizable AIMP themes, wallpaper, and skins. Through these features you do not need to worry about the aesthetic of how your software will look.
Support for File Formats
AIMP Player Supported File Formats
Multiple Formats
CDA, AAC, AC3, APE, DTS, FLAC, IT, MIDI, MO3, MOD, M4A, M4B,MP1, MP2, MP3, MPC, MTM, OFR, OGG, OPUS, RMI, S3M, SPX, TAK,TTA, UMX, WAV, WMA, WV, XM, DSF, DFF, MKA, AA3, AT3, OMA, WebM, MPEG-DASH, and more.
Internet Radio Format
WAV, OGG, MP3, AAC, AAC+, APE, FLAC, OGG, WV, WMA, and more.
3. FAQs
Is AIMP Player recommended to use with Androids?
AIMP Player is really great with Windows and Androids. The two devices have their own advantages. However, using your Androids will give you more hands-on experience. In fact, you can always listen to music anytime and anywhere using the AIMP Player applications unlike in Windows. Therefore, it is really recommended to use it with your Androids.
Is AIMP Player completely free?
Absolutely, AIMP Player is free. Just download and install the player with the official website then after that you may now enjoy its full feature for free.
Does AIMP Player also work as an audio organizer?
If you do not know, the AIMP Player also acts as an audio player. With this feature, you may now modify your MP# tags and create a playlist for your audio files instantly.
4. Best Alternative- Aiseesoft Blu-ray Player
Talking about the powerful media player that has the ability to play music smoothly. With its advanced technology, it will really give the best experience in listening to your audio files. This music player has a lot to offer, so download it now for free.
Aiseesoft Blu-ray Player
Best AIMP Player to play music and songs on Windows and Mac smoothly with feasible controls.
Play tons of audio file formats with your computer.
Crystal clear sound quality.
Create a playlist for all of your media files.
Full of great features- fast speed functions.
Friendly-user parameter settings.
Conclusion
To end this, we have introduced two of the best media players in the market nowadays that you can utilize with your sound trip moments. We got to know more about the AIMP Player that can offer various features as an audio player. However, there is also the Aiseesoft Blu-ray Player as the greatest alternatives to AIMP Player that can provide almost everything you need in a music player. Try it now, or read more about it by clicking the more readings below.
Did you find this helpful?
346 Votes
YES

Thanks for letting us know!
No

Thanks for letting us know!
Aiseesoft Blu-ray Player
A universal media player for Blu-ray, DVD, video and audio.