In-depth Review of Clementine Music Player of its Features, Playback Speed, and More
An amazing experience of listening to music will not be possible with the use of an audio player. It always depends on what software can offer in terms of features and functions that will enable you to have an immense experience of roundtrip wherever you are at any time.in connection with that, we will be going to review Clementine Music Player - one of the existing audio players in the market. Let us know its features, functions, how much it will cost, pros, and cons. In the end, we will see if Clementine Music Player is worth trying. Without further ado, let us start reviewing.

1. Our verdict
Pros

Offers amazing features and functions for an audio player.
Provides unique features for us.
Offers extra functions.
Supports multiple digital storage.
Offers Android and iOS versions.
Can sync music from your Flash drives.
Cons

Updates are not frequent.
It requires more CPU than it is supposed to.
The latest version was released in 2016.
Overall Rating
As an overall rating, the software has a lot to offer even the features that are unique. However, it is outdated. Therefore, problems may occur especially with compatibility or crashes. But then, we will see if it is still recommended to use by reviewing it.
Easy to use:9.0
Smooth Playback:8.5
Supported Formats:8.7
2. What is Clementine Music Player?
Price
Clementine Music Player is very accessible for anyone. This audio player is a free player that you can use anytime at anywhere. All you need to do is go to their official website and download the software. After that, you may now enjoy its full features and function for free.
Main Features
● Play and search your favorite music stored at your local music library.
● Offers a tool that will allow you to listen to internet radio, and other music streaming software.
● Enables you to play the music you have uploaded to your Box, Dropbox, Google Drive, or OneDrive.
● Creating a playlist is allowed.
● Compatible with audio CDs.
● Offers, lyrics, photos, and artist biography.
● Provides tools for editing the tag.
● You can use your phone as a remote control.
● You may copy music to your iPod, iPhone, or mass storage.
● Possess a queue manager.
3. Clementine Music Player Review
Clementine Music Player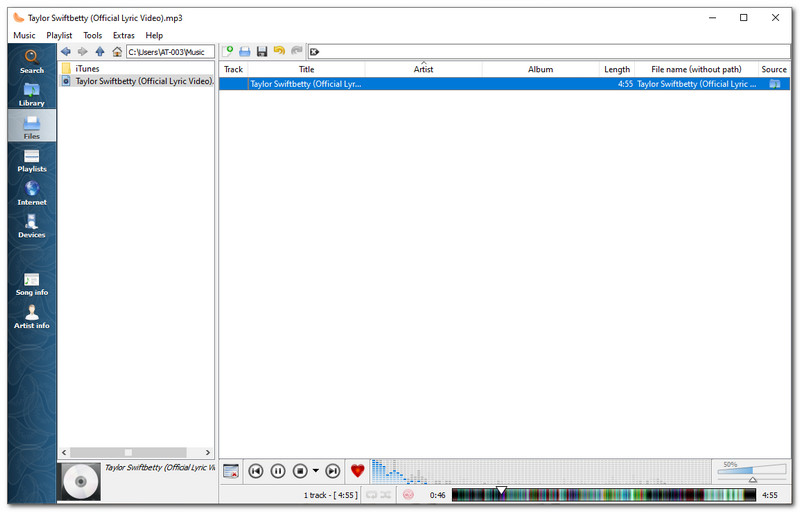 Clementine Music Player is known as an audio player that can be used for free. It is also a multiplatform music player that was inspired by Amarok 1.4. This audio player is very fast to use and a less complicated process when you are using it. In line with that, we will see other details about Clementine Music Player in this part. Let see how its interface, what are the supported formats, what are the offered features, and more.
Compatibility
This amazing audio player is compatible with your Windows, Linux, Mac OS X computer, and even Android and iOS devices. For computer users, it is important that you have at least a 32-bit operating system processor. To sum it all up, Clementine Music Player supports multiple platforms. Therefore, anyone can use it.
Format Support
In terms of its supported audio formats, Clementine Music Player supported almost every popular audio player such as MP3, Vorbis, FLAC, Speed, AAC, WMA, and Opus. The best thing about it, these numerous codecs can be customized for quality playback.
Interface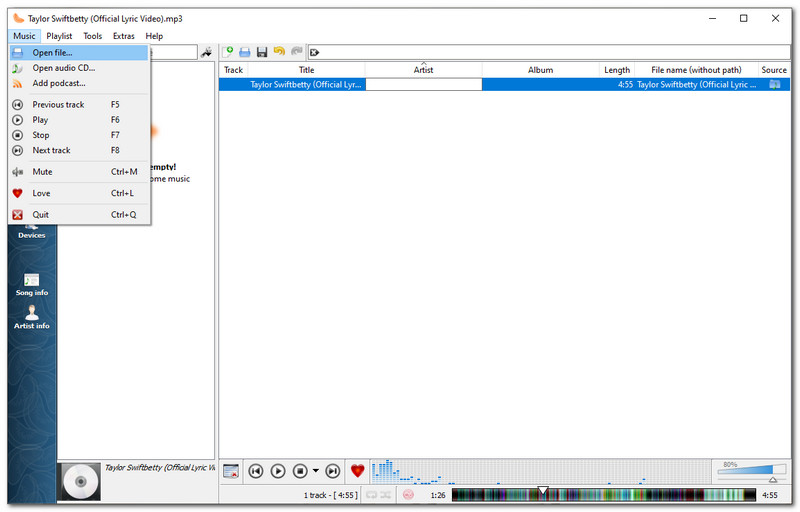 Clementine Music Player has a very simple, clean, and organized interface. Although its interface can give us a bit of a classic vibe yet it is still amazing. However, the icons used should be modified and use a color that can perfectly fit the whole interface. The font choice is a bit down in accordance with some users. However, despite all of that we can still appreciate its interface that is greatly created to help utilize the tools with ease and instantly.
Additional Features
● Play audios from your compact disks.
● Offers visualizations from projectM.
● Through this, you may discover and play podcasts.
● Has a native desktop notification on Linux and Mac OS X users.
● You may also copy music to your iPod, iPhone, MTP, or any mass-storage USB player.
● Has a queue manager.
● Offers music albums.
● It supports CUe sheets.
What is Best For?
As we know, Clementine Music Player is one of the versatile media players on the market. However, people are still asking. What is it best for?
Well, to answer that. This amazing player is great for your jamming and sound trip moments. Clementine audio player was labeled one of the best. It is a nice choice when you want to listen to your favorite music. For it can provide you with clear and smooth feedback of any music you hear in any audio file format. Therefore, Clementine Music Player is really the best to use for listening to your music journey.
4. FAQ
What kind of Operating System is recommended to use with Clementine Music Player?
To be honest, Clementine Music player is a cross-platform music player. However, it is recommended that your operating system is not outdated. In fact, it is available with your Windows, Mac, and even Linux. As long as you have these, anything among these three will do.
Is Clementine Music Player still suggested to use?
As we reviewed the Clementine Music Player, we found out that the software is outdated. In fact, the last update release date is still in 2016. Therefore, we are suggested to use more updated software for safety and great performance. However, despite that, we cannot disregard its ability to offer amazing features first.
Does Clementine Music Player offer other features aside from playing my audios?
Other than it is capable of playing your audio, Clementine Music Player has also the ability to import and export your audio files in any file format.
5. Best Alternative- AnyMP4 Blu-ray Player
AnyMP4 Blu-ray Player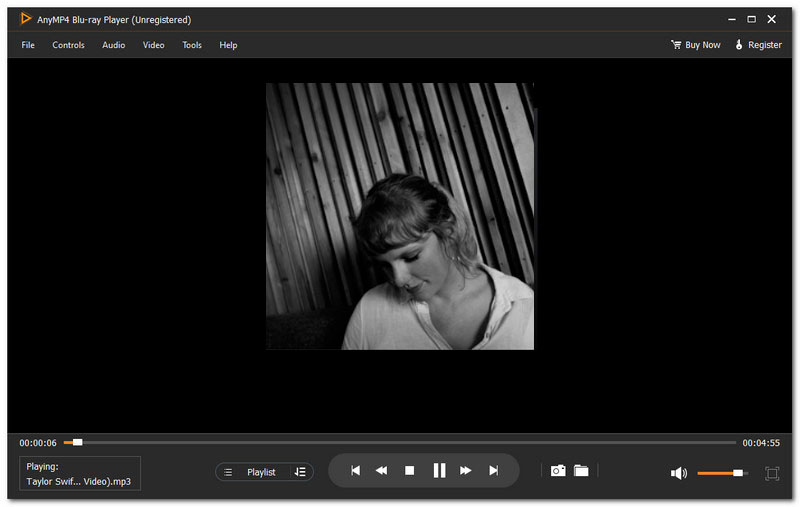 AnyMP4 Blu-ray Player is a flexible and versatile media player nowadays that has the ability to play your music instantly and with smooth playback. The best thing about it, the developer is updating it frequently so that it will offer the best experience for the users of the player. Just so you know, it is an all-in-one media player it is suggested to use in playing your music.
In addition, it offers a free version. On the other hand, if you want to enjoy its full features, you may purchase their plans for as low as $18.75 per month. However, whatever you would like to use. One thing is for sure is that both a free version and premium account can offer lossless audio formats, clear, and sharp playback of your favorite music files.
Conclusion
Therefore, we can conclude that Clementine Music Player is one of the great audio players you can utilize for free. Despite its flaws, there will never be enough reasons to disregard all of the amazing features and functions it can offer. Other than that information, we also talked about its compatibility and what it is the best for. Thus, it is now recommended to all the new users out there who love to play and listen to music. If any instances happened, you may also try AnyMP4 Blu-ray Player as an alternative for it. It also has the ability to give you the best features you are looking for. Lastly, if you know someone who wants to know more about Clementine Music Player, recommend this post so you would help. What are your thoughts about this?
Did you find this helpful?
248 Votes
YES

Thanks for letting us know!
No

Thanks for letting us know!
AnyMP4 Blu-ray Player
Make Blu-ray, DVD, and video playback easier on computer.