Reviewing Samsung SideSync: Discovering its Features, Pros, Cons, and More
If you want their smartphone and PC to work together, Samsung has launched the SideSync program for its ATIV line of PCs. The program requires only a Samsung smartphone and an ATIV-enabled PC to function. We can see where Samsung comes from with this technology, especially if you hate switching between devices. For that overview, we can see how useful and flexible the application is regarding our Samsung devices.
In line with that, this article exists because we want to review the total capacity and characteristics of the SideSync application. Please join us in review as we discover its main features, pros, cons, and more. In addition, we will also see how unique it is from the competitors. Without further ado, here is the most comprehensive review of Samsung SideSync in 2022. Please check these out.

Our Verdict
Having the professional tool and trusted services from Samsung will not make us doubt why many users love this application. The SideSync application is beneficial in maintaining and managing our Samsung files and data immediately and efficiently.
Pros

Allows you to connect your computer and smartphone.
It is a deal for folks on the road.
It has a professionally designed UI and features.
The application is safe to utilize.
Cons

Only compatible with Samsung smartphones.
No longer available on PlayStore.
Overall Ratings
Overall, we appreciate the concept of SideSync since the fact is that tech-savvy individuals and, let us face it, every generation from X onwards will enjoy it. Samsung is leading the game because we want better integration with their gear.
Professionalism:9.3
Security and Safety:9.5
User-Friendly: 9.4
What is SideSync?
SideSync
Price: Free
Platform: Android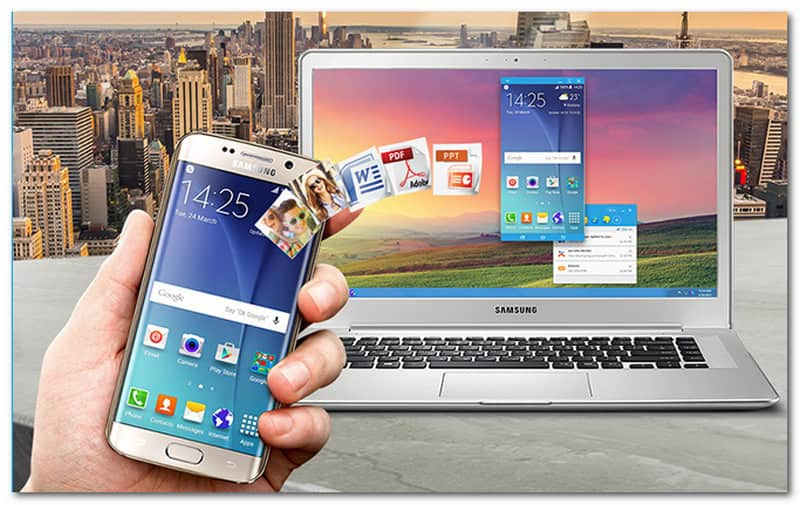 SideSync allows you to easily share your PC's screen and data with your mobile device. Receive your phone's alerts through PC and utilize your phone's numerous capabilities on the computer. With SideSync, you can live a wiser and more convenient life.
In practice, how does it work? If the Samsung smartphone has the Android Jelly Bean operating system, you can link both devices wirelessly; however, if the system is older, you will need to connect both devices via USB cable. The synchronization is, as expected, relatively swift. A miniature replica of your smartphone will display on the desktop, and it will function exactly like your smartphone, except that you may use it by tapping on the PC's keyboard. Yes, you may respond to emails and SMS messages and drag and drop items from your PC onto the virtual smartphone.
Main Features
◆ Intelligent and convenient Connection.
◆ Instant notification on PC from your Samsung or vice versa,
◆ Allow file sharing between smartphone and computer.
◆ Watch DMB using your PC monitor.
◆ Play cell phone games via computer.
SideSync Review
In this portion, we will elaborate and dig deeper into the main features of SideSync. We are now aware of how incredible the application is in giving us the parts we need for linking our Smartphones and computer devices. That is why, as we understand it more, let us define each point from the main features.
Smart and Convenient Connection Between Phone and PC
One of the great help of the SideSync application is the unique ability to link and give us a smart and fast internet connection. It allows your WiFI to maximize its total capacity to prevent buffering on what we are doing. That would be possible if we installed SideSync on our PC and a mobile device, then linked the two devices using a USB data connection or Wi-Fi. You may use SideSync's numerous functions by connecting your PC and mobile device. To install on a PC or MAC, click the download button above. You may download the software for a mobile device from Google PlayTM or Samsung GALAXY Apps, which comes preinstalled on your newest Galaxy handset.
Make Phone Calls and Sending Text Messages from PC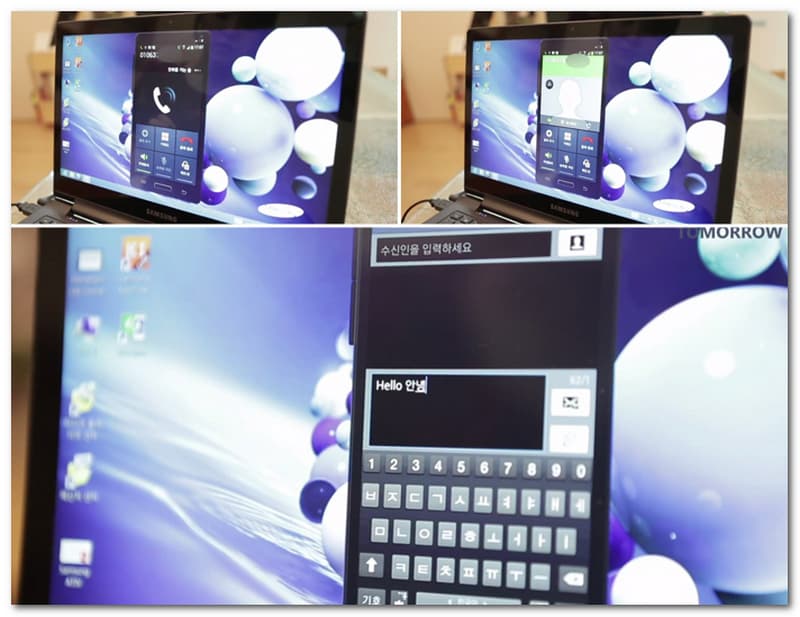 We wanted to explore whether we could use our PC to phone and SMS our close pals. As we all know, it can receive notifications then luckily, and it is also capable of calling and texting directly from the PC. For that, we dialed our friend's number, and he answered! We also tried sending a text message while changing the language option. It was much easier to send text messages on the computer than on smartphones.
Check Phone Calls and Text Messages Notifications on PC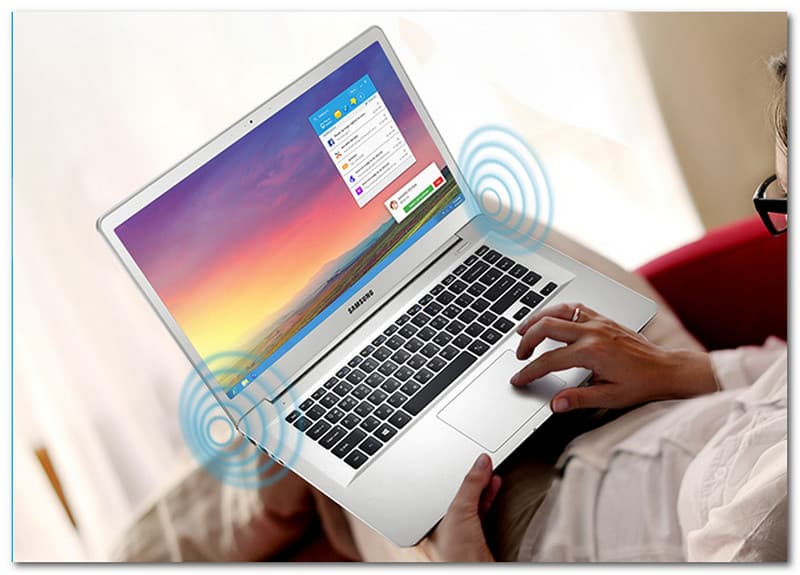 Checking important notifications from your cell phone from time to time while doing workloads on your computer is a hassle to do. That is why, in this case, SIdeSync can also be helpful because we can now see notifications on the PC from your device. In Simple words, if the PC and mobile device we are using are linked using SideSync, you may immediately check alerts for missed phone calls and access the app on your PC. You can quickly receive phone calls or exchange text messages using the pop-up window. That instance can immediately ease the hassle of checking your phone more often.
Sharing Files (Computer and Mobile Device)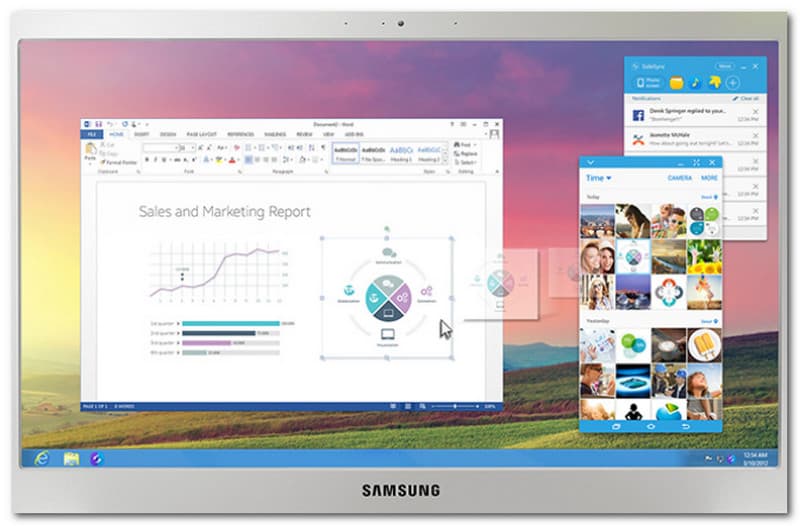 Another beneficial feature of SideSync is its ability to share files instantly between both devices. That means we can now have an instant sharing process as long as we have the application on our devices. That is right, SideSync allows you to quickly transfer files and texts between your PC and mobile device using drag and drop for an instant process. Photos from your mobile device may be included in Word documents on your PC. You may also transmit a file from your PC to your mobile device while sending text messages or emails.
Surely, if you use iphone, and want to sync iPhone data, you will need the iPhone transfer software to make it.
Watching Digital Multimedia Broadcasting on Computer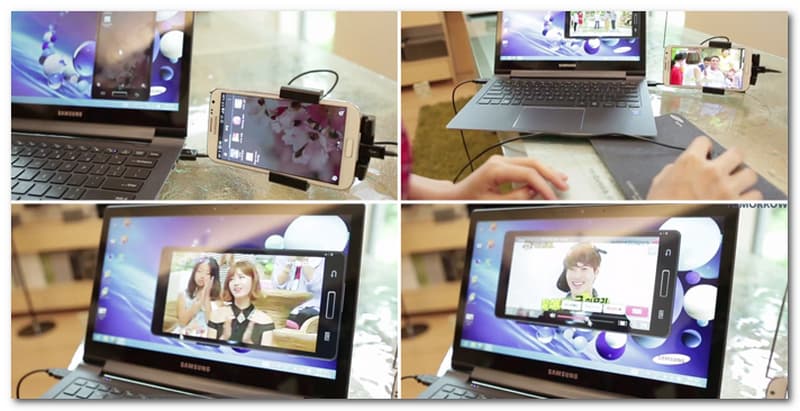 If you are a user full of virtual worlds or even a streamer, this application will suit you. That is because of its ability to watch a Digital Multimedia Broadcaster using your computer with smooth playback. We tried to see if we could view our favorite TV show, which is running on our smartphone's DMB (Digital Multimedia Broadcasting) application, on our ATIV PC through SideSync. As soon as we removed our cell phones' antennas, the TV screen on our smartphones showed on the PC screen. It was incredible that we could also vary the channels, loudness, and screen size to suit our requirements.
Play Mobile Games on Computer

Another reason why users love this application is because of its capacity to play a mobile game through your computer. Similar to Apowermirror, we investigated if we could play mobile games on our ATIV PC by playing our favorite game, Angry Birds, and increasing the size of the screen on our PC screen to view it better. We were surprised that we could pull the slingshot using the computer mouse. For that, it is another factor why gamers can use this on their itinerary.
FAQ about SideSync Review
Why doesn't SideSync connect to USB?
Suppose it fails to connect SideSync to USB; ensure to connect your gadget to your computer with a USB cord. Launch the Settings program. Please scroll down to the About device section and hit it. Tap the Build number ten times. Your smartphone will notify you that you have become a developer. In the bottom right-hand corner of your smartphone, press the Back button. Select Developer options.
How to transfer photos using SideSync?
Download the App on PC and Samsung To begin; you must download SideSync on both your PC and your Samsung. Then, transfer Photos From Galaxy To Pc. The most basic connection is through a USB cord. When the program successfully reaches your phone. Click Photographs on the left, then Phone Gallery and your photos will appear on the right. You may now pick your images. After making your pick, click the Add button to transfer the pictures from your laptop to your Samsung smartphone. After that, touch the Export icon.
What is the best alternative to SideSync for iOS devices?
We have a lot of alternatives to SideSync for our iOS device. Only a few of them are KDE Connect. It is an initiative aimed at connecting all of your gadgets. Through the KDE Connect app, for example, you may get phone notifications on your desktop or use your smartphone as a remote for your desktop. Another is the AirDroid, which is commonly known as an intelligent device management platform that allows for remote control, file sharing, document management, receiving and sending text messages, getting notifications and even computer screen mirroring.
Conclusion
That was full of details and information about the features of SideSync. We are hoping that you comprehend something, and we could help you analyze the ability of SideSync. Please share this with others or visit our webpage for more helpful reviews of different technology and programs.
Did you find this helpful?
269 Votes
YES

Thanks for letting us know!
No

Thanks for letting us know!
Aiseesoft Phone Mirror
Cast and share iPhone and Android screen to computer.