ApowerMirror Review: Mirror, Control, and Stream your Devices Effectively
ApowerMirror is an all-around phone mirror software. If you are a student, you can mirror your phone with your activities and share them with the class. If you are a businessperson, you can mirror your phone to the smart TV on your company and present your project to your co-workers. And, if you are staying at home, you can stream your game using this software. Read this review to become familiar with more!

1. Our Verdict
Pros

ApowerMirror is compatible with for PC, Mac, laptops, and TV.
It provides a money-back guarantee.
It is safe and secure.
It allows you to receive a VIP account after purchasing the product.
It provides a free update.
It also provides customer service or support service.
It has an extraordinary interface
It allows you to mirror four devices on one PC simultaneously.
Cons

It requires installing the ApowerMirror app on your device to detect the software.
It does not allow you to full-screen display while using the trial version.
The installation process is too slow.
The screen mirror has 10mins for a free version.
The free version has a watermark.
ApowerMirror lags and crashes sometimes.
It crashes and lags sometimes.
Interface:9.0
Easy to manage:9.0
Features:8.5
2. What is ApowerMirror
Best for: iOS and Android devices to cast your screen on PC, Laptop, Mac, and TVs.
Price: Yearly Plan: $39.95, Lifetime Plan: $59.95
Platform: Windows and Mac
Main Features
ApowerMirror is a phone mirror software that can mirror your iOS or Android device to your PC, Laptop, Mac, and TV. One advantage of ApowerMirror is that it lets you mirror four devices on one computer simultaneously! What a unique feature, right? You can download ApowerMirror for free now!
But before that, there is more. Let us know every feature one by one upon reading the features of ApowerMirror below:
◆ It has a full-screen display for videos, movies, etc.
◆ It allows you to stretch in full-screen mode.
◆ It can mirror iOS and Android.
◆ It can also mirror your computer into your device.
◆ It can mirror your device to bigger screens such as PCs, Laptops, and TVs.
◆ It allows you to control Android from your PC.
◆ It has a feature that can record your screen.
◆ It has screenshot features also.
◆ It can screen mirror between devices.
◆ It has a whiteboard where you can draw and take notes.
◆ It offers a Lite Mode and Live support.
3. ApowerMirror Review
Interface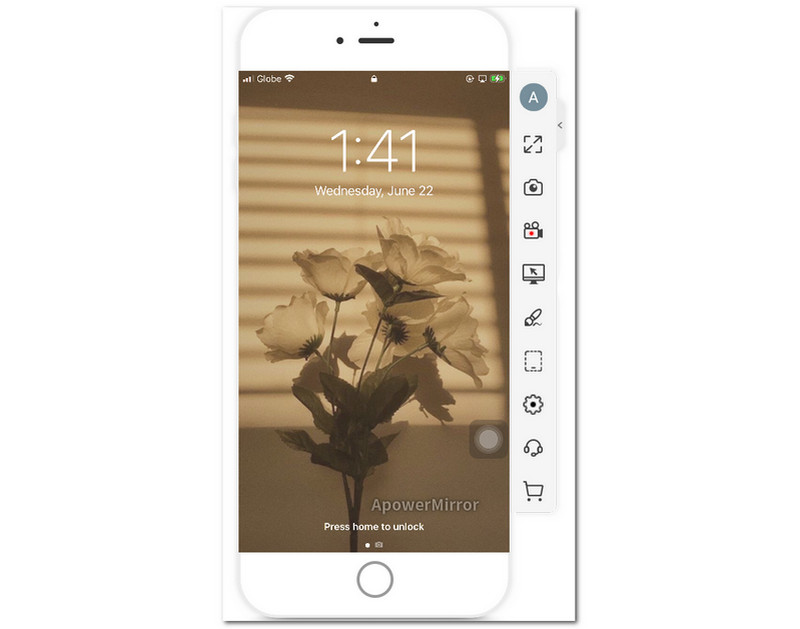 As we say, ApowerMirror has an extraordinary interface. When your screen mirrors your iOS to PC using ApowerMirror, you will not see a window but an iPhone figure on your PC's screen. It will give you a realistic effect and precisely imitates the iPhone.
My favorite part is that you will no longer waste your time searching for the feature and functions, which are already placed on the right side of the iPhone figure. You can see the Account, Full Screen, Screenshot, Start Recording, Control from PC, Whiteboard, Lite Mode, Settings, and Live Support.
Then, on the upper part of the right corner, you will also see the Pin, Rotate, Minimize, and Close. I think anyone would agree that ApowerMirror has the best interface.
Phone Mirror Settings
Before proceeding with all the features of ApowerMirror, it is essential to check the Phone Mirror Settings on the software because we are focusing on phone mirroring or mirroring your device on your computer screen.
First on the list is the Display Settings, which includes the Resolution, Color, Decoding Mode, and Max FPS. In the Resolution, you can set it between 720P and 1080; the Color to Bright or Standard; the Decoding Mode to High-speed Mode or Compatibility Mode; and the Max FPS to 60fps or 90fps.
It also includes the Brightness, Saturation, and Contrast, and you can set each one from 0 to 100. You need to do or learn so much more and can check it out now.
Recording Snapchat Messages on iOS using ApowerMirror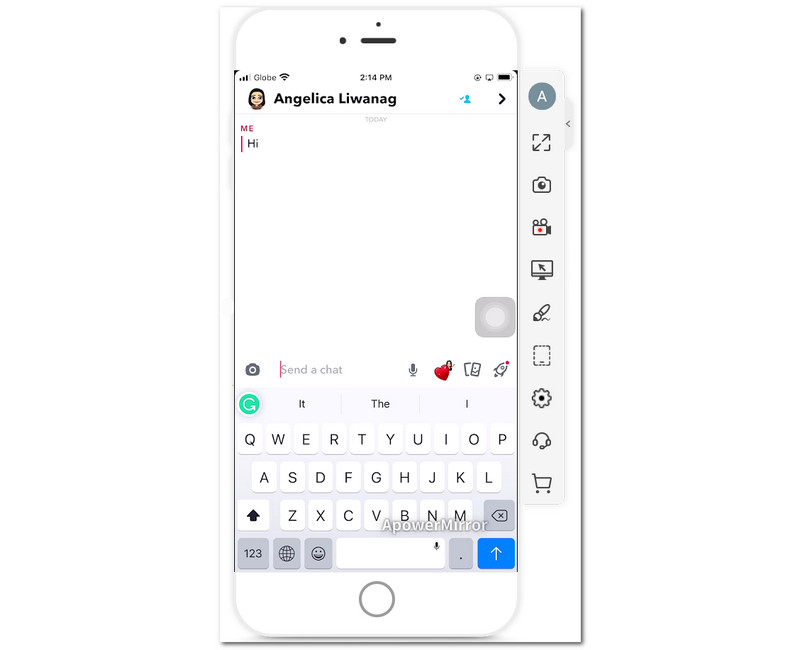 The Recording is included in the features of ApowerMirror. It can record your mirrored screen, and it can also record what you are doing on your screen, whether you are browsing on your social media accounts like Snapchat.
You can see the Start Recording on the right side of the iPhone figure. While doing the recording, you can also click the Screenshot. Yes, it is possible. After you record and take a screenshot, a small box panel will appear.
It will help you to see your recorded file and your screenshots. All you need to do is click the Open Folder to see all your files in your computer folder. Moreover, ApowerMirror can capture audio on your computer while recording. That is cool, right? It is also a unique feature!
The disadvantage of ApowerMirror is it does not have a recording history on its leading software. However, the good thing is your files will automatically save on your computer.
Various Capture and Recording Settings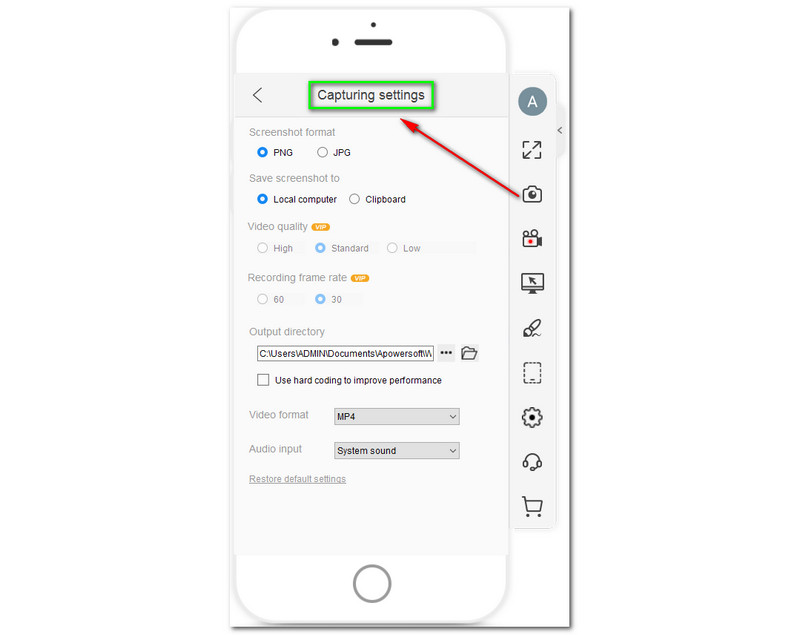 It is also important for every user to the Capture Setting, including the Recording Settings. You can customize these Settings before taking screenshots and start recording. On the Screenshot Format, you can choose between PNG and JPG.
In addition, you can Save Screenshots to your Local Computer or Clipboard. You can set it from Low to High when it comes to Video Quality. But the advisable quality is your need to set it to Standard or High.
On the Recording Frame Rate, you can also set it from 30 to 60. Plus, choose the Video Format, and the available format is MP4, WMV, MOV, FLV, ASF, TS, and GIF. Moreover, the available Audio Input on ApowerMirror is System Sound, Microphone, and System Sound and Microphone.
Control your iOS and Android Device from the PC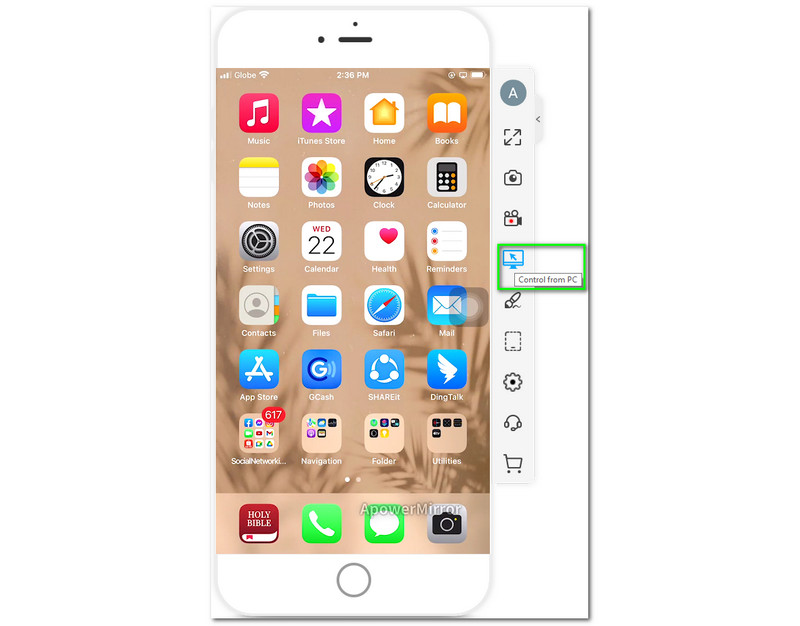 Do you want to hear more? We assure you that you will love this another feature from ApowerMirror. It has a feature that allows you to control your device using your PC. How is that possible? Well, in ApowerMirror, it is possible.
Nonetheless, it would help if you made sure that the Bluetooth of your device and the Bluetooth of your PC are turned on. After that, you can now control your device from your PC. But what is the benefit that you can get from that feature?
Your device is stood by on your table, and you can fully control your device without holding and touching it because you can fully control your device from your PC. Therefore, it will make the process easier.
4. FAQs of ApowerMirror
Is ApowerMirror safe?
Of course. ApowerMirror is considered with the lists of safeties phone mirror software on the Web. ApowerMirror is a hundred percent committed to protecting every user's data. Furthermore, ApowerMirror provides a great experience and ensures that they provide safe and enjoyable software for everyone.
Can ApowerMirror mirror iPhone to iPad, PC to TV, iPhone to PC, etc.?
Yes. ApowerMirror has a feature called Screen Mirroring between devices. What does it mean? It can mirror your iPhone to your iPad and stream your iPad to your iPhone and vice versa.
Is ApowerMirror no watermark?
Unfortunately, ApowerMirror has a watermark. Upon using the software, you will see the ApowerMirror watermark on the lower right of the iPhone figure. You need to purchase the product to remove the watermark, and your account will automatically be updated to VIP.
5. Alternative - Aiseesoft Phone Mirror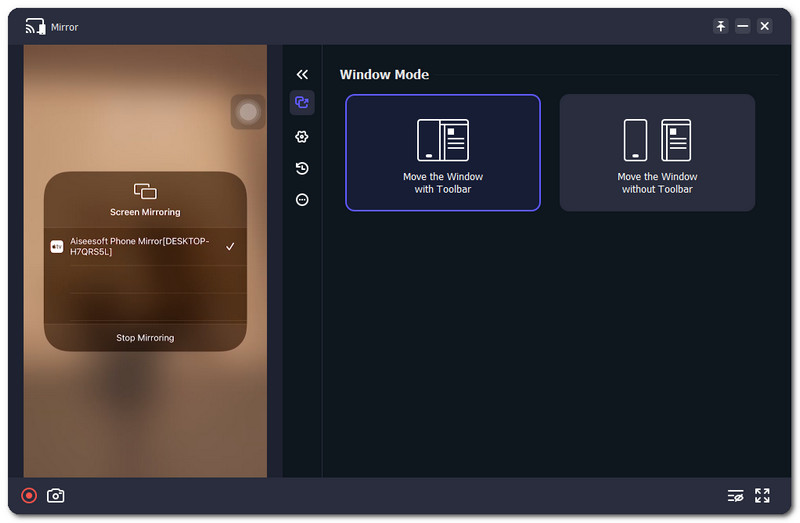 The unpleasing thing about ApowerMirror is that it consumes more extensive storage that makes your computer lag and crashes simultaneously. In addition, ApowerMirror requires you to download the Apower app on your device to use the software entirely.
Unlike other software like Aiseesoft Phone Mirror, it does not have an app. You need to use the software and ensure that your device and Aiseesoft Phone Mirror software are connected to the same internet.
That is why the free and best alternative for ApowerMirror is the Aiseesoft Phone Mirror. Spend time looking at the comparison table below to know who is the better software to mirror your devices, whether it is iOS or Android.
| | | |
| --- | --- | --- |
| ApowerMirror | VS | Aiseesoft Phone Mirror |
| Price starts at $39.95 | Price | Price starts at $15.96 |
| Price starts at $15.96 | Platform | Windows, Mac |
| | It lets you move your Window with Toolbar or without Toolbar | |
| | It can mirror iOS and Android | |
| | It has Recording History | |
| | It has a Whiteboard | |
| 8.5 | Safety | 9.5 |
| 9.0 | Interface | 9.0 |
| 8.5 | Features | 9.0 |
Upon looking at the table, we can conclude that Aiseesoft Phone Mirror is the best and most advisable to use. Nevertheless, we want to make things clear, ApowerMirror is a practical phone mirror software. It is just that Aiseesoft Phone Mirror stands outs with some factors.
Overall, as a user, you have the right which phone mirror software you would like to try and purchase.
Conclusion:
That's it for this review article, and we expect that it will help you become familiar with ApowerMirror, especially with its features. Furthermore, we also provide an alternative software, and you can check it out! So much with that; see you again in our next post!
Did you find this helpful?
393 Votes
YES

Thanks for letting us know!
No

Thanks for letting us know!
Aiseesoft Phone Mirror
Cast and share iPhone and Android screen to computer.