Scrcpy Review: A Free and Open-Source Software for Every Android User
Currently, many technologies are created to connect your device to a PC to transfer files, record a screen while playing a game, watch on bigger screens, etc. And with that, you can achieve this if you find excellent software that can make all mentioned possible. This review will determine if Scrcpy is reliable and excellent enough to fulfill your needs. Please read now.

Our Verdict
Pros

It has minimal latency.
It has shortcuts that help every user to complete the tasks quickly.
It is easy to launch and start up.
It lets your device with a standalone window on your PC.
Cons

It is not supported with audio forwarding.
It becomes complicated on initial installations.
It requires you to find a reputable site to download the software.
It is not user-friendly.
It requires you to enable the debugging options on your PC that may lead to unsafeness.
Scrcpy for iPhone and GenyMobile is not available.
Overall Ratings
Safety:8.5
Reliability:8.0
Features:8.0
What is Scrcpy
Best for: Mirroring your Android device and letting you play your favorite games while controlling using your PC's keyboard.
Price: Free
Platform: Scrcpy is for Android, iOS/Mac, Windows, and Linux.
Main Features
Scrcpy is a free-to-use, open-source screen mirroring software that can mirror your Android device to your PC. Open-source is available to every user who would like to see the code and want to learn, copy, share, and alter it.
Using Scrcpy, your device's screen will appear on another window on your desktop. However, to do that, make sure that Scrcpy software and the Scrcpy application are connected to complete the task that you want to do on your Android device.
Moreover, take a look at the main features of Scrcpy. Upon reading all its features, you will obtain an idea of your desired functions mentioned below:
◆ It has a screen recording that lets you record while transferring files, playing games, etc.
◆ It has a low latency time.
◆ It is also a file-sharing software that enables you to share your files from Android to PC.
◆ It has several mirroring options such as screen off, show touches, and read-only.
◆ It will display your device screen as a panel for lightness.
◆ It can launch all the applications available on your Android device.
◆ It has various input colors; it can enhance the Settings and performance.
Scrcpy Review
Interface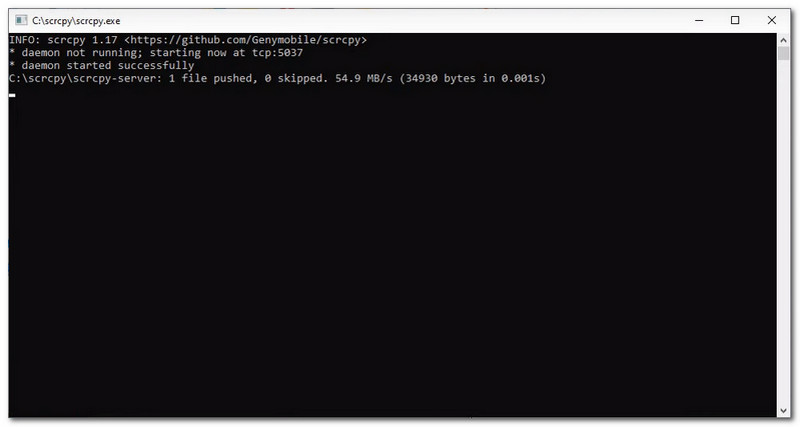 If you commonly know the Command Prompt and PowerShell built-in on your PC, you can easily use Scrcpy software. Why? They all have the same interfaces. After downloading and installing the Scrcpy, you need to Extract it first. Moreover, when you launch the software, you can see the color black and white.
On the upper part, you will see the name of the software, and on the main interface, you will see some codes. Scrcpy is easy for professional users since this software requires you to input codings. The sad part of Scrcpy is it is not user-friendly for beginner users. Overall, it is good if you will give it a try. Download Scrcpy now!
Control your Gameplay on your Android Device using your PC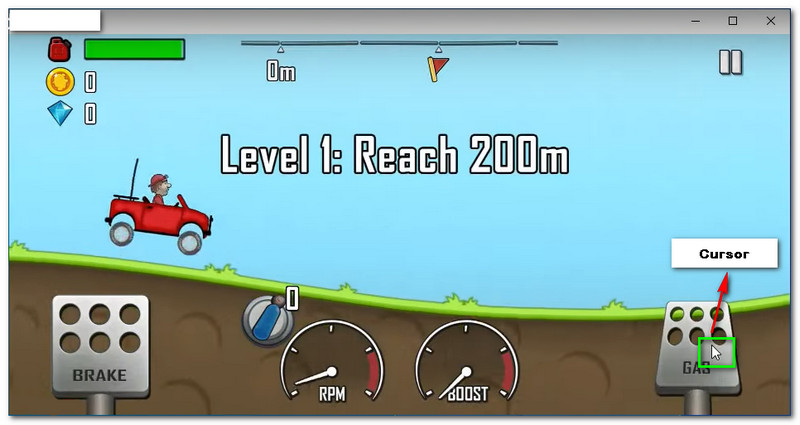 Since the screen of Android devices is not too wide, you can play using the application and your Android device and control it using your PC. As you can see in the picture, there is a new panel on your Android device's screen.
In addition, we emphasize the Cursor of the mouse. For this reason, you can use your computer's mouse and computer keyboard in order to play your favorite gameplay. Since Scrcpy has a low latency rate of 35s up to 70s, it will keep the software's performance on par.
Set up the Settings Before Recording Screen and Audio
Before recording your Android device, setting up the Settings of Scrcpy is a must. Why? It is to ensure the quality of the recorded output. Therefore, you guarantee that the quality of the recorded file from your device is excellent.
You can set up the Audio and Recording on the Settings of Scrcpy. You will see the General, Stream, Output, Audio, Video, Hotkeys, and Advanced on the Settings. Since you are setting up the Audio and Video for Scrcpy screen mirroring recording purposes, you must select the Audio and Video on the Settings.
On the Audio part, you can see the Mic/Auxilliary Audio 2, and there are options that you can choose, like Line In (Realtek(R) Audio). Then, in the Video part, you can customize the Base (Canvas) Resolution, Output (Scaled) Resolution, Downscale Filter, Common FPS Values, and the Aspect Ratio.
FAQs of Scrcpy
Is it safe to use Scrcpy?
As mentioned above, Scrcpy is open-source and free software for every user. However, Scrcpy is not 100% safe to use. Upon downloading Scrcpy software, there are certain risks, and you need to take a chance, especially when you decide to download the software from an unreliable website. Nonetheless, once you finish downloading Scrcpy, you will appreciate how light it is and will not affect your Android device in the long run. But, be careful when enabling the Developer Options on your Android device on your Settings because it may cause unsafeness.
What are the requirements needed for Scrcpy?
If you desire to use Scrcpy, you must ensure that your Android device runs on the Android 5.0 version or later; it is the only limitation that Scrcpy requires. In addition, you need a USB cable to connect your Android device to your computer. Lastly, you must enable the USB debugging we mentioned a while ago. For that reason, the Scrcpy software on your computer and the Scrcpy application on your Android device will connect smoothly.
How to use Scrcpy?
First, download Scrcpy and install it on your computer by extracting the Platform tools on one folder that you created in your File Folder. Then, go to the Settings on your Android device and enable the Developers Options. Next to that, look for the USB Debugging and turn it on. After that, use your USB cable to connect your Android device to your computer. Now, press the Shift on your computer's keyboard and right-click wherever on the Platform Tools. Then, choose the Command Window here. Then, type the command `.db devices` or `.db.exe devices`. Click the Remember this PC, and you can start using Scrcpy.
Alternative - Aiseesoft Phone Mirror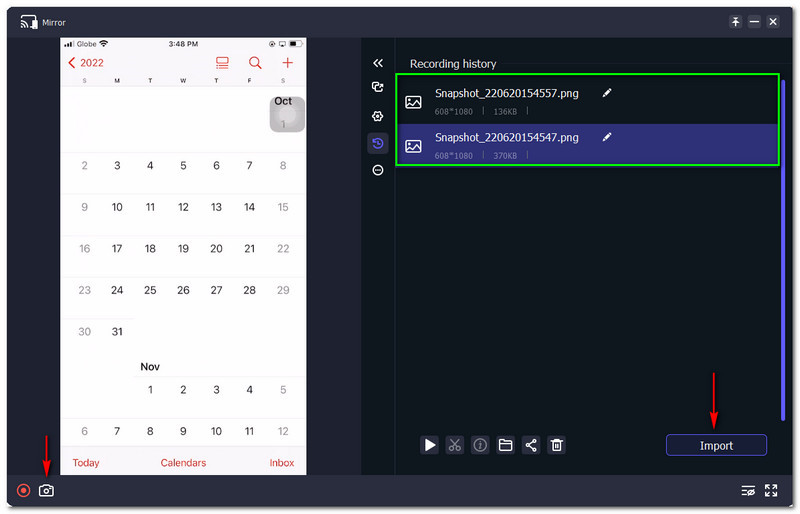 We cannot deny that we always desire free and easy-to-use screen mirror software. And yes, Scrcpy is one of the free and open-source software, but the question is, is it safe to use? Using free software creates a massive help for every user, but you always need to consider the safety of your information upon using a screen mirror software.
That is why we have great news for all who are reading this, Scrcpy's alternative is Aiseesoft Phone Mirror. Are you familiar with this screen mirror software? If not, we will help you know about Aiseesoft Phone Mirror. Below, we will provide a comparison table to show which software you can use to mirror your device's screen.
| | | |
| --- | --- | --- |
| Scrcpy | VS | Aiseesoft Phone Mirror |
| 8.0 | Safety | 9.7 |
| 8.5 | Features | 9.5 |
| 8.5 | Reliability | 9.5 |
| 8.0 | Interface | 9.6 |
| Professionals | Best for | Beginners |
| Android Devices Only | Mirrors Android and Apple Devices | Android and Apple Devices |
| Windows, Mac, Linux | Platform | Windows, Mac |
| Yes | Recording features. In contrast, mirroring device screen | Yes |
| No | Take a Snapshot while mirroring devicesYes | Yes |
Overall, there is no doubt we recommend Aiseesoft Phone Mirror. As you notice on the comparison table, we can conclude that Aiseesoft Phone Mirror stands out in almost all aspects, especially in its safety, because that is one of the essential needs to consider when choosing a screen mirror software. Moreover, choose the best screen mirror software that your desire to use.
Conclusion:
Scrcpy is a free and open-source software for users who want to access their Android device using their computer. But, upon reviewing Scrcpy software, we found out that it is not 100% safe to use since you need to enable the USB debugging, etc. In addition, it isn't effortless when installed. Scrcpy is excellent software, but in this review article, we recommend an alternative for it just in case you want to try a better one. Furthermore, we are expecting you again in our following review!
Did you find this helpful?
166 Votes
YES

Thanks for letting us know!
No

Thanks for letting us know!
Aiseesoft Phone Mirror
Cast and share iPhone and Android screen to computer.