How to Mirror Roku TV from Windows, Mac, iOS, Android, and Chromebook
Casting our device on a bigger screen like Roku TV is a great way to experience an immersive movie marathon or watching gameplay. That is why; if you are a Roku TV owner and want to use it for a more prominent visual from your computer or mobile device.
This article will help you know how to cast Roku TV from a different device like PC, Mac, iOS, Android, and Chromebook. This post is a full-guide article that includes what you need to know about the Roku TV casting process. For that, we should now proceed to read as we cast successfully.

1. Cast to Roku TV from PC
Screen mirroring technology can be instrumental if you have a Roku TV and need to stream media from a Windows 10 PC. While this may appear simple and basic, you must know the measures to take. In this portion, we will offer you all the information you need to mirror your PC screen to your TV and use the larger screen.
1.
Select Settings by pressing the Home button on your Roku TV remote. Then, we need to choose the System option under the list.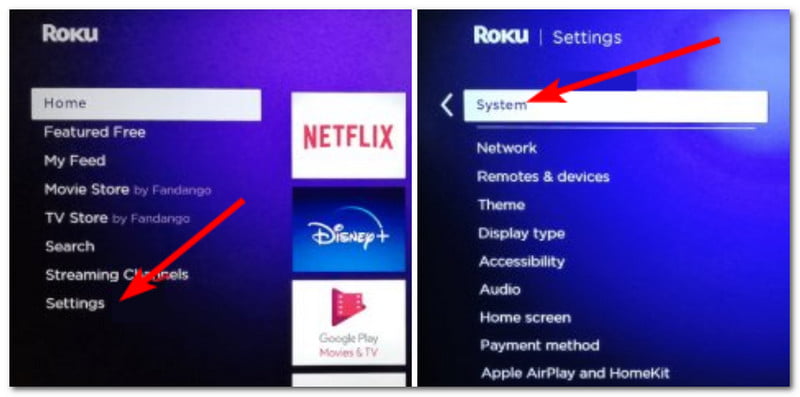 2.
After that, when the System settings window opens, we will see different features, but we only need to select Screen mirroring. As we proceed, kindly pick Screen mirroring mode and Always allow us to continue the following process.

3.
In the next step, we should select the Expand option from the message icon in the lower right corner of your Taskbar. Under this, we can choose the Connect option.

4.
Next, carefully select your Roku TV from the list of available options. Finally, when prompted, click the Allow option on your Roku TV.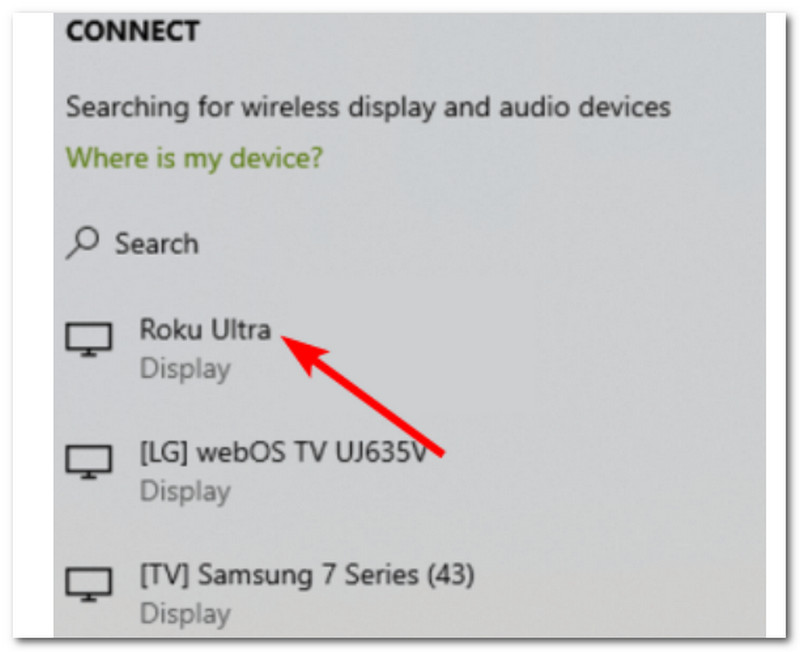 With this, you can now view everything on your PC on the big screen. Finally, you must utilize a trustworthy third-party program if you want to transmit Windows 10 to Roku without using Miracast
2. Cast to Roku TV from Mac
We need a tool like Mirror to Roku to cast your Mac device to your Roku TV. This program was created specifically for TVs running the Roku operating system, making it one of the best solutions for mirroring MacBooks to Roku. You can use this tool without an Apple TV to quickly cast or stream video files and extra files from your Mac to your Roku TV. Simply follow the steps below to learn how to utilize Mirror for Roku.
1.
Download the app on your Mac and install the app Mirror for Roku.
2.
Start the software on your Mac and wait for it to detect your Roku TV device. Once found, tap the name of your AirbeamTV Roku app.
3.
Your Mac is now being displayed on your Roku TV.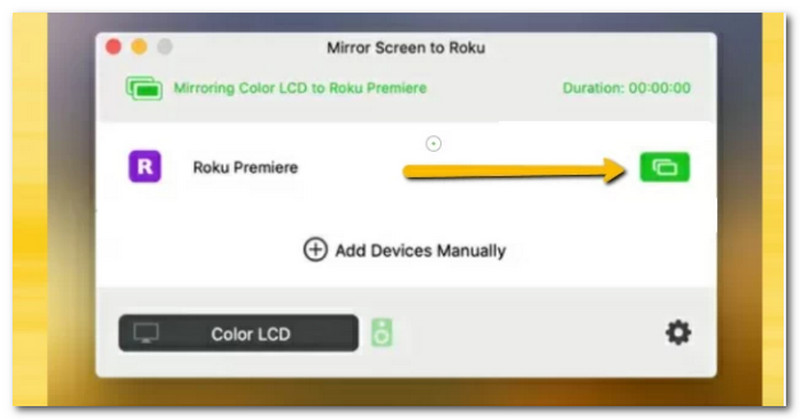 3. Cast to Roku TV from iPhone
Method 1: Cast using Control Center
You may mirror your iPhone or iOS device from the Control Center to a Roku.
1.
On your iOS device, open the Control Center. This process may vary depending on the iPhone model you have. Kindly see the details below for reference.
◆ Swipe down from the upper-right corner of an iPhone X or later.
◆ Swipe up from the bottom of an iPhone 8 or earlier.
2.
After making the Control Center exist, please choose Screen Mirroring among the options on your screen.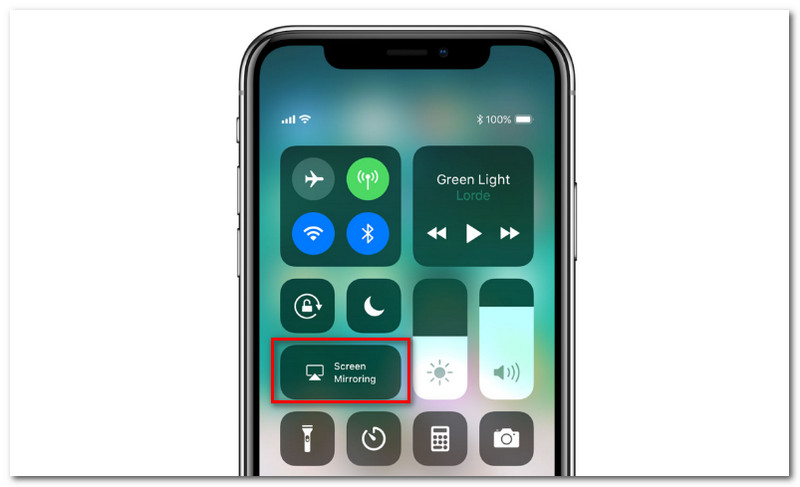 3.
From there, we need to select your Roku device. Please ensure you choose the correct name for your Roku TV device. A code displays on the TV that is linked to the Roku device you chose. Enter the code into your iOS device and press OK to mirror iPhone to Roku TV.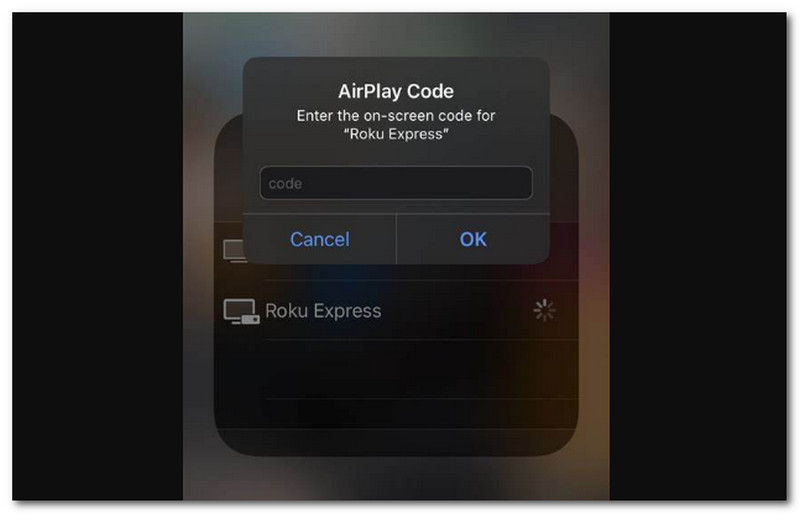 Additional Step:
If you want to cease mirroring, press the Home button on your Roku remote or open Control Center on your iOS, and select Screen Mirroring to Stop Mirroring.
Method 2: Cast using Screensaver
Screensaver is a mirroring function in the Roku app that allows you to upload your images to a slideshow that will play on your TV.
1.
On the media selection screen, pick Screensaver. Select the source for your screensaver photos using the drop-down menu. After that, please tap each image you want to include. The photographs you chose will have a check mark next to them. When you're done adding photographs, click Next.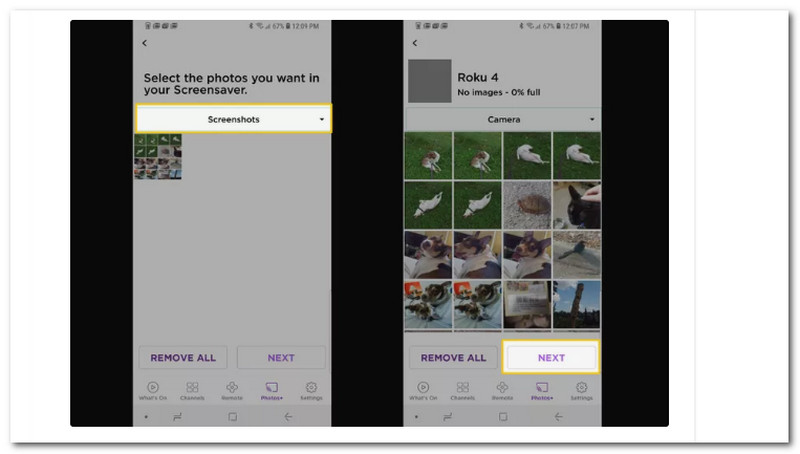 2.
To change the appearance of the photos, tap Style and Speed. Then select Set Screensaver.
3.
Choose OK to set the screensaver or Cancel to restart. Then, check that the screensaver appears appropriately on your TV.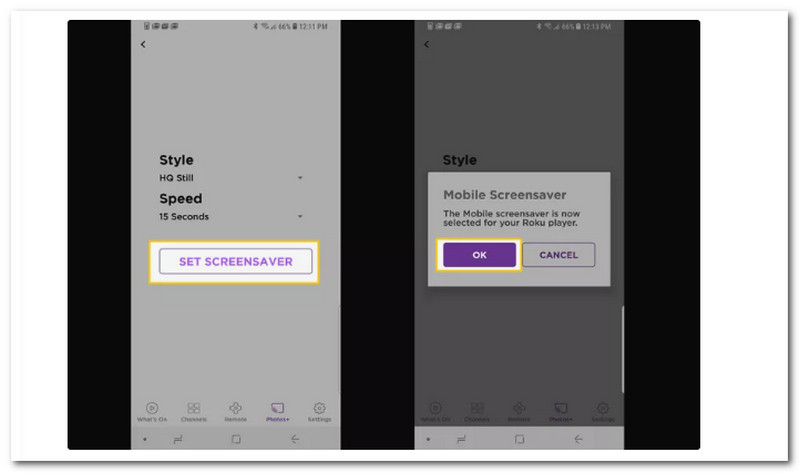 4. Cast to Roku TV from Chrome
The first method is to use Chromecast to mirror and display the screen of your Chromebook to your Roku TV. This incredible item is a mirroring tool that connects to your TV via an HDMI cable, allowing you to reflect your Chromebook to your Roku. Simply follow the instructions outlined below to get started.
1.
To begin, connect the Chromecast dongle to your TV via HDMI. Then, using your TV's remote control, select HDMI as the source input.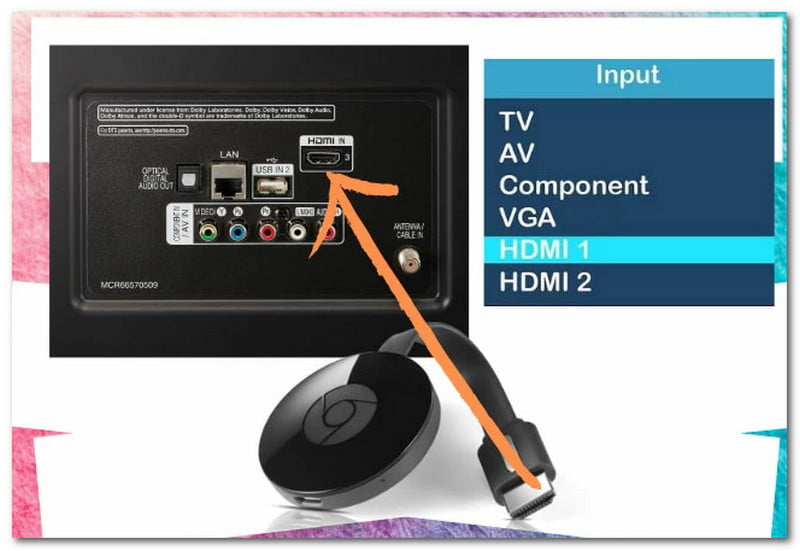 2.
Set up by going to chromecast.com/setup and tapping Accept on the Privacy icon.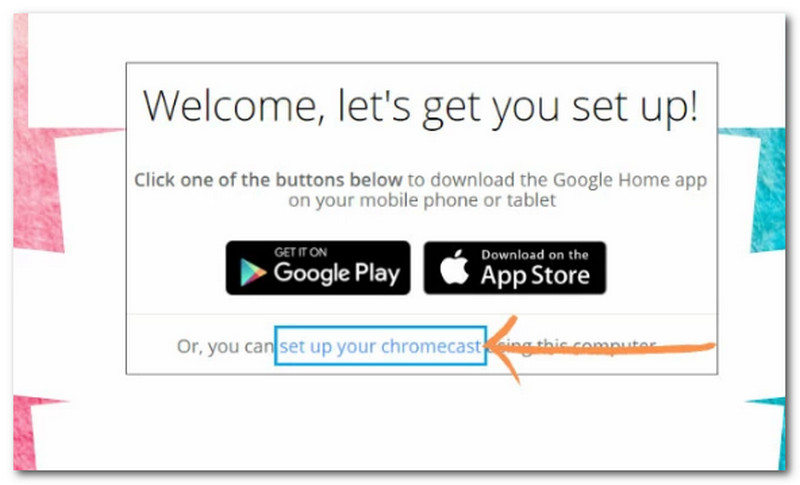 3.
A pop-up window will appear; simply tap the SET ME UP button to proceed.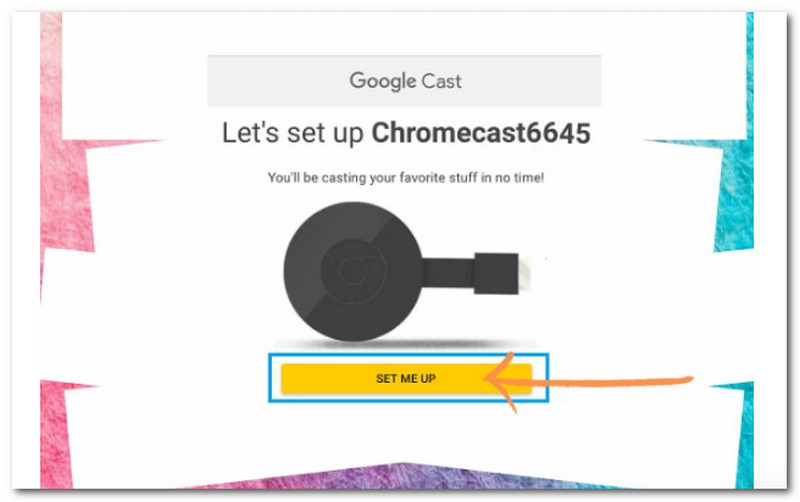 4.
Select the Chromecast network from your Chromebook's WiFi network.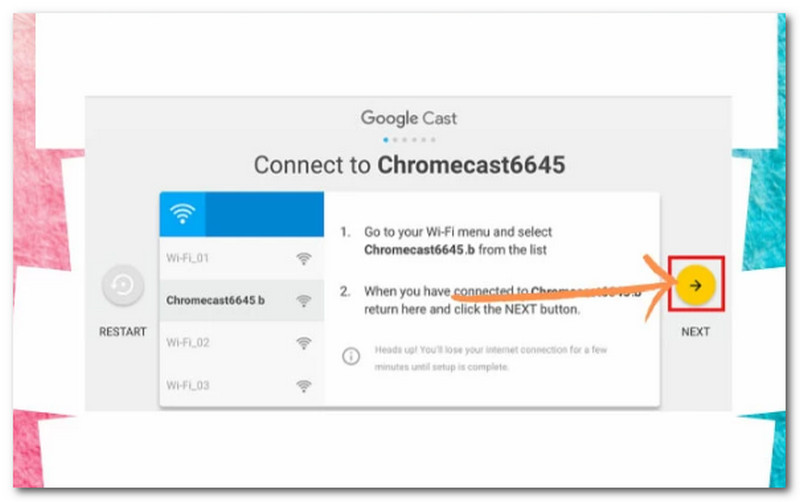 5.
Simply follow the directions by clicking the NEXT and YES buttons on the interface's right side.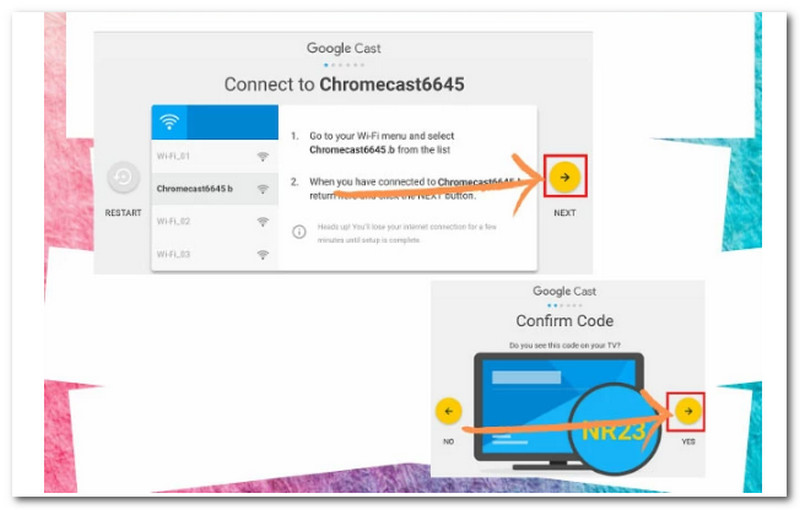 6.
After that, you'll give your Chromecast a name and click the LOOKS GOOD option. Finally, connect your device to WiFi and enter the password to begin mirroring.
5. Cast to Roku TV from Android
Most streaming software provides a cast capability. Among them are Amazon Prime Video, Netflix, and YouTube. The instructions and photos below outline the process for the Netflix Android app, but it is typically the same for other streaming apps (although the interface might be slightly different).
1.
Ascertain that your Android phone and Roku TV or Roku device are connected to the same Wi-Fi network. On your Android phone, launch the streaming app from which you want to cast.
2.
Select the Cast symbol in the bottom right corner of the screen. It resembles a rounded-corner rectangle with three curving lines at the bottom left corner, similar to the Wi-Fi emblem.
3.
To begin casting, select your Roku TV or Roku device when requested. The streaming service app on your Roku device will then open to the content you wished to transmit. You can then use your Android mobile as a remote control to select and adjust content on your TV.
For more apps to mirror Android to Roku, you can check them here.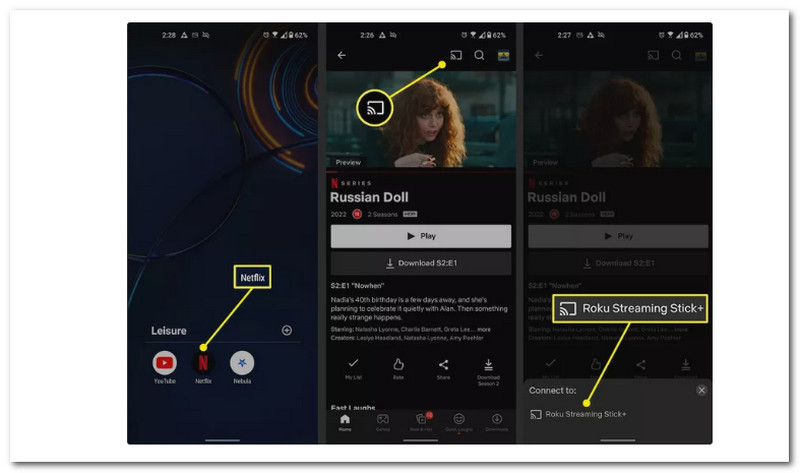 6. FAQs about the Casting to Roku
How can I fix it if I can not cast to my Roku?
To fix the problem on casting on your Roku TV, we need to change the Screen Mirroring Mode set to Prompt, then Disable/Enable WiFi on your phone and reconnect to SmartView - you should then see a TV dialog asking Always Allow/Allow/Block/Always Block - from there select Always Allow. If you have any problems connecting after that, simply Disabling/Enabling Wifi on the mirroring device will resolve the issue 98% of the time. It is advisable to leave the Mirroring Mode set to Prompt for any other devices you may have and for Privacy/Security concerns.
How do I enable AirPlay on my Roku?
The first step is to check that the Apple device in your home is connected to the same wireless network as the Roku player. Then, check to see if the Roku device has AirPlay enabled. To accomplish this, take these steps: Select Settings from the menu. Choose between Apple AirPlay and Homekit as we turn ON AirPlay.
Why am I unable to mirror my PC to Roku?
The failure of casting your Windows Pc in your Roku TV is happening for different reasons. Some reasons you might not be able to mirror your PC to Roku are as follows: Interference from a firewall, an outdated PC, Incorrect TV settings, and Incompatibility with system requirements. For that, we need to ensure that these problems do not exist with our devices so that we can have an incredible casting process without issues.
Conclusion
Enjoy a larger screen for watching your favorite film or visual presentation after following these methods of casting Roku TV from broad kinds of devices. We hope this post helps you with your inquiries, for more post like this please see this website.
Aiseesoft Phone Mirror
Cast and share iPhone and Android screen to computer.