How to Change Facebook Password: The Stronger the Better
Facebook is a social media platform that shows your digital self to the world, and being able to experience an enjoyable social life on the platform is everyone's goal. To fully complete the Facebook experience, one must have gone through someone attempting to change their password, or sometimes that someone already accessed their account and is in the process of hacking it. It is the user's responsibility to create passwords and change them occasionally. It is important to know that changing one's password is necessary to prevent such an event from happening to you.
Wondering how do you change your password on Facebook? In this article, you will be able to learn to change your password on your computer and on your mobile phone, as well as why sometimes the password reset code is not working. Take control of your Facebook account security and read this article today! to fully experience and elevate your social life with stronger security than it can have.

Part 1. How to Change Facebook Password on Computer
Are you one of those people wondering how do I change my password on Facebook? Worry no more because you can change your password using your computer. Changing passwords is a must occasionally, as users must keep their privacy and safety in check. Hackers are always looking for new ways to gain unauthorized access to accounts. Changing your password regularly can make it more difficult for them to succeed. Below are the steps to achieve a secure and hacker-free account.
1.
Go to www.facebook.com, enter your account details, and click the Login button.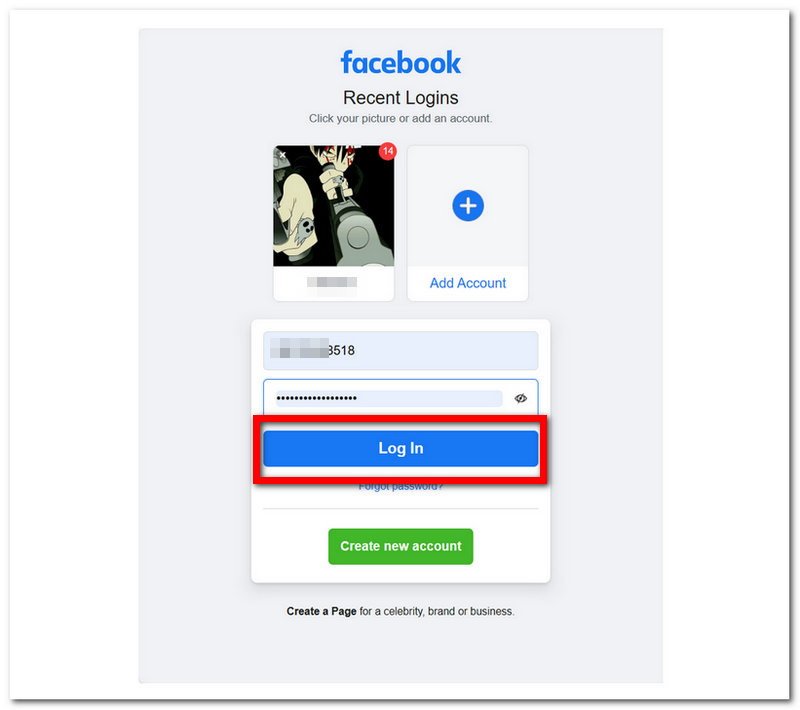 2.
Located in the top right corner, click your profile and select Settings & Privacy, then Settings.
3.
Go to Security and login, then choose the Change password option.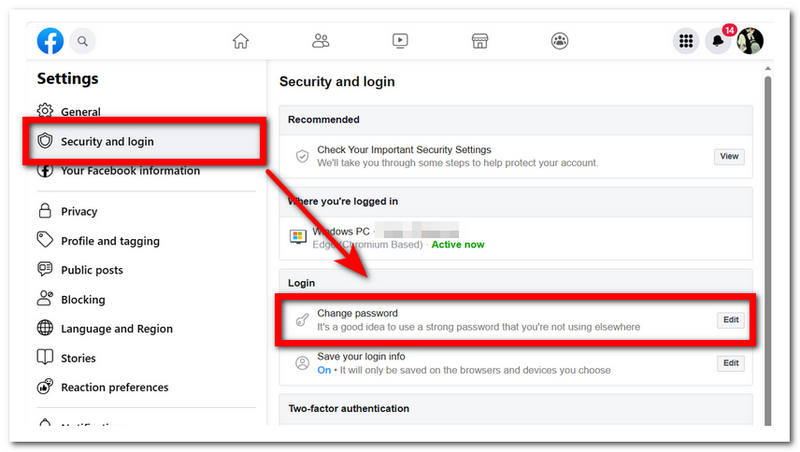 4.
Put your current and new passwords in their respective fields and click Save Changes to change your Facebook password.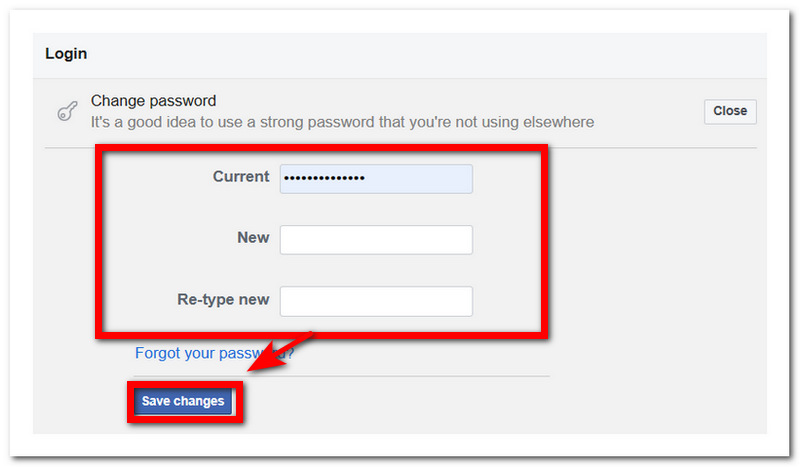 Following the steps above can help you safeguard your data and guarantee the security of your Facebook account. It is a good idea to update your password regularly. Remember to select a secure, one-of-a-kind password and keep it private to recover your Facebook account.
Part 2. How to Change Password on Facebook App
How do you change your password on Facebook using the Facebook app? If you want to change your password but in the comfort of your hand, this part might help you. Changing a password on a mobile app has the same steps as changing your password on your computer. The only difference is the user interface.
1.
Open your Facebook app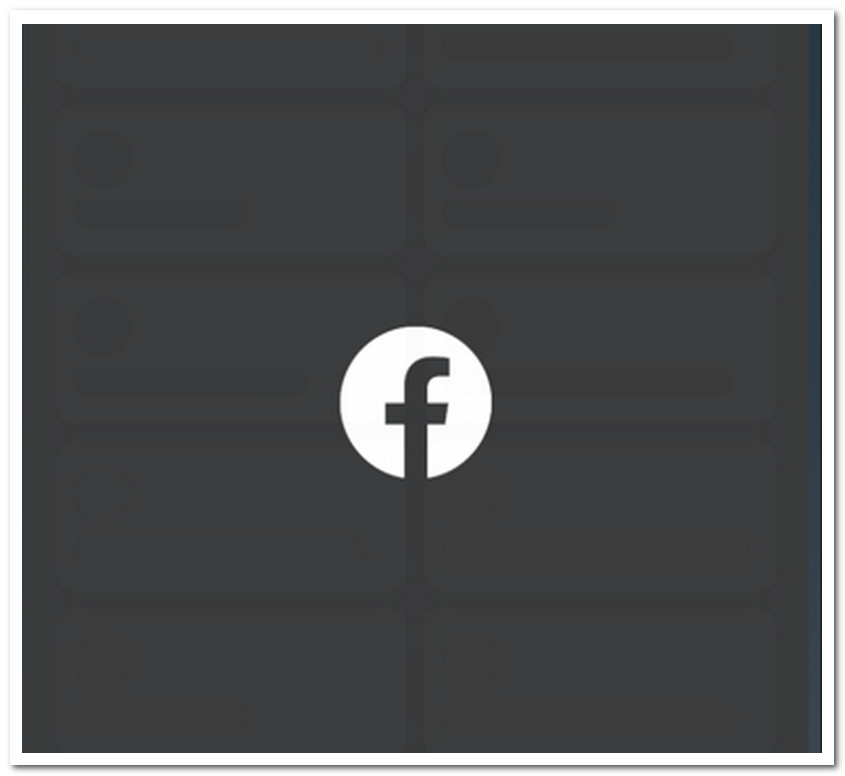 2.
Go to your Menu setting in the lower right part of your Facebook homepage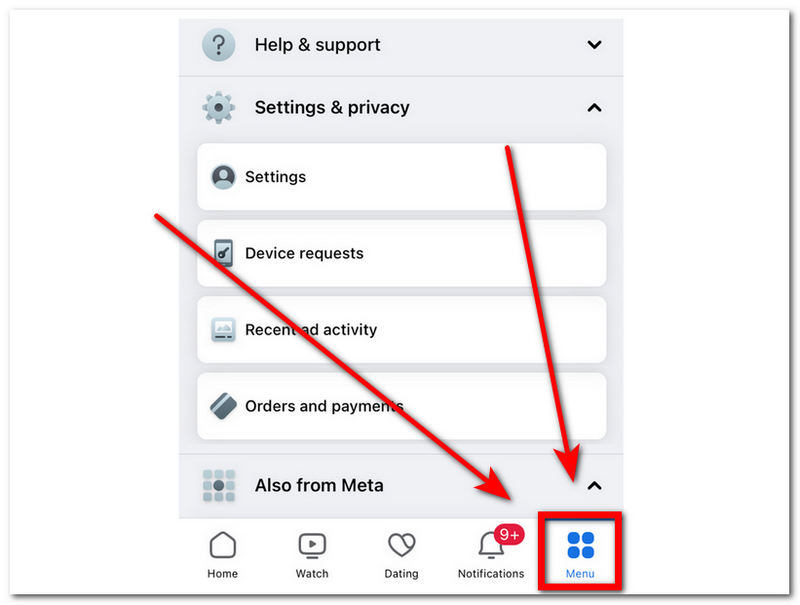 3.
Scroll down, click Settings & Privacy, and go to Settings.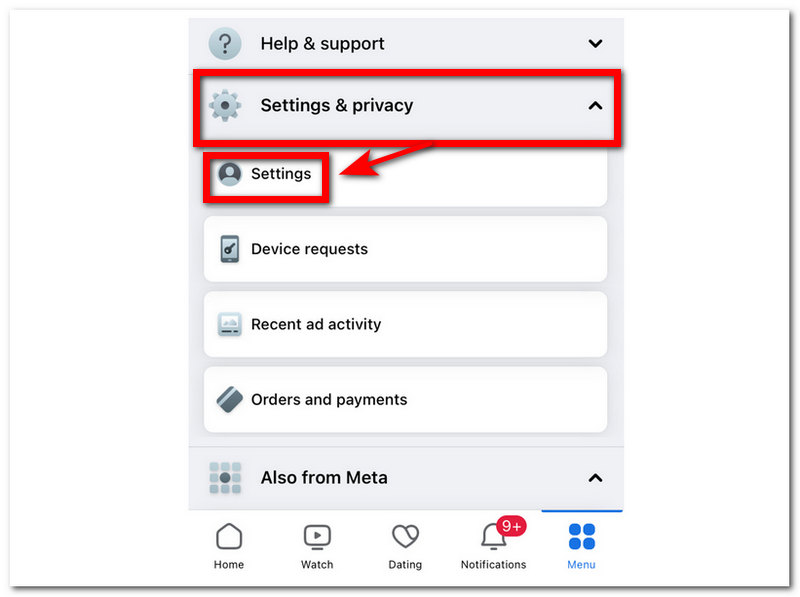 4.
Under the Account settings, click on Password and Security.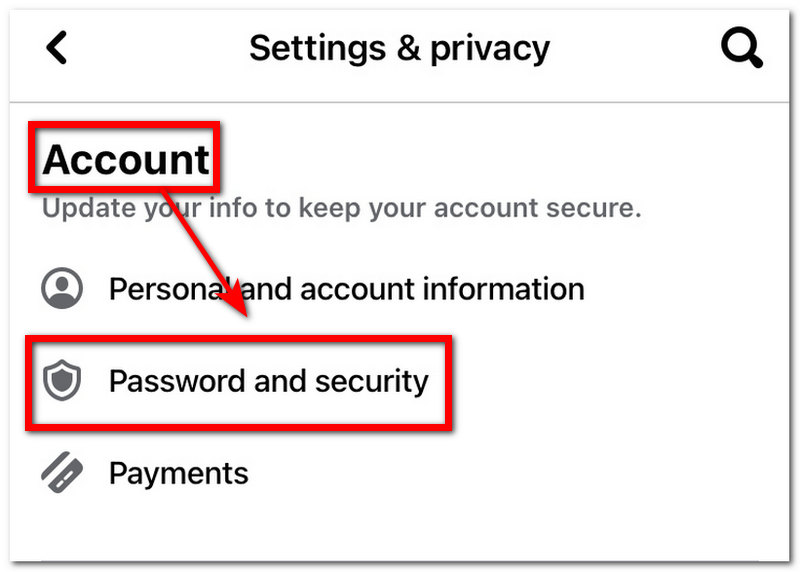 5.
Click on Change Password.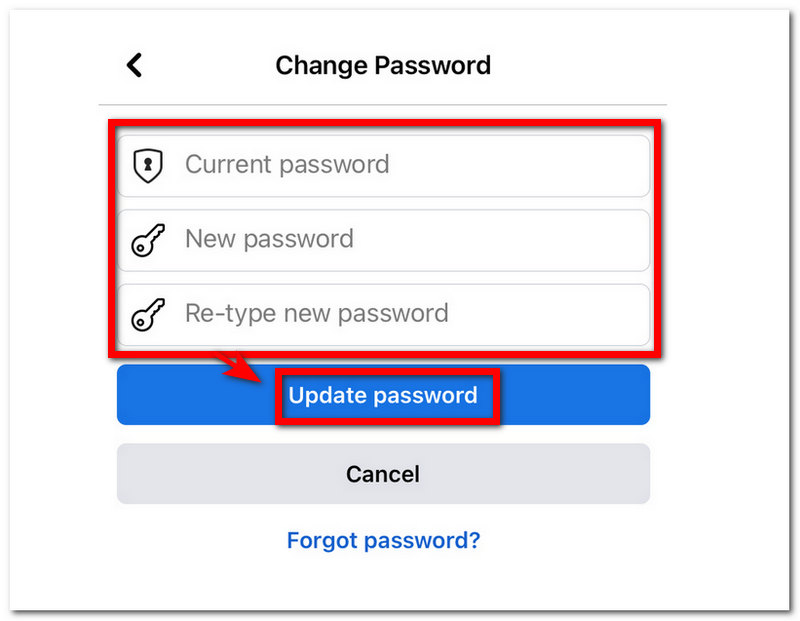 6.
Put your current and new passwords in their respective fields and click Update Password to change your Facebook password..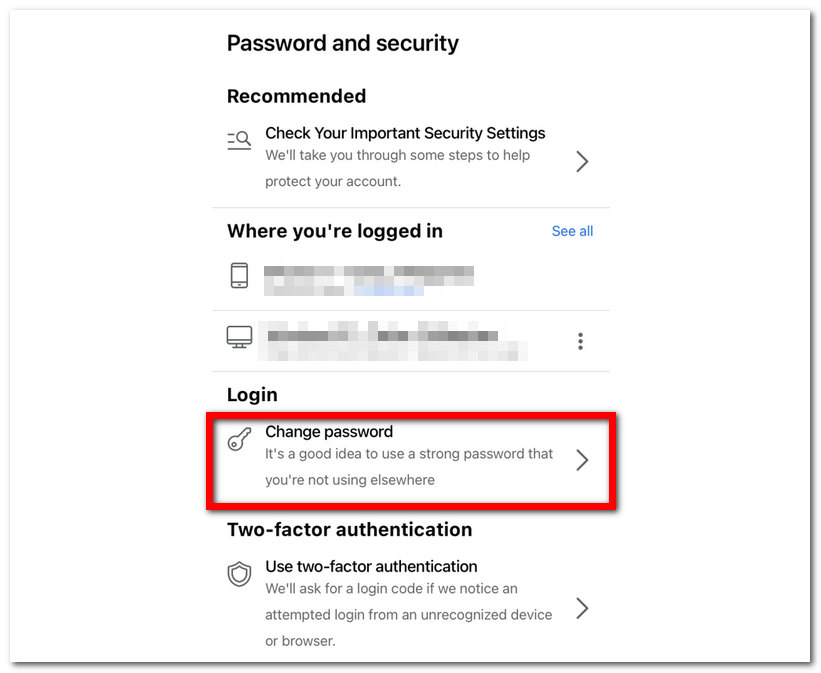 Changing a password in the app is much easier than creating another one. You can simply enter your old password and create a new one. This is much faster than creating a new account, which requires you to start over again. Additionally, changing your password regularly helps to keep your account secure. Moreover, you can block someone who you think is suspicious on Facebook to keep your account safe.
Part 3. Facebook Password Reset Code Not Working
Changing your password can sometimes be stressful, especially when the Facebook reset password code that was sent to you is not working or not sent at all. Listed in this part of the article are why the Facebook password reset code is not working, or you don't receive it sometimes.
◆ Mail Rejected as Spam. One of the underlying reasons why people sometimes have difficulty finding their reset code is that they forget to look at their spam folders. Be sure to check not just the spam folder when waiting for your code.
◆ Mailbox at Capacity. Sometimes, we didn't receive the code on time because our mailbox got many emails. To solve this issue, try cleaning out your mailbox, and deleting all unnecessary emails might help you in this one.
◆ Poor Connection. Poor connection can contribute to the problems of reset code not being received, especially when you use the phone number way. To solve this issue, be sure you check your signal when doing this to be able to receive your code.
◆ Wrong Contact Details. Wondering why you don't receive the code even after checking all the first 3 problems. You might want to check if you enter the correct information into the app when confirming your identity.
◆ Over Request. When things don't go our way, we sometimes get a little impatient, leading to over-requesting of code. This will delay your code and receive them all simultaneously, and you might struggle to enter the correct code. To avoid this issue, wait patiently and try requesting the code at 5-minute intervals.
When resetting your Facebook password, always check all the factors that might get in your way, especially those listed above, as those are the most common issues users face while changing their password on computers and mobile.
Part 4. FAQs About How to Change Facebook Password
Why can't I change my Facebook password?
Users experience being unable to change their Facebook password for many reasons. it can be due to the user's poor internet connection, or they reach the limit of changing their password. In this case, you'll wait at least 24 hours before you can reset your password again.
Can you tell if someone tried to log into your Facebook?
Yes, Facebook will notify through notifications in Facebook and the email of the account owner when someone is trying to access their account on devices that Facebook finds suspicious, and the owner does not recognize as theirs.
How do hackers get into my Facebook account?
Hackers use different ways to get into someone's account. They even sometimes have tools or software to perform the task. Either way, you should not let that time happen to you. Instead, you can change your password today and enjoy your social media experience.
What are the first signs of being hacked on Facebook?
There are many ways to determine if your account has been hacked. One of them is when your account is acting out of your suspicion. This includes leaving all your messages on read, posting, and replying to your mutuals. Be sure to change your password when someone has accessed your account.
Conclusion
Changing a password on Facebook is much easier than recovering it from hackers. Don't wait for that to happen, and start keeping your accounts in check. Changing your Facebook password often can help you enjoy life in your social media space uninterrupted from the thought of someone trying to access and steal all your information or, worse, put your account and friends at risk.
It's essential to use strong passwords to ensure the security of your accounts. You should avoid using personal information such as your name, birthday, or address in your passwords. Moreover, never reuse passwords across different websites, as it may get all your accounts hacked if any websites get compromised. These simple steps can help keep your social media accounts safe and secure.
Did you find this helpful?
411 Votes
YES

Thanks for letting us know!
No

Thanks for letting us know!
AnyMP4 Video Converter Ultimate
All-in-one video converter, editor, enhancer upscaled with AI.