Download Facebook Story to Grasp Unforgettable Events
One of the world's most popular social networking sites, Facebook, created the stories function to let users share temporary but unforgettable events with their friends and followers. It becomes a newer way of updating your mutuals on what's in your day. The use of Facebook stories varies from a wide range of use. People sometimes use it to greet someone with a happy birthday or a shoutout, promote or share products they discover online, share music they like, and any sort of what the user likes to do in their story.
The issue with these Stories is that they disappear after 24 hours. As much as we want not to miss things about our favorite user or celebrity, the story will expire eventually. But do not worry; a remedy is close to reach. In this article, we'll look at obtaining the finest Facebook Story downloader, making saving these priceless memories simple and quick. Be sure to read the whole article to learn its use, purpose, and how to download Facebook stories anonymously. Never miss a story, and start preserving those precious moments.
Part 1. Can you Download Facebook Story
Sharing experiences with friends and family has become crucial to our online social life in the current digital era. One tool enabling users to post fleeting images and videos for a day is Facebook Stories. But what if you want to share these priceless moments with others outside the Facebook site or keep them for the future? Can Facebook Stories be downloaded? The simple answer is yes, and we'll discuss how to achieve that later.
By default, Facebook does not offer a way to download Stories from the website. However, you may quickly download these stories to your smartphone, owing to various third-party applications and internet resources. While downloading your stories is easy, taking stories from the profiles of other users should be done with consideration for their privacy and the platform's rules. Below this part, we will detail the safe and effective downloading of Facebook Stories.
Part 2. How to Download Facebook Story
When you have the proper equipment and knowledge, downloading Facebook Stories may be a simple procedure. We'll walk you through the process of fast and conveniently downloading Facebook Stories here:
Desktop Software
How to download Facebook stories on PC? Using desktop software to download Facebook Stories can provide a complete social media content management solution. Desktop software such as AnyMP4 Screen Recorder can take your Facebook stories quickly, easily, and at as high resolution as possible. Below are the steps you need to know when downloading and using the app to download your Facebook stories.
1.
Download AnyMP4 Screen Recorder from its website and run the installer.
2.
Launch the software and choose the Video Recorder from the main page once installed.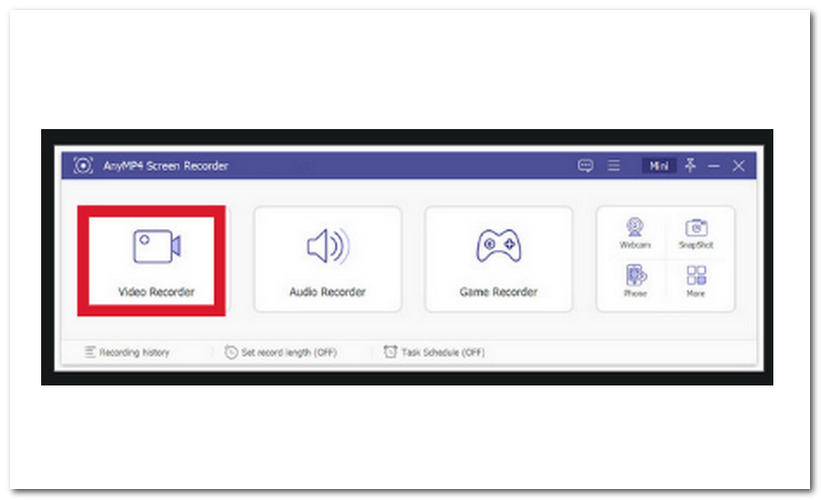 3.
After clicking the Video Recorder, a red dotted line appears on the edge of your screen. Drag or enter dimensions to set Facebook story size.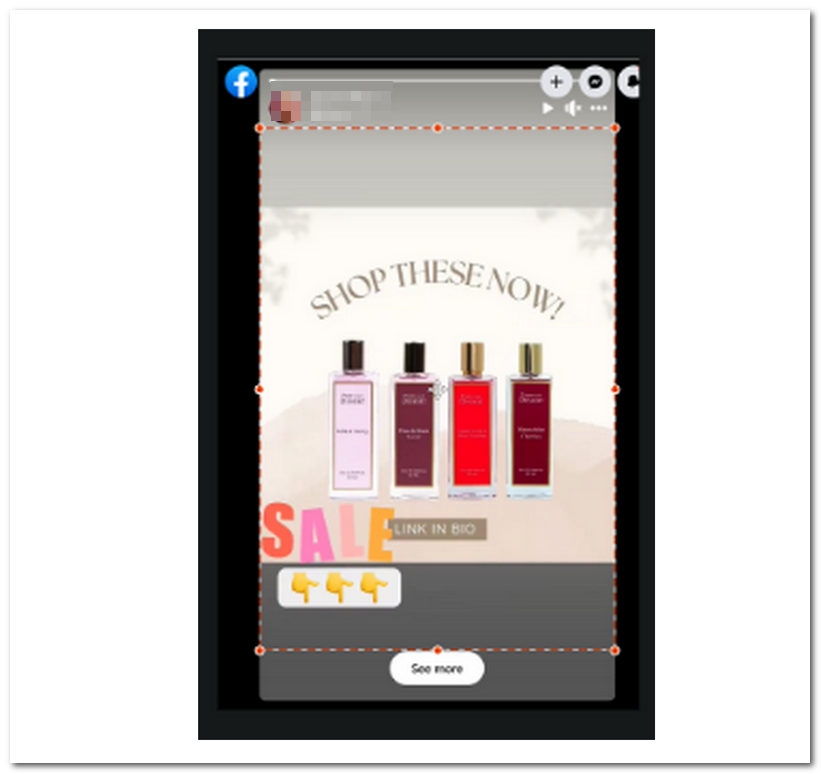 4.
Turn the System Sound ON and the Microphone OFF.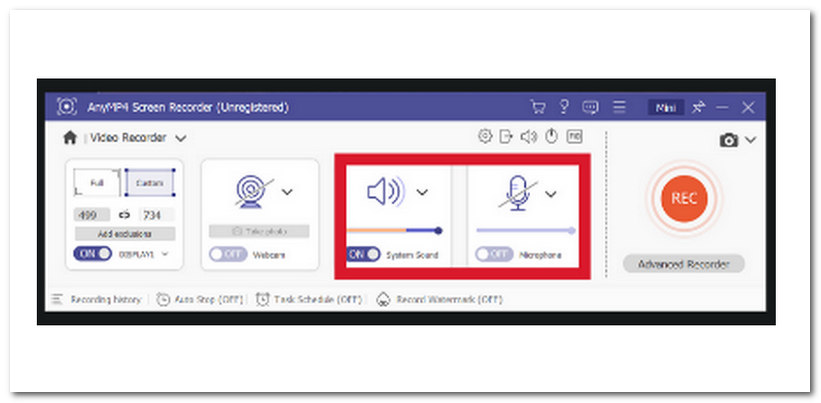 5.
After adjusting the red dotted line to match the Facebook story ratio and the Audio Settings. You can now click the REC button to start recording.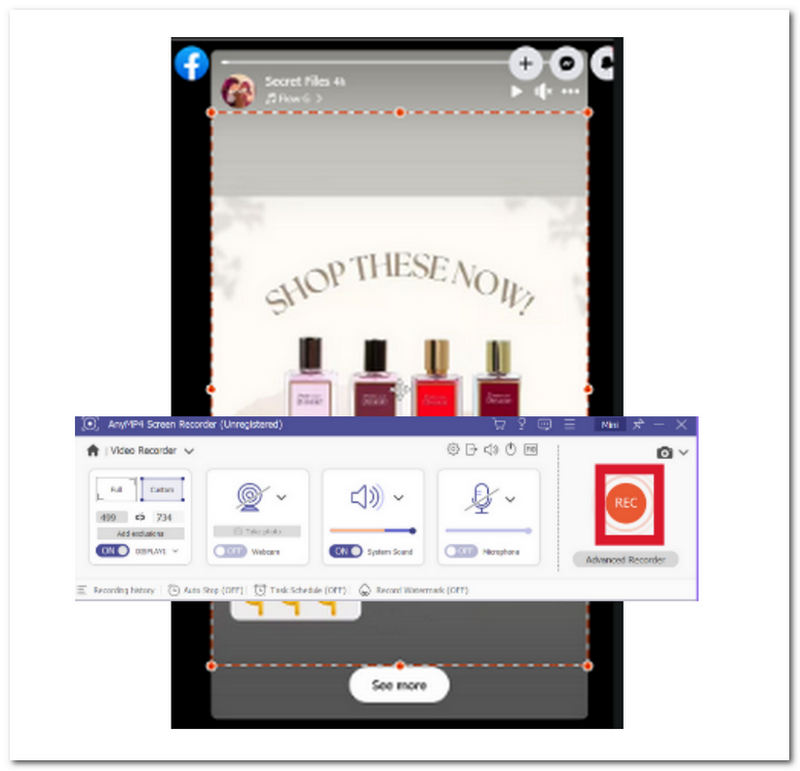 6.
Click the red square button when stopping the record. It will show you a preview of your recordings, which you can edit before saving them on your computer.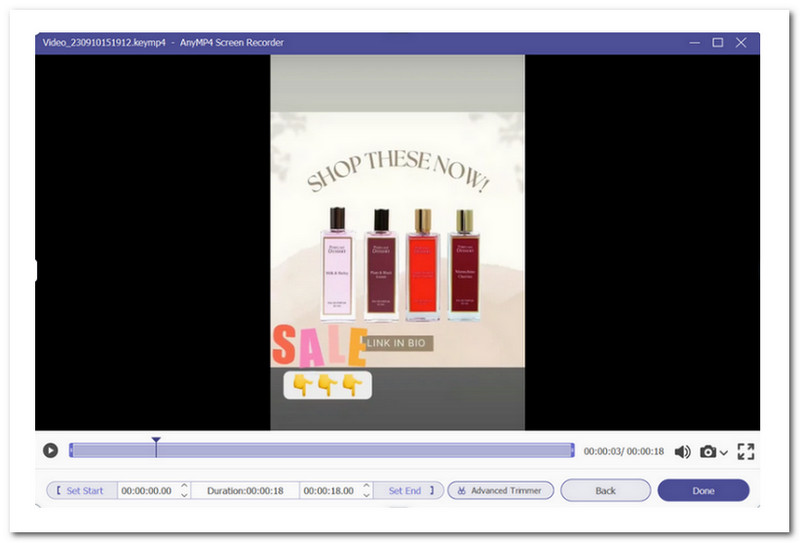 AnyMP4 Screen Record will be your best friend in downloading or recording your social media content. The software not only caters to Facebook Video but as well as audio recording, real-time gameplay, and mobile screen mirroring. You can use the free version to do basic tasks such as Facebook story recording. However, if you wish to experience high-quality and unlimited recording time, then go for a subscription.
Chrome Extension
If you're looking for a streamlined approach, having a Facebook story downloader extension such as Story Saver to download Facebook Stories is convenient. Below are the steps on how to use the Chrome extension.
1.
Simply install the Extension.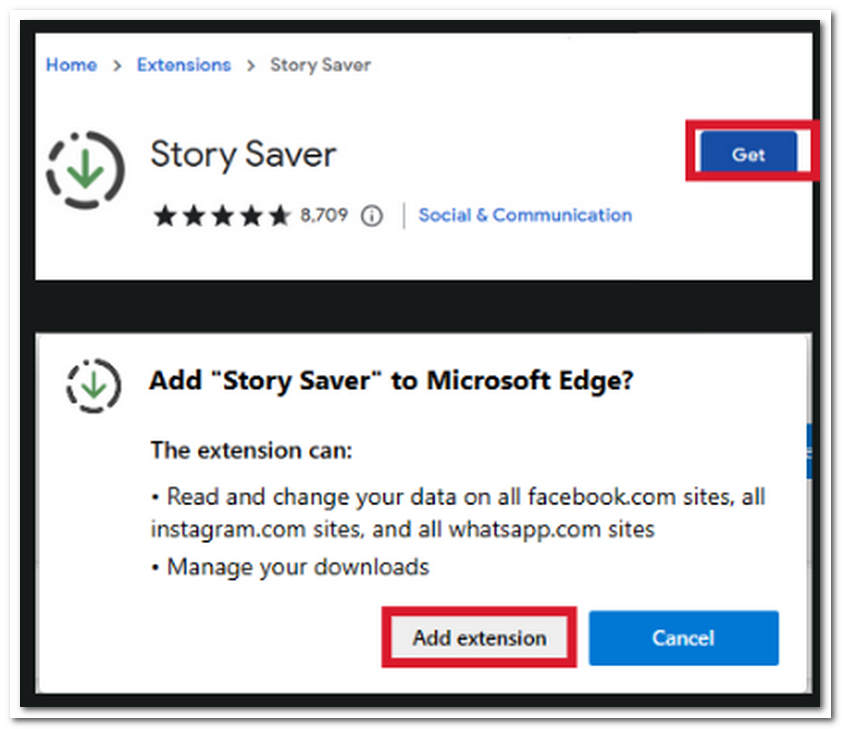 2.
Go to your Facebook account and browse the Stories you want to save.
3.
Click on the Logo at the top of your browser. The extension will handle the downloading process. If the extension's logo is not displayed, check the Puzzle Icon, where all your extensions are stored.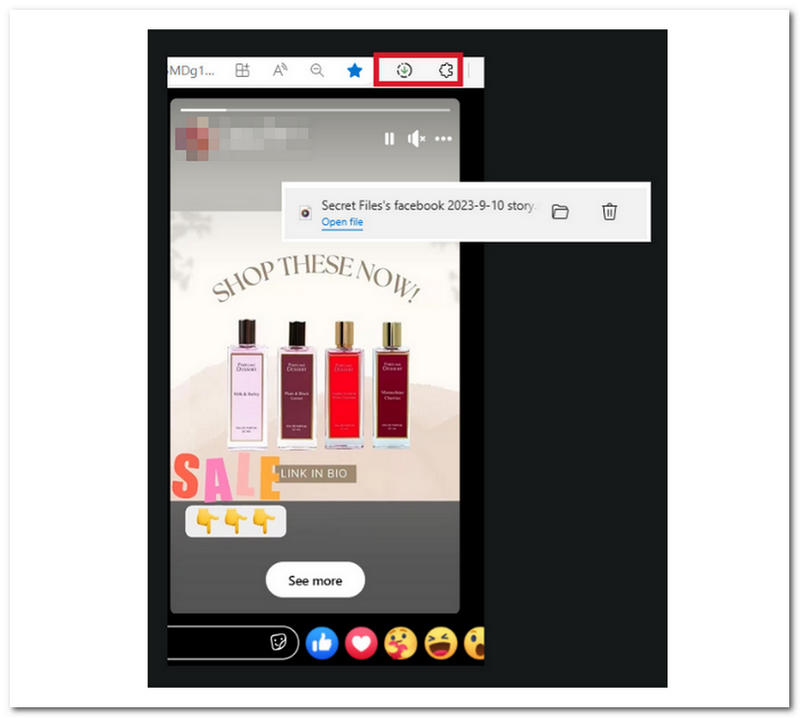 Story Savers is a quick and hassle-free way to archive your favorite Facebook stories with Story Saver. It's automatic, free, and easy to use. Perfect for users who are in a rush to download Facebook stories.
For more screen recorder software for Chrome, check it here.
Mobile App
Downloading Facebook Stories on your mobile device offers the ultimate convenience, especially when you're on the move and want to preserve those captivating stories. Here's a step-by-step guide on how to achieve this using Friendly Social Browser:
1.
Download the Friendly Social Browser app on your device.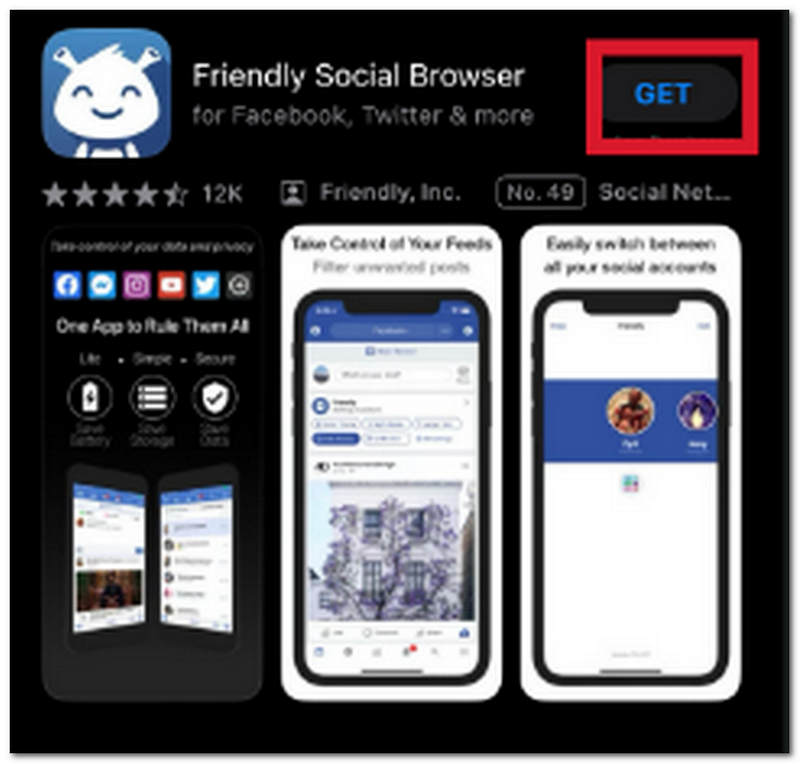 2.
Launch the app and Log in to your Facebook account.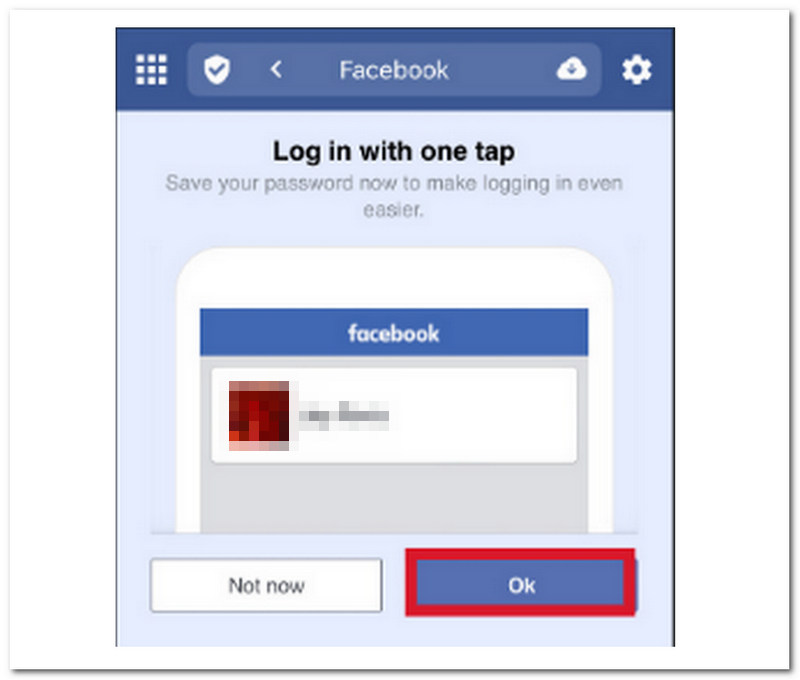 3.
Browse your story and select the story you want to download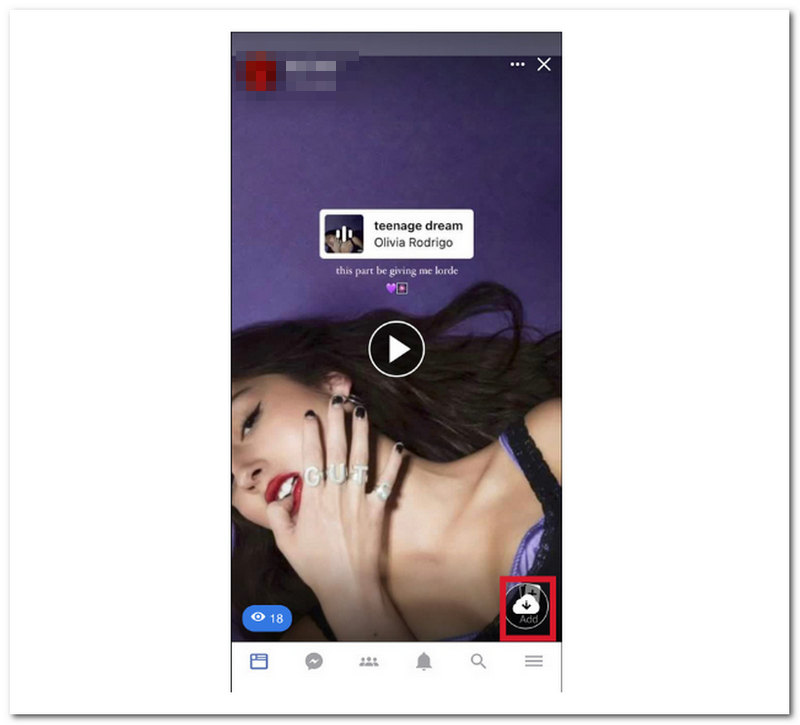 4.
Click the Cloud with the arrow down logo to download the story
5.
It will automatically download your story to your gallery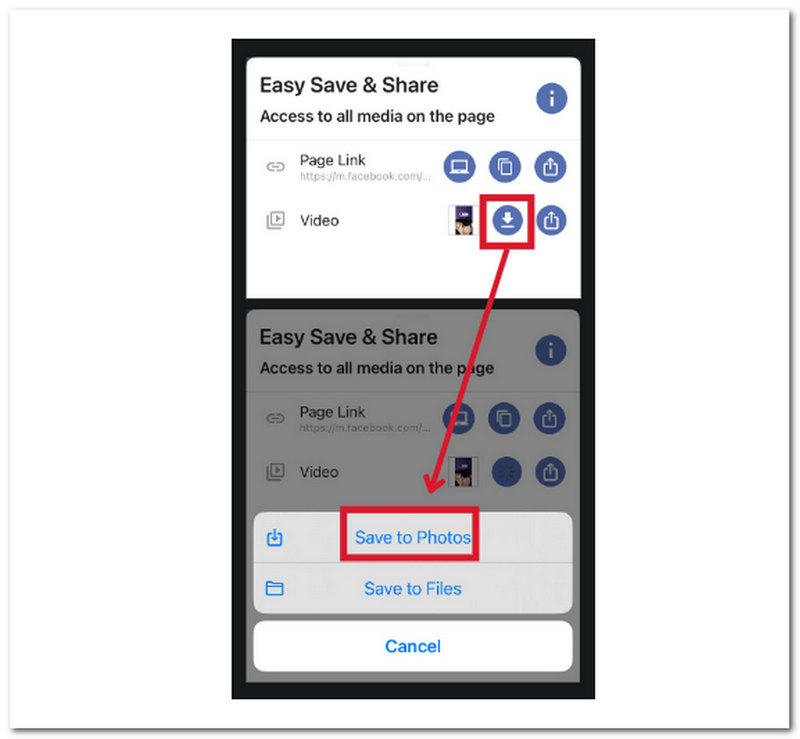 Downloading Facebook Stories on your mobile device ensures you never miss out on preserving those memorable and captivating moments, whether they're shared by friends, family, or content creators you follow. With taps, you can store these stories for later viewing, ensuring you can relive and cherish these moments even when you're on the go.
Part 3. FAQs About How to Download Facebook Story
Can people see who viewed their Facebook story?
Facebook prioritizes user privacy by not disclosing the identities of individuals who view a user's stories. This privacy feature ensures that users can freely post content without concerns about who is monitoring their activity. By maintaining this information as confidential, Facebook aims to create a more comfortable and less intrusive environment for its users, encouraging them to engage with the platform without fear of their actions being scrutinized by others.
What is the difference between a post and a story on Facebook?
Facebook posts are updates you share permanently on your timeline that may be read by your friends or any other audience you want. Except when you delete it or change the privacy settings, it stays on your profile. In contrast, a Facebook story is a brief update that vanishes after 24 hours. Stories often show at the top of the Facebook app or website and are available to the audience you have chosen, which may include friends or a custom list.
What happens to your story on Facebook?
Facebook stories are intended to be fleeting, giving users a brief look inside the updates and memories they've shared. Users are incentivized to provide more frequent, real-time updates because these articles disappear 24 hours after uploading. This characteristic sets them apart from standard postings, which are deleted manually or lose visibility if the privacy settings change.
Can I see who viewed my story on Facebook if we aren't friends?
Regarding story views, Facebook prioritizes user privacy by keeping the identities of non-friends who have viewed your story confidential. This means that even if someone outside your friend list has seen your story, their name will not be disclosed, ensuring anonymity and privacy for all users. Facebook's commitment to protecting user data underscores its dedication to creating a safe and comfortable environment for sharing moments on the platform.
How can I view a story without being seen?
Viewing someone's Facebook story without being seen is not a feature the platform provides. However, attempting to use third-party tools to achieve this may pose security risks to your account, and it's not recommended. Facebook values user privacy, and any attempt to bypass this privacy may violate the platform's terms of service. It's important to use Facebook features and settings as intended to maintain a safe and respectful online experience.
Conclusion
You may quickly and conveniently preserve those priceless memories shared on the site with the correct Facebook Story downloader. We demonstrated that it is feasible to download Facebook Stories, and we provide a step-by-step tutorial on accomplishing it safely and effectively. So save those Facebook Stories that are most important to you! However, it's crucial to remember that downloading someone else's Facebook Story without their consent may violate Facebook's terms of service and privacy. When utilizing these downloading tools, always respect others' privacy and rights.
Did you find this helpful?
391 Votes
YES

Thanks for letting us know!
No

Thanks for letting us know!
AnyMP4 Video Converter Ultimate
All-in-one video converter, editor, enhancer upscaled with AI.