How to Hack Screen Time Limitations: No Passcode Needed
We all know that screen time is probably one of the great features invented in this generation. Most especially with parents, it helps us manage the mobile device time consumption and control the media exposure of our children and family members. In simple words, we can say that with the Screen Time feature, it's simple to place limitations on your child's device, from limiting the content they may access to setting a daily screen time limit. It helps your child be aware of how much time they spend on their gadget and guards against exposing them to explicit stuff.
In connection with that, join us to see and explore the details regarding the screen time feature. This article post allows us to give you the full details on how to hack Screen Time with the help of three incredible tools: Aiseesoft iPhone Unlocker,
Part 1. What is the Screen Time Limit?
Since Screen Time is a fundamental component of Apple with iPhone and iPad, all apps can use it without requiring modification from developers or specific apps. It can be found in the Settings app and tracks how you use your devices, providing information on anything from how much time you have spent using particular app categories and individual applications to how frequently you have picked up your iPhone over a day or even an hour.
Furthermore, using this feature, you can view the collected data in useful charts in the Apple Screen Time menu, and every Monday morning, you'll receive a report via a notification that will show you exactly what you did that week, how it compared to the week before, and how much time you spent in each app.
Although the feature is effective and helpful most of the time, it can still cause details for a certain thing we need to do. For instance, your kids or the parents have an emergency agenda and must use the device. But the Screen Time feature won't allow you since it has already reached the limits. Moreover, when you forgot your iPhone Screen Time password, that will be a big problem. For that, you must see the next parts to bypass this feature whenever we need to do it.
Part 2. Aiseesoft iPhone Unlocker
Many users are asking if we can hack screen time without a passcode. Fortunately, we can do it. As long as we need it to make it. That is why Aiseesoft iPhone Unlocker is here to help us manage the feature and bypass the restrictions whenever needed. This tool is very helpful in different situations. For example, if you are a parent, you can delete the password and set all of these settings when you have merely forgotten the Screen Time passcode. You may easily remove the Screen Time password with the simple-to-use program iPhone Unlocker, which we highly suggest. See the detailed process of hacking Screen time without a passcode by simply removing it.
1.
Please click the Download button from their website to get the software, and you can install it on your computer.
2.
Please run the software for deleting the Screen Time passcode on your computer. You can see that it provides a Screen Time option that you can use. Please click that to continue.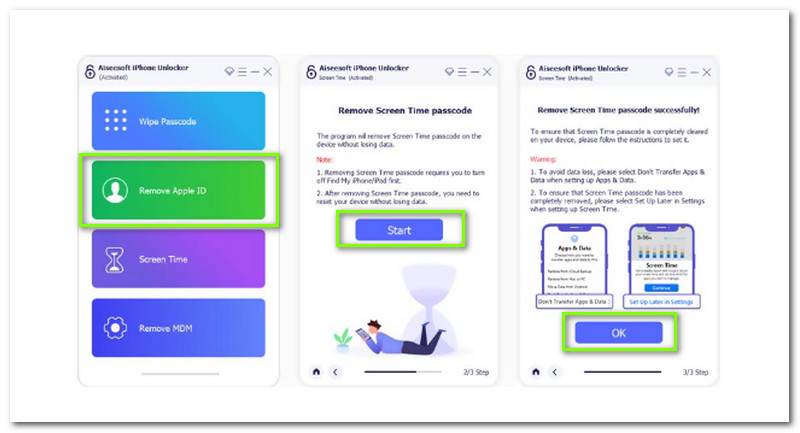 3.
Now, we need to connect your iPhone to it with a regular USB cord after clicking the Start button. Then, to assist your computer in identifying this iOS device, tap Trust this computer on your iPhone's screen. Please click the Start button once more after confirming the information.
After connecting successfully, you must deactivate the Screen Time passcode from your iOS device by following the on-screen instructions. Your iPad or iPhone's Screen Time limitations will be disabled after this operation. As long as you follow each step properly, we will have no problems. Indeed, we can now enjoy our iOS without limitations after this process.
Part 3. AnyUnlock - iPhone Password
Another tool to hack the restricted screen time is the amazing AnyUnlock - iPhone Password. With this tool, you can construct a screen time hack using the expert passcode management tool AnyUnlock - iPhone Password Unlocker, especially if you forget or don't know the device's passcode. Most significantly, unlike previous techniques, AnyUnlock won't wipe your iPhone's data when stealing Apple Screen Time. See how we can use it below.
1.
Connect your iOS device to a computer, and please hit the Unlock Screen Time Passcode option in the upper right corner.
2.
At this moment, to unlock the passcode, click Unlock Now.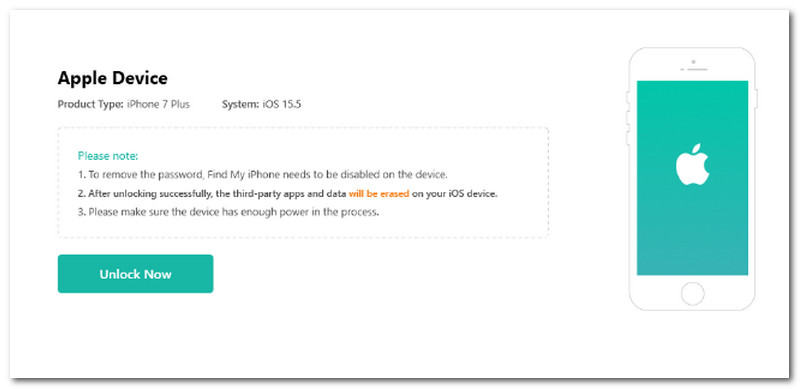 3.
Please wait a few moments, and AnyUnlock will remove your Screen Time Passcode following the analysis.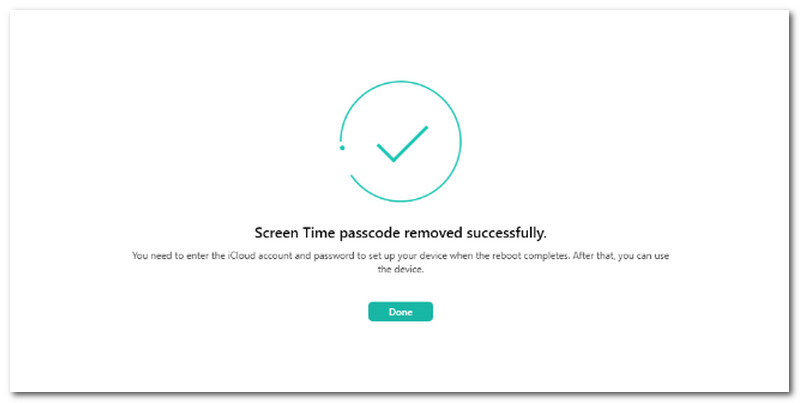 That is the easy way we can use this tool with the process. However, some users report that its backup feature sometimes fails once we fail to utilize it properly. Moreover, the tool is still great.
Part 4. UnicTool LockEraser
Since you have forgotten your Screen Time passcode, or are you locked out of your iPhone? No worries, here is the third tool you can use. Another alternative to help unlock the Screen Time passcode on your iPhone is a reliable third-party app like UnicTool LockEraser.
1.
Select the Unlock Screen Time Passcode mode on the screen, then connect your device.
2.
Select the Start button for iOS 12 or later-running devices to unlock the Screen Time passcode. You will see the Recover Restrictions Passcode interface for iOS 11 or older devices.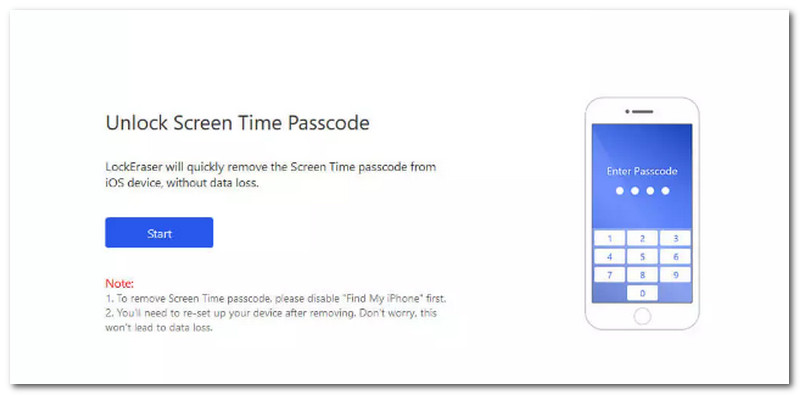 3.
Be patient while LockEraser completes its task. It will finish quickly. When everything is finished, you'll receive a notification.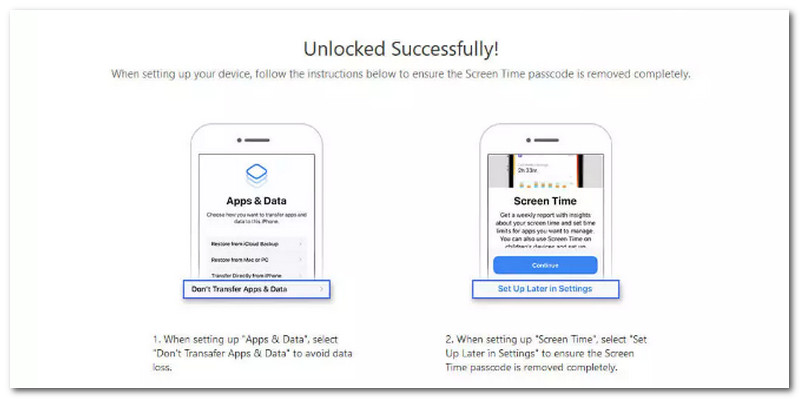 This tool is also pretty similar to the tool we can use above. That is why it can also be used as an alternative to hacking the Screen Time on your device.
Part 5. FAQs about How to Hack Screen Time
Can I fake my Screen Time?
There is no way to fake your Screen Time reports. The feature of Apple Screen Time is very legit and restricted when giving the Screen Time reports of your iOS device. That is why it is not allowed to fake it. For that, it is an assurance that Apple Screen Time features are legit and have integrity.
How is my kid bypassing Screen time on an iPhone device?
If you are asking why is there a Screen Time limit for my child? Then, maybe your child can disregard the limitations during this downtime without requesting parental consent if the option Downtime is used and Block at downtime is not selected. You will need to wait until the next day for it to take effect if your child has selected ignore for the rest of the day. We must bear these two modes in mind since they can be a huge factor in why your Screen Time is being ignored.
How do I get unlimited screen timeout?
the timeout period that best meets your needs; it can be set to 15 seconds, one minute, two minutes, five minutes, 10 minutes, or even 30 minutes. The default timeout is 30 seconds. But if we want unlimited Screen Timeout, we need to open the Settings app on your device first. Look for Screen Timeout once you are in the Display settings and press on it. Then, you'll have a choice between a short time frame, like 15 seconds, and a longer time frame, like 30 minutes. But in this case, we need to choose Never.
What apps block screen time?
According to the reports, the top three apps that block Screen Time are AirDroid Parental Control & Screen Time App, Kidslox Screen Time Parental Control, and FamilyTime Screen Time Control App. These applications can offer incredible features in blocking the feature easily. In addition, they are available in App Store and Google PlayStore.
Can I get around screen time without my parents knowing?
It is possible once we use third-party applications to help you do it. One of the main applications we can use is the Family Link app, which offers Control Screen Time without your parents. However, we must remember that it is important to use this whenever it is only a need rather than our wants.
Conclusion
If you use an iPhone like most people, you've experienced frustration from your kids using the Screen Time Hack. This blog provides all the information you need to avoid Screen Time from being hacked and implement the appropriate protective steps.
With the details above, we can also say that no tools come close to Aiseesoft iPhone Unlocker's ease of use, flawless security, and optimal reliability at such a low cost if you yourself have forgotten the Screen Time passcode and wish to hack or bypass the Screen Time. You must never forgo it because it is the most effective strategy.
Did you find this helpful?
402 Votes
YES

Thanks for letting us know!
No

Thanks for letting us know!
Aiseesoft iPhone Unlocker
Get into locked iPhone iPad iPod without password or Apple ID.