How to Use Parental Controls on iPhone: Safer Digital Experience
The allure of digital devices for kids is undeniable, and while they open up incredible opportunities for learning and creativity, they also present challenges. As parents, guardians, or caregivers, it's crucial to strike a delicate balance, fostering a positive digital environment while protecting children from potential risks. This is where parental controls come into play. Parental controls on iPhones are vital in managing and regulating your child's device usage. They empower you to set boundaries, control access to age-inappropriate content, and keep an eye on screen time. By understanding and effectively using parental controls, you can create a safer digital space that nurtures healthy growth and responsible device usage.
For all of that, this article exists to help you understand the usage of the feature and how we can use it easily. Here is a detailed guide on using Parental Controls iPhone to make a safer online space.

Part 1. What is Parental Control on the iPhone?
What is Parental Control on the iPhone?
Parental controls on the iPhone are built-in features that allow parents, guardians, and caregivers to manage and regulate various aspects of their child's device usage. These controls enable you to establish boundaries, filter content, and monitor screen time, ensuring your child has a safe and age-appropriate digital experience.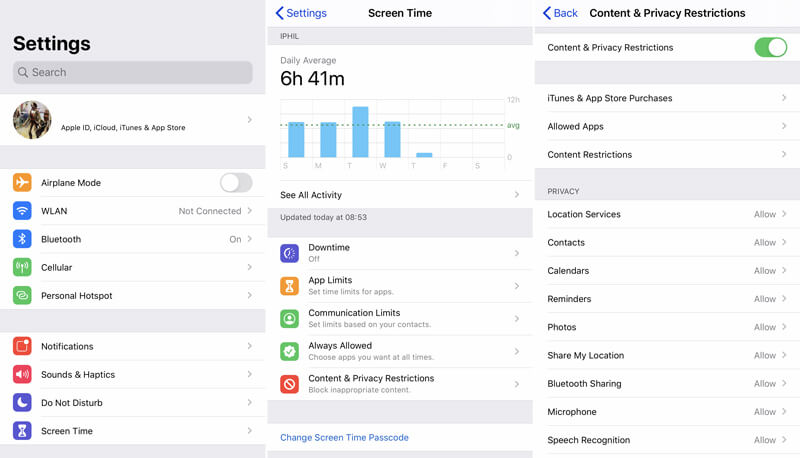 Why do we need Parental Control on the iPhone?
In today's digital world, where smartphones are an integral part of our lives, ensuring a safe and balanced digital environment for children has become crucial. Here are some key reasons why parental controls are essential:
◆ Age-Appropriate Content. Parental controls help prevent children from accessing inappropriate content, including explicit websites, movies, music, and apps that may not suit their age.
◆ Screen Time Management. Excessive screen time can impact a child's development, sleep patterns, and overall well-being. Parental controls enable you to set daily limits on screen time, ensuring that your child's device usage is balanced
◆ Digital Safety. The internet has potential risks, from online predators to cyberbullying. Parental controls provide an added layer of protection, reducing the chances of your child encountering harmful online content or interactions.
◆ Establishing Healthy Habits. By setting limits and guiding your child's digital interactions, you help them develop healthy technology habits and teach responsible device usage.
What data or app can be Controlled?
Parental controls on the iPhone offer a range of control over various aspects of the device, including:
◆ Screen Time. You can set daily limits on your child's time on the device. This includes limiting specific app usage and restricting access during designated downtime.
◆ Content Restrictions. Parental controls allow you to filter out age-inappropriate content. This includes preventing access to explicit websites, limiting access to certain apps, and blocking explicit content in movies, music, and books.
◆ App Store Purchases. You can control the ability to install new apps by requiring parental approval, ensuring your child can only download apps you deem suitable.
◆ Location Sharing. Although not part of traditional parental controls, you can use location-sharing features to keep track of your child's whereabouts if you choose to do so.
By understanding and effectively utilizing these parental control features, you can create a secure and nurturing digital environment for your child, balancing the benefits of technology with responsible usage. It's about providing them a space to explore and learn while safeguarding them from potential digital hazards.
Part 2. How to Put/Set Parental Controls on an iPhone?
Screen time must be established before any limits may be imposed. It will depend on whether the gadget is completely for your child or whether you have a shared device.
1.
Navigate to Settings and choose Screen Time.
2.
Choose between This is my iPhone/iPad and This is my child's iPhone/iPad.
3.
If you're using a child's device, you'll be prompted to set up a passcode. If you're using a shared device, you may set up a screen time passcode by tapping Use screen time passcode there. You must re-enter it to confirm.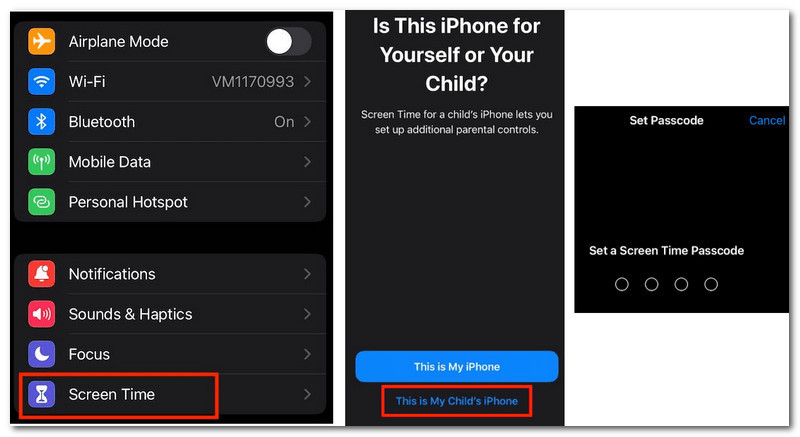 That is the proper method to start and set the Parental Controls on our iPhone. It is necessary to do so so that we can also make some changes and set the settings in our preferences. In that case, the next portion will help us make some changes under the feature of Parental Controls on our iPhone devices.
Part 3. How to Change Parental Controls on iPhone?
Under the feature of Parental Control, we can see different sub-features it offers. However, Screen Time is one of the most common things that can be changed in Parental Controls. This will limit the spending time of the children on their phones. For that, here are some points/guides on how to change Parental Controls Screen Time on iPhone, most likely points on what we can get through this feature.
Screen Time Report
Screen time provides information about how your child uses their device, including how much time they spend on specific apps. If you enable family sharing, you may view your child's reports from your device.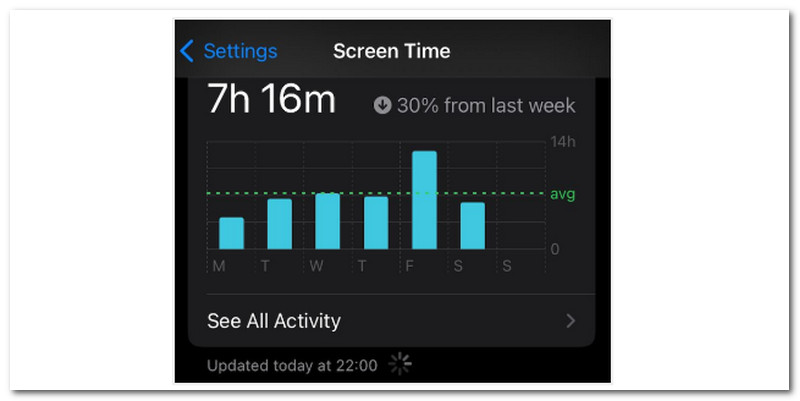 Different Options to Limits
Screen time allows you to regulate your child's device use through various options, such as establishing certain rest intervals or limiting time spent on specific applications. The settings can be found by heading to Settings and then Screen Time.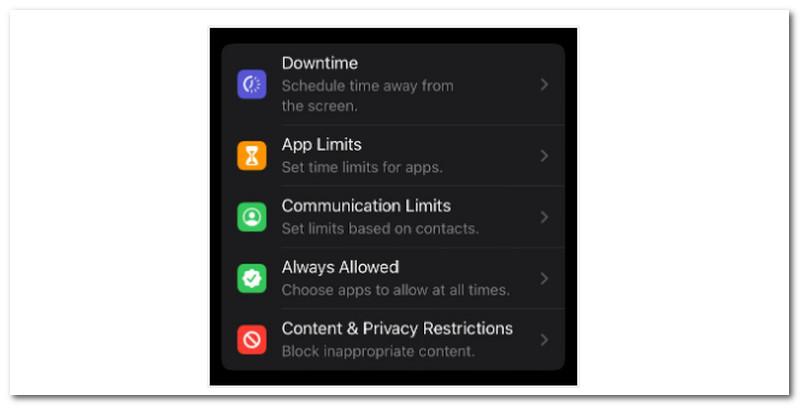 Part 4. How to Turn Off/Disable/Remove Parental Controls on iPhone
Method 1: Disable Parental Controls With a Password
If you recall the password, you may quickly remove this limitation by following these instructions.
1.
On your iPhone, open the Settings app.
3.
Select Turn Off Screen Time from the menu.
4.
Enter your Passcode and confirm your selection by following the on-screen instructions.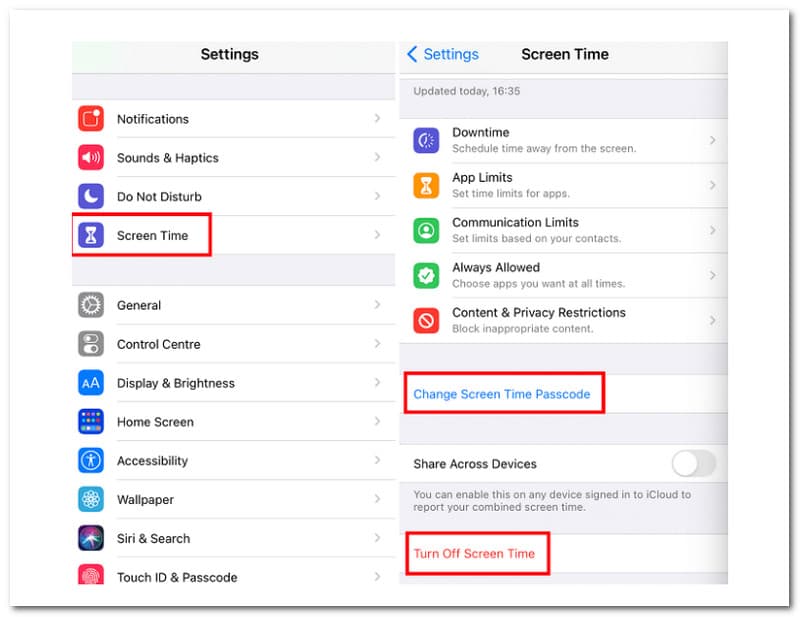 That is the simplest way to disable the Parental Controls on our iPhone. However, this will only be easy if we still remember the password we put in. That is why for those users who do not know the password then, we might have a huge problem because this process does not apply to you.
Remove Parental Controls Without a Password
This section is important if you lost your Screen Time passcode or wish to circumvent Parental Controls surreptitiously. To turn off Parental Controls on iPhone without a password, we strongly recommend using Aiseesoft iPhone Unlocker, a reputable Parental Controls removal program that will make the process easier without a password.
1.
First, you may download, install, and run this Parental Controls removal program for free on your computer. Then select Screen Time from the menu.
2.
Plug in your iPhone on your computer. To assist your computer in rapidly recognizing your iOS device, hit Trust this computer on your iPhone screen.
3.
Press the Start button, and some basic information about your iPhone will be shown. Check and confirm them, then click the Start button again to go to the next phase.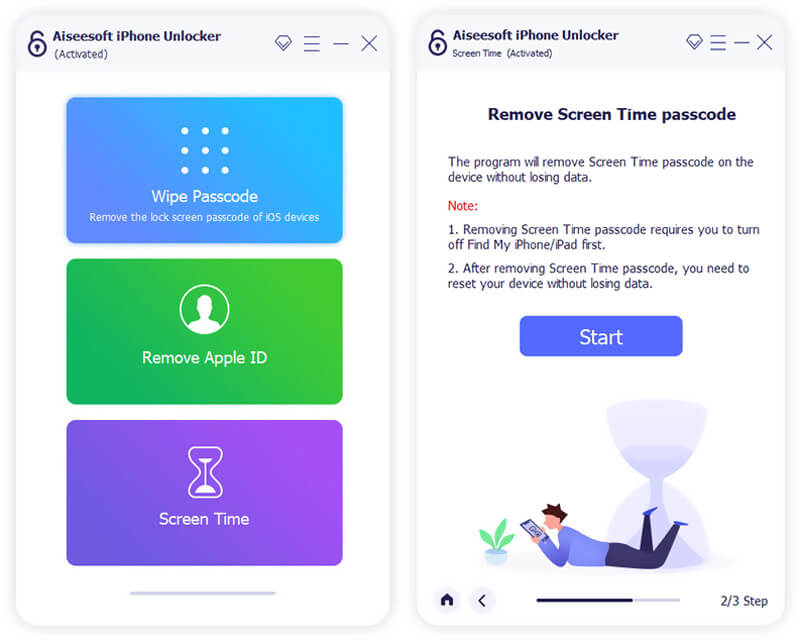 When the operation is complete, return to Screen Time on your iPhone. No password is required; you can alter the limitations or turn off the Parental Controls quickly. We can see how easy and how possible it is. Thanks to Aiseesoft iPhone Unlocker!
Part 5. FAQs about How to Use Parental Controls on iPhone
Can two parents Control Screen Time on their iPhones?
Yes, Apple provides a Family Sharing feature that allows multiple parents or guardians to manage Screen Time settings for their children. This collaborative approach ensures that both parents can have a say in setting screen time limits, app usage restrictions, and other parental control features on their child's device. It promotes a unified effort to create a safe and balanced digital environment.
How to check Parental Controls on an iPhone?
Checking existing parental control settings on an iPhone is straightforward: Open the Settings app on the iPhone. Then, please scroll down and tap on Screen Time. After that, you may need to enter the Screen Time passcode if set. Now, inside Screen Time, you'll see an overview of your device usage and a list of any restrictions or limitations that have been applied.
Can I lock my child's iPhone remotely by Parent Control?
Yes, parental control features on the iPhone allow you to lock your child's device remotely. This can be useful for enforcing time-outs or ensuring the device isn't used during specific hours. To remotely lock the device, follow these steps: Open the Find My app from your device. Now, locate your child's device in the app's list of devices. After that, tap on the device, then tap Actions. Finally, choose the Lost Mode option, which locks the device and allows you to display a custom message.
What happens to Apple's Parental Controls when a child turns 13?
When a child turns 13, Apple's parental controls remain in place, but some restrictions may change. For example, restrictions on app downloads and content can be relaxed, and the child might have more control over their Screen Time settings. It's a good opportunity for parents and the child to have open conversations about responsible device usage while adjusting the parental controls to reflect the child's growing maturity.
Does a 12-year-old need parental control?
The necessity of parental controls for a 12-year-old depends on various factors, including the child's maturity level, family values, and digital habits. Parental controls can be beneficial in establishing boundaries, guiding screen time, and ensuring age-appropriate content. It's essential to have open communication with your child about the reasons for these controls, gradually transitioning towards more autonomy as the child demonstrates responsible device usage.
Conclusion
In embracing parental controls, you become a guardian of your child's digital journey, ensuring they explore, learn, and interact with technology securely and age-appropriately. Implementing these measures empowers them to thrive in the digital landscape while fostering healthy habits and digital citizenship. Indeed, this article showcased the important details we need to know about these features. Share this post with your co-parents so that they will know about it too.
Did you find this helpful?
368 Votes
YES

Thanks for letting us know!
No

Thanks for letting us know!
Aiseesoft iPhone Unlocker
Get into locked iPhone iPad iPod without password or Apple ID.