How to Delete or Deactivate Your Instagram Account
Managing our internet presence has become increasingly vital in today's fast-paced social media environment. Instagram, one of the most popular platforms, has enabled individuals, influencers, and companies to connect, share, and engage with people worldwide. However, there are times when users consider taking control of their digital imprint, which leads to the decision to delete or deactivate their Instagram accounts.
This detailed article clarifies the distinctions between deleting and deactivating an Instagram account, providing useful information to assist users in making educated decisions. We will go over the ramifications and repercussions of each decision and provide step-by-step directions on how to proceed with either one.

Part 1. Delete Instagram Account VS. Deactivate Instagram Account
The journey begins with a clear distinction between two significant actions users can take regarding their Instagram accounts: deletion and deactivation. While both options involve removing your profile from public view, they come with varying levels of permanence and potential consequences. By learning the differences between the two, users can choose to align with their intentions and long-term goals.
Delete Instagram Account
When Instagram is not working, we may want to delete the account. Delving into the process of permanently deleting an Instagram account, we will provide a step-by-step guide to navigate this irreversible action. Deleting an account will remove the user's profile, posts, followers, and interactions from the platform. Users considering this option must be aware of the permanent nature of account deletion and its implications for their digital presence.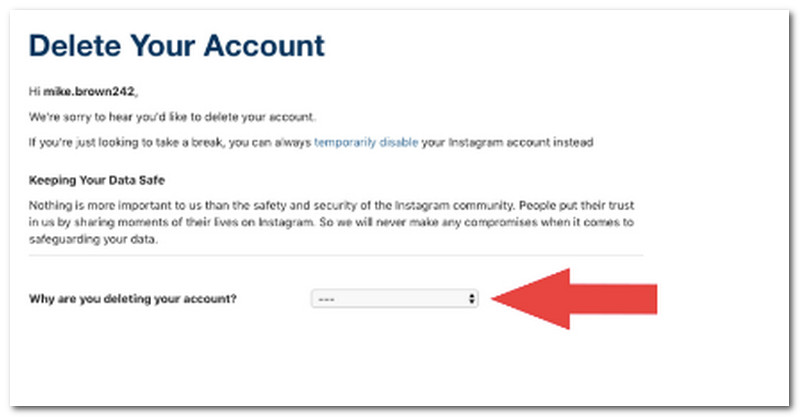 Deactivate Instagram Account
For users seeking a temporary break from the platform, deactivating their Instagram account might be the ideal solution. Deactivation allows individuals to temporarily remove their profiles from public view without permanently erasing their content and connections. We will discover the reasons and benefits of deactivating an account and walk users through taking a temporary hiatus from the platform.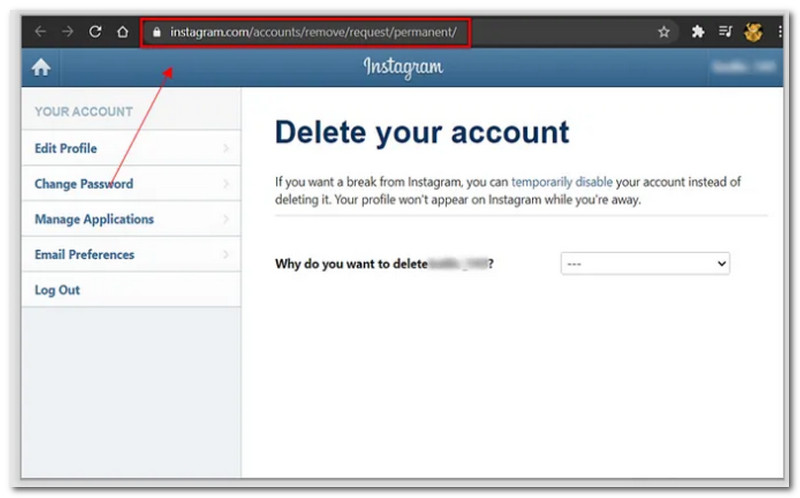 Part 2. How to Delete Instagram Account, Including the Permanently Deletion
You can only permanently deactivate your Instagram account using a browser, and you may do it on mobile and desktop browsers. Instagram makes your profile temporarily inaccessible after 30 days before permanently removing it. As a consequence, you may reinstall it if you change your mind. Here's how to permanently delete an Instagram account:
1.
Navigate to your browser's distinct Delete Your Instagram Account page while logged in.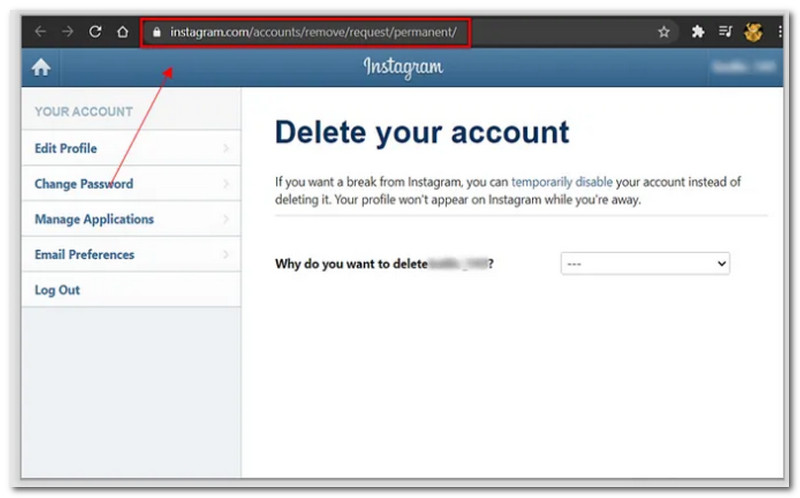 2.
Select a cause for deletion from the drop-down menu. You can select your preference from the alternatives listed below.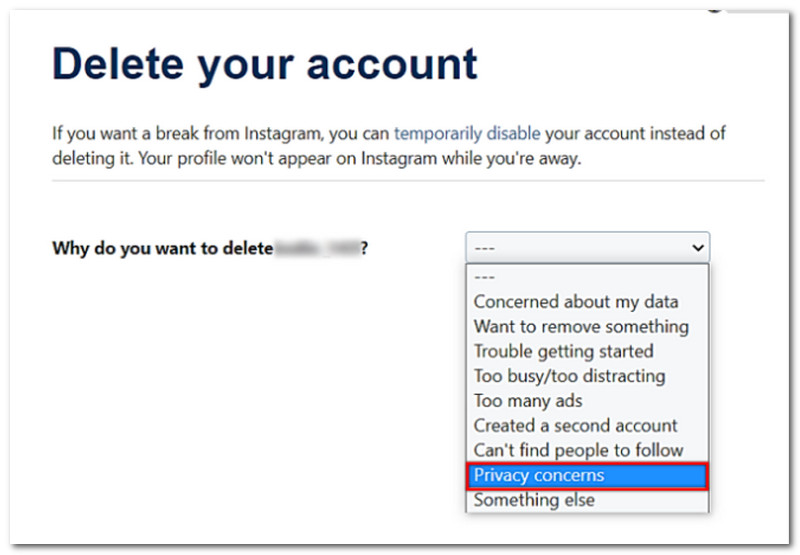 3.
Click or hit the Delete button to confirm your selection.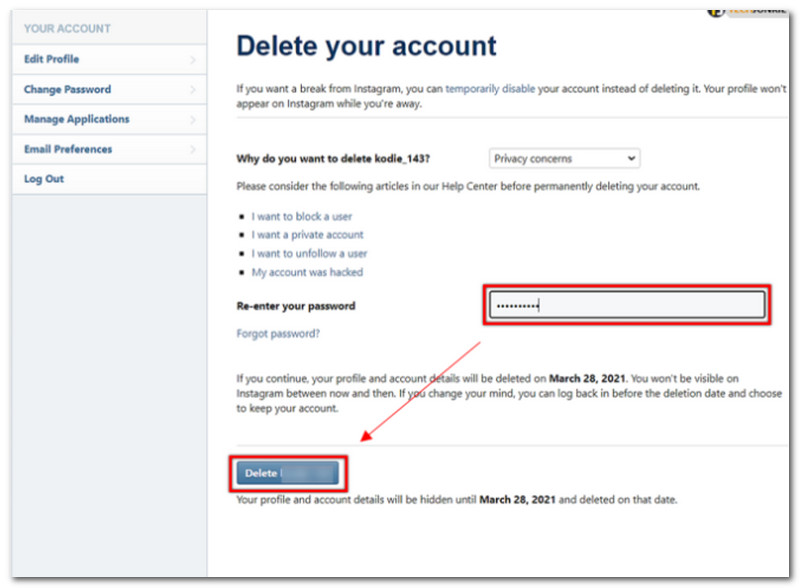 Doing this process is very easy. However, before doing this, you need to make sure that you are now a hundred percent sure of your decision so that you will avoid regret after doing the process,
Part 3. How to Deactivate Instagram Account
If you simply want to take a break from Instagram or avoid making an irrational choice, deactivate rather than delete your account. Disabling your account will log you out and hide your profile. In terms of followers, you could as well have deleted the account. If your profile is temporarily deactivated, you can reactivate it anytime by signing back in. To deactivate your account, complete these steps:
1.
Go to Instagram.com from any browser you cannot do this through the app.
2.
If prompted, enter your username and password. The Profile Icon in the top right-hand corner may be accessed by clicking or tapping.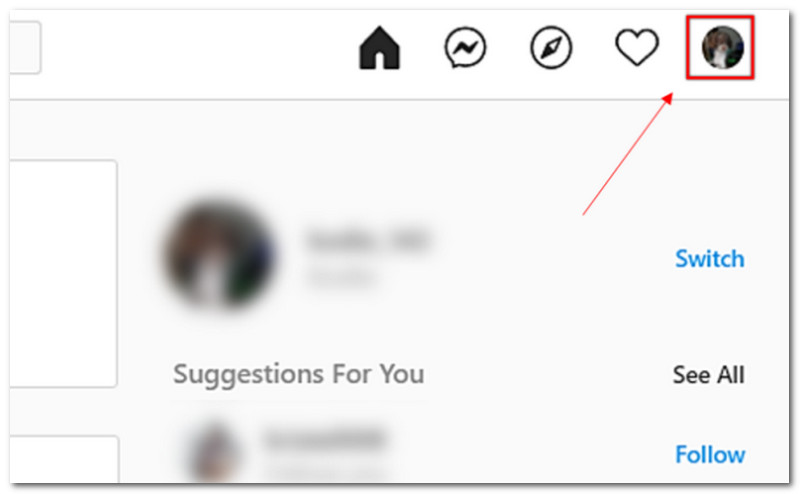 3.
Tap or click Profile, then Edit Profile.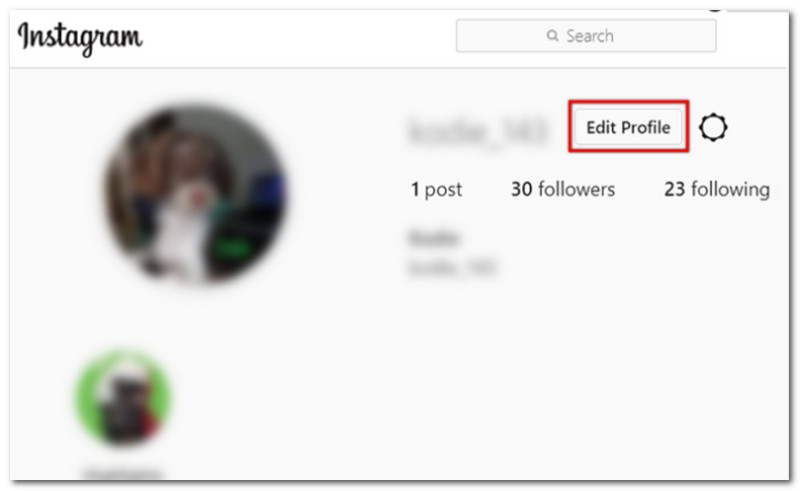 4.
Tap Temporarily disable my account to the right of the Submit button.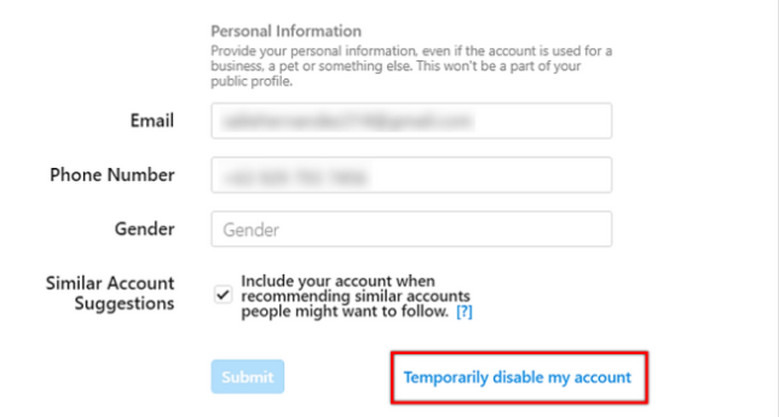 5.
You're asked why you're doing it. Choose an item from the drop-down menu.
6.
Enter your account password again. Click or tap Temporarily Disable Account.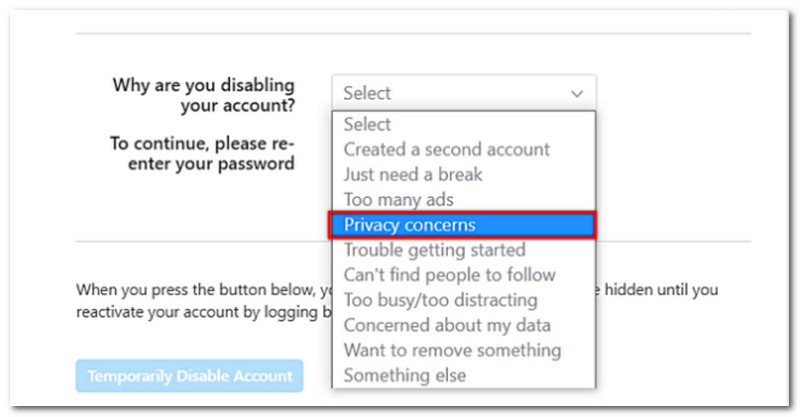 That is one of the common and effective solutions for taking a break on Instagram. We only need to follow the steps properly, and the process will surely be successful.
Part 4. Can I Recover a Deleted Instagram Account?
Once an Instagram account is deleted, users might wonder if it is possible to recover it. This section will address this common concern and provide insights into the procedures and limitations associated with account restoration. Understanding the potential for account recovery will help users make confident decisions regarding their digital presence.
5. What Does a Deleted Instagram Account Look Like
We will explore the aftermath of this decision for users who have chosen to delete their Instagram accounts. Understanding the consequences of deletion will allow users to verify the successful removal of their account and its effects on the platform. Gaining clarity on what a deleted Instagram account looks like ensures users can confidently move forward with their digital strategies.
6. FAQs about Delete Deactivate Instagram Account
Why can't I delete my Instagram account?
There might be various reasons you cannot delete your Instagram account, such as logging into multiple accounts or encountering technical issues. Ensure you follow the correct steps and meet all prerequisites to resolve these obstacles.
Does Instagram delete deactivated accounts after 30 days?
No, Instagram does not delete deactivated accounts after 30 days. Deactivation allows users to temporarily remove their profiles from public view without losing their account data. Reactivating the account restores access to all content and interactions.
Can you temporarily deactivate your Instagram account?
Yes, Instagram allows users to deactivate their accounts temporarily. This feature lets users take a break from the platform without losing their content and connections.
Can I delete my Instagram account after deactivating it?
Yes, after deactivating your Instagram account, you still have the option to delete it permanently. Keep in mind that deletion is a permanent action and cannot be undone.
Is it better to delete or deactivate your Instagram account?
Deleting or deactivating your Instagram account depends on your preferences and intentions. Deactivation offers a temporary break from the platform without losing your account, while deletion permanently erases your profile and content.
Conclusion
Ultimately, managing your Instagram account is a personal choice. Whether you delete, deactivate, or maintain an active presence, make decisions that resonate with you and your aspirations. As you navigate the dynamic landscape of social media, prioritize authenticity, connection, and meaningful engagement with your audience. We are hoping that this article offers you the best solution in solving the issue of your account and was able to answer all of your inquiries.
Did you find this helpful?
433 Votes
YES

Thanks for letting us know!
No

Thanks for letting us know!
AnyMP4 Video Converter Ultimate
All-in-one video converter, editor, enhancer upscaled with AI.