Deleted Memories on Snapchat: Route to Get Them Back
Memories are one of the sole reasons we take snaps and capture things we want to remember longer. They remind us how things were and take us back to how we felt during those times, just like Snapchat, allowing users to look back on their saved snaps, camera roll, screenshots, and many more things they once shared with the world through its Memories section. This can be a great way to reminisce on good times or remember important events in your life. It can also help plan future trips or events, as you can look back at your memories to see what you enjoyed doing in the past.
But the problem arises as users question if Snapchat memories get deleted, will they be recovered? Do you have precious memories on Snapchat that you've accidentally deleted? Don't worry. You don't have to say goodbye to them forever. With the right steps, you can retrieve and restore them to your account. Don't let your cherished moments slip away. To learn more about this dilemma, read the different ways to recover deleted Snapchat memories in this post.

Part 1. Can I Recover Deleted Snapchat Memories?
The good news is, yes, you can. It is possible to retrieve Snapchat memories. Snapchat understands the importance of user memories, so it offers multiple ways to recover them. You can request the Snapchat team to restore your data or restore Snapchat memories from a backup or cache. Let's discuss these methods thoroughly and see how to get back deleted Snapchat memories. Please continue reading the next part.
Do not miss this article to recover the deleted Snapchat messages.
Part 2. How to Recover Deleted Snapchat Memories on iPhone?
As discussed above, there are multiple ways to address how to get deleted Snapchat memories back. On recovering deleted Snapchat memories on your iPhone, we offer you two methods to solve your problem easily via iCloud and iTunes backup.
See the stepwise guide below on how to recover Snapchat memories via iCloud.
Method 1. Recover Deleted Snapchat Memories from iCloud Backup
Many iPhone users take iCloud's assistance to backup and save their data. iCloud Backup saves your app data for all the apps you've downloaded on your device, including Snapchat memories. If this is the case, retrieving the Snapchat memories could be easy from the connected iCloud account.
You can learn how to recover deleted Snapchat memories using iCloud backup from the following steps.
1.
Navigate to the Settings app from your iOS device. Go to General, tap Transfer or Reset iPhone, and next, select Erase all Content and Settings. Your iOS device will reset entirely. Once you are done resetting your device, it will restart.
2.
Follow the on-screen instructions to start the initial setup process. You will see the Apps & Data. Here, click Restore from iCloud Backup. After this, you must sign in to your iCloud account through your Apple ID. Select the backup to restore and start the recovery process.
3.
You can now check out the retrieved Snapchat memories when the backup is restored successfully.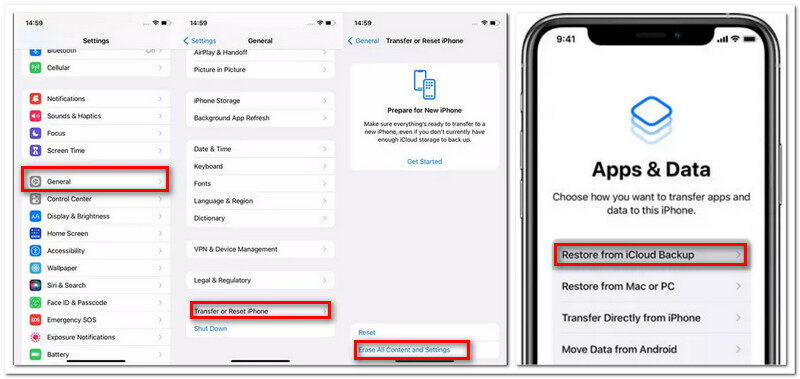 However, while iCloud works seamlessly with Apple devices, it's not as convenient for non-Apple devices. Moreover, when restoring iCloud backup, all the backup data will overwrite the existing data on the iPhone. Also, make sure your Internet connection is stable. Otherwise, you will wait for a long time.
Another method of recovering Snapchat memories on iPhone is through iTunes backup. Let's move to the next part to learn more.
Method 2. Recover Deleted Snapchat Memories from iTunes Backup
If you are an iPhone user, you should be aware that you can restore your device from an existing backup on iTunes if one exists. Before attempting to recover lost Snapchat memories, please ensure they are included in the iTunes backup.
Additionally, please remember that the recovery process involves restoring your device and erasing all current data. If you are willing to take this risk, follow these steps to learn how to retrieve deleted memories from Snapchat using iTunes.
1.
To get started, you must connect your iOS device to your computer. Now, run your iTunes on your device.
2.
Then, select your iPhone device. Navigate to the Summary tab placed at the left sidebar of the screen.
3.
Finally, choose Restore Backup and then reconfirm your choice. Wait until the backup is restored. Once done, check if the Snapchat memories are restored from the backup.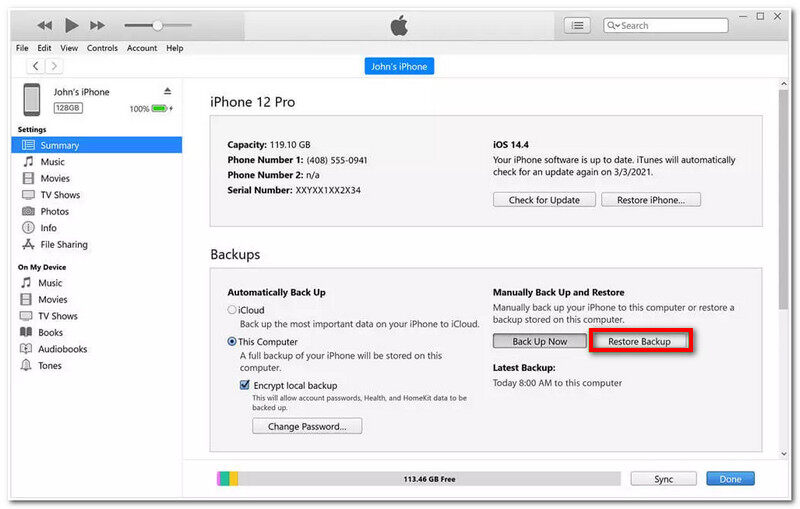 That's how you simply recover deleted memories from Snapchat on your iOS device. But the condition is that you did the iTunes or iCloud backup before deleting the Snapchat stories. To recover the deleted Snapchat memories on Android, see the next part on this matter.
Part 3. How to Recover Deleted Snapchat Memories on Android?
The easiest way to recover deleted Snapchat memories on Android is by downloading My Data on Snapchat. Using My Data on Snapchat to recover your memories will make it easier to find your lost data because when you download it, you will see your archived information, including your Snapchat memories. To download the Snapchat data, you need to do these steps. Take note that this procedure is also applicable to iOS devices.
Method 1. Recover Deleted Snapchat Memories from My Data
1.
Launch the Snapchat app on your device. Then, go to Settings and navigate to My Data. The app will ask you to put your username and password.
2.
You will be directed to the My Data page, which will show you all the data you can request from Snapchat. After that, you must provide your email ID and tap Submit Request.
3.
You will be notified by email once a copy of your data has been prepared. Take note that the data will be sent within 24 hours or later. So, keep an eye on your notification email. In that case, tap the link sent to your email. Lastly, click Mydata.zip to download the data.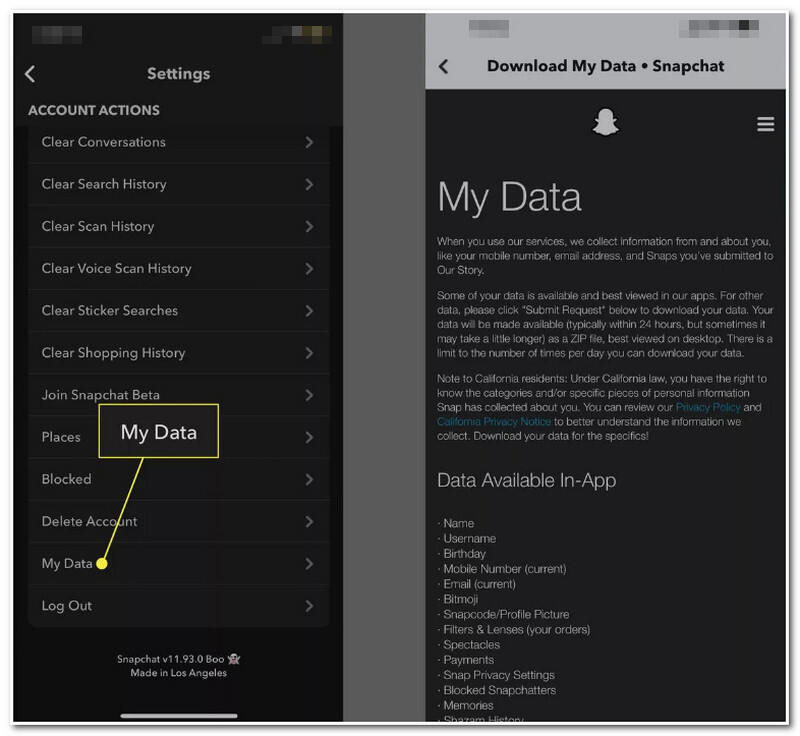 However, if you cannot retrieve your deleted memories from Snapchat on your device by downloading My Data on Snapchat, then you can easily recover deleted Snapchat memories from the cache. Android's cache can also be a savior for restoring deleted Snapchat memories.
Method 2. Recover Deleted Snapchat Memories from Cache
Most apps on our smartphones, like Snapchat store temporary files called cache. If you have deleted a snap from Memories and are worried about whether it can be recovered, there is a chance it might be in the device's cache. However, the possibility of retrieving Snapchat memories from the cache is low. Nevertheless, it is worth trying. Just follow the given steps below.
1.
Connect your Android phone to your PC using a USB cable. Then, allow the PC to access your Android device data. Go to your Internal Storage folder on your phone's system.
2.
Navigate to the Android folder, then go to the Data, and find and tap on com.snapchat.android.
3.
You will see the cache folder, then tap it. You are likely to locate your deleted memories kept in the cache. At last, click on it and Save it to get back deleted Snapchat memories.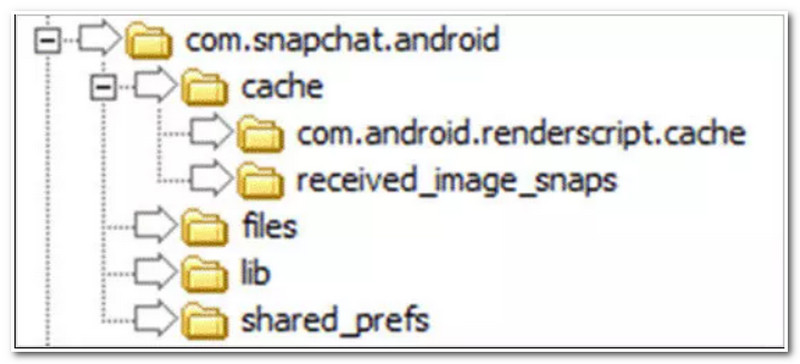 You can now enjoy looking back on your recovered Snapchat memories. This guide lets you know everything about recovering deleted Snapchat memories. You may check the FAQs section if you want to know more about this concern.
Part 4. FAQs about How to Recover Deleted Snapchat Memories
What is the function of Snapchat Memories?
With Snapchat's Memories feature, you can collect all your snaps and other shared moments to put in your archive. This will allow you to look back on them or share them once more on any platform of your choice.
Can you still see deleted Snapchat photos?
When you share a snap through chats, and you happen to delete it, Snapchat will automatically delete it too on their server, making you and the recipient unable to view the Snapchat photos or snaps.
Does Snapchat have a recycle bin?
Unfortunately, Snapchat doesn't have a recycle bin. Once you delete a photo, you can only retrieve it through your recently deleted album on your phone if you ever backed up your snaps in your phone gallery itself.
Does Snapchat show my Memories?
Once your snaps are put in the archive or Snapchat Memories, only you can view them. They will also be visible to your friends unless you share them again.
Why did my Snapchat memories disappear?
Snapchat memories may stay longer than you expected on Snapchat's server, as they can be retrieved anytime. However, certain issues may cause your snaps to disappear unexpectedly, which may be due to storage issues, unintentional deletion, a damaged phone, and so on.
Conclusion
Snapchat Memories are basically a collection of your personalized snaps. These are a group or series of your snaps and stories that are only visible to you unless you choose to share them with others. You can opt to save them for later rather than delete their traces permanently, as Snapchat allows you to open them at any time to view, edit, send, or repost these saved contents.
But how do you return deleted Snapchat memories when you accidentally remove them from all your backup storage and the app itself? Luckily, a few easy steps to resolve this have been discussed in this article. We hope this comprehensive guide was helpful and you were able to retrieve deleted Snapchat memories.
Did you find this helpful?
328 Votes
YES

Thanks for letting us know!
No

Thanks for letting us know!
AnyMP4 Video Converter Ultimate
All-in-one video converter, editor, enhancer upscaled with AI.