How to Delete Snapchat Messages?: Clearing Out The Inbox
Sometimes, seeing a lot of delivered and seen messages in your inbox can be an eyesore. It can look like a mess at first glance, especially when it's a risky message you sent out there and the receiver left it delivered or opened it without messaging back, even when they're online. Familiar, aren't you?
Good thing Snapchat has all the tabs for you to do it easily, as Snapchat will try to remove the messages you sent for its server itself as well as to your friends' devices, which you want to delete your messages from, and this can be done as long as you have a good internet connection. Although it's only the messages you sent that you can delete, Snaps and other Snapchat users' messages that were sent to you can't be deleted unless they do it themselves.
This in-depth guide will walk you through deleting messages from Snapchat step by step. The methods in this post can be used to do this easily. Without further ado, let's get started and learn all the procedures that will help us.

Part 1. How to Delete Messages from Snapchat?
It is possible to delete Snapchat messages. This will try to remove the message from the servers, which means it will be deleted, and the recipient should not be able to see it. However, this is only if the person on the other end has not read it.
Below are the steps on how to delete messages from Snapchat.
1.
Run the Snapchat app on your device. Then, navigate to the Chats tab.
2.
Go to the conversation where you sent the message you want to delete.
3.
To delete the message, press and hold it.
4.
Click Delete. After that, in the Delete Chat pop-up, choose Delete to confirm your action.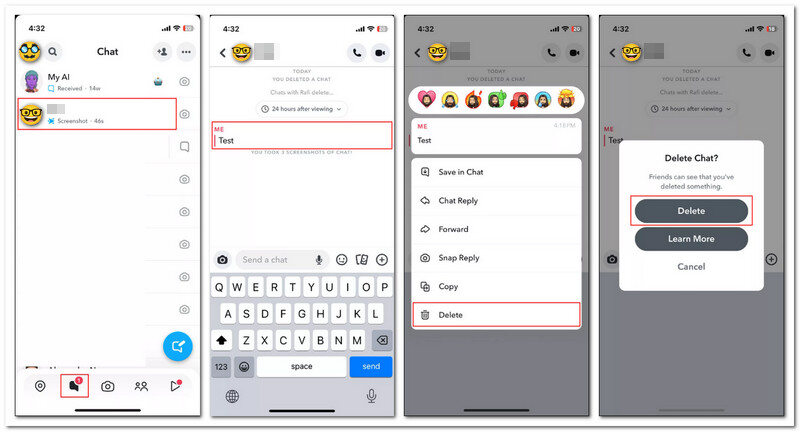 Note that the procedures above are the same for iOS and Android devices. We hope this helps you remove your unwanted messages on Snapchat. Let's take it to the next section if you also wonder if it is possible to delete the Snapchat messages the other person saved.
Part 2. How to Delete Snapchat Messages the Other Person Saved?
In Snapchat, senders have full control over their Snaps and messages. They can delete any Snaps or messages saved by the recipient.
Here are the steps to delete Snapchat messages that the other person saved:
1.
From your Snapchat app, open your Chats tab. Then, you need to navigate the message that you want to delete.
2.
To delete a message from both sides, you must first long-press it. After that, a menu will be popped out showing multiple options. Choose Delete.
3.
The Delete Chat pop-up will inform you that when you delete a message, Snapchat will try to erase it from its servers and your friends' devices. This is followed by a short warning that this may not always work, such as if someone has a poor internet connection or an older version of Snapchat. However, if you are certain of your decision, click Okay.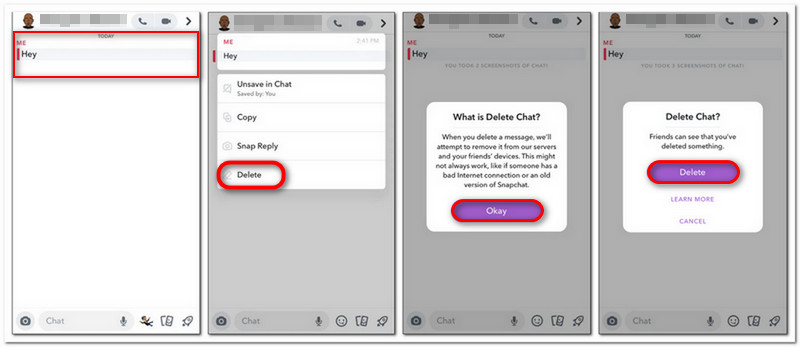 Are you aware now of how to delete messages from Snapchat that the other person saved? That's great! As you can see from the steps above, we can now remove our messages saved by someone on Snapchat.
Part 3. How to Delete All Saved Messages on Snapchat at Once?
Unfortunately, Snapchat does not currently have a feature allowing users to delete all messages simultaneously. To delete all messages, you must go through each conversation and delete them individually. This can be a time-consuming process, especially if you have a lot of conversations. However, it is the only way to delete all messages from Snapchat completely.
Besides, you can also deleting all messages on Snapchat by deleting all the contacts.
You may follow the steps previously stated in this article to do this.
Part 4. Why Does Snapchat Delete Messages?
Snapchat is designed to be a platform for sharing temporary content. This is why the default setting is to delete messages after they have been viewed or have expired. Snapchat servers are programmed to automatically erase all one-on-one and Group Chat Snaps after all recipients have seen them. This ensures that users feel comfortable sharing personal information without fearing it being stored or shared without consent.
Part 5. FAQs about How to Delete Messages From Snapchat
When you block someone on Snapchat, do the messages delete?
Unfortunately, when you block someone on Snapchat, it doesn't include deleting your conversations. Blocking someone on Snapchat allows you to no longer receive any messages from them. But if you want to clear them out of sight, you can simply remove them from your contacts.
When you unfriend someone on Snapchat, do the messages delete?
When you unfriend someone on Snapchat, you will be forbidden to send them messages and view their stories and other snaps. Moreover, your conversations will also be removed from your Chats tab. However, this will only apply to you because the unfriended individual can still have and see your conversations on their end.
Does clearing the cache on Snapchat delete messages?
Just like any other application, when you clear the cache, some settings on the site will be removed, too. As for Snapchat, deleting cache from it will automatically clear your cached pictures, videos, and other temporary data and settings, except for any critical or saved data, which includes your messages. Hence, clearing the cache on Snapchat doesn't delete your messages.
Does Snapchat automatically delete messages?
To directly answer this question, it's a yes. Snapchat automatically deletes messages once they have expired or been viewed.
Can I delete multiple conversations on Snapchat?
No, it is impossible to simultaneously delete your conversations with people on Snapchat. The only thing that you can do is delete these messages one by one by going to the account settings.
Conclusion
Losing conversations that once made you feel happy and friendly can feel like a shotgun shot to the heart, especially when you want to reread them but just can't anymore. As much as Snapchat allows its users to have conversations with people who are their friends, sadly, it also has a default setting that makes these exchanges of words and thoughts disappear after a while. It can be frustrating and infuriating, especially when they disappear from your Chats tab or bubbles. Some functions and processes in Snapchat allow you to save conversations for longer, while others allow you to save them forever.
To better understand how Snapchat works on these, the things stated above are a few things you should be aware of regarding deleting Snapchat messages. We hope this post helps you provide comprehensive solutions and procedures.
Did you find this helpful?
397 Votes
YES

Thanks for letting us know!
No

Thanks for letting us know!
AnyMP4 Video Converter Ultimate
All-in-one video converter, editor, enhancer upscaled with AI.