Delete Someone from Snapchat: Clearing Out Your Friends List
Deleting someone from Snapchat isn't a bad idea, right? Falling out of relationships is natural and common, not only with the ones we have physically but also with those we connect ourselves with virtually. As much as Snapchat allows users to socially and actively engage with friends through meaningful conversations and exchange fun and exciting life events, it also allows its users to cut ties with them once the bond no longer exists. But how do I delete a friend on Snapchat? And if you want to check if the same thing happened to you, how do you tell if someone deleted you on Snapchat?
These are just some questions you may think through once the thought of breaking ties with someone you know on Snapchat crosses your mind. To know more about this, read the following steps and guide below.

Part 1. How to Delete a Friend From Snapchat?
If you use Snapchat frequently, you may receive unwanted snaps from people you don't want to interact with. In this case, you must remove or block them from your friend list. Fortunately, we provide you with simple ways to delete someone from Snapchat. However, it is important to note that Snapchat does not allow you to delete multiple friends simultaneously. This can be time-consuming if more than one person is bothering you. Please feel free to continue reading.
Method 1. Delete Someone on Snapchat from your Profile
This is one of the most common methods for unfriending someone on Snapchat. The steps are simple to follow.
1.
Launch the Snapchat app. Navigate to your profile in the upper left-hand corner.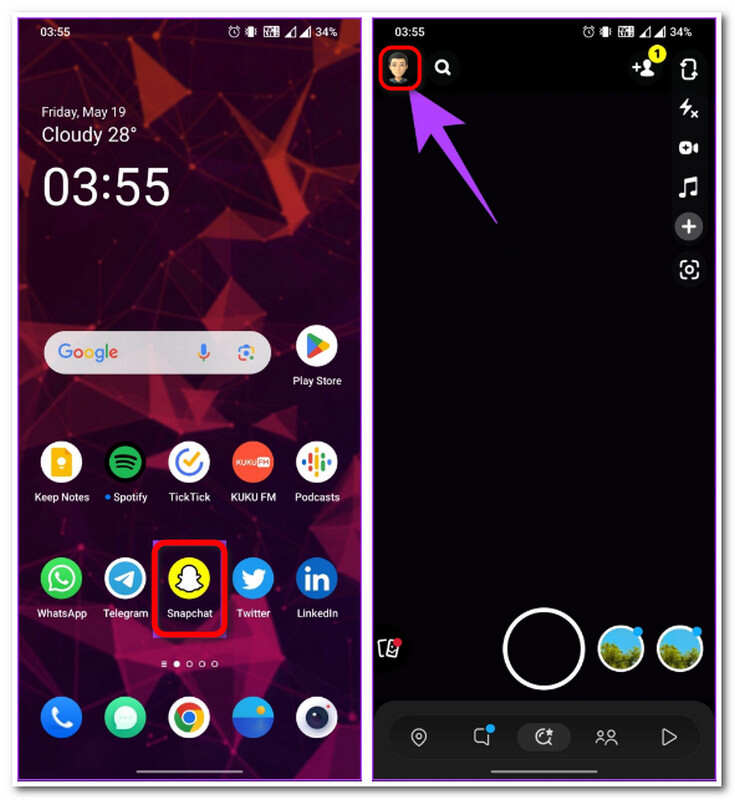 2.
From the profile screen, under Friends, select My Friends.
3.
On the My Friends screen, press long the friend's profile you want to delete or remove.
4.
Then, from the pop-up, choose Manage Friendship. Lastly, on the next screen, tap on Remove Friend.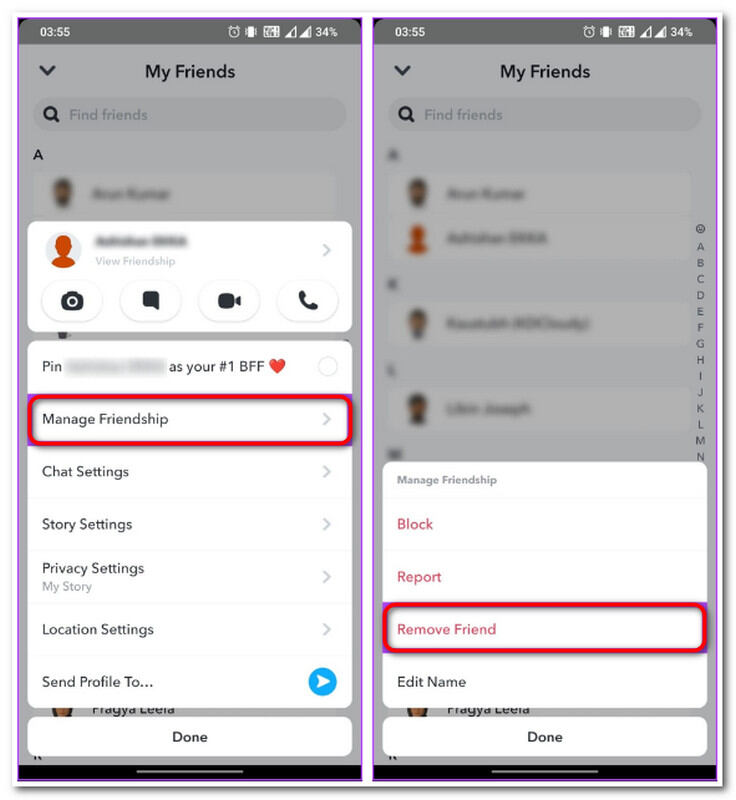 You've done it! The selected friend will be deleted from your Snapchat friend list. Please proceed to the following method for another straightforward way to accomplish the same thing.
However, if you just do not want to receive the information frm someone, you can block the person in Snapchat.
Method 2. Delete a Snapchat Friend from the Chat
This method is comparable to the previous one. However, the process of removing Snapchat friends is somewhat different. Here's how you do it:
1.
Open your Snapchat app, then tap the Chats icon at the bottom.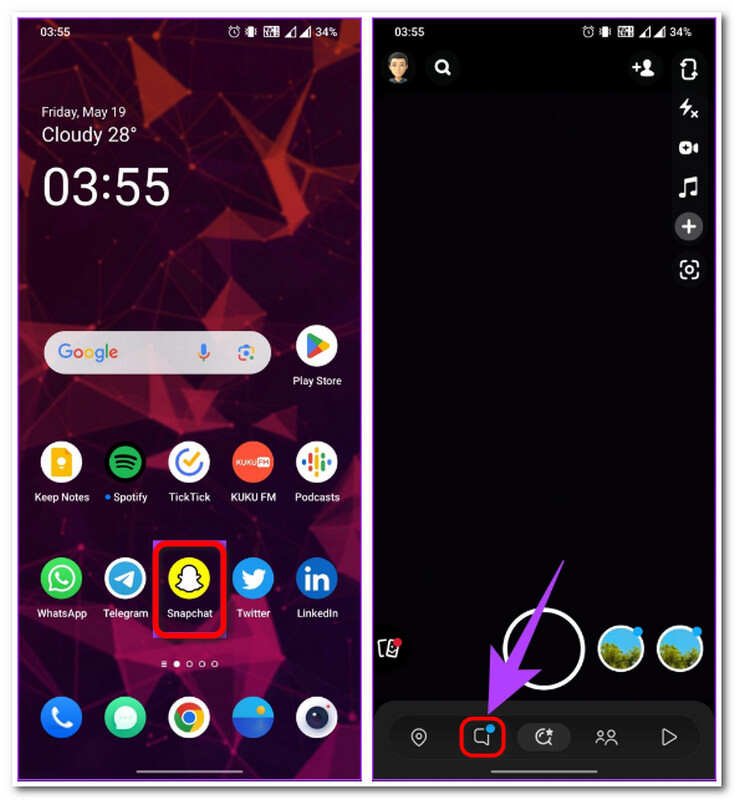 2.
From your Chats list, give a long press on the profile you want to delete from your account. After that, click Manage Friendship.
3.
Finally, tap Remove Friend.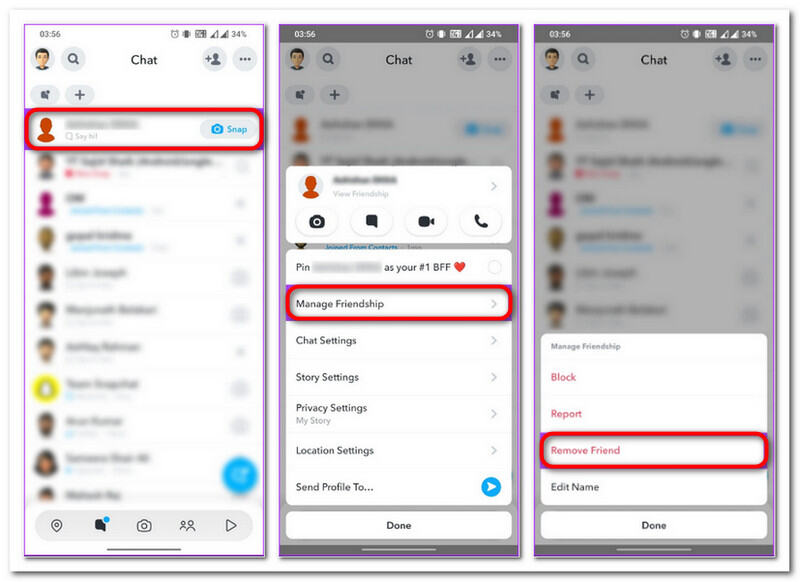 There you go. You have successfully deleted some from your Snapchat with ease. That said, please see the next part if you want to know how to tell if someone deleted you on Snapchat.
Part 2. How to Tell If Someone Deleted You on Snapchat?
If you are curious if someone has removed you on Snapchat, here are some ways to do it.
Method 1. Check Your Friend List
One of the simplest methods to determine if a friend of yours has deleted you on Snapchat is to check if they are still on your friends list.
1.
Tap on your profile photo at the top left corner. When your profile loads up, navigate down and choose My Friends under the Friends section.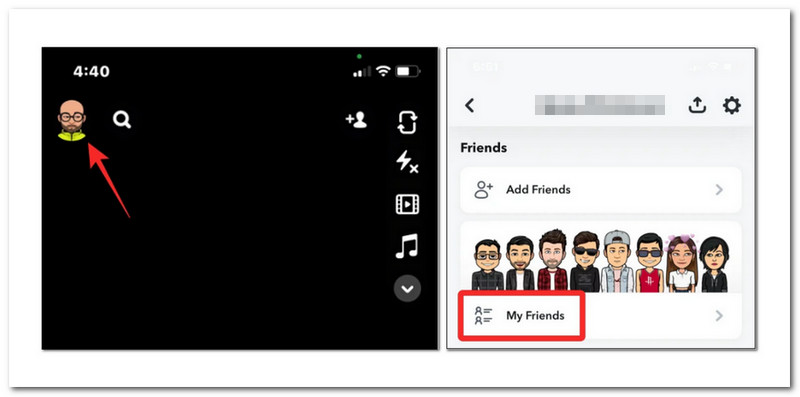 2.
Next, you will see the My Friends screen, which lists your Snapchat friends. You can browse this list or use the Find Friends search bar to look for someone's name or username. If you search for someone without results, they may have removed you from Snapchat.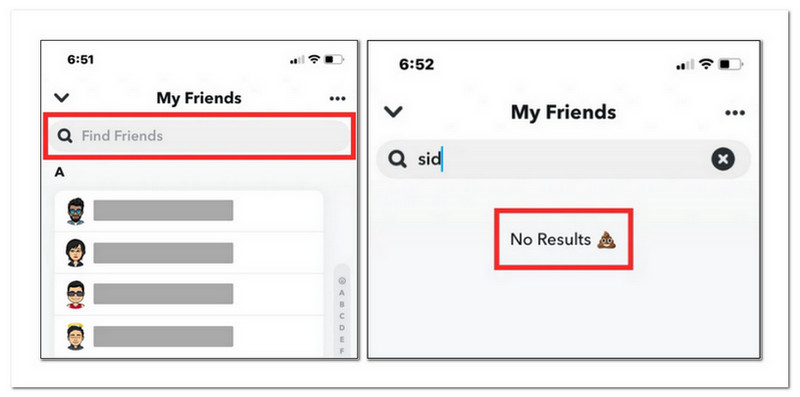 That's it. If you want another method, just keep reading.
Method 2. Check a Snap You Sent
You can check how your message or snap shows in the chats to determine whether you are listed as their friend. To do this, follow these steps:
1.
From your Snapchat app, tap the Chats tab at the bottom. Various chat screen icons will appear under a user's name on the Chat screen depending on how you have interacted with them.
2.
A gray arrow icon with the label Pending next to someone's name in your chat list indicates that they have not seen your messages or snaps because you are not their friend or have been removed from their friend list.
3.
If you open this chat by clicking on it, you'll see a banner under your last text telling you that your chats will be pending until someone adds you as a friend.

If someone gets rid of you from their friend list on Snapchat, you can still see them in the app. You can still add them back, message them, or send them snaps. However, your snaps and messages will not appear in their chat unless they add you back.
Now, if it popped out in your mind to recover deleted Snapchat friends, you can check the details in the next section.
Part 3. How to Recover Deleted Snapchat Friends?
The way to recover deleted Snapchat friends is just to add them back. If you remember your friend's username on Snapchat, you can quickly add them back. All you have to do is use the search option to find them.
1.
When you open your Snapchat app from your device, you will see the Add Friends icon with a person with a plus sign above it from the upper right side of the screen.
2.
Then, just type the username in the search bar.
3.
Click on the Add button on the right.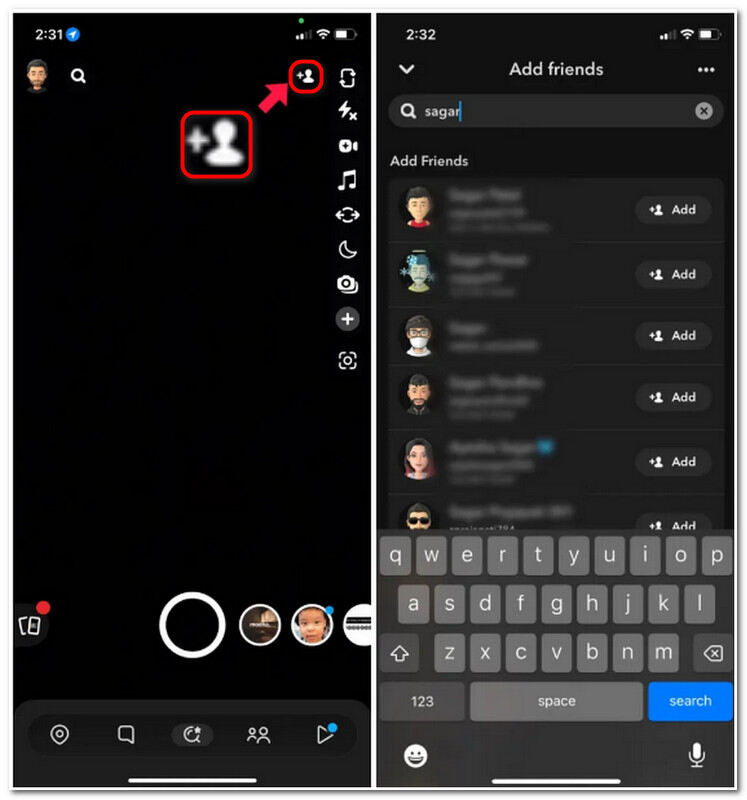 After following these simple steps, you will have successfully re-added your friend to your Snapchat friend list. For more details, please keep scrolling and see the FAQ section.
Part 4. FAQs about How to Delete Someone From Snapchat
How do you delete ignored friend requests on Snapchat?
Snapchat has a feature that allows users to have the option of ignoring friend requests. Hence, these requests may grow, leading you to delete them. To do this, follow these steps: Open the Snapchat app and log in. Click the profile icon located at the top left corner of your screen. Then, scroll down to find and click the My Friends button. Here, you may find the Pending tab; click it. Tap the X sign next to the person whose request you'd like to delete. Finally, click Delete to confirm and finish it. However, note that this is only temporary because even after deleting a friend request, you can still receive another request from them.
When you unfriend someone on Snapchat, do the messages delete?
When you remove someone from your friends list on Snapchat, and you happen to have previous conversations with them, all of it will be removed from the Chats tab. But this will only occur at your end because the other individual can still see and access your exchange of words in their Chats tab.
What is the fastest way to remove friends on Snapchat?
Unfortunately, there's no way to remove all of them simultaneously. The only way to remove multiple people from your Friends list is to do it individually. In which the steps to get this done are provided above.
How do you remove someone from the Snapchat Best Friends list without deleting them?
You only need to limit your interaction with this person to achieve this, or you can completely ignore their posts and messages. Spend less time connecting with them and restrict yourself from sending and sharing snaps with them. With this, they will be removed from your Best Friends list, and someone else will replace them.
Can someone see when you remove them as a friend on Snapchat?
On Snapchat, when you unfriend someone, they won't get a notification or any other kind of clear sign. They could notice, though, that they can no longer view your Snaps or access your Story, depending on your privacy settings.
Conclusion
Snapchat offers a place for its users to build bonds and creative connections with everyone they interact with globally. It is a platform that makes you tie knots with people as much as you want by sharing a glimpse of your world with them. But similarly to the outside world, falling off these bonds can happen overnight or in the long run. This leads you to ask, how do I delete friends on Snapchat? How do I tell if someone deleted me on Snapchat? Hence, we've got your queries covered. Snapchat enables you to untie your connection with others, delete or ignore their friend requests, remove someone from your Best Friend list, be aware when someone removes you from their list, and so on. Above are the mentioned steps and guidelines that may answer all the questions about how to delete someone from Snapchat.
Did you find this helpful?
393 Votes
YES

Thanks for letting us know!
No

Thanks for letting us know!
AnyMP4 Video Converter Ultimate
All-in-one video converter, editor, enhancer upscaled with AI.